Pine Hill Cemetery is one of the most interesting of the old family burial grounds in Hunterdon County. I have written about it before, in an article that listed the known graves with some biographical information.  But I had just scratched the surface; there is so much more to be said.
There are many ways to write about a cemetery. One of them is the way I have already done, listing the 'residents,' and saying something about when they lived and died. Another way is to talk about the ownership of the burial ground itself. I am happy to say that soon after publication of that earlier article, the cemetery and 80 acres around it were added to the Wickecheoke preserve owned by the New Jersey Conservation Foundation. This is very good news, as it guarantees not only preservation of the cemetery, but also of the landscape surrounding it.
Correction, 8/22/2019:  I was mistaken when I wrote that the NJCF had acquired ownership of the cemetery. In fact, the deed conveying the Williamson farm to the NJCF exempted the cemetery, in the same way that all cemeteries were exempted in Hunterdon County deeds. It was standard practice, and was probably meant as a way to protect the cemeteries from interference or destruction by the owner of the surrounding property.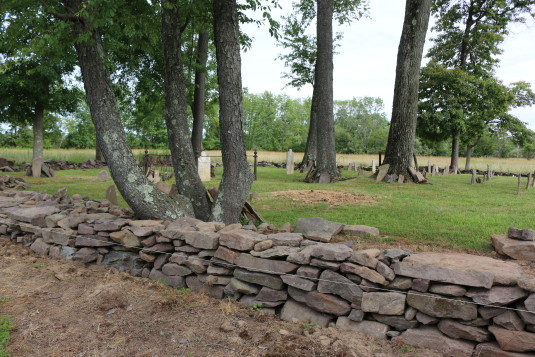 Another way is to write about its condition. As you can see from the photograph above, this cemetery is loved. Some of the heirs of families buried here have taken it upon themselves to visit frequently and to work on its maintenance. Before they began, the place looked like so many other small private cemeteries—almost invisible because of the trees, bushes, vines and weeds that had grown up, and stones upended by burrowing woodchucks or broken by vandals. Dedicated effort makes a remarkable difference.
A third way to study a cemetery is to consider family history. Small private burying grounds like this one are usually family burying grounds, so studying the graves gives insight into the relationships in a family's history. Often there will be others buried in these small cemeteries who do not appear to be directly related. Answering the question of why they were here adds interest to the history of the place and the family. Today I will try to combine these three approaches.
The cemetery is a little difficult to find, which may have helped in its preservation over the past 265 years (the earliest gravestone, as far as we know, is dated 1750). It is back off Pavlica Road, which connects Ferry Road and Locktown-Sergeantsville Road in Delaware Township. If you wish to visit I suggest you contact Alix Bacon of the NJCF (alix@njconservation.org).
The Williamson Family
In the 18th century, the Williamson family owned the cemetery and surrounding farm, beginning with William Williamson and wife Patience Hull, who arrived at this place in the mid 1730s from Somerset County. They were preceded here by Paul and Tunis Amerman, from whom William Williamson bought property in 1735.1
William was the son of Cornelius Williamson (c.1672-1772) and Grietje Gulick, and grandson of Willem Williamson, who was born in 1651 in Bermuda, and died in 1722 in Gravesend, Kings County, New York. His grandmother was Mayken Pieterse Wyckoff, born about 1653 in New Amsterdam.
Although Williamson was Dutch, his wife Patience came from a New England family that settled in Piscataway. Patience was the daughter of Samuel Hull, born 1678 in Piscataway, NJ, and died about June 1761 in Amwell Township. Her mother Margaret Martin (or Mundy) died in 1768 after writing a very helpful will, identifying her sons and daughters.
William and Patience had seven children, only one of whom was buried here:
Margaret (c.1732-1812, married Daniel Larew)
Cornelius (c. 1735-c.1807*, married Bernice)
Samuel (c. 1737-c.1821, married 1st Margaret ?
William Jr. (c. 1739-1806, married Elizabeth) – possibly WW 6 Apr, but probably not
John (c. 1741-1823, married Ann Wells)
Abraham (c. 1743-1781, unmarried) – buried in Pine Hill
Moykee or Moicah (c. 1745-1831, married Richard Heath)
* I have corrected the death date for Cornelius Williamson, who wrote his will on October 29, 1807. It was recorded on January 20, 1808.
As you can see from the dates, I have no information on when exactly these children were born. Actual dates are probably later than I have shown.
In 1740, William Williamson mortgaged 260 acres to the Hunterdon County Loan office.2 His was one of the largest farms in Amwell/Delaware Township at the time. But Williamson was still acquiring property; in 1742 he bought another lot from Richard Lanning.3
As mentioned before, the earliest stone is dated 1750 and reads "J W / 14 Feb / 1750." The identity of this person is not known. It must be a relative of William Williamson, perhaps his sister Jemima. It might also have been an uncle or aunt, or a son or daughter who died young.
The next earliest stone is "AP / 10 / 1765 / W W." This one belonged to William Williamson himself.
William Williamson, yeoman of Amwell, wrote his will on January 20, 1764, but it was not recorded until ten years later, on June 16, 1774, suggesting that he died close to that date. This is usually the case, but this family is different. His eldest son Cornelius was very reluctant to carry out the provisions of the will, which eventually led to a court battle that Dickens would have loved (see Bleak House). In fact, court papers confirm that William Williamson did die in 1765, about age 57; the stone sets the date at April 10th.
In his will, Williamson left £33 & "command of my plantation" to his wife Patience while a widow. After her death it was to be sold and the profits divided among the sons Cornelius, Samuel, William, John and Abram. Apparently his son Abram suffered from some kind of debility because the will left him an extra £100. Williamson left £50 to his daughters Margaret Larew and "Mayke" Williamson, which was typical for the time. Daughters were generally bequeathed only personal property or cash, not real estate. Executors of the estate were sons Cornelius and Samuel. The will was witnessed by Peter Rettinghousen, Garret Lake, and John Bolby [Bilby].
Between 1765 and 1812, there were seven burials in the Pine Hill Cemetery, not counting stones without dates. The first one after the death of William Williamson was that of his father, Cornelius Williamson. The gravestone reads "1772 / May / II / C W / AG 100." Williamson researchers have carefully considered this and are convinced it was indeed William's father, whose age of 100, was a rare achievement in the 18th century.
The next earliest stone reads: "A.W. / 1781 AP 24" (note: the 4 is backwards). It belongs to Abraham or Abram Williamson, one of the sons of William and Patience, born about 1743. As mentioned above, he was disabled in some way, and died at the age of 38, unmarried.
Six year later, the widow Patience Hull Williamson died, in December 1787. She was 77 years old, twenty years older than her husband was. Her stone reads "P W." By this time, eldest son Cornelius was, in effect, the head of the household.
Cornelius Williamson
Cornelius Williamson married shortly after his father's death, about 1768. His wife was named Bernice, but Williamson researchers have not yet been able to identify her family. She and Cornelius had eight children, from 1768 to 1785. Cornelius was about 40 years old in 1775 when the Revolution was in its early stages. He apparently was a rather outspoken fellow. This item appeared in the Pennsylvania Gazette:
"Committee Chamber, Amwell.
Hunterdon County, New-Jersey, October 2 1775.

Divers complaints having been made to this Committee against Cornelius Williamson, of Amwell aforesaid, as being inimical to the liberties of America, he thereupon was cited to appear before this Committee, to which he came this day to answer, and voluntarily entered into the folowing acknowledgment and declaration, viz;

"As I have been charged before the Committee for having uttered expressions derogatory to the Continental Congress, and tending to impede the opposition of my countrymen against ministerial oppression, I do hereby declare myself heartily sorry for my imprudent expressions, and do sincerely promise for the future to coincide with every measure proposed for the redress of American grievances.
Witness my hand, Cornelius Williamson"

Voted, That the above declaration be taken as satisfactory, and the same be published in the Pennsylvania Gazette.
By order of the Committee, John Stout,Chairman."4.
About 1760 or later, Cornelius Williamson's brother William bought 194 acres, a short distance northeast of Sergeantsville. But by the early 1770s, he either needed to raise cash or wished to live elsewhere because he sold that land to his brother Cornelius. But Cornelius was rather casual about money matters and failed to make payments. In 1778, William had to sue his brother for nonpayment of £200. In 1780, and again in 1786, Cornelius was taxed on the tract from his brother as well as the 250 acres owned by his father.
In 1787, Cornelius Williamson was taken to court by his neighbor John Lewis.5 The court ordered a sale of his real estate, but the property seized by the Sheriff was not the Williamson farm; instead it was 40 acres bordered by other land of Cornelius Williamson, John Hoppough, and "the great road to Flemington" (Route 523).6.
Following the death of Patience Hull Williamson in 1787, the executors were required to sell the old farm and divide the profit among the sons. But Cornelius kept postponing the sale. Things came to a head when his brother William, who had moved to Virginia, came to visit in 1789, probably to urge his brother to put the farm up for sale. Back in 1774, Cornelius' brother Samuel, as the second executor, had taken the initiative and gotten the will recorded, since Cornelius made no effort to do so. In 1789, probably with brother William's encouragement, Samuel took it upon himself to put the farm up for sale, but not in a very public way, and definitely without the cooperation of his brother Cornelius. The sale was held at "the mansion house on the land, and where Cornelius then lived."7 The "Mansion" is gone, and considering it was an early 18th-century home, it was probably not much of a mansion.
Samuel urged Cornelius to bid on the land, but he refused to do so, saying that it "was but of little value." This is consistent with Cornelius' penny-pinching ways. No one else bid, so the sale was postponed. Subsequently, Samuel Williamson managed to displace brother Cornelius on the farm, and moved his own family there until the court ordered a proper public sale in 1812. Samuel did not give up without a fight, but space prevents me from describing the lengths to which he went. Cornelius took up residence on the farm he had bought from brother William.
Meanwhile, at least four more burials took place in this cemetery. In 1792, someone named "W. S." was buried, having died on October 4th of that year. It must have been a member of the Sergeant family, but I cannot say who it was. Another burial took place in 1797 for someone with the initials "M. L." This could have been Moses Larew, who lived downhill from the Williamson farm. He wrote his will on January 4, 1797, and it was recorded on January 28th. However, it could also be Margaret Williamson Larew, who died in 1812. She and husband Daniel Larew (brother of Moses) lived on the farm next to that of Moses Larew.
In 1806, "M. Heath" was buried. This might have been Mary Aller Heath (c.. 1728-1806), wife of John Heath. Then in 1807 another Sergeant was buried—at least I think so. The initials were "L. S.", who died April 14, 1807. Actually, I am not at all sure the inscription is L. S. Perhaps it was J. S., which could have been Joseph Sergeant, who died in 1807. But he was living in Tewksbury. Even so, it is possible he was related to the Amwell Sergeants.
Mary Lake was buried here in 1813. She was born in 1765 to Joseph Sergeant and Marie Loman, and was the sister of Charles Sergeant. She married Cornelius Lake about 1785. Her husband is not buried here.
This gives us four families who are not Williamsons: the Sergeants, Larews, Heaths and Lakes.
The Graveyard Deed
When the Williamson farm of 396 acres was sold in 1812, the purchasers were known in all the subsequent deeds and other references as "Bonnell, Quick and Gordon."8 They were a partnership of land investors who probably expected to make some money on the farm. At least one would think so, even though they paid $7,000 for it. Bonnell was Alexander Bonnell of Flemington, who died in 1819. Quick was Nelly Quick of Readington, daughter of Tunis Quick. Gordon was Thomas Gordon who grew up not far from the Williamson farm.
Oddly enough, Bonnell, Quick & Gordon did not sell the farm right away, with the exception of a few small lots. Most of them were woodlots, but one of them was the Pine Hill graveyard. On May 1, 1816, "Bonnell, Quick and Gordon" conveyed to "Sarjeant, Larrue, Lake & Williamson" an amount of land sufficient "for an enlargement of a Grave yard to ¼ of an acre in Williamsons farm, Amwell."9 This is the text of the deed:
Whereas in and by a certain Deed, bearing date the 31st day of March a.d. 1812 (twelve) made by Samuel Williamson, Executor of the Will of William Williamson, deceased, unto Alexander Bonnell, Nelly Quick and Thomas Gordon, for the conveyance of a certain farm or tract of land, situate in the township of Amwell, in the County of Hunterdon, and state of New Jersey, containing 396.16 acres, it is excepted and always reserved thereout the grave yard and the wall or fence enclosing the same – And Whereas the relations and friends of the deceased [my emphasis] buried therein are desirous of enlarging the said grave yard or burying ground and rebuilding the said wall or fence, about the same —

Therefore we the said Alexander Bonnell, Nelly Quick and Thomas Gordon, in consideration of the sum of six dollars and forty cents do grant bargain and sell unto John Sergeant, James Larue, Thomas Lake and Asher Williamson and their heirs, an enlargement of the said grave yard or burying ground, so that the same may contain one quarter or fourth part of an acre, to be laid out in form of a square or nearly so, upon and within which the said wall or fence shall, from time to time, be rebuilt and repaired; To have and to hold the same together with all usual and necessary priviledges, doing the least injury to said farm, as and for a grave yard and burying ground forever –

In Witness whereof we have Thereunto set our hands & seals the 1st day of May A.D. 1816 (sixteen)
The purchasers, John Sergeant, James Larue, Thomas Lake and Asher Williamson, were all related to those people who were buried between 1787 and 1813: W. S. 1792; M. L. 1797; M. Heath 1806; L. S. 1807; and Mary Lake 1813.
Following the graveyard deed of 1816, five more burials took place: J. Heath in 1819; I. F. in 1831; possibly Catharine Larew Rounsavel in 1832 (gravestone says only C. R.); Charles Sergeant in 1833; and his wife Sarah in 1835. Now we have another family not Williamson–the Rounsavels. One of the undated stones reads "S x R," and is thought to also be a Rounsavel.
Bonnell, Quick & Gordon
Alexander Bonnell, born 1768 to Flemington tavern-owner Abraham Bonnell and Elizabeth Foster, died intestate in 1819.10 His son Charles inherited Bonnell's shares in the partnership, so the name was continued as Bonnell, Quick & Gordon—that is, until Charles Bonnell died in 1831 at the age of 35. During all those years (from 1812 to 1831), despite several advertisements in the Hunterdon Gazette, the farm was never sold. It was leased to Peter Fulper up until his death in 1840.11
Peter Fulper was not buried in the Pine Hill Cemetery. His grave is in the cemetery attached to the Amwell Church of the Brethren, known as the Lower Amwell Old Yard. He died on October 16, 1840. His wife and children died after the late 1860s, and there is no evidence of them being buried in the Pine Hill Cemetery. However, there is a stone marked "I. F., 14 May 1831." As far as I can tell, this is not a Fulper. The most likely person is John Furman who died intestate in 1831 and lived on Locktown-Sergeantsville Road.
Nelly Quick's identity had me really perplexed for a long time, but finally I found some of the evidence, albeit circumstantial, that she was the daughter of Tunis Quick, and I get the distinct impression that she acted as a front-woman for her father. Tunis Quick witnessed one of the deeds by Bonnell, Quick and Gordon in 1814 and the unrecorded deed for the burying ground in 1816. And in 1829, Tunis Quick offered the Williamson Farm for sale in partnership with Thomas Gordon and Charles Bonnell, making no mention of Nelly Quick.12
About 1820, Nellie Voorhees Quick married Peter Spader and went to live with him in New Brunswick. On April 1, 1831, Peter Spader of New Brunswick and wife Nelly Quick, sold to Thomas Gordon of Trenton their one-third undivided share of the Williamson Farm.13 So now, "Bonnell, Quick & Gordon" was just "Gordon."
Thomas Gordon was still trying to sell the farm in 1838, when he published this notice:
"FARM & WOODLAND FOR SALE. THE subscriber offers at Private Sale, All that Farm & Woodland, commonly called the "Williamson Farm," containing 294 acres, situate near Sergeantville [sic], in Amwell. The Farm with a good proportion of Woodland, contains 274 acres; or maybe divided into two Farms, and sold separately, one with the buildings, containing 154½ acres, and the other 11½ acres. The residue, 36 acres of Woodland, will be sold in Lots to suit purchasers. For terms, apply to Peter Fulper, on the premises; Henry H. Fisher, Sergeantville [sic]; or Thomas Gordon, Trenton."14
Apparently Gordon sold the farm to Henry H. Fisher, who then sold it to Abraham C. Plumley on July 10, 1840. At this time the farm consisted of 290 acres; Plumley paid $6,000.15 But before Gordon could sell the farm, more people were buried in the cemetery:
J. Heath, 1819
I. F., 14 May 1831 (mentioned above)
C. R. – footstone; possibly Catharine Larew Rounsavel, mother of Abraham Rounsavel, d. 1832
Charles Sergeant, 11 Apr 1833
Sarah Green Sergeant, 27 Mar 1835.
J. Heath was John Heath, the husband of Mary Aller Heath, who was buried here in 1806. They lived in Kingwood, probably not far from his father's farm at Locktown. John's brother Richard had married Moykee Williamson.
The Rounsavels were previously mentioned. Charles Sergeant and wife Sarah Green were provided with a handsome iron fence surrounding their graves.
Following the sale to Abraham Plumley in 1840, there were more burials:
William Williamson, October 21, 1848
Abraham Rounsavell, August 17, 1853
Asher Williamson, May 28, 1860
Moykee Williamson, December 8, 1868; and R W, 1899.
Abraham Rounsavell lived near Sand Brook, and therefore, was not a neighbor. He was the son of Catharine Larew Rounsaville who was also buried here. She was the daughter of Abraham Larew (1727-1806) and Mary Thatcher (1733-c.1821), who lived on what later became the Donald & Beverley Jones farm, not too far from Pine Hill. This suggests that her parents may also be buried here, but their stones have not been found.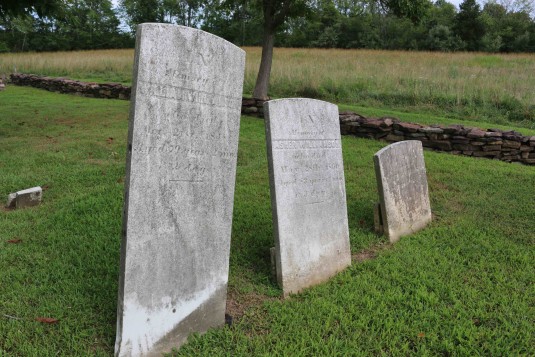 The other stones belonging to William, Asher and Moykee Williamson, children of Cornelius and Bernice Williamson, require a post of their own, as do the neighboring families. Once again, I feel as if I have just scratched the surface of the history that is hidden here. Several more posts about these people should be written—someday.
For now, I will take this opportunity to mention a seminar coming up this September to discuss the preservation of small family burial grounds in Hunterdon County.
It takes place on Saturday, September 19th from 11:00 a.m. to 4:00 p.m. at the Flemington Presbyterian Church. I have been asked to give the keynote speech, and the main speakers will be Richard Veit and Mark Nonestied who have published a wonderful book titled New Jersey Cemeteries and Tombstones: History in the Landscape. There will be "break-out" sessions afterwards, with lunch provided.
For more information on the event and how to purchase tickets, please visit the website for "Hunterdon County 300th" (www.hunterdon300th.org) or call 908-782-1091.
Footnotes: