As a researcher, there's one thing I keep learning over and over–if you go looking for an answer to a question, you might not find it, but chances are you will find answers to questions you never thought of.
That was definitely my experience today when I went to the Hunterdon Co. Historical Society, hoping to find some mention of Nathaniel Saxton in Saxtonville between 1808 and 1815, and most of all, some record of who might have been running the Saxtonville Tavern for him while he carried on his legal career in Flemington. No luck.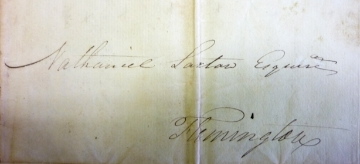 Instead I found something different, and some might think better. Thanks to the help of Donald Cornelius in charge of the Society's manuscript collection, I found a couple items that help to explain what Nathaniel Saxton was doing with himself after buying up a large part of Raven Rock.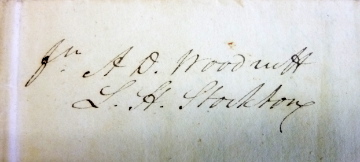 The first item was a letter that was sent to Saxton in July 1808 by James Alexander, Andrew Woodruff and Lucius Horatio Stockton expressing their concerns about the upcoming presidential and congressional elections. Thomas Jefferson was filling out the last months of his second term as president and as head of the Democratic-Republican party. Jefferson had soundly beaten the Federalist candidate, John Adams, and become president in 1800. Since that time, the Federalists were anxious to displace these upstart 'Democratic Republicans' with a candidate more sympathetic to their principles, especially someone who was opposed to the Embargo Act that Jefferson had enacted as a way to resist the British and the French without actually declaring war.
Alexander, Woodruff, Stockton and Nathaniel Saxton were  what came to be known as federal republicans, and later on as National Republicans, as opposed to Jefferson's Democratic-Republicans. But in the letter, they only refer to their "federal friends." Political parties were still something quite new in America in 1808. But whenever anyone added the descriptive 'federal,' ambiguity vanishes.
I found the letter fascinating as both history and politics, and also for the way it sheds light on the activities of Nathaniel Saxton at this time in his life. To be addressed as he was in this letter shows that he had become well-established as a political activist for the federalists and the man in Hunterdon that political bigwigs chose to consult. It also tells us that Saxton's sympathies were more with the Hamiltonian approach to government than the Jeffersonian one, unlike most of the residents of Hunterdon County, who ended up voting for Madison in 1808 rather than the federalist candidate Charles Pinckney.
So, here is a transcript of the 1808 letter to Nathaniel Saxton.
Dear Sir          Trenton July 12th AD 1808

A respectable meeting of our federal friends from various counties in the Eastern part of the State lately had at New Brunswick considering the importance of a united exertion among the federal republicans to effect a change in the administration of the state and general governments at the ensuing elections, recommended Alexander C. McWhorter of Essex, Evi Adams of Sussex, William Lloyd of Monmouth, Peter Stryker or Wm. McEowen of Somerset for electors, John Neilson of MIddlesex, Aaron Ogden of Essex and William Campfield of Morris for congress and requested us in the western counties (including Hunterdon) to nominate of four electors and three congressmen. We expect that our friends of the five lower counties will nominate three electors and two congressmen leaving one congressman and one elector to be fixed by the federal republicans of this county. In consequence of extensive conferences in this quarter among our friends we unanimously agree to propose for the consideration of our friends in the upper townships of the county General John Beatty for congress and Col. Jonathan Rhea for an elector; We wish you to consult as extensively as you can all our friends in your neighbourhood who must be sensible that they can not be individually addressed by Letter but who will please to consider themselves as if particularly named; and we request their and your concurrence with us in the above nominations. We beg of you to communicate to us as soon as possible the result of your opinions by letter directed to George Sherman. As to the County election for Hunterdon, it seems to be the general opinion here that on the whole it would be most prudent to run the federal ticket of the two last years unless our friends in the upper townships should wish some alteration of which in such case we expect to be informed. We learn from a communication received from below, that one elector General John Black, and one congressman William Free Esq. [?] is already agreed on from that quarter, & we are very respectfully your friends,

James Alexander, Andrew Woodruff, Lucius Horatio Stockton

N.B. We consider it desirable that as many of our federal friends as possible should meet on Wednesday the third day of August next at the hour of four o'clock in the after noon at the house of Jonathan Muirhead at Flemington in order to consult on measures to promote the success of the federal republicans at the ensuing elections.
Addendum, 2/18/2012:  The Federalists in New Jersey were not insignificant during the years of Jefferson's presidency, and during the War of 1812, they managed to take control of the legislature and get a Federalist Congressional delegation elected. But in 1808, they could only win 44% of the seats in the legislature.1
Correction: The initial version of this article had some mistakes regarding the political parties. I had confused the Jacksonian period with the Jeffersonian one. Fortunately, I'm married to a political expert who caught the mistake.
From Ruloph J. Pasler and Margaret C. Pasler's book The New Jersey Federalists, published in 1975. ↩