The Saxtonville Tavern started business with the Delaware & Raritan Canal, declined after construction of the Belvidere-Delaware Railroad, and closed not long after the Civil War. For the tavern's first chapter see this post.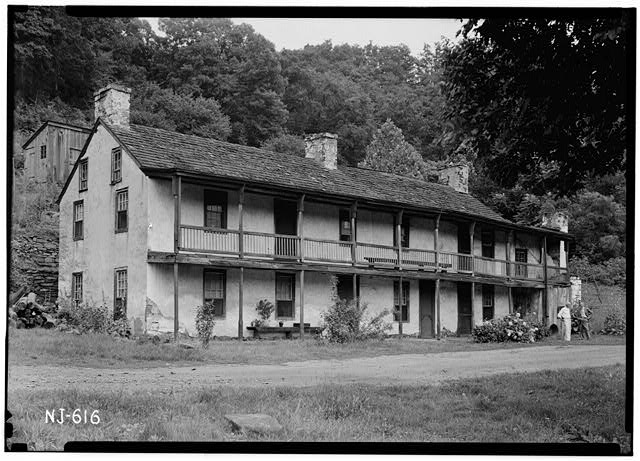 Bernard and Mary Rogan
On May 21, 1848, Richard Bennett and wife Eliza sold the tavern house and lot in Saxtonville to Bernard Rogan of Tinnicum, Bucks County for $2000.1 Bernard Rogan was born in Ireland about 1809; his wife Mary about the same time and place. Based on census records and the birth of their son Patrick, they were present in Pennsylvania before 1834. But I cannot say how Bernard Rogan was employed before he acquired the tavern.
The Rogan family was counted in the Delaware Township census of 1850. Daniel B. Rogan was 41 years old, an innkeeper, wife Mary also 41, both born in Ireland. Son Patrick 16 and daughter Julia Ann 14 were both born in Pennsylvania. Also living with them was Mary McIloan 14, also born in Ireland. The McAlone or McAloan family would become important to the history of Raven Rock. I cannot say what relationship Mary McIloan had to the Rogans, but then, I don't know the maiden name of Mary Rogan either.
Apparently, the Rogan name was pronounced quite differently from it's spelling. When the Cornell Map of 1851 was published, it showed the name as "B. Rorgaman's Hotel." Business was probably good at the tavern and 'hotel,' once the economy had recovered from the Panic of 1837. Things improved even more for Raven Rock when construction began on the Belvidere and Delaware Railroad in 1851. The tracks were to run on the old towpath of the D&R Canal, which was still in business. A new towpath was needed, which was constructed on the river side of the canal.
Once again, Raven Rock was subjected to the turmoil and inconvenience of major construction affecting the whole village. This time it was endured for three years, as the railroad did not open for business until 1854. But apparently, this turned out not so well for the tavern. One writer stated that the train passed the tavern and usurped the canal traffic which had favored the tavern. This is hard for me to understand, especially since there was a train station at Raven Rock. But the station was located at the south end of the village, and the tavern was at the far northern end, so that might have been the problem.
Perhaps the disruption was all too much for Bernard Rogan. He died about 1855, and his wife Mary took over running the hotel.2 This is evidenced by a sale advertised on December 5, 1855 in the Hunterdon Gazette to be held "at the house of Mary Rogan in Delaware Twp." She no doubt had help from her children, who were now adults.
Mary Rogan seems to have found a tenant to run the tavern because in the 1860 census for Delaware Township (Raven Rock Post Office), Horace Smith age 36 was listed as "Hotel Keeper." His wife Sallie 25 (Sarah A. Paxson) and daughter Isabella age 2 were living with him. I could not find Mary Rogan in that census record; in fact, I couldn't find her anywhere. Her son Patrick was living with his family in Lambertville in 1860, but Mary was not with them. Perhaps the reason I could not find her was the pronunciation of her name. The 1860 map of Philadelphia and environs show the tavern belonging to "Mrs Roogamers." Unfortunately, that spelling completely baffles the Ancestry census index.
Meanwhile, the railroad was making significant changes to the way of life along the Delaware River. For instance, it brought to an end the era of Durham boats, which had been used to transport coal from the Lehigh Valley. The last trip by a Durham boat down the River took place in 1865. One of Raven Rock's early residents, Joseph Rodman, was known for his skill in building Durham boats. Rodman died in 1849, but no one replaced him. Times were changing.
Ruth Scott Bray
By 1866, Mary Rogan had had enough.  On December 31, 1866, the heirs of Bernard Rogan, including his widow Mary, his daughter Julia and her husband David Kiley of Chester, PA, and his son Patrick Rogan of Lambertville and Patrick's wife Elizabeth sold the Tavern house and 11 acres to Ruth S. Bray "of Saxtonville" for $12003 The description was the same as in previous deeds.
Ruth Scott Bray was widow of John Bray who died on February 24, 1866. He was born November 15, 1788 in Kingwood Township, and was the son of John Bray (1756-1845) and Rachel Rittenhouse (1760-1799). Ruth Scott was the daughter of James Scott (c.1780-1850) and Mary Rittenhouse (b.c.1783). Mary was the niece of Rachel Rittenhouse, making John Bray and Ruth Scott first cousins, once removed. John and Ruth married on April 20, 1816 and had nine children. By the time of the 1850 Kingwood census, only the youngest remained at home. Son Austen, age 20, was helping his father on his farm, while younger brother Anderson Bray, 18, was a "cigar maker." Daughter Mary A. Bray would marry Josiah Wilson of Franklin Twp. in 1851. Daughter Harriet would marry William H. Barcroft in 1863 and live for awhile at the farm of her father-in-law, James Barcroft, at the corner of Route 519 and Strimples Mill Road. The ruins of the James Barcroft house are still standing there. In the 1860 census, John and Ruth Bray were advanced in age, he 71 and she 61 years old, living with daughter Harriet 23 who had not yet married.
Since Ruth Bray was "of Saxtonville" when she purchased the tavern, it seems likely she moved there after her husband's death. It is possible that one of her sons had taken on the job of running the tavern for Mary Rogan, also a widow, before Mary sold the tavern to Ruth Bray. And yet, by 1868, Ruth Bray was "of Kingwood." Consider this item from the Hunterdon Co. Democrat, of January 10, 1868:
"Intelligent Dog. Mrs. Ruth Bray of Kingwood, has a dog that is very handy around the house. He carries letters and packages between her home and that of her sons, at Bull's Island, a distance of three miles, with great punctuality and faithfulness, and manifests a disposition to be useful that commends itself as a model to a great many bipeds."
This suggests that Mrs. Bray's sons had taken possession of the tavern. According to Mr. E. T. Bush, Austin Bray was running the tavern and was the last to do so. Between 1868 and 1870, this all changed. According to the 1870 census, Austen Bray was a farmer residing in Franklin Township, and his mother Ruth was a resident of Delaware Township, Post Office Sergeantsville.
The dog article referred to Mrs. Bray's "sons, at Bull's Island." Her other sons were Wm. Waterhouse Bray, John Wesley Bray and James Scott Bray, all born in the late 1820s. But Wm. Waterhouse Bray died November 29, 1871 at Franklin Township. John Wesley, or Wesley J. Bray, was living in Delaware Township in 1870 with his wife Louise and two children (Angeline and Alexander), working as a farm laborer, not an innkeeper, and son James S. Bray had moved to Pennsylvania. Austen Bray and his family were living on a farm in Franklin Township in 1870, and on another farm in Kingwood Township in 1880. If he worked as an innkeeper before or after 1870, I have yet to find a record of it.
So it seems that innkeeping came to an end in Raven Rock about 1868.
According to her obituary, Ruth Bray died on July 2, 1873, "at an advanced age, at her residence in Delaware Township. She was the 'relict of John Bray.'"4 She was buried next to her husband in the Rosemont Cemetery. When the Beers Atlas of Hunterdon County was published that same year, it indicated the tavern lot as "R. Bray Estate." No "hotel" in Saxtonville.
The inventory of Mrs. Bray's possessions, dated July 12, 1873, included "one bill on note of J. Wesley Bray dated April 1, 1868 for $26" balance on rent & interest amounting to $35.55. Also, a "book account for rent against Austin Bray for $300" and another for John W. Bray for $200.
Mrs. Bray's estate was insufficient to cover her obligations, so a sheriff's sale was ordered to be held at which Thomas McAloan of Kingwood Township was the purchaser, with a bid of $750—quite a bit less than the $2000 that Bernard Rogan had paid.5 The Democrat announced the sale of properties belonging to Mrs. Ruth S. Bray, dec'd on Nov. 27, 1873:
"The old tavern stand at Bull's Island sold to Thomas McAlone for $750. A lot of 17 acres, near Milltown, to Austin Bray, for $600. A farm near the Kingwood M. E. Church, belonging to the estate of John Bray, dec., was sold to Joseph Williamson, for $5,000."
The fact that readers would know the reference to "the old tavern stand" suggests that it hadn't been closed all that long. There is no evidence that Thomas McAlone or any future owner of the property ran a tavern there.
Thomas McAloan
The earliest record I have of Thomas McAloan/McAlone is the 1860 Kingwood Twp. census in which he was 29 years old, born about 1831 in New Jersey, a farmer with land worth $3500 and personal property worth $500. With him was his new wife, Rachel J., age 19 (born 1841 New Jersey) and their son Samuel D. McAloan, 4 months old. Also in the household was Thomas' father John McAlone age 72, born about 1788 in Ireland. John McAlone was one of many who came to America to escape the hardships in Ireland. Another was James Collegan and wife Marcellus, who came to live next to Thomas McAloan in Raven Rock and also raise a family of New Jersey-born children.
Thomas' wife Rachel was the daughter of Samuel Bishop (c.1814-bef. 1880), a "sawyer," and wife Mary W., who were living in Alexandria Twp. in 1850, but moved to Solebury by 1860. Rachel and Thomas married about 1859 and had 5 children: Samuel D. c.1860, Ida May c. 1865, Minnie B. c.1872, William W. 1874, and George Horace c.1875.
In the 1870 census, the family was still living in Kingwood twp., but after purchasing the tavern lot, they relocated to Raven Rock, where they were counted in the 1880 census. Thomas McAloan was listed as a farmer, not an innkeeper. Exactly where he farmed is hard to say, since there is no real farmland in the village itself.
More confirmation that Thomas McAloan did not run a hotel or a tavern can be found in James P. Snell's History of Hunterdon and Somerset Counties, in which he described Raven Rock in 1880:  "At present, it [Raven Rock] embraces a railroad station, a store, and a dozen dwellings."6
By 1900, the McAloan family had moved to Kingwood twp., with son William W. age 26 living with them, and Rachel's widowed mother Mary W. Bishop, age 80. Who was left at "the old tavern stand"? Hard to say. In the 1900 census for Delaware Township, it looks like David C. Conner age 24 was living at the tavern house, wife Ella M. 23, and daughter Edith 2, and widowed mother Clarissa 54. Next on the list was John Roach 41, wife Mary 39, and sister Rose Colligan 38.
Thomas McAloan died in 1905 at the age of 72, without having written a will. His widow Rachel returned to Raven Rock. In 1910, Rachel McAlone 69, widow, was living in Delaware Township, on her own income with son William W. McAlone 36, a school teacher. He married Margaret Van Ness in 1911 and became a well-known teacher in Hunterdon County. In 1918, when he registered for the draft, he described himself as medium height, slender build, with gray eyes and black hair. He and wife Margaret were living in Hampton, NJ, and he was teaching in the South Bound Brook school system. After that, he moved to Cape May by 1920 where he was a school principal. On Sept 22, 1928, Rachel McAlone deeded the lot of 11 acres in Raven Rock to her son William.
I have not found William Wallace McAloan in the 1930 census, but he was back in Hunterdon County by 1940, when he was renting a house on North Union Street in Lambertville, and teaching at the Rosemont school. He was living with his wife Margaret, and adult children Robert, Ruth, Henry and Rose. Oddly enough, he was also counted in the Delaware Township census owning a house worth $2000; no family was listed there. That house was undoubtedly the old Saxtonville Tavern.
In 1959, according to B. A. Sorby, Henry McAloan, son of William and Margaret, was living at the old tavern, with his wife Charlotte and their two sons Henry Jr. and Robert. He was a rubber company representative, and renovated the house shortly after World War II. He died in 2003 at the age of 83.
Here I will end the tale of the Saxtonville Tavern, except to say that this wonderful old building is now caught in the web of the state bureaucracy, waiting to be inhabited once again. That must happen soon, for it's very survival is at stake.
Postscript, January 2013:  The residents of Raven Rock love their town so much that they banded together to compose a history, running from the earliest habitation (my chapter) to the 20th century. It's a lovely little book, full of fascinating information, and I highly recommend it:  Stories from Raven Rock.