After publishing my last post on the Covered Bridge, in which I described Eric Sloane's encounter with a fellow who lived near the bridge named Sparky, I came across a drawing that was published many years ago in the Hunterdon Democrat, that shows the Gelvin house, the one-lane covered bridge, and the old Brown hatchery building.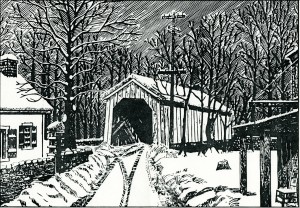 Green Sergeant Covered Bridge, c.1930
The bridge was a great attraction to artists, and still is, but thankfully, this particular artist, whose name is unknown to me, was working in the 1920s or 1930s. We know that because the building on the right was demolished soon after that.
What is important about the drawing, besides the fact that it shows what the roadway was like before the new parallel bridge was installed, was that the old building on the right was used by people for some purpose. There is a porch, and a chair by the door, and above the porch roof what looks like a support for  a hanging sign, although the sign is gone.
In my last post, I speculated that Dr. Gelvin's statement that the roadhouse was across the road from his house was perhaps a form of denial, not wishing to have illegal liquor sales associated with his house. This seemed reasonable since Mrs. Carl recalled her father getting his drinks from the house, not the building across the road.
Now I'm wondering if this could be a case of both versions being correct. The still may have started out in the derelict hatchery and then gotten transferred to the house. Whatever the case, the drawing is wonderful. I would love to know who the artist was.