This cemetery on the Emmons farm along Federal Twist Road in Delaware Township was used by residents of Kingwood Twp. in the 19th century. I originally published this article in The Delaware Township Post in 2008. I am republishing it now because of an error in that earlier article that needed to be fixed.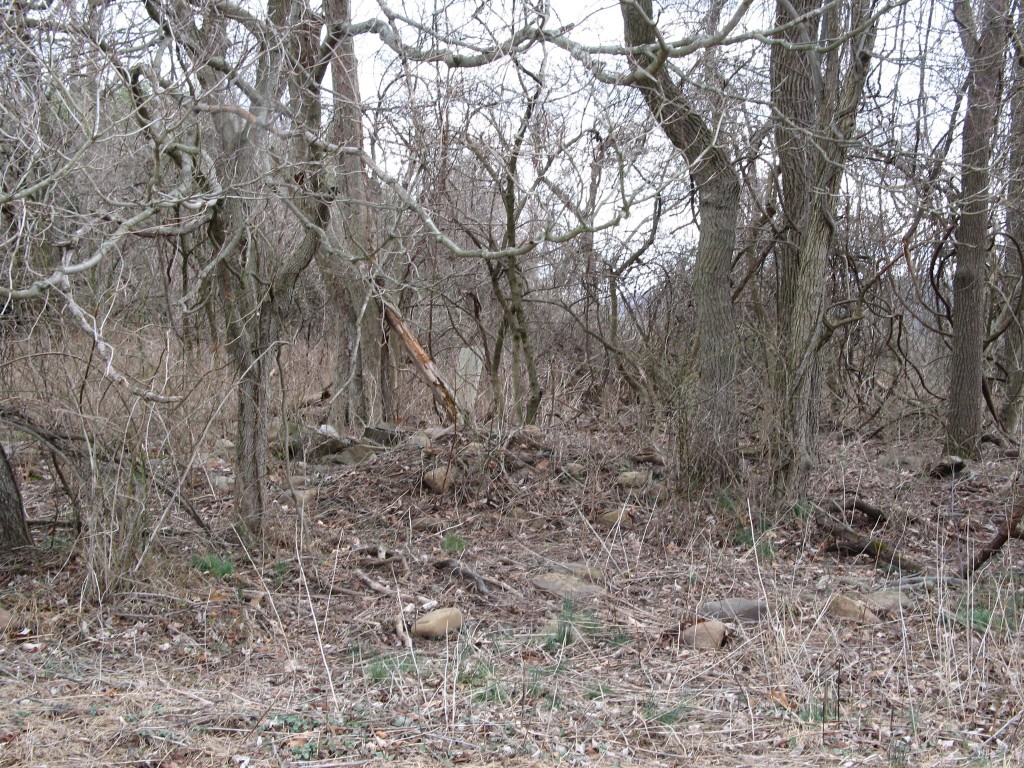 As you can see, the cemetery is sadly neglected. Here are the inscriptions as found by Egbert T. Bush in 1917:
Catharine Cherry d. 20 Nov 1815 [1845], daughter of Thomas & Catharine Cherry
Hannah A. Cherry, d. 17 Oct 1858, daughter of Thomas & Catharine Cherry
James James, d. 15 Jan 1814 [1844], age 75
Mary Cherry, d. 4 Feb 1834, age 63, wife of James Cherry
Elizabeth Hall, d. 2 Mar 1845, age 85, wife of Jacob Hall
Jacob Hall, d. 28 May 1830, age 74 years.
R P 1781
T R 11 Oct 1766
Elizabeth Strimple, d. 28 Oct 1856, wife of John Strimple
M W  [no date]
D E  1801 K D
D BI b.1787  F S D C W 32 Y A
D B I  born 1787
F  S  D  C  W   32 years of age
Two daughters belonging to Thomas and Catharine Cherry of Kingwood are buried here. Catharine died November 20, 1845 and Hannah died October 17, 1858, both unmarried. Their birthdates were not given, but Catharine was probably an infant, and Hannah was probably a young adult. In 1845, Thomas Cherry owned a farm just over the township line in Kingwood, along Federal Twist Road. He was a supporter of John Quincy Adams and attended an "Administration Meeting" in 1828 at the house of David Everitt who lived on Strimples Mill Road. In 1829 Cherry was elected to the Kingwood Twp. Committee.
In my earlier post, I described the gravestone of James Cherry, which appeared to show a date of death as January 15, 1814, age 75. That seems to be how Mr. Bush saw it too. I was confused about who he could have been, until a reader (Sharon Davis) pushed me to realize what should have been obvious. I had misread the date—it should have been 1844, not 1814. Things fall into place once we accept this later date. Sharon and I have worked it out that the James Cherry who was born about 1769 was the son of James Cherry Sr. of Shamokin, Pennsylvania. This elder James wrote his will in 1790, bequeathing property he owned in Kingwood Township to his heirs, including his son James.
This James Cherry Jr. was also named in the will of his father-in-law Jacob Kyple in 1795. He was married to Kyple's daughter Mary, who died on February 4, 1834, age 63, and is buried next to her husband in the Cherry-VanCampen Cemetery. When her husband died ten years later, in 1844, he did not have a will, so the names of his children are not known. But I expect that one of them was Thomas Cherry, who administered the estate. (In the earlier post, I mistakenly identified him as a brother of James rather than his son.) Sharon's notes list the children of James and Mary Kyple Cherry as Catherine, Margret, Eleanor, Elizabeth, Lucy Ann, Mary and William—no Thomas. Thomas Cherry married Catherine Swartz, had at least four children, and died about 1865. I do not know where he was buried.
Two gravestone that should be here but are not, are for Jacob and Catharine Kyple, the parents of Mary Kyple Cherry. They bought property in Delaware Township in the vicinity of Strimples Mill Road and Federal Twist Road in 1774. Jacob died in 1794 and Catharine in 1801. They probably were buried here, but their stones have not survived.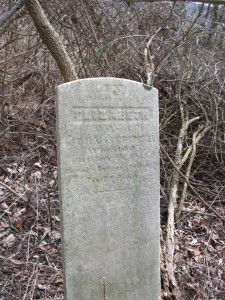 Also buried here are Jacob Hall (1756-1830) and his wife Elizabeth Davis (1760-1845). They too were residents of Kingwood Township. He is probably the Jacob Hall who died intestate in 1820, not 1830 (another misreading?). Their daughter Elizabeth married John Cowdrick about 1815.
Elizabeth Strimple is here, the wife of John Strimple, Cordwainer (Shoemaker) of Kingwood, who died in 1814. Elizabeth died in Kingwood on October 28, 1856, age 83. I have not been able to link her to the Calvin G. Strimple after whom Strimples Mill Road was named. This is the only gravestone that has survived intact.
The name of this cemetery refers to the Van Campen family, even though no stones for that family have been found here. About 1750, Guisbert Van Camp bought 274 acres from Marmaduke Leet that included the cemetery location. At the time, Guisbert was living in Readington. We can get an idea of what life was like at that time by a legal document dated 1757: "Guisbert van Kampe of Redingtown" gave bond as administrator of Jacob van Kamp (van Campen) of Sussex County, who had been killed by Indians.
By 1775 Guisbert Van Camp had moved to Amwell where he was a bordering owner of a new road, today's Federal Twist Road. He and wife Titje or Tetye had at least eight children. Guisbert died without a will in 1782, and a gravestone for him has not been found, nor for any of his family. One connection might be through Guisbert's son Isaac Van Camp and his wife Margaret Kyple, daughter of Jacob and Catharine. Their son was named Kople Van Camp, and he married Ann Emmons. The property has long been owned by Arleigh Emmons, now deceased, and wife Ethel. Perhaps Ann Emmons was connected with that family. However, Kople and Ann Van Camp moved away from Hunterdon County.
There are some 18th century mysteries here. R. P. died in 1781. T. R. died on October 11, 1766, and M. W. probably died in the 18th century, though his or her stone has no date.
R. P. might be a member of the Pettit family. John Strimple's wife Elizabeth was a Pettit. T. R. and M. W. are unknown. Even more mysterious are these stones:
"D E 1801 K D"  and  "D BI b.1787 F S D C W 32 Y A".
The first could be 'K. D. died 1801.' But I cannot identify such a person. The second might be 'D. B. I. born 1787, 32 years of age.' But the meaning of "F S D C W" escapes me. If anyone out there can crack this code, please let me know.