Looking Back, Looking Forward
This is the 400th article I have published on this website. Nice round numbers feel like milestones; they inspire us to reflect and to look forward, so that is what I will do today.
A Short History of My History Blog
Back in 2009, I was having one of my typically-rotten spring allergy seasons, forcing me to stay indoors for several weeks. I was desperate for some kind of work.
By that time I had been writing house histories for Hunterdon County residents for 27 years, and had accumulated quite a bit of information on Hunterdon properties and families. Also, I had taken on the job of township historian, which gave me access to all sorts of interesting records.
It did not seem right to keep all this to myself and my limited number of clients. But that problem began to be solved when I started writing articles for the township newsletter, "The Bridge." The only drawback to that was that I was limited to Delaware Township stories.
More than one person suggested writing a book, and I did consider it. But it takes an awful lot of discipline to write a book. An article I can handle, but a whole book? I made a couple attempts, but just couldn't stick with it.
Then the internet evolved to make it not only possible, but relatively easy for individuals to publish blog posts on their own. This seemed like something worth trying. My first post was published on June 11, 2009, which I called "A Blog About Hunterdon History." It was an introductory article, and I am surprised to find that it is still relevant to what I am doing these days.
Over the years I have learned that the act of writing is one of the best ways to learn. Almost every sentence seems to raise a question. Answering those questions takes me into new territory, providing new discoveries. It's actually a lot of fun, and kind of addictive.
But 400 articles? That took me by surprise. It means I have outstripped my mentor, Egbert T. Bush. Except that I could not have reached this number if it weren't for all of the Bush articles I have published here (with my comments added).
Favorite Subjects
Having discovered that I had New Jersey ancestors, I was eager to explore their history, which began with the early settlement of the Province of West New Jersey. Somehow, genealogy began to take a back seat as I became intrigued with late 17th century politics in the province.
If you click on "Index of Articles" at the top of the page, you will find a list of published articles arranged by subject matter, starting with articles related to the early history of West New Jersey. You can see there that I left off at 1691, which is too bad, because quite a lot of interesting history took place after that. I have always thought I would resume that history, and have not given up the hope that someday I will.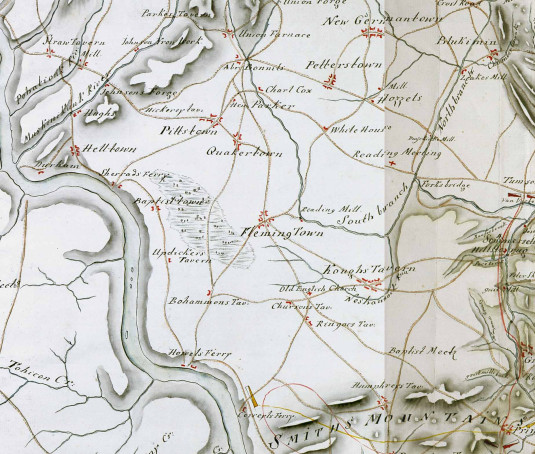 What lured me away from that subject was my curiosity about the early settlement of my home county, Hunterdon, another endlessly interesting subject. My recent articles have featured the settlement of various proprietary tracts in Delaware Township. The number of possible articles on the proprietary tracts in Hunterdon County is nearly infinite.
Because Egbert T. Bush lived in Franklin and Delaware Townships, most of his articles concerned the people he remembered living in those places. I have not tallied the number of Bush articles I have published versus the ones remaining, but I know the number of unpublished articles is quite large. I hope to get to all of them, eventually.
Also, I have as yet not made much use of information I acquired doing house histories. The townships and villages and early families of Hunterdon County have endless fascination for me. I hope to broaden the scope of future stories to include more of central and northern Hunterdon.
This should indicate why I can't settle down to write a book—my curiosity is too much of a distraction. It is a lot more fun to write about something you're curious about than something you think you ought to write about.
Some Changes
After 400 articles, this seems a good time to tweak the website a bit. Now the "About" page includes more information on what can be found on the website—including an explanation of the top menu and what can be found on "Families," "Locations," and "Index of Articles."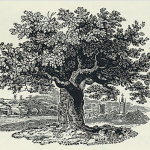 The biggest improvement will be to the "Families" page. Currently, clicking on "Families" takes you to a page with a list of family names. Clicking on a name takes you to a page with a list of articles related to that family. I have decided to add a family tree article as a link on that page. And to designate the family tree pages, I will use as an icon this lovely tree by Thomas Bewick.
The reason for publishing family trees is that many times when writing an article I myself have gotten confused about who was related to whom. I think having a basic tree to refer to might be helpful to us all. I have already published a few trees, beginning with the Green family, since that is the family I started with on the website. On the "Families" page you will see some names in caps—those are the ones whose trees have been published. I will go as far as 4 or 5 generations, but will not make any attempt to take families beyond their residence in Hunterdon County.
I should note that WordPress insists on showing the most recent articles first. If you click on a family name and go to the list of articles that's what you'll see—the most recent ones. Scroll to the bottom of the page and click on the right arrow or on the highest circled number to get to the earliest articles.
Connecting
One thing I had hoped to do was provide a way for readers who are researching the families that I write about to get in touch with each other. It's possible to do that on a site like Ancestry.com, but for a website like mine, privacy issues make that impractical at this time. I do not want to expose my readers to the annoyance of spam emails or worse.
And speaking of readers, I must thank all of you for reading my articles and making comments. It means a lot to me to know that you enjoy and are getting a benefit from these articles.
So–onward for another 400!