My previous post began with Egbert T. Bush's article "Baptistown, One of Hunterdon's Oldest Villages." Baptists settled here very early and established a church by 1745. But there was another early institution here—the tavern, which was in operation before the Revolution.
And still another reason why Baptistown was settled early—it was located along one of Hunterdon's earliest roads, sometimes called the great road from Howell's Ferry to Sussex County. Roads were so important it makes sense to start this history of the tavern with them.
The Oldest Roads
It was common for 18th century tavern owners to put up their buildings in the best location for catching the attention of weary travelers. This was often at the end of a road leading from a ferry or bridge across the Delaware River, as in the case of Centre Bridge, now Stockton. If the tavern owner was inland, he would build at an important intersection, so that travelers would have no trouble finding it.
This was the case in Baptistown. The road from Frenchtown (known as Sherrard's Ferry in the 18th century, and then as Alexandria in the early 19th century) was fairly direct, for the most part following the path of today's Route 12 after Ridge Road and Horseshoe Bend Road branched off to the left and right.
However, as this road approached Baptistown, it diverged from the current path of the modern highway. Route 12 curves southeast, but the old road continued straight to a 'T' intersection with the Great Road (i.e., County Road 519), also known as the King's Highway. Here is a view of the old roads taken from the earliest road map for the state of New Jersey, prepared by Thomas Gordon in 1828.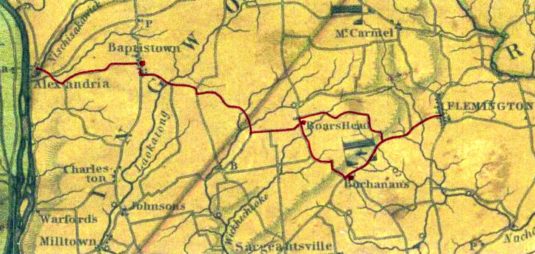 The route from Alexandria to Baptistown, and then on to Flemington has been highlighted. I was surprised to see that Mr. Gordon spelled the town's name the way we do today. Deeds from that period usually used spellings like Baptisttown and Baptist Town.
You cannot see this with the Gordon map, but facing the road from Alexandria was the Baptistown tavern. Most houses of that vintage faced south, and along Route 519 most of the old houses have their side to the road in order to face south. It is almost as if the builder of the tavern house wanted to make sure that travellers would come straight to the door. (If you were going the other way, from Baptistown to Frenchtown, you would find the road taking you directly to Frenchtown's tavern–the National Hotel, just as it did the Baptistown tavern.)
Here is how the old tavern looks today as it faces the remains of the old road from Frenchtown.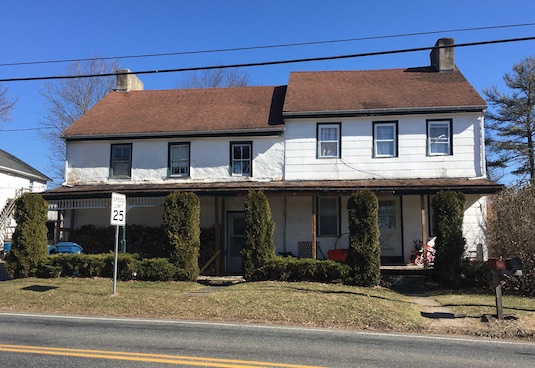 Let us suppose that the weary traveler intends to go from Sherrard's Ferry all the way to Flemington, the county seat of Hunterdon County. As the Gordon map shows, that was a far more complicated process. There was no direct road. I have highlighted some alternative routes on the Gordon map. The most likely route would take travellers to today's Whiskey Lane and Boarshead Road, where once again, a tavern awaited them at the intersection of Boarshead Road and county route 579 (the Quakertown Road). Alternatively, one could go south to Locktown, then east on the Locktown-Flemington Road, then south on route 579 to end up at Buchanan's Tavern. This tavern is also located at a major intersection with Route 523, which would take one straight in to Flemington. If you had stopped at the Boarshead Tavern, you could then take today's Harmony School Road to Route 523 and then into Flemington.
All this was fine on a horse, but not so great in a car.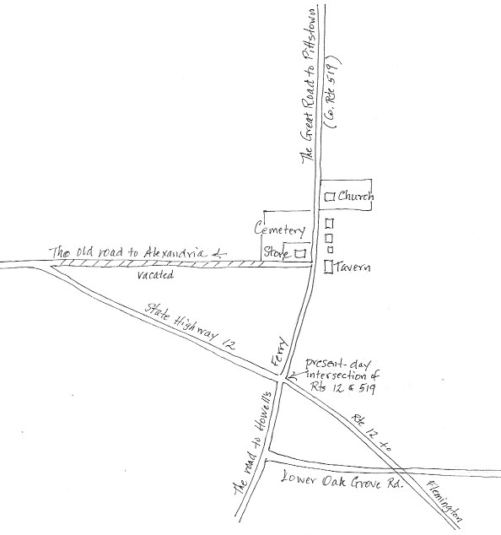 This zigzagging went out of fashion once automobiles became the preferred way to travel. Highways had to be as straight as possible, so when the State Road Department made its plans for the main east-west highway from Flemington to the river, they designed it to go straight through Baptistown. In the process, two triangular spaces were created. Unfortunately for anyone hoping to revive the old tavern, the road that took travellers straight to the hotel was abandoned. All that is left of it is a partial lane with parking for visitors to the post office.
The Tavern
As one can tell from its name, Baptistown, originally Baptist Town, was founded by early Baptist settlers, who built their church around 1745. As the recital in a later deed shows, in 1762 a two-and-a-half-acre lot not far from the church was created and sold by Aaron Vanseyor to John Taylor, Sr. This lot became the location of the Baptistown Tavern. In the mid-18th century, Baptists were not offended by the existence of a nearby tavern. Temperance had not yet become a major issue. Like all villages, taverns were considered an asset, not just to the traveler, but to residents who needed a place to congregate and hold meetings. Innkeepers often acted like unofficial mayors in these small places.
It can be difficult to imagine what the old tavern looked like, but fortunately, sometime in the mid to late 19th century someone took a photograph of it.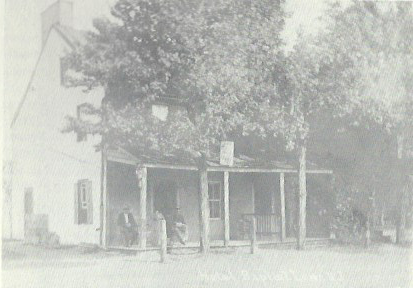 I copied this photograph from Barbara and Alexander Farnham's book Kingwood Township of Yesteryear. Even though they were able to include this wonderful photograph, the Farnhams had very little to say about the history of the Baptistown Tavern. When I left off with my previous post, we had come up to the sale in 1802 of the 2.5-acre lot in Baptistown by Jonathan and Jane Thatcher Davis of Kingwood to William Halliday, also resident in Kingwood, for $220.1
Was Jonathan Davis the first tavern keeper in Baptistown? The building seems older than 1802. In 1977, a survey of Hunterdon's oldest houses described the tavern house as "a stone/frame three bay deep-form structure with a higher three-bay, side hall, deep-form addition."2 Unfortunately, the study did not estimate the building's age, but it is obviously old.
The Tavern Owners
Here is a brief history of the tavern lot's ownership starting with 1802 when it was sold by Jonathan & Jane Davis to William Halliday.
Halliday kept the tavern for seven years. In 1808, he and wife Elizabeth Higgins Halliday sold the tavern lot to William Britton for £450.3 That was the last time that anyone used pounds instead of dollars to purchase the lot. William Britton/Brittain kept the property for the rest of his life. It was sold by his heirs in 1831 to Samuel Slater.
Slater was a little casual about recording deeds, but related deeds suggest that sometime before 1847 he sold the lot to John Kugler Johnson. But shortly afterwards, Johnson died young, probably by an accident. The lot was then conveyed to Anderson Horner.
The Cornell Map of 1851 shows the tavern lot as the "W. Horn Hotel." Anderson Horner's father was William Horner (1766-1855), and his mother was Mary Britton Horner (c.1768-?). William Horner's name was sometimes abbreviated to Horn. And his daughter Delilah (sister of Anderson) married Samuel Slater, who had bought the tavern lot in 1831.4
In 1856, Anderson & Sarah Horner sold the tavern lot to Godfrey Hawke. After his death in 1863, the lot was sold to his son Jacob C. Hawk. But Hawk immediately sold it to Thatcher Trimmer, and three years later Trimmer and wife Charlotte King Trimmer sold it to John M. Baldwin. In 1869, John & Susan Baldwin sold the lot to John's brother Anson Washington Baldwin (1835-1893), who became one of the best-known of the whole line of Baptistown tavern owners. He was still in possession when he died.5
The tavern was then sold to an interesting character. He was John P. Batt, former tavern keeper of the Union Hotel in Flemington. But he only lasted four years. Following a bit of scandal, Batt returned to Philadelphia, after selling the tavern lot to Adelbert G. Lee, also of Philadelphia. There was rapid turnover after this. In 1909, the tavern lot, reduced to 1.26 acres, was sold to John C. Arnwine.
Tavern Licenses
One of the most valuable record groups on file with the County Clerk is a collection of tavern license applications that date all the way back to the 18th century. I was curious to see when the tavern owners got their licenses. Much to my surprise, none of them did, with only a couple exceptions. One was was Nathaniel Thatcher, but his application was for a tavern in Amwell Township. Another was William Halliday, but that was only for a year.
There was only one conclusion to draw from this: just because you own a tavern property does not mean you are a tavern keeper.
From earliest days in the 18th century, people who wished to sell liquor had to get a license to do so from the county court. And since the courts were diligent about keeping minutes, it is possible to look up the lists of applicants for many (but not all) of the years in the mid 18th and 19th centuries.
One thing I learned while looking through the Court's Minute Books is that County Clerks were really clerks, by which I mean they did the actual handwriting that appears in the minute books, instead of relying on staff, as was probably the case by the time of the Civil War. How do I know? Check out this Title Page for the Court Minutes of 1807. Such a beauty!
The Tavern Keepers
I was disappointed to find that the minutes listed tavern keepers by township rather than by village. During all those years, there was no reference to Baptistown, only to Kingwood. Which means that for each year there would be three or more names for Kingwood Township. One of the Kingwood names that appeared a few times, starting in 1794, was Mary Hoff.
Researching women, especially married women, especially 18th century married women, can be very difficult. Alternate sources of information are needed, one of them being the way the old roads were identified. They were not named the way they are today. Instead they were described, as in "the road from Pittstown to the Delaware River" (Deed 20-076), or "the road from Quakertown to the Boars Head tavern" (ad in the Hunterdon Gazette, Feb. 1829), or "the great road from John Hart's tavern to Howell's ferry" (Deed 007-468, Davis to Halliday). This last one was for Route 519 as it ran through Baptistown. I found several references to "the road passing through Baptisttown."
Another place to look for evidence of an old tavern is in the ads for Sheriffs' sales published in old newspapers. They would describe the property and announce where the public sale would be held, usually "at the house of," being the house of the local tavern keeper. This was a good example of how useful local taverns were as meeting places—they were easy to find, and refreshments were always available.
The biggest clue for me turned out to be not a sheriff's ad in the newspaper, but rather in the recital of a deed for a sale by Sheriff William Lowrey held in 1791 "at the house of Mary Hoff in Baptist Town."6 Finally—identification of the Baptistown tavern keeper in 1791.
Another old deed mentioned a road from "the house of widow Mary Hoff." So now I knew I had to find Mary's husband, as it was likely she was carrying on the tavern business after her husband's death. Sure enough, The New Jersey Gazette of July 2, 1783, published an item about someone wanting to get subscriptions for republication of a book on fencing and listed places where subscriptions could be collected, including "Gabriel Hoff's in Baptist Town."
So there they are: Gabriel and Mary Hoff, tavernkeepers of Baptistown. And yet, they never owned the property. Gabriel Hoff died intestate in January 1790, about 62 years of age. The court named his widow Mary administrator of the estate along with her son-in-law John Leigh (married to Catharine Hoff), and friend Absalom Runyan.
Gabriel & Mary Hoff
Gabriel Hoff was a tavern keeper as early as 1765, when he got a tavern license in an unnamed location. In 1766 he got a license for both Alexandria Township and Kingwood Township. I suspect that Hoff was running a tavern in Alexandria in 1766 and moved to the Baptist Town tavern later that year. The tavern licenses are somewhat sporadic. The next license for Gabriel Hoff in Kingwood was dated 1771, with Daniel Pegg and Hoff's brother Charles as his sureties. (Licenses for these early years are found at the State Archives.)
From this I believe we can safely conclude that the Hoffs were running the tavern in Baptistown during the Revolution.
Gabriel Hoff was born in Hopewell in 1727 to Charles Hoff and Angelica Johnson. He and his brother Charles were present in Hunterdon County by the late 1740s. This Charles Hoff, Jr. became a Justice of the Peace and probably for many years the most important person in Pittstown, where he ran a store and a mill.
His brother Gabriel Hoff was married to his wife Mary about 1750. I have not found a marriage record for this couple, nor for their burial place, although one would expect they would be buried across the road in the Baptistown Cemetery. I have also not been able to identify Mary's maiden name.
The couple had four children, but because they lived mostly before census records got detailed, I am uncertain about them. However, a deed of 1809 named the children and heirs of Gabriel Hoff, late of Kingwood as:  Nathaniel Britton of Alexandria Township & wife Sarah Hoff; Charles & Elizabeth Hoff also of Alexandria; John Slater of Kingwood Township & wife Rachel Hoff; John Leigh of Amwell Township & wife Catharine Hoff; and William & Gertrude Hoff, also of Amwell.
Note that Nathaniel Britton, husband of Gabriel and Mary's daughter Sarah Hoff, was probably the brother of William Britton, who bought the tavern lot in 1809 (below).
During the years of the Revolution, Gabriel Hoff, who was then in his 50s, continued to run his tavern in Baptist Town and to participate in his community by witnessing his neighbors' wills, making inventories, and being executor for friend Richard Slaght. In 1780, Hoff was named Kingwood Township tax assessor. That year in January he was taxed on 10 acres, but in June he was taxed as a householder.
After he died in early 1790, Gabriel Hoff's inventory was made on February 4th by Richard Opdyke and Hezekiah Waterhouse. It came to £334.9.7, a respectable amount.
As a widow, Mary Hoff took over the tavern on her own and continued to get tavern licenses for at least ten years. The last one I found for her was in 1800. But the sheriff's sale advertised in 1802 was to be held "at the house of Mary Hoff in Baptist Town," which shows that she was still in business then.
In 1804, the number of Kingwood taverns had increased significantly. Six licenses were issued, twice the number in previous years. Licensees were Daniel Abbott, James Anderson, Gershom Hull, John Johnson, Gabriel Huff and William Holliday. Mary Hoff did not get a license—she seems to have retired this year. Gabriel Huff must have been her son, Gabriel Jr.
Remember that in 1802, Jonathan & Jane Davis sold the tavern lot to William Halliday. Halliday may have intended to take over the tavern business, but he never got a tavern license after 1804. In 1806, the Kingwood license went to Gabriel Hoff.
1807 is a bit of mystery—neither Gabriel nor Mary Hoff nor William Halliday got a license. Two unknowns did: Archibald Davison and Peter Starker, along with Neal Hart, John Johnson, William Large and Aaron Thatcher.
Then in 1809 (the year 1808 is missing), the Kingwood licenses went to John Johnson, Christian Snyder, Jesse Chamberlin, William Large, Aaron Thatcher and William Britton.
William Britton
On January 13, 1809, William and Elizabeth Halliday of Kingwood Township sold the tavern lot of 2.5 acres to William Britton of Alexandria Township.7 Britton seems to have been the only tavern owner who also kept the tavern in a committed way. In 1821, he applied for a license "at the house he lived in in Baptist Town." From 1809 through 1814 he renewed his license regularly. But then he gave up tavern-keeping and leased his tavern to Jonas Thatcher, who got a license in 1815 and 1816, as mentioned by Mr. Bush in his article on Baptistown. After that, Amos Sine took over, getting a license in 1817 and 1818.
Amos Sine was born about 1790 to William & Mary Sine of Sand Brook. William Britton's wife was Elizabeth Sine (1785-1850) daughter of Nicholas Sine & Mary Smith of Bethlehem twp. William Britton and Elizabeth Sine were married in 1811; Amos Sine and wife Achsah Golden married the next year. And yet, I have not been able to find a family relationship between Amos and Elizabeth Sine, even though it seems likely that they were related, and that Amos Sine would keep the tavern for a time while William Britton owned it.
In 1817, Amos and Achsah Sine were living in Kingwood when they sold a lot in Kingwood to Robert Liverton, which they had bought from Charles Bartolette two years previously. It is likely they left Hunterdon after that. In 1833, his father, William Sine, wrote his will, leaving "to my beloved son Amos Sine or his legal representatives $100, one half to be paid within two years after my decease, and the other half within three years." It's hard to know how to interpret this but mention of legal representatives suggests that Amos Sine was no longer living in Hunterdon County. There is no more record of him there after 1818.
After Amos & Achsah Sine left, both Frederick Berdine [sic] and Peter Skillman got tavern licenses in 1819 and were named by E. T. Bush as among the many tavern keepers in Baptistown. Mr. Bush also named Daniel Snyder, about whom I know next to nothing.
Next on Mr. Bush's list was Larason Stryker (1797-1881), son of Peter A. Stryker and Keziah Davis. He married Theodosia Reading (1800-1875), daughter of Joseph Reading, Jr. and Lucy Emley, in 1820; they had ten children. Not long after marrying, Stryker got a tavern license in 1823 and subsequent years up through 1827. In 1829 Samuel Slater got the tavern license, and Larason Stryker moved on. A deed of 1830 identified him as innkeeper at Pittstown. That was the year that William Britton died.
I have not found much about William Britton's life in the usual sources. He witnessed deeds and took inventories, typical activities for local tavern keepers. He was appointed Constable of Kingwood in 1814. Then on April 7, 1830, the Hunterdon Gazette announced: "Died, at Baptist Town, in Kingwood, on the 28th ult [March 1830], William Britton, aged about 60 years." Nothing about his tavern.
Britton had written a will in 1825, naming John Britton and Francis Tomlinson his executors, ordering them to sell his real estate. I am fairly certain this John Britton was William's brother, not his son. In fact, I don't think William and Elizabeth Sine Britton had any children at all.
It took the executors awhile to settle things, but on October 6, 1830, they published a notice in the Hunterdon Gazette of a public sale of William Britton's real estate to take place in December. "Any person wishing to view the premises previous to the day of sale, will please call on John V. Thatcher, living on the firt [sic] mentioned premises [the tavern lot], who will show the same."
The advertisement described three separate lots, but this is the one we are interested in, the one where John V. Thatcher was living:
A Tavern Stand, situate in the village of Baptisttown, Kingwood township, with about 4 acres of land, on which is a large and convenient Tavern House, shed, and other out buildings, with a variety of fruit trees, &c.
It's not clear whether the sale took place as scheduled. It was not until May 4, 1831 that the executors conveyed the tavern lot of 2.5 acres, along with a 1-acre lot, both in Baptistown, to Samuel Slater of Kingwood, who paid $1500 for the two lots.8
As mentioned above, for a brief time, John K. Johnson owned the tavern lot, but died young, and no doubt unexpectedly. Shortly afterwards, Francis Tomlinson, administrator of Johnson's estate, advertised the sale of the tavern lot in the Hunterdon Gazette, Sept. 16, 1846:
"a Valuable Tavern Stand, In the village of Baptisttown, with a lot of land of 3 Acres belonging to the same. The house is large and commodious, [emphasis added] and the outbuildings in good order. The land is in a good state of cultivation. This stand is desirable as a place of public business and is worthy the attention of purchasers."
Viewing the house today, one would not think "large and commodious." Perhaps standards have changed somewhat since 1846. Tomlinson eventually sold the lot to Anderson Horner, mentioned above. And it seems that either his father or another W. Horn took over operation of the tavern.
There is a long list of subsequent tavern keepers in Baptistown, including John V. Thatcher, but it is too long a list for this article. I am delighted to have found the earliest keepers, the ones who helped to make Baptistown a destination in the 18th and early 19th centuries.
Footnotes: