My previous article discussed the evolution of political parties in the early 1850s, both nationally and in Hunterdon County. The Democratic party was still going strong, while the Whig party was fading away and two new parties had come on the scene: the Republican party and the American party, better known as the Know Nothings.
The presidential election of 1856 was the first big test of the new parties and the ability of the old Democratic party to stand up to them. It was the election of that year that decided the fate of them all.
Legislative Elections of 1855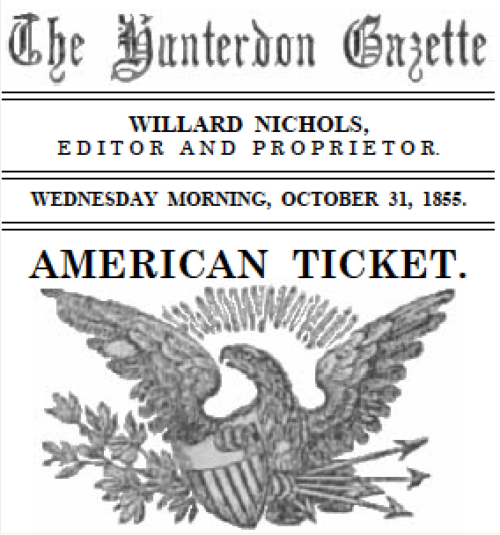 Leading up to the presidential election were the state legislative elections that took place in 1855. Back then, primaries were held in October, rather than April, a practice some might wish to return to as it shortened the political season considerably. The only elections held in April were local ones, the ones held by each of the municipalities.
In 1855, the Democrats were the dominant party in Hunterdon, but there were still some Whig candidates and there were also some from the American Party, which had a supporting newspaper in the form of the old Hunterdon Gazette, previously identified with the Whig party. Adam Bellis, editor of the Democrat, had this to say about it (in the issue of Oct. 24, 1855):
We really pity the menial slave [i.e. Willard Nichols] that has charge of the Hunterdon Gazette, that he is compelled to edit a Know Nothing paper instead of Whig, for the reason that there is quite a large number of very respectable Whigs in the County, that would be glad to have Whig principles advocated instead of Know Nothingism.
I doubt whether Nichols was compelled. His enthusiasm for the party was quite genuine.
In my previous article, I mentioned a meeting of the American Party in Flemington held on Oct. 15, 1855. The Hunterdon Gazette described it as an "AMERICAN MASS MEETING," at which Alexander V. Bonnell was named chairman and Willard Nichols, who authored the article, was secretary. As it happened, Alexander V. Bonnell was a State Senator at the time, elected as a Democrat, but presiding at an American Party meeting. He was clearly one of the several who had switched to the new party. Also present was John Runk, who had served in Congress in 1845-47 as a Whig.
At this 'Mass Meeting,' a vice president was chosen for each of the four legislative districts, and a committee was chosen to draft resolutions. Vice presidents were Jacob S. C. Pittenger, Daniel Brink, John A. Young, and Dr. John F. Schenk. Members of the committee to draft resolutions, were Dr. Schenk, John C. Reed, and Peter H. Hoffman. Candidates were chosen for the following positions: State Senator, Assemblymen for four districts, Sheriff, and three Coroners.
The Candidates & the Outcome
For State Senator, the American Party Ticket nominated George W. Risler, to run against the Democratic party candidate, John C. Rafferty, for the senate seat being vacated by Alexander V. Bonnell. The term was to run from 1856 to 1858 and (no surprise) Rafferty won.
There were four Assembly districts for Hunterdon County. In the first district, American Party candidate Charles A. Skillman of Lambertville lost to Democrat William Sergeant of Delaware Township. In the second district, John M. Vorhis of Alexandria beat Edward Hunt of Mount Pleasant. In the third district, Democrat Joseph W. Willever of Bloomsbury defeated American Party candidate Sylvester Smith of Bethlehem Township. In the fourth Assembly District, Democrat John P. Rittenhouse of Raritan Twp. won over American party candidate William R. Moore of Flemington. The Hunterdon Democrat, in an article dated Oct. 24, 1855, named Enoch Abel as the Democratic candidate for Sheriff. It appears he ran unopposed.
Just to complete this report on the 1855 election, Levi Williamson, Jeremiah Todd, and Martin Smith ran for Coroners on the American ticket against the Democrats Ephraim O. Parker, Lemuel B. Myres, and John Lewis.1
The 1856 Elections
There were two sets of elections in 1856, the first being the annual township elections in April, and the second being the presidential election in November.
The Townships
Township elections were scheduled for that season that comes between the end of winter and the farming months of May through October. Editor Nichols, with his office in Flemington, was particularly concerned with the Raritan Town Committee and reported on it regularly. April 1856 turned out to be a very good year for the American Party in Raritan Township. In the Gazette of April 16th, 1856, Nichols crowed:
Raritan Town Meeting!
American Victory!
"Clear the Kitchen!"

The Election for Town Officers on Monday was fully attended and resulted in the success of each candidate on the AMERICAN TICKET, by an increased and most satisfying majority. . . Three cheers for gallant little Raritan!! Let this victory encourage our American friends to buckle on their armor for the great November contest. Hunterdon County will be found to be American to the core.
And Nichols could not help but needle the Democrats over this:
After the frequent boasts lately made by the leaders and wire-workers of the opposition that they would "sweep the kitchen clean" on Monday, together with the apparent apathy of our own friends, this result is peculiarly gratifying.
Nichols reported that the townships of East Amwell, Readington, Clinton and Lebanon also voted majorities for "the entire American ticket," while Tewksbury, Delaware, West Amwell, Kingwood and Franklin voted Democratic. It is almost as if the county were divided by geography, east Hunterdon supporting the Know Nothings, west Hunterdon sticking with the Democrats.
The American Party members who won elections in Raritan township were (arranged alphabetically) Hugh Capner, George F. Crater, Peter V. Dalrymple, William Emery, Richard Emmons, Atkinson J. Holcombe, David B. Kirkpatrick, Leonard P. Kuhl, John V. McCann, William R. Moore, Caleb F. Quick, John Quick, George P. Rex, William R. Risler, Daniel B. Rittenhouse and Mahlon Smith.2
The Presidential Campaign of 1856
Books have been written about this presidential campaign.3 It was a very significant one. First of all, there was no Whig candidate, the first time in many years, and there never would be a Whig candidate again. And yet, there were three candidates in the race. Two of them were also firsts: the candidate for the new Republican Party, John C. Frémont, and a third-party candidate, former president Millard Fillmore, representing the American Party. The Democrats' candidate was James Buchanan.
Millard Filmore's name was familiar to voters: he was Zachary Taylor's Vice President, and after Taylor's death, acting president for over three years. His running mate was Andrew J. Donelson of Tennessee, a diplomat and editor of a Democratic newspaper in Washington, who was forced to give up the paper when he refused to promote expansion of slavery into the territories. Millard Fillmore was quite popular in Hunterdon County. In my previous article I listed members of the Fillmore-Donelson Club, and they made an impressive bunch.4
This was the first year that the new Republican Party fielded a presidential candidate. He was John C. Frémont, the California 'Pathfinder,' with the slogan "Free Soil, Free Labor, Free Men." His running mate was William L. Dayton of New Jersey, a graduate of Princeton and descendant of prominent New Jerseyans, Elias and Jonathan Dayton, but unfortunately, not a very dynamic fellow.5
The Democrats chose John Buchanan of Pennsylvania, and southerner John C. Breckinridge for Vice President. Buchanan had served as secretary of state under James K. Polk, a Democrat, and Zachary Taylor, a Whig, suggesting he could appeal to a broad range of voters, since he had avoided taking a stand on the slavery issue. Breckinridge took care of that with his southern roots. As it turned out, Buchanan got most of his support from the south.
The Republican Party of Hunterdon
The New Jersey Republicans held a convention in Newark in April, and Nichols' commentary6 clearly shows what little regard he had for the new party:
New Jersey Republican Convention. This convention which assembled at Newark, on Wednesday last, is said to have been large, enthusiastic and harmonious. We observe that the pillars of that party who have hitherto been notorious for their rabid antagonism to every principle and measure not advanced by themselves, have adopted a conciliatory manner, which, had it existed from the first, would not have injured their cause but on the contrary might have won for it a patient hearing at least, which all their thundering anathemas have failed to secure for it.
Over the summer, Frémont & Dayton clubs (named for the Republican candidates) had been forming in Hunterdon townships. Readington had one that met on August 23rd. Here is the announcement, published in the Gazette on August 20th.
All those who are opposed to the measures of the present Administration of the general Government, in the wrongs and outrages committed in Kansas and at Washington, to the interference of States with the Elective Franchise in the Territories and in favor of freedom of speech, of the press and at the polls, are requested to meet at the House of James Sanders, White House Depot, on Saturday the 23d of Aug., at 2 o'clock, P. M., for the purpose of organizing a Fremont and Dayton Club, for the Township of Readington.
Another such meeting was held in Clinton on August 29th, and on Sept 3rd, this appeared in the Gazette:
DELEGATE MEETINGS. All who are opposed to the extension of slavery over Territory now free or heretofore free by the provisions of the Missouri Compromise, and in favor of the principles of the Republican party, are requested to meet at their respective townships on Saturday the 13th inst., at four o'clock in the afternoon to select delegates to the State Republican Convention, to be held in Trenton on Wednesday the 17th inst., for the purpose of appointing seven Electors for President and Vice President of the United States. [signed] Samuel Hill, A. [Abraham] V. Van Fleet, Geo. A. Evans, Isaiah P. Large, Johnson Barber, Executive Committee.
Meetings would take place at taverns and hotels throughout the county: Van Liew's in East Amwell, at Mount Airy in West Amwell, at Sergeantsville in Delaware Twp., Baptisttown [two t's] in Kingwood, Perryville in Union, Milford in Alexandria, Quakertown in Franklin, Banghart's at Spruce Run in Lebanon, New Germantown in Tewksbury, White House in Readington and Hockenbury's Hotel in Flemington for Raritan Township. Meeting were also held at Lambertville, Bethlehem, and Clinton.
In September 1856, New Jersey's Republicans held their convention in Newark to choose electors for the presidential campaign. Although Republicans from Hunterdon did not attend the convention in significant numbers, they did hold their own first gathering at Crater's Hotel in Flemington that month.
A New Newspaper
I cannot list the names of men who attended that September meeting at Crater's Hotel because neither the Hunterdon Democrat nor the Hunterdon Gazette would publish them. Which may explain why sometime in September 1856, Republican-leaning citizens, led by attorney George A. Allen, approached Willard Nichols with the request that he provide more coverage in his paper for news of the new Republican party and of stories relating to opponents of slavery. Nichols turned them down cold!
As shown in his editorial above, published the previous April, Nichols had a particularly strong negative view of this new party, perhaps because it would challenge the American Party as primary opponent to the Democrats. Nichols was so antagonistic that he would not even use the name 'Republican' in his paper. Instead, Nichols and other American party members referred to Republicans as 'the Frémont party.' It was not until the 1860s, well after Nichols had left, that the name 'Republican' appeared in the Gazette.
George A. Allen, Esq.
George Anderson Allen (1822-1878) was born in Westport, Connecticut, and first appears in Flemington in 1842 when he entered the law office of James N. Reading (located in the Fisher-Reading Mansion on Main Street, Flemington).7 He was admitted to the bar only two years later and proceeded to develop a thriving legal practice. So successful was he, that he got listed along with other prominent Flemington lawyers in an article published in the Hunterdon Gazette on August 1, 1849 titled "Sketches — No. 2, Our Lawyers."
Nor are we willing to yield the palm to any of our towns of like size in the State over our own village, for here, even here, in old Hunterdon, the radiating point of locofocoism, we have men—gifted men—men who are an honor to their profession, and who, in their private life, command the respect of the community. I might particularize, I might pass over in turn the names of Messrs. Alexander Wurts, James N. Reading, Wm. H. Sloan, Charles Bartles and George A. Allen, but deem it unnecessary, . . .8
For those unfamiliar with the term "locofocoism," it is a nickname adopted in the 1830s by New York City Democrats demonstrating against monopolies at a Tammany Hall meeting. The bosses turned out the lights to discourage them, but they just lit their matches, called locofocos, and carried on. By the 1850s, the expression had become less than complimentary, describing Democrats ruled by their passions and willingness to disrupt proceedings.
In 1850, Allen married Mary Bonnell (1822-1904), daughter of Charles Bonnell and Margaret Anderson,9 and niece of Sen. Alex. V. Bonnell. The couple had four children.
There was no evidence of Allen's involvement in Flemington politics until the mid 1850s when the Republican party was organized. During the Civil War, Allen served as Captain of Co. H of the 3rd NJ Regiment of Militia.
The First Issue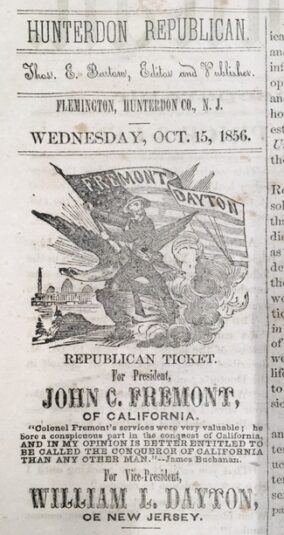 The first issue of the Hunterdon Republican was published on October 15, 1856, none too soon if the owner and editor wanted to have any influence on the election that year. The editor, Thomas E. Bartow, made no explanation of Allen's overture made to the Gazette or the need to fill a political vacuum in Hunterdon County. The paper was financed by a stock company which raised $1,000 to cover initial costs of publication. Backers were John Chapman, George A. Allen & Abraham V. Van Fleet.10
The new newspaper had a ready readership, many of whom had probably lost interest in the Gazette, with its strident support of the American Party. Here are some of the known members of Hunterdon County's Republican Party in 1856. (I've rearranged the list of names alphabetically to make checking on them easier.)
Jacob L. Apgar, Thomas Applegate, George A. Allen,
Johnson Barber, Abraham Biggs, Abraham A. Brokaw,
John Chapman, E. [Ezekiel] E. Cole, Samuel Connet,
John W. Cotanch, Tunis M. Cox, Abraham I. Davis,
W. M. Dildine, Tunis Dilly, Jas. Durant,Peter Emery,
David R. Emery, Geo. A. Evans, G. V. Glickener,
Edmond I. Godown of Baptistown, Wm. Guest,
Wm. Henry, Samuel Hill, J. S. Hudnut, Thompson Hudnut,
A. A. Johnson, Thomas Johnson, Wm. P. Johnson,
B. S. Kennedy, W. D. Kitchen, Henry Lane, Isaiah P. Large,
Cornelius Messler, Dennis S. Messler, Isaac Messler,
Lucas Messler, John Mitchell, T. Polhemus, David Reed,
Augustine Reger, Joseph S. Rue, John A. Smith,
C. S. Space, Henry P. Space, Matthias Space, John Stillwell,
J. V. Stout, A. Suydam, John Swackhamer,
Cornelius T. E. Swackhamer, Cornelius A. TenEick,
Andrew J. Thompson, John I. Thompson,
Benyow D. Vanderbeck, Cornelius Vanderbeck,
John N. Vanderbeck, Abraham V. VanFleet,
Cornelius W. Vanhorne, Jacob S. Van Horn,
John S. Voorhees, Peter Voorhees, Henry Weaver,
Mat. C. Welch, L. H. White, David Williams,
D. J. Williams, John Williams, John K. Williams,
H. B. Wyckoff, Nicholas P. Wyckoff
The American Party
The two parties, the Republican and the American, were the only alternatives for former Whig voters, or northern Democrats unhappy with the pro-slavery drift of the Democratic party. Historians write that many Whigs, especially those wishing to abolish slavery, joined the Republican Party.  That was not the case in Hunterdon County. For a time, at least, the most prominent men in the county joined the American Party.
The Party held a meeting on Sept. 20, 1856 to appoint delegates to the state nominating convention. James H. Blackwell served as Chairman of the meeting and Charles Tomlinson as secretary. The men chosen to serve as delegates to the convention for Raritan Township were Blackwell and alternate William R. Risler, Col. Peter I. Clark, John C. Reed, Leonard P. Kuhl, Henry Boss, John P. Quick and alternate Dickenson M. Cox, Dr. Justus Lessey and alternate John C. Hopewell. [my emphasis] (Why some men had alternates, and some did not, I cannot say.) This is the first time that John C. Hopewell appears as a committed member of the American Party. In fact, it is the first indication of any political involvement by Hopewell.
Hubert G. Schmidt, in his book The Press of Hunterdon County, [p.29] noted that:
 "On October 1, 1856, he [Nichols] carried the Gazette into the camp of the "American" or "Know-Nothing" party, a sad fate for what had been "a sterling Whig sheet." In an enthusiastic editorial, he endorsed Fillmore and Donelson, the National American nominations for President and Vice President."
It is easy to figure out who the members of the American Party in Hunterdon County were. Willard Nichols published as many names as he could of those who had joined the various Fillmore-Donelson Clubs around the county, no doubt as a way to encourage others to join.
As Egbert T. Bush wrote, "The 'Know-Nothings' were much in evidence and apparently much feared in the early 1850's." I'm not sure how much they were feared, but I am sure most of them were respected. Along with John C. Hopewell, both Reading brothers, Joseph H. & John G., had joined, along with the highly respected Col. Peter I. Clark.
The August 13, 1856 issue of the Hunterdon Gazette published the platform of Flemington Fillmore & Donelson Club, and listed members of the club. It reprinted the list on August 20th. As you can see from the list below (rearranged alphabetically), the number of American party members far exceeded those belonging to the Republican party.
The Fillmore & Donelson Clubs of H.C.
Charles C. Aitken, Jonathan A. Atchley, Jacob L. Apgar,
Thomas Applegate, Joseph Anderson,
John Barber, Wm M. Bellis, Abraham Biggs, James H. Blackwell,
Daniel B. Bodine, John Bonham, Alexander V. Bonnell,
Lambert Bosenbury, Henry Boss, Joseph P. Boss,
Daniel Brink, Abraham A. Brokaw, Peter W. Burk,
Aaron A. Capner, Hugh Capner, M. [Mathias?] Case,
Philip Case, E. J. Chamberlin, William Chamberlin,
James Choyce, James Clark, Peter I. Clark, Ezekiel E. Cole,
Samuel Connet, Isaac B. Conover, Leonard C. Cool,
John C. Coon, Jr., Judge John Coryell, John W. Cotanch,
Dickinson M. Cox, Tunis M. Cox, George F. Crater,
William Daily, Asa Dalrymple, Peter V. Dalrymple,
Abraham I. Davis, William M. Dildine, Tunis Dilly,
George W. Dilts, Samuel W. Dilts, James Durant,
David R. Emery, Peter Emery, William Emery, William P. Emery,
Richard Emmons, George A. Evans,
George W. Farlee, Richard R. Farlee, Caleb F. Fisher,
Cornelius Q. Fisher, Israel Fisher, Jacob F. Fisher, Jacob J. Fisher,
James J. Fisher, John Fisher, John C. Fisher, William Fisher,
Elijah Fleming, John Forker, John E. Forman,
V. Glickener, George T. Gray, Isaac Gray, J. Alfred Gray,
John Griggs, William Guest, Alexander Gulick, William R. Gulick,
John S. Hagaman, Thomas H. Hall, William W. Hall,
Joseph S. Hardenbrook, C. F. Hart [?], Emanuel Hartpence,
Peter V. Hartpence, Ira C. Harvey, Thomas C. Haward,
N[athan ?] C. Hedden, William Henry, Jonathan Higgins,
Judiah Higgins, Lewis Higgins, William F. Higgins, Asher Hill,
Andrew Hixson, Charles Hoff, Peter H. Hoffman,
Atkinson J. Holcombe, Charles W. Holcombe,
Edward B. Holcombe, Ferdinand S. Holcombe,
John C. Hopewell, John Hoppock, Peter Hoppock,
Horace P. Housel, James Housel, Levi M. Housel, Mathias Housel,
J. [?] S. Hudnut, Thompson Hudnut, Dr. Cicero Hunt,
Edward Hunt, John Hunt, Robert I. Hunt, Dr. D. [?] Y. Hyde,
Abraham A. Johnson, Christopher K. Johnson,
Thomas Johnson, William P. Johnson, Ross Jones,
Barnet S. Kennedy, Asher Kinney, David B. Kirkpatrick,
W.[?] D. Kitchen, Leonard P. Kuhl,
John C. Lake, Jesse H. Landis, Henry Lane, Isaiah P. Large,
Jno. K. Large, Justus Lessey,
William Marsh, T. [?] W. Matthen, Vincent R. Matthews,
John V. McCann, Cornelius Messler, Dennis S. Messler,
Isaac Messler, Lucas Messler, Levi M. Mettler, John Mitchell,
Hiram Moore, Wm R. Moore, Jonathan Muirhead,
Willard Nichols, John Painter, John Parker, John W. Parrish,
William B. Parrish, Melvin Parse, John W. Parrish, William B. Parrish,
Mathias C. Pegg, William C. Pegg, Samuel Phipps, Benjamin L. Pimm,
Jacob S. C. Pittenger, Theodore Polhemus, Jacob S. Prall,
John S. Prall, William B. Prall,
Caleb F. Quick, Jacob F. Quick, John Quick, John P. Quick,
Peter P. Quick, William S. Quick,
Judge Joseph H. Randolph, George A. Rea, Runkle Rea,
John G. Reading, Joseph H. Reading, David Reed, John C. Reed,
Augustine Reger, Geo. P. Rex, Geo. W. Risler, Mahlon R. Risler,
William R. Risler, David B. Rittenhouse, Ogden Roberson,
Albanis H. Rockafellow, Lemuel Rudebock, Ralph W. Rudebock,
Joseph S. Rue, John Runk, Joseph Runkle,
John R. Salter, John Savidge, A. [?] T. Schenck, Edward Schenck,
Jno F. Schenck, Mahlon Schenck, William Sergeant, Hiram Servis,
Joseph Servis, William Servis, Simpson S. Sked,  Charles A. Skillman,
Isaac Skillman, John R. Skillman, Israel Smith, John F. S. Smith,
John A. Smith, John H. Smith, Mahlon Smith, Mahlon J. Smith,
Martin Smith,  Robert Smith, Sylvester H. Smith, William Smith,
Conrad S. Space, Henry P. Space, Matthias Space,
Theodore H. Stevenson, John Stillwell, George B. Stothoff,
John Vroom Stout, Nathan Stout, Robert N. Stout, James Sutphin,
John J. Sutphin, Theodore Sutphin, Alexander Suydam,
John Swackhamer, Ten Eyck Swackhamer, Richard Sweezey,
Moses A. Taylor, Cornelius A. Ten Eick, Andrew J. Thompson,
John I. Thompson, Jeremiah Todd, Charles Tomlinson,
Benyow D. Vanderbeck, Cornelius Vanderbeck,
John N. Vanderbeck, John L. VanFleet, Cornelius W. Vanhorne,
Jacob S. Van Horn, Richard Van Liew, Jacob S. Van Marter,
John Volk, Thomas J. Volk, John S. Voorhees, Peter Voorhees,
E[noch?] G. Warman, John Waters, George Webster, John Webster,
Henry Weaver, Matthew C. Welch, John W. Wert, George W. White,
Lemuel H. White, D. [?] J. Williams, David Williams, John Williams,
John K. Williams, David Williamson, Jacob Williamson,
John H. Williamson, Levi Williamson, George F. Wilson, Israel Wilson,
Samuel Work, H. [?] B. Wyckoff, Nicholas P. Wyckoff,
James E. Yard, James W. Yard, Amos Young, Jacob Young,
John Young of Ringoes, John A. Young, Peter J. Young, William W. Young.
John C. Hopewell was probably persuaded to join the party through his association with his tenant Willard Nichols and his partners John G. & Joseph H. Reading. It is hard to know how much Hopewell agreed with the party's founding principles of hostility to foreign immigrants, especially Catholic ones. And support for the American party tells us next to nothing about the view its members had of the expansion of slavery into the territories.
The 1856 Election
There was very little in the Gazette about the November election compared with the election of 1855. It was as if Nichols had lost interest in it, even though the American Party actually had a candidate in the race, i.e., Millard Fillmore. After publishing the platform adopted by the Flemington Fillmore & Donelson Club in August, Nichols seems to have gotten quiet. On Oct. 22, 1856, the Gazette took notice of a "Mass Meeting at Pennington," which had a good turnout and was addressed by Peter I. Clark. Another speaker was Commodore Robt. F. Stockton, the man whose gun exploded on the USS Princeton,
who handled the Republicans without mercy showing that the foundations of our religion and our institutions were in danger from that "combination of infidels, socialists and radicals." He was constantly interrupted by the loud and continued cheering of the crowd. The greatest enthusiasm and good feeling prevailed.11
The Gazette did print a notice from the Republican Party, on the same day, announcing a County Convention to be held on October 25th. It was signed by Samuel Hill and David Williamson of the Republican Executive Committee. As Hubert G. Schmidt wrote in The Press in Hunterdon County (p.33),
The Gazette's backing of "American principles" in the election of 1856 under Nichols had the effect, in the words of Bartow of the Republican, of pulling the Whigs into the "deeper depths of the slough of political despondency." The moderates who had stayed with Buffington now left the Gazette to the extremists [i.e., the Know Nothings.] Many were, in an undoubted quandary as to whether they should rally "to Buck, to Fill, or to the Woolly Horse."
He was referring to James Buchanan of the Democrats as 'Buck', to Fillmore of the Americans as 'Fill', and Frémont of the Republicans as 'Woolly Horse'. To learn about why John C. Frémont would be called "the woolly horse," do a search on Google and you will learn it was invented by P. T. Barnum. Schmidt continues:
Fillmore had been a Whig, but his endorsement by the Know-Nothings was too much for most. Some went Democratic and became readers of the Hunterdon Democrat. But Bartow's able editorship of the Hunterdon Republican undoubtedly persuaded many that Frémont was not so bad after all. He [Bartow] publicized organization meetings of the new party in the various townships, attended chiefly by ex-Whigs. One of them, the eminently respectable Samuel Hill, owner of the pottery at Flemington, became secretary of the Republican party in Hunterdon.
Election Results, 1856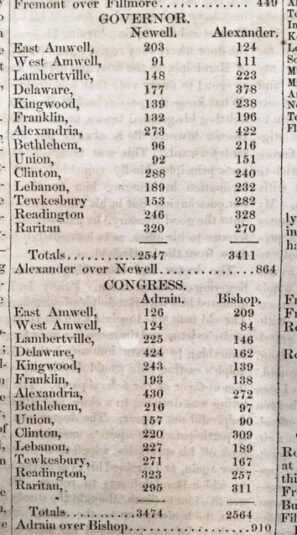 As Hubert Schmidt wrote, Hunterdon's Democrats had nothing to worry about. James Buchanan did very well in the county, beating Frémont by 1943 votes and Fillmore by 2392.12 In fact, the combined votes for Frémont and Fillmore came to only 2659, which was 838 votes less than Buchanan got. It is interesting to see, however, that by this time, the Republicans were stronger in Hunterdon than the Know Nothings.
The governor's race in New Jersey featured William Newell, running as the "Opposition" candidate, meaning he had support from both Republicans and Know Nothings. The Democratic candidate was William Cowper Alexander, who won in Hunterdon, but lost to Newell in the state, something of an upset. As you can see from the headline, Newell's win thrilled the editor of the Hunterdon Republican.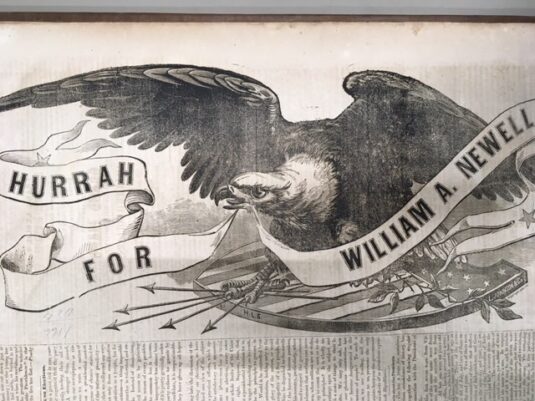 Consequences
The results of the election must have greatly disappointed Willard Nichols. He decided to try another approach to attracting readers—he turned to his wife. As the Trenton State Gazette commented following the election:
The Hunterdon Gazette comes to us enlarged and materially improved; we are extremely glad to see these indications of prosperity, for no paper in the State deserves it more than the Gazette. Mr. [Willard] Nichols is every way qualified for a successful editor, and his accomplished lady—who has a literary reputation of long-established date, and who is announced as a literary editress—will give additional interest to the sheet by her contributions.13
In February of 1857, Nichols wrote:
It will be seen that we are making superhuman efforts to furnish our subscribers with the very latest and most important news by telegraph. In this, we do not intend to be behind our contemporaries—particularly Geo. A. Allen's organ, the Hunterdon Republican. It is to be hoped our subscribers will appreciate these efforts.14
Apparently, they did not. The Gazette of Oct. 7, 1857 included this item:
TO THE PUBLIC. Having disposed of all my interest in the establishment of the HUNTERDON GAZETTE, this is the last No. that will appear under my name. Rapidly failing health has for some months past, admonished me, that I was not in a situation to conduct the paper; and the hope of being able to avail myself of an advantageous offer received from the West—the home of my adoption—has constrained me to take this step. To those kind friends and patrons who have, for nearly four years extended the hand of fellowship to me, I return my most heartful thanks. W. NICHOLS.
On Nov 11, 1857 the Lambertville Beacon wrote:
FLEMINGTON GAZETTE. This establishment has passed into the hands of [Alexander] Suydam & [William] Abel a couple of pretty clever chaps. We had always understood that these young men were Democrats, and we know nothing to the contrary now; the taking hold of an American and not long since, a Whig, paper seems a little hard to reconcile. However, we will await the "programme," that, perhaps, will clear away any difficulties that might seem to exist. But let it be as it will, we hope they'll get along, and here's our to show that we mean what we say
The Editors responded thus:
Thank you, neighbor Sellers [ed. of the Lambertville Beacon], we hope it comes from the heart, but we are very sorry you cannot reconcile the arrangement. Notwithstanding all you may have understood we can assure you that our political principles have always been the least of our troubles. We have never been very closely identified with any party or lead by the nose in any shape or form. We intend to publish an Independent paper, and the democratic party will receive no undeserved favors at our hands. We mean to commend whatever is right, and condemn whatever is wrong, find it in whatever party we may. This we shall do without fear or favor. Now do you understand, friend Sellers!
Newspaper Rhetoric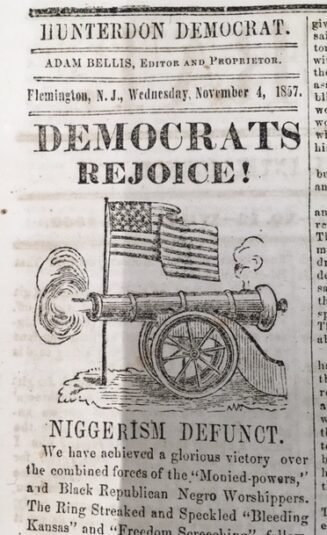 These new editors were indeed far less passionate about their political affiliation (which I am uncertain about, as apparently, they were also). They were also far more restrained in their political rhetoric. When it comes to outlandishly hostile rhetoric on the part of newspaper editors, Adam Bellis of the Democrat really took the cake, as shown by this article and headline from Nov. 4, 1857, following election of the Democratic candidates for the Assembly.
Bellis seems to have represented the views of the majority of Hunterdon County voters. Hubert Schmidt wrote that "Hatred of the Republican party, active dislike for Negroes, and sympathy for whites of the South were characteristic of Hunterdon County long after the [Civil] war was over." 15
The American Party in 1859
With the departure of Willard Nichols, the American party lost much of its power in Hunterdon County. The new editors, Alexander Suydam and William Abel, were not nearly so aggressive as Nichols had been, and conducted a much more fair-minded paper. However, as late as 1859, the Raritan Township American Party was meeting to choose delegates to the American Party Convention to be held in Trenton in September.16 The Meeting took place at Crater's Hotel, with John G. Reading presiding and Jonathan Muirhead, secretary. Delegates chosen were the usual suspects:
James H. Blackwell, Henry Boss, Peter W. Burk, Hugh Capner,
Dickinson M. Cox, Wm. P. Emery, Richard Emmons,
J. Alfred Gray, John Griggs, Thom. C. Haward, Judiah Higgins,
Atkinson J. Holcombe, John C. Hopewell, Jonathan Muirhead,
Jacob F. Quick, John Quick, Wm. S. Quick, Runkle Rea,
John G. Reading, George W. Risler, Mahlon Risler, William R. Risler,
Martin Smith, Jacob Williamson, William Smith, Charles Tomlinson.
I have not researched the results of that convention in Trenton, but nationally, the party was effectually dead after 1856. In Hunterdon, the American Party seems to have gotten absorbed into the Union party, as shown by this notice of Dec. 14, 1859 in the Gazette:
TO THE PEOPLE OF THE COUNTY OF HUNTERDON. The lovers of the Union and the Constitution, and of the rights of the States and of the people under this hallowed charter, all who entertain feelings of fraternal regard to our brethern [sic] of Virginia, in this, their day of darkness and peril, and to all our brethen [sic] of the South, all who are opposed to the ceaseless agitation of Slavery and Sectionalism, the fruits of which have been only evil, and that continually, till the dissolution of the ties that unite and bind us together as one people in these United States, is seriously threatened, all who are willing to leave the rights and duties of the Master and the Slave where our forefathers left them under the guarantees of the Constitution, and all who love the peace, union, and harmony of the great American family, are hereby respectfully and earnestly requested to meet in the COURT HOUSE IN FLEMINGTON, ON WEDNESDAY, THE 14TH INST., . . .
This was followed by long list of supporters, including John C. Hopewell, who was one of the delegates (above) from Hunterdon to the party convention in Trenton. And yet, despite his politics, Hopewell was a strong supporter of the Hunterdon Brigade and of the volunteers who went to fight for the Union. He contributed money to a fund for their support and remained active in the Brigade, all through the Civil War.
As for the American Party, Egbert T. Bush wrote:
"The final remnant [of the American Party] united in 1860 with dissatisfied Democrats and old Whigs, under the name "Constitutional Union Party," and nominated John Bell and Edward Everitt. Everybody knows the result.
Footnotes: