Holcombe-Riverview Cemetery
This cemetery is on the west side of Route 29 near Lambertville, just north of Rte 202. There is no written history of the cemetery, but it was started by the Holcombe family in either 1873 or 1893. The cemetery is generally considered a Lambertville cemetery, even though it is within Delaware Township's borders. This is why I am not as informed about the people buried here as I am with other township burial grounds.
Mrs. Sutterly, who kept track of the records for many years, told me there were also people buried in an area between the canal and the river. These may have been canal workers who died of cholera in 1832, or perhaps the earliest members of the Holcombe family. I looked at the 1802 tax ratables for Amwell Township and found that none of the Holcombes taxed were slave owners. However, in 1803, George Holcombe owned a slave. There were 19 Holcombe families taxed in Amwell in 1830—only one, Emley Holcombe, owned a slave. This does not absolutely eliminate the possibility of slaves being buried between the canal and the river, but I think it makes it unlikely.
John Holcombe and his wife Elizabeth Woolrich bought land here in 1705 and 1709, and are considered by some as the earliest settlers in Delaware Township, although others might argue that John Reading and his family got here first. The Holcombes and Readings probably came about the same time. John and Elizabeth Holcombe were Quakers who went to meeting in Buckingham, PA. This was before there were ferries or bridges over the river at Lambertville or parts north. Family history says they would ride their horses across the river, although probably not during the spring freshets.
Many familiar names can be found in this cemetery, like Naylors, Holcombes, Slacks, Hunts, and others. Someone has taken the trouble to make in inventory of graves and recorded 941 names on the website Find-a-Grave, which you can see here.
I've made a list of some of the oldest Delaware Twp. people buried here and arbitrarily chosen the latest birth date as 1835, based on gravestone birth dates; some stones are lacking birthdates. Maiden names are given in parentheses. Because the cemetery is on the edge of Delaware Township, most of the graves belong to people who lived in Lambertville and West Amwell. I've had trouble coming up with good information on these people, and welcome any help that readers can provide. Besides census records, I have also checked the names in the 1865 tax assessment lists.
The Holcombe Family
John C. Holcombe, born 1793 to Richard Holcombe and Elizabeth Closson, and Solomon Holcombe, born 1813 to Robert Holcombe and Elizabeth Pidcock, are both buried here. They were second cousins.
JOHN C. HOLCOMBE, born June 9, 1793, died July 23, 1882
John C. Holcombe married Rebecca Fisher on March 1, 1817. She was born August 4, 1794 and died Nov. 10, 1873. She was the daughter of Jacob Fisher and Ann Wilson. In 1825, John C. Holcombe's mother Elizabeth died in Solebury, PA. His father Richard died in 1824, but I do not know where. In the 1865 IRS Assessments, John C. Holcombe was taxed 15¢ on $3 of income and $1 on a one-horse carriage.
C. W. Larison wrote that John first lived on the farm in Delaware Twp. later owned by B. Anderson Holcombe, but I do not know how (or if) they were related. John C. was an overseer of roads in Delaware in 1840. He removed to his father-in-law Jacob Fisher's farm on York Road for 5 years; then to Lambertville for 3 years; finally to the farm in Delaware Twp. where he died. Larison wrote: "Like all Holcombes he liked a good horse, a good dinner and good company."  He died very prosperous. I do not know why his wife Rebecca Fisher (1794-1873) was not buried with him.
EDWIN HOLCOMBE, July 5, 1820 – Aug 3, 1881
ELEANOR HOLCOMBE, Dec 16, 1823 – Mar 3,1898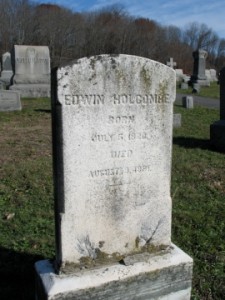 Edwin was the son of John C. and Rebecca Holcombe. Eleanor, wife of Edwin, was the daughter of Henry Moore. This family appeared in the 1850 census with children Solomon 12, Rebecca 6, and Eleanor's sister Margaret 19. In the 1880 census, Edwin and family were living with Edwin's father, John C., who was 86 and blind, as well as Edwin and Eleanor (Ellen)'s daughter Rebecca and her husband J. B. Mathews. In 1865, E. B. Holcombe of Lambertville was taxed $1 on a one-horse carriage and $2 on a two-horse carriage.
SOLOMON HOLCOMBE, [b.1813] died Jan 4, 1879
BEULAH HOLCOMBE, Jan 15, 1823 – Oct 24, 1880
Solomon Holcombe born Mar 19, 1813 to Robert Holcombe and Elizabeth Pidcock. He was counted as a farmer, age 37, in the 1850 Delaware Twp. census. His mother-in-law Nancy Holcombe, age 60 was living with him and his two children, Thomas 15 and Emma 7. No wife was counted with him, but his first wife was Miranda Holcombe, daughter of Thomas and Nancy Holcombe. She died on Feb. 24, 1843, age 24 and must be buried somewhere else. Solomon married second, on July 4, 1850, Beulah Labaw, who was counted with Solomon in the 1860 census for Delaware Twp. She was 37 that year, while Solomon was 47. In 1865, Solomon Holcombe Jr. of Lambertville paid $24.10 taxes on $482 of income and $2 on a carriage. Solomon Holcombe [Sr.] was taxed $85.36 on income of $1707.50 with $14.80 tax withheld; he also paid $25 for a retail liquor license; and $2 on a carriage.
MARTHA HOLCOMBE 1803 – Apr 5, 1880
Martha was a sister of Solomon Holcombe. She was counted in the 1850 census, living with her brother George N. Holcombe. She never married. She wrote her will in June 1873.
The Dean Family
JOHN DEAN, born Oct. 25, 1791, died Dec. 7, 1859
SARAH (Dougherty) DEAN, born Dec. 4, 1792, died April 8, 1879
WILLIAM DEAN, Sep. 30, 1813 – Jun 7, 1881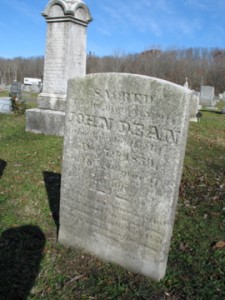 I am listing John and Sarah Dean, and their son William, not because they lived in Delaware Township, but because they may be related to James Dean of Delaware Township, who was born about 1815 and died after 1889. He married Elizabeth Barcroft of Kingwood and lived just south of Rosemont on the old Rittenhouse farm. I do not know who the parents of James Dean were. John and Sarah are the right age to qualify, and William the right age to be his brother. In 1865, James Dean was taxed $10.05 on $207 of income and $2 on a 2-horse carriage, but there was no assessment in Hunterdon for John or William Dean.
In 1850, John Dean, schoolteacher, born in Pennsylvania, age 58, was counted in the Hopewell census with wife Sarah 56, children Harvey 21, Phebe 15 and mother Rachel 81. She was Rachel Gill, and John's father was Joseph Dean. He was also in Hopewell for the 1840 census. Joseph and Rachel Dean had several sons, but I have not been able to identify their children or grandchildren, and thus cannot yet link James Dean with the Bucks County Deans. James Dean married Elizabeth Barcroft in 1844, but does not appear in the census for 1840 in Delaware Twp., or anywhere else that I can find. Eli Cooley discusses some members of the Dean family in his book Old Hunterdon, but does not connect them with Delaware's James Dean.
Since the cemetery is thought to have been established in 1873 or later, it seems odd that John Dean would be buried here if he died in 1859. Perhaps he was moved to this cemetery when his wife Sarah died in 1879.
Other possible parents for James Dean were Jonathan Dean (c.1785-bef.1840) and Dinah Emmons. Dinah (Emmons) Dean was counted in Delaware Twp. after Jonathan died. However, it seems likely that Jonathan Dean came from a different family than the Bucks County Deans, and also that Jonathan and Dinah did not have children. In 1860, Dinah Dean age 71 was living with John L. Dean, 22–perhaps a great-nephew.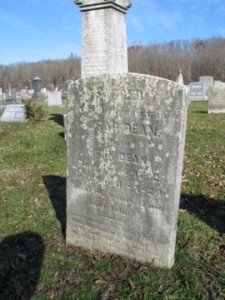 Sarah (Dougherty) Dean, wife of John Dean, is supposed to be the daughter of John Dougherty and Phebe Miller.
I do wonder why John and Sarah Dean were buried in the Holcombe-Riverview cemetery when they died in Hopewell Twp. Sarah's obituary in the Hunterdon County Democrat stated that she had been living in East Amwell at the time of her death, possibly with son Joseph Dean (1816-1887) or son William (1813-1881), a tailor and justice of the peace in Lambertville. This William is also buried in the Holcombe-Riverview Cemetery.
Other Families
NEHEMIAH and AMY GREEN
Nehemiah Green, blacksmith of Lambertville, was born March 24, 1822 and died Sep. 30, 1892. He served in the Civil War with the 8th reg. NJ Volunteers as a class II musician. He was the son of John Green, machinist of Headquarters, and Prudence Jackson, both of whom were buried in the Sergeantsville Methodist Cemetery. Nehemiah Green married Amy Smith on Sept. 6, 1843. Amy's mother was named Mary, born about 1792. Amy Smith was born Dec. 29, 1821 and died Dec. 19, 1906. Nehemiah Green was not listed in the 1865 IRS Assessment list.
John Green advertized in 1844 that he could "manufacture in the most finished and perfect order, all kinds of Edge  Tools," and that he was operating in Headquarters, but was "lately of Clinton, N.J." Nehemiah and Amy were living in Clinton with their children when the 1850 census was taken. Since the Greens were living in Clinton in the early 1800s, I would guess that Amy Smith's family came from that area also.
GEORGE B. HEATH, Jan. 13, 1818 – 1905
Appeared in the Delaware Twp. Federal Census for 1850, age 32, farmer, no assets, wife Maria 30, sons Charles Johnson Heath 6 and William H. Heath 3. George was the son of Elijah Heath Sr. and Catharine Kemple of Kingwood. In 1863, he was taxed in Delaware Twp. as a "third-class peddler," but was not listed in 1865. He is not to be confused with his brother-in-law George D. Heath, son of Richard Heath and Catherine Rittenhouse. George B. Heath's sister Mary (1810-1900) and George D. Heath were married on May 12, 1827, and had children Daniel, Jacob, Lewis A., Elijah, Edward M., Amy and Charles. In the 1850 census for Kingwood, Mary Heath 40 was the head of household, since husband George D. Heath had died on April 13, 1850, and listed with her were children Lewis A. 17, Elijah 15, Edward 13, Amy 10 and Charles 9.
I do not know when George B. Heath and wife Maria were married, or when she died, or who her parents were. George and Mariah were still in Delaware Twp. in 1860, when they were counted in the census. George 41 was a farmer, living with Mariah 40, Wm. W. 13, Elijah 9, George L. 7, Sarah C. 4 and Mahlon T. 2. George B. Heath spent his last days with his son Mahlon Thatcher Heath at his home on Perry St. in Lambertville, and died at the age of 86. His wife Mariah vanishes after the 1860 census. In fact, it is difficult to find anything about this family.
ENOCH HOFFMAN, 1827 – Dec. 14, 1905
In 1839, an Enoch Hoffman sold a farm on Sandbrook-Headquarters Road to Isaac Hoffman, who may have been his father. Hoffman and wife Ann, but he was born in 1807.  In 1865, Enoch Hoffman of Sergeantsville was taxed $1 on a one-horse carriage.
MARY ANN (Adams) LAUBENSTINE, Aug 1, 1818 – May 14, 1886
She was the wife of Jonas Laubenstine born about 1811. Both were born in Pennsylvania, and their parents also, but were counted in the village of Stockton in 1880, then part of Delaware Twp., living with their granddaughter Evaline Laubenstine 7, who was in school. In the 1860 census, Mary and Jonas were living in Tinicum, Bucks Co. I have no record of this family after 1880. Perhaps Jonas left Hunterdon.
A Mary Laubenstine was counted in the state census of 1895, age 69, living in Lambertville; she would have been born about 1826, so she must have been a collateral relative.
Corp. WILSON L. RAKE, 1835-1907, died in Lambertville
Since the Rake family originated in Delaware Township, I assume Wilson Rake was connected, but have not found his parents. There was no Wilson Rake in the 1865 IRS Assessments, just a William Rake of Sergeantsville.
WILLIAM SWALLOW, born May 4  1820 – died ??
He seems to have lived in Raritan Twp. with wife Mary Moore until her death in the 1880s. There was no Wm. Swallow in the 1865 tax assessment, but in 1873, it was reported that a field of his near Sand Brook caught fire, and was only put out by the rains that came that evening. Strangely enough, I could not find a census record putting him in Delaware in 1870, and could not find his farm near Sand Brook in the 1873 Beers Atlas. In fact, the census of 1870 has him living in Hopewell. Go figure. After his first wife died, he married second the widow Amy Buchanan, whose first husband was Izer Rake, and with whom she had ten children. From the Hunterdon Co. Democrat, Nov. 8, 1887: "Married, At the Baptist Parsonage, Stockton, on Oct. 29, 1887, by Rev. A. Caulwell, William Swallow and Mrs. Amy Rake, both of near Sand Brook." In the 1900 census, Amy and William Swallow were living in Delaware Twp., William age 80, Amy 66.
Corp. DAVID WILSON, Jun 16, 1822 – Jun 19, 1902
In 1865, David Wilson of Lambertville was taxed $1 on a on-horse carriage. In 1870, he was counted in the Delaware Twp. census, but returned to Lambertville and became a fisherman. In 1900 he and wife Annie were living with his nephew Mahlon Strimple. I have not solved the riddle of how they were related.
SAMUEL F. YOUNG, 1824-1899
He may have been born to a Delaware Twp. family, as he was living with John A. Carrell of Delaware in the 1850 census, age 27, but by 1880 he was married and living in Lambertville, working as a wood turner. I found no census entry between 1850 and 1880, and previous to 1850, he would not have been named as someone's child. In 1865, a Samuel L. Young of Sidney was taxed, but that must have been someone else.
Next post in this series: Rosemont Cemetery.