John Ladd
John Ladd was one of the Quaker immigrants who came to West New Jersey in 1678. He was also on hand when William Penn was designing the layout of his new town of Philadelphia. Family tradition says that Penn offered him a choice of one of the best squares in the city or £30, and that Ladd chose the money, whereupon Penn said: "John thou art a ladd by name and a lad by nature, doesn't thee know that Philadelphia will be a great city?" (Ah, Penn—such a joker.)
Apparently John Ladd managed to prosper anyway, for he died about 1740 in Deptford, Gloucester, NJ with £432.6.8 worth of goods and hundreds of acres to leave to his three surviving children. Ladd wrote his will in 1731, leaving to his daughter Catharine, "the 300 acres called Raven Rock above the falls on or near the Delaware River in Amwell Township" [paraphrased]. This gift included the entire island that we know as Bull's Island.
Catharine (sometimes spelled Katherine) Ladd had married John Howell in 1734. Neither she nor her father had any interest in residing on the Raven Rock plantation. In 1743, three years after her father's death, Catharine Ladd Howell sold the property to Isaiah Quinby. She and her husband then took the proceeds of the sale and moved to Savannah, Georgia.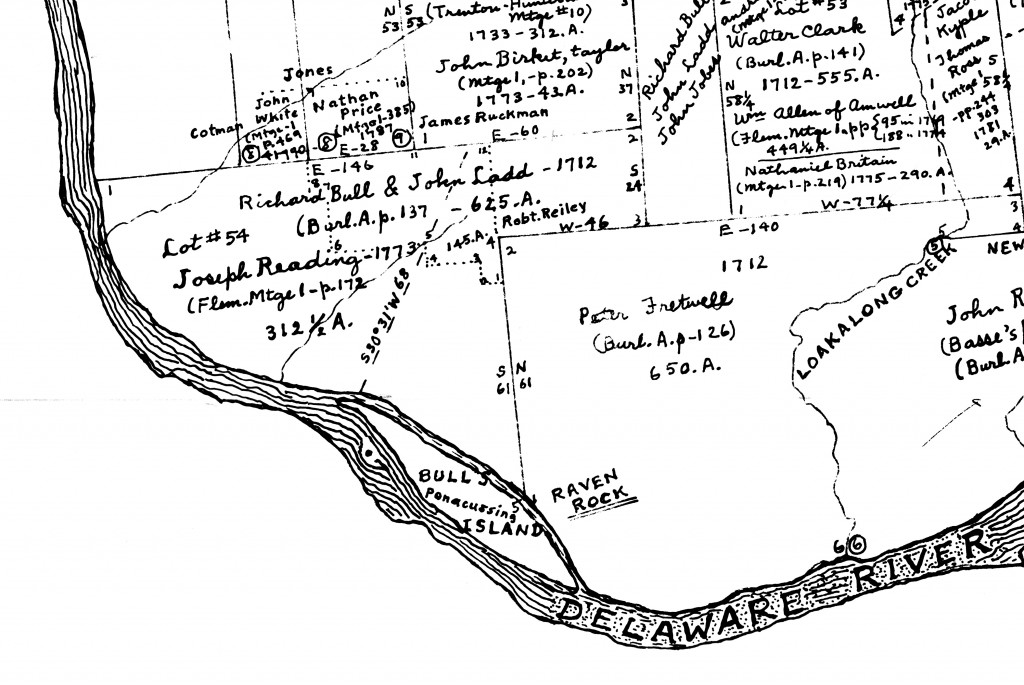 Hammond's map shows the Bull & Ladd tract, and also the property that was sold to Joseph Reading in 1773. That was the land originally allotted to Richard Bull in 1721. It was probably acquired by John Reading Jr. who bequeathed it to son Joseph. Sadly, Hammond did not include Isaiah Quinby to the east of Joseph Reading. The dotted line indicates the course of the dividing line between Kingwood and Amwell townships. Hammond shows Raven Rock on the property of Peter Fretwell, when in fact it belongs in the unidentified tract that was purchased by Quinby, just west of Fretwell's land.
Isaiah Quinby
Isaiah Quinby (1716-1807) was the youngest of the eleven children of Josiah Quinby and Mary Mullineaux of New York. In 1743, at the age of 27, he married Rachel Warford (1725-1777)  of Kingwood township, a few months before his purchase of the Ladd property. Rachel was the daughter of John Warford and Elizabeth Stout who came from Monmouth County to Hunterdon County in 1729. Since I have no record of an earlier land purchase for Quinby, I must assume that at the time of his marriage, he was a tenant, or perhaps he was working for John Warford, or maybe even his older brother Ephraim Quinby (1700-1767), who purchased land in Amwell Township, as early as 1727.
Records for 18th century residents of the Delaware Township portion of Amwell Township are woefully scarce. It is not possible to say what use was made of the area around Bull's Island without far more intensive research than I can do. What I can say is that Isaiah Quinby was a prosperous farmer who likely took advantage of the seasonal fishing opportunities that the island provided, as well as the chance to ship produce and timber down river to Trenton and Philadelphia, and perhaps even to set up a mill on one of the creeks flowing into the river in that area. But I have no real documentation for this.
What I do know is that two years after buying Ladd's 300 acres, Quinby bought a ten-acre lot from his neighbor, Marmaduke Leet for £9.1 This land was part of the 650 acres owned by Peter Fretwell in 1711, located between the Mount Amwell tract of John Reading and the tract surveyed to John Ladd and Richard Bull (as shown in the Hammond map, above). Why Quinby wanted this funny triangle of land is something of a mystery. Perhaps it was because it contained the lower part of today's Quarry Road. The lot did not go far enough to include the quarry itself.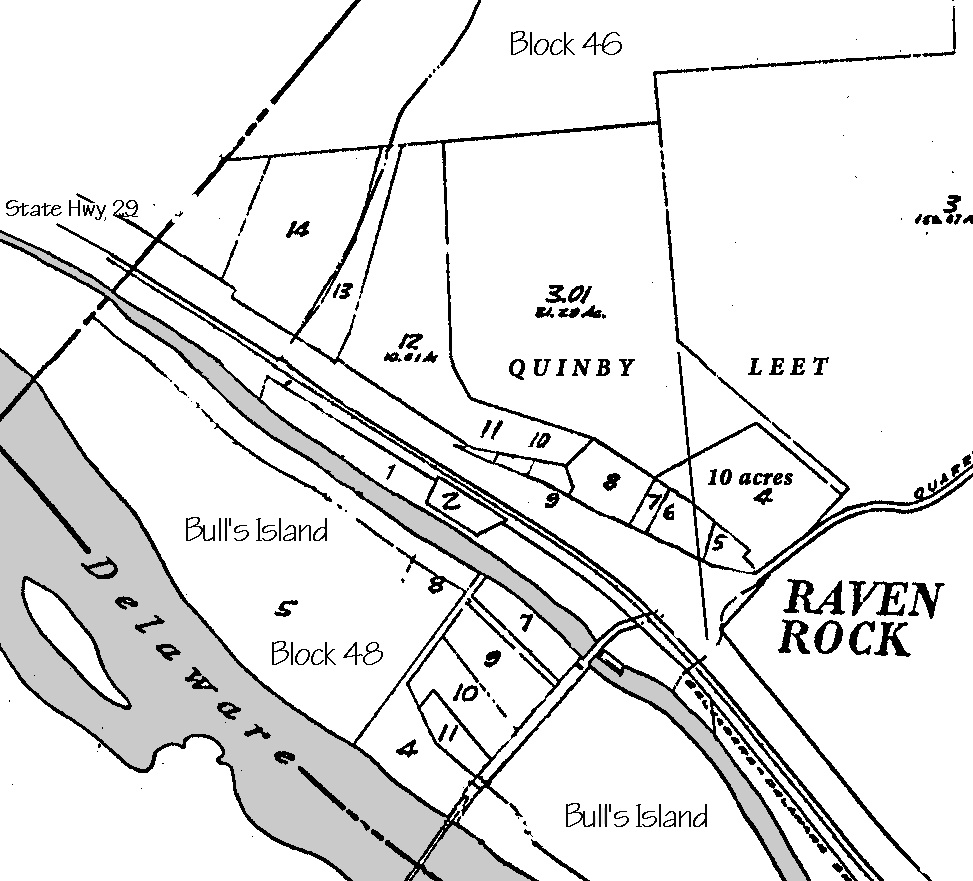 Marmaduke Leet (what a wonderful name) acquired his property from his father, Daniel Leet, who wrote his will in 1727, leaving his home farm of 650 acres, which he acquired from the heirs of Peter Fretwell, to sons Marmaduke and Isaac. The account of his estate included a debt owed to Marmaduke Horseman. Perhaps this was someone that Daniel Leet admired enough to name his son after. Incidentally, Marmaduke's brother Isaac witnessed the will of John Warford in 1761.
During the Revolution
I also know very little about what was happening at Bull's Island and Raven Rock during the Revolution. When Washington took his army across the Delaware in 1776, he no doubt made use of boats that were borrowed from Bull's Island, but whether Daniel Bray and his men made use of the island for concealing the boats is not known.
In 1777, Isaiah Quinby's wife Rachel died, age 51, after raising 13 children (5 sons and 8 daughters). Only one of them died in childhood—the first one, Samuel. The youngest child was Job, born in 1768. Isaiah married again only a year after Rachel died. His second wife, Hannah Kinsey, was also a Quaker; they married at Buckingham Friends Meeting.
Surprisingly, there is no evidence that the sons of Isaiah and Rachel Quinby served in the local militia or the Continental Army. They all married women from Bucks County, Pennsylvania, which can be explained by the fact that this was a Quaker family who worshipped at the Buckingham Friends Meeting House, and as Quakers, they would have abstained from participating in any military actions.
Aaron and Moses Quinby both married in 1782. Aaron, born 1757, married Lydia Balderston and took up residence in Bucks County. Moses (1759-1824), married a Bucks County woman, Jane Fell, daughter of John Fell of Warwick, PA, and after Jane died in 1799, married Hannah Good, also of Bucks County, in 1801.
Isaiah and Rachel Quinby's son James, born in 1765, married Margaret Good (sister of Hannah) in 1803, and was too young to fight in the Revolution, as was son Job born 1768, who married Martha Cadwallader. Evidence of the Quaker affiliation can be found in the compilation of Quaker records by William Hinshaw where I discovered that Moses Quinby and his family were granted a certificate to move from the Buckingham Meeting to the Falls Twp. Meeting in 1813. A "Commemorative Poem" written by Watson Kenderdine in 1891, and dedicated to Isaiah Quinby, goes on at length about the simple Quaker faith of the Quinby family, but this was primarily an act of the imagination.
The Map of 1785
At the conclusion of the Revolutionary War, Reading ("Redding") Howell prepared a map of the Delaware River area for the new governments of Pennsylvania and New Jersey. It was dated December 3, 1785, and was intended to assist the states in setting their boundary along the river. On the Pennsylvania side, opposite Bull's Island, was "The Hon. G. Wall's Saw Mill & Plantation." Across the river in New Jersey, was "Quimby" at the tavern site—just the name. There was no indication that a tavern or a mill existed there.2
The location of the "Quimby" name next to Bull's Creek  is interesting because that was not where Isaiah Quinby had set up his household. His homestead was up the hill, accessible today by Federal Twist Road. So why did the mapmaker show a separate habitation for "Quimby" by the river? Could a tavern have been there at such an early date? B. A. Sorby was convinced that a tavern was there as early as 1782, but he gave no source for that opinion, and I have not found anything for such an early date. And Reading Howell's Map only tells us that a Quimby/Quinby was living at Bull's Creek in 1785. Perhaps the date of 1782 was used by Sorby because that was the year that Moses Quinby got married and set up housekeeping. The Quinby Genealogy recites that after marrying Hannah Good in 1801, Moses Quinby took his new wife "to live in the little house at the bottom of the hill called 'under the rocks'." Sorby may have thought that the 'little house' was also home to Moses's first wife. If so, it's a terribly thin reed on which to hang so much.
As cited in Hunterdon Deed Book 17 pg. 157 ↩
The original map can be found in the New Jersey State Archives. Somewhere hiding amongst my papers is a copy of that map, which is not to be confused with the more famous Reading Howell map of 1792. If I ever find it again, I will add it to this post. Feb. 2012: The map has been found. You can read about it here. ↩