This is a short article, intended as a postscript to "Route Not Taken, Part Four." It concerns surprising connections between the landowners I researched, starting with Elizabeth Abbott. It also carries on the theme of married women who buy real estate.
Route Not Taken, Part Four concerned landowners in the path of a proposed railroad line in 1873. One landowner in particular was "R. L. Abbott" who appeared on the survey map prepared by the railroad company's engineers. He was located at the east end of Sergeantsville, near the intersection of Route 604 and Lower Ferry Road. As I explain in that article, Robert L. Abbott was not a landowner at all. His lot was owned by his mother, Elizabeth Abbott, who bought it in 1873, along with two other lots, from Mary S. Snyder. Only the lot inhabited by Robert Abbott was close enough to the proposed rail line to show up on the company's survey map.
In 1885, Elizabeth Abbott sold the three lots to Isaac S. Cramer, who then sold one of the lots, 2.5 acres, to Rev. William M. Lyon. But the next year, Rev. Lyon and his family moved to Ohio. I was not able to find a deed from Rev. Lyon for that lot.
The same year that the Cramer and wife sold a lot to Rev. Lyon, 1886, they sold the rest of the Abbott property to Edgar D. Fowler of New York, it being 10.02 acres.
Edgar D. Fowler (1877-1939) was the son of William S. Fowler and Sarah Ann Daniel, and the nephew of Clara Fowler (1866-1956), who was married to another Delaware Township minister, Rev. John W. Porte (1861-1951). Porte was a part-time pastor at the First Brethren Church in Sergeantsville and was ordained into the ministry there by Rev. William Lyon.
The Porte family was living on the lot that had previously been owned by Ozias and Margaret Park before the Parks moved to a lot on Route 604 on the east side of Sergeantsville, where they appeared on the railroad survey map.
Speaking of the Porte family, Rev. John and Clara Porte had a son William Porte who was 14 years old in the 1905 NJ State census for Delaware Township, living with parents John W. and Clara Porte. Rev. William Lyon was also counted in that census, as a clergyman who rented his house. So perhaps that deed from Isaac & Margaret Cramer to William Lyon was cancelled in some way. That would explain why there was no deed from Lyon as Grantor.
In 1905, Rev. Lyon's family consisted of wife Fanny Stoner, and children Tirzah M. 15 (Sep 1889), Meredith E. 12 (Nov 1892), Thoburn C. 8, Quinten M. 7, and Margaret B. 2, all born in Washington, DC.
Five years later, in 1910, William Porte was 18 years old, still living with his parents in Delaware Township, but the Lyon family had by then moved to Ohio, and daughter Meredith was then 17 years old. The Lyon family must have returned to Washington DC soon afterwards, because in 1916, William Porte and Meredith Lyon were married there. They remained there, because William had gotten a job as a government researcher.
The same year that William Port married Meredith Lyon, his sister Kathryn Porte (1894-1991) married Emmert Rynier Wilson, who became a well-known hatchery owner in Stockton Borough, and NJ State Assemblyman from 1945 through 1951. The Wilsons were also significant property investors, as a search of their deeds up through 1955 will show. One piece of property they bought in 1955, which was the last deed in the index for the Wilsons, was a 10.02-acre lot in Sergeantsville from the estate of Kate E. Merrill deceased. It was the same lot that Edgar D. Fowler had sold to her in 1911.
Kate E. Merrill was originally Kate Fowler (1859-1938), sister of Edgar's father William S. Fowler and of Clara Fowler Porte. She married William O. Merrill in 1880. In 1911, the year that Kate bought the Sergeantsville lot from her nephew, she and her husband sold a small farm in Delaware Township that Kate's mother had sold to her in 1903.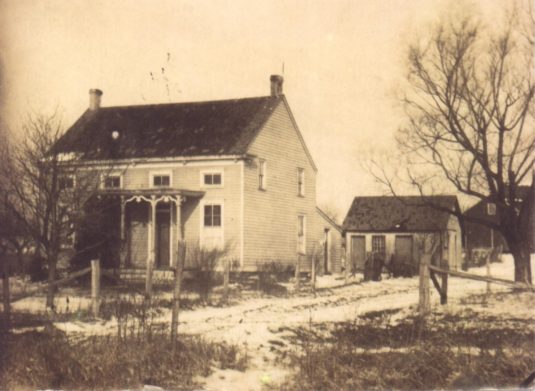 That was the year that Kate's father, Solomon Fowler, died at the age of 78. The Fowlers had come to Delaware Township from New York in 1877, when Solomon's wife and Katherine's mother, Catharine C. Hartshorn Fowler, bought two tracts of land on the Locktown Flemington Road, the same property that Catharine Fowler passed on to her daughter Kate Merrill in 1903.
I have written about the Merrill family before (See Locktown Christian Church Cemetery) in response to a query from Vince M. Camiolo regarding Elizabeth West Cathcart and her son Theodore R. Allen, who was described as "black" in the 1900 and 1905 censuses and "mulatto" in 1910. He was living with the Merrills in 1905 when he was 7, and was also there in 1910 when he was 12. His mother Elizabeth was living elsewhere.
I am very familiar with the Fowler-Merrill property—I have been living there for the past 44 years. When I came upon that deed to Edgar D. Fowler, immediately my antenna went up, knowing the connection of the Fowler family to my property. Perhaps that's the sort of thing that makes this type of research so addictive.
As a final note, in keeping with the tradition I have been citing so far, the property that my husband and I bought together is now in my name.