part six of Route Not Taken
Properties owned by Abbott, Parks & Cole
Continuing with the saga of the railroad that was never built. You can view the previous (and future) articles by going to the home page and clicking on the tag for railroads.
Before I proceed with the next installment, I must insert here an article on the subject of the defunct railroad company written for the Lambertville Beacon by Clint Wilson.1
1873—The Proposed Railroad
Although I have a keen interest in past local history, I had never heard about the proposed railroad from Prallsville to Flemington about 1873, until Frank Burd filled me in on the details.

Many people do not know that our area, and many parts of Hunterdon County, was once a great peach producing region. Much of the land in Delaware Township was covered with orchards. The land west of Bridge street in Stockton was a vast peach orchard. Shortly after the turn of the century the peach industry was wiped out by the scale.

Because of the need to get peaches to market quickly, a railroad was proposed in 1873. The first meeting for this purpose was held in Stockton at the Robert Sharp Hotel (now Colligan's Inn). A short time later, a second meeting was held in Jacob K. Wilson's hotel in Sergeantsville when it was decided to raise $250,000 by selling stock. Thirteen Directors were elected with a L. O. Kessler President and William A. Bailey, Vice President. Isaac Craemer [sic], well-known Sergeantsville physician was one of the Directors.2

There is a record of 1437 shares being sold in the enterprise, of an order of 100,000 dredge ties being placed at fifty cents each, and an estimate of $16,000 being needed to purchase land for the right of way of the railroad.

The proposed railroad was to be nine and three quarters miles long starting somewhere in Prallsville, connecting with the Central Railroad in Flemington. The exact course of the proposed railroad is a matter of conjecture today. Apparently, it would have crossed the present Donald Jones place. In Sergeantsville, it should have crossed the Dayton Case place, the present Fred Higgins place, crossing between the Gerald Vandewater and J. Carl Holcombe places and headed toward Sand Brook.3

In 1875, the project fell through when the Commission Merchants declined to invest. It seems that their investment was necessary to the success of this project and had been counted on. Evidently, the Commission Merchants felt that their investment in a similar railroad between Millstone and Hopewell was all they could afford.

Therefore, as we ponder bygone days, we should picture field after field of peach orchards. It is hard to believe that Sergeantsville just missed out on a railroad. We should conclude that our ancestors were ambitious, energetic and imaginative.
In this article I have included details taken from Isaac Cramer's survey of possible customers for the proposed railroad. The survey shows that Wilson was absolutely right about the large numbers of peach trees raised and sold by local farmers, although, as it happens, none of the landowners in this article grew peach trees.
As I mentioned above, the proposed line ran across the southern end of Sergeantsville, through the property of Fulper & Dilts, where the township's public school is now located. The line was then to run over to Route 604 on the east side of the village, and cross Lambert Road in a northeasterly direction, as you can see from this detail of the railroad survey map (which Mr. Wilson clearly did not have access to):
Robert Abbott & Rebecca C. Baldwin
Railroad Survey: "R. L. Abbott"
Slaymaker: not listed
Beers:  "R. L. Abbott"
Cramer Survey:  Robert Abbott not listed
"R. L. Abbott" is shown on the survey map, but not included on Slaymaker's list as a bordering landowner, since he was well to the north of the route of the rail line. "R. L. Abbott" also appears on the Beers Atlas Map. In a previous post, I showed "Robert Abbott" located at the Lawshe tannery but found no record of his owning property there.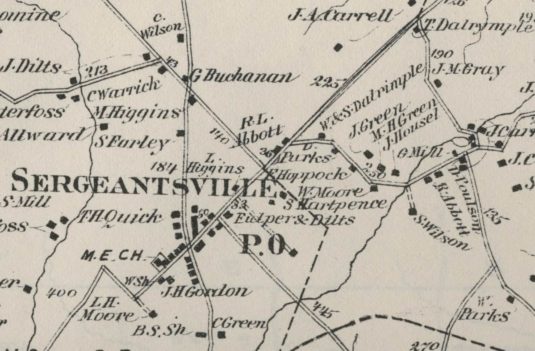 It was a challenge to figure out who this was. Robert Lanning Abbott (1796-1875), son of Isaac Abbott and Judith Lanning, and husband of Elizabeth Wortman (1806-1889), lived in Branchburg and Bedminster in Somerset County, according to the census records of 1850-1870. Prior to that he owned a tavern lot in Readington. I found no deed for him for property in Delaware Township, and I also found no other Robert Abbott except for his son Robert L. Abbott, Jr. (1840-1905), married to Rebecca C. Baldwin. He was a resident of Delaware Township in the 1870 census, age 30, working on a farm, living with Rebecca C. Abbott age 31 and his mother-in-law Mariah Baldwin, age 70. Robert and Rebecca were married on June 14, 1862 in Hunterdon County, but they had no children.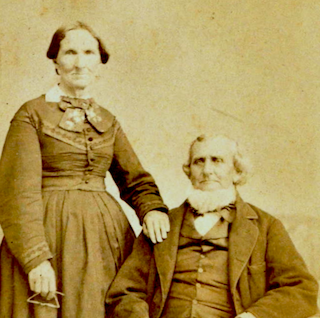 Thanks to Find-a-Grave, I am able to share two portrait photographs, one of Robert and Elizabeth Abbott, and the other of Robert Abbott, Jr. and wife Rebecca.
Rebecca died in July 1875, only 36 years old. After that, Robert Abbott moved to Stockton where he boarded with Jane Roberts. He died there on October 4, 1905, age 65. Robert and Rebecca were buried in the Lower Amwell Old Yard, the cemetery attached to the German Baptist Church near Sand Brook.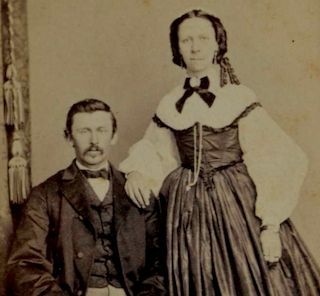 Who owned the property before Abbott came to live there? This property was very frustrating to research. The historical maps we rely on were very misleading. The 1851 Cornell Map shows "J. Hummer" at the place where Route 604 from Headquarters intersects with Lambert Road. The Philadelphia map of 1860 shows "R. Reeve" in that location, and the Beers Atlas of 1873 shows two houses there but only the name "R. L. Abbott."
But if we look more closely at the railroad survey map, it is clear that "James Carrel" was located at that road intersection (Block 25 lot 18), and "R. L. Abbott" was at the corner of Route 604 and Lower Ferry Road (Block 25 lot 19).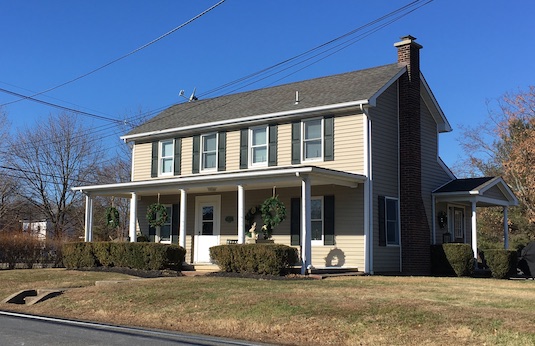 The lot where the Abbott house was located, as shown on the survey map, still has a house on it, and the township's historic sites survey states that the house was built "mid 19th century," quite possibly when Robert L. Abbott took up residence.
I made the mistake of ignoring the survey map and proceeding on the assumption that Abbott was living in the house of James Carrell. When I finally realized my mistake, I went back to the drawing board to revise the chains of title for both the Abbott and Carrell properties.
As I mentioned, the Cornell map of 1851 showed a "J. Hummer" living there, and the 1860 Philadelphia map showed "R. Reeve." Searching deeds for both those names turned up nothing—no deed at all for Reeve, and way too many for J. Hummer. Perhaps these people, Reeve, Hummer and Abbott, were tenants of James Carrell, who owned much of the property in that vicinity.
In fact, by searching on Carrell's deeds I came upon a reference to "Elizabeth Abbott, widow of Robert Abbott." She was listed as a bordering owner of property sold by Carrell's daughter Jennie and husband Hugh A. Frazier in 1885.4 So, it was Elizabeth Abbott I should have been searching for, not Robert.
What I found was that the Robert L. Abbot I described above was living on property owned by his mother Elizabeth. But as happens so often, when a woman owns property, the map makers prefer to label it with the husband's name, in the case of Henry McManners (from Route Not Taken, part 2) or in this case the son's name.
(As an aside, Elizabeth and Robert Abbot, Sr. had a son Andrew M. W. Abbott, born 1846, who married Lydia Lake Moore, daughter of Isaiah H. Moore and Mary Lake, in 1875. This was the couple featured in the previous article in this series, Route Not Taken, part 3.)
Elizabeth Abbott "of Delaware Township" had purchased three small lots on the road from Headquarters to Sergeantsville in 1873 from another married woman, Mary S. Snyder, for $2,000. When she sold the property in 1885, she was identified as Elizabeth Abbot, widow of Robert, bordering property of James Carrell, deceased. She sold the three lots to Isaac S. Cramer for $2300.5
As for the "R. Reeve" who appeared on the Philadelphia Map of 1860, that map was very confusing. First of all, it is hard to tell if he was at the Abbott house or the Carrell house. But even worse, the first initial was hard to read, and turned out to be an F, not an R. The name was actually Frederick Reeve (1824-1908), an English immigrant, who bought three lots in Delaware Township from William & Sarah Brewer in 1858 for $1400, and the next year sold the same lots to Charles McClanan for $1308.60.6 Adding to the confusion is the fact that Reeve was only there for one year, yet managed to get his name on a map the year after selling the property.
As for Charles McLanan, he was Charles Hoppock McClanen (1833-1912), son of Alexander McClanen, an immigrant who drowned in the D&R Canal in 1845, and Mary Hoppock, daughter of Joseph Hoppock and Anne Moore. Charles McLanan married sometime in the 1850s Rebecca Agin (1831-1915), daughter of Joseph Agin & Maria Hixson. The couple never had children. They remained on the Sergeantsville property until 1869 when they sold it to Samuel R. Hunt for $1800, an increase of $500. In 1871, the Hunts sold the lots to Mary S. Snyder (wife of Wilson H. Snyder) for $1620,7 and, as mentioned above, Mary Snyder sold it to Elizabeth Abbott.
Ely Hoppock & Ann Moore
Railroad Survey: not shown
Slaymaker list:  "Eli Hoppock estate"
Beers:  "E. Hoppock"
Cramer Survey:  not listed.
Speaking of Hoppocks, the next property owner was no longer alive when Slaymaker made his list, but he was still alive when Beers prepared his Atlas of Hunterdon County. Eli or Ely Hoppock died on June 17, 1873, age 57. He was born in 1819 and was married to Ann Moore (1815-1895) in 1843 by Rev. Bartolette. The marriage announcement in the Hunterdon Gazette merely said they were both "of Delaware Township."
To research Ely Hoppock's family, I looked to the census records and found there were two Eli/Ely Hoppocks listed in 1850. One was Eli Hoppock, age 30, no occupation, living with Henry and Mary Hoppock at their home in Raritan Township. The other was Ely Hoppock age 32, a carpenter, living with wife Ann and two children in Delaware Township.8 I naturally concluded there were two different Eli/Ely Hoppocks.
Subsequent searches gave me information for only the Ely married to Ann in 1843. Finally, I took the trouble to look at all the deeds in Eli/Ely Hoppock's name and found the one that solved my problem. Henry Hoppock died on Nov. 23, 1860, without a will. On Dec. 3, 1864, his heirs sold all their rights in Hoppock's property to one of his sons, Abraham Hoppock.9 Among those heirs was Eli Hoppock and wife Ann. Up until finding this deed, I was sure that the Eli Hoppock married to Ann Moore was not the son of Henry Hoppock. I have revised my opinion, and concluded that Eli/Ely Hoppock got counted twice in the 1850 census. Nothing else makes sense.
But there remains the problem of identifying the parents of Ann Moore Hoppock, born in 1815. I thought that perhaps since Henry Hoppock was married to Mary Moore (1787-1865) that would be a clue. Mary was the daughter of William Moore and Margaret Lawshe of Delaware Township, who will appear later on in this article. But I could find no clue in that family to the parents of Anne Moore, wife of Ely Hoppock.
The Hoppocks and Moores are very interconnected. Ely's father Henry Hoppock is as much a mystery as Ann Moore, wife of son Ely. In 1844, one Ann Hoppock, widow of Joseph Hoppock, sold an 11-acre lot to Ely Hoppock, which made me wonder if there was a relationship there. It appears that Joseph and Ann Hoppock were the right age to be parents of Ely's father Henry Hoppock. But, because Joseph died as a debtor whose property had been sold at a sheriff's sale, he had no estate, and therefore no document identifying his children.
Ann Hoppock (1767-1866), widow of Joseph Hoppock, was the daughter of Henry Moore and Mary Akers-Groff, making her the sister of the William Moore who was married to Margaret Lawshe. That 11-acre lot was sold to her by her son Charles Hoppock in 1827, who was married to Jerusha Moore (1807-1867) daughter of Jonathan Moore and Sarah Hoppock.
If that isn't enough, Joseph & Anne Moore Hoppock were parents of Mary Hoppock, who married Alexander McClanen, who was mentioned above. One gets the feeling that everyone in the area named either Hoppock or Moore was somehow related, and yet Ann Moore Hoppock and Henry Hoppock remain mysteries.
Let us move on:
In 1858, Eli and Ann sold the 11-acre lot near the Wickecheoke and in 1860 bought a lot of 16.36 acres from William & Sarah Parks.10 The property was located on the west side of Route 604, next to land owned by Ozias Parkes, father of William Parks. Ozias Parks comes next in this tale, but first a further look at the lot owned by William Parks and Eli Hoppock.
William Moore Parkes (1827-1909) was the son of Ozias Parks and Margaret Moore, daughter of William Moore and Margaret Lawshe, and therefore sister of the Mary Moore who married Henry Hoppock. Ozias and Margaret, who married in 1822, owned a small farm at the intersection of Ferry Road and Locktown Sergeantsville Road, where they raised their five children.
About 1853, William Parks married his first cousin Sarah Hice (1830-1901), daughter of John Hice and Sarah Parks of Headquarters. The couple purchased the Hoppock lot (16.36 acres) in 1853, about the time they married, from Richard & Theodocia Horn for $1500.11 Among the bordering owners were William Moore and Dr. Justus Lessey.
The Parks sold the 16.38 acres to Ely Hoppock in 1860. Following the death of Ely Hoppock in 1873, his widow Ann remained on the property until 1885, when she, together with her surviving children, sold the lot to Joseph H. Green for $2,321.12 The children named in the deed were James D. Hoppock, Reading Hoppock, Mary Hoppock, wife of John W. Rockafellow and Angie Hoppock, widow of Ann's son Henry Hoppock. Henry had died in October 1884, only ten months after marrying Angelina Yard.
In 1901, Green sold the lot to two sons of Eli & Ann Moore Hoppock: John D. Hoppock and Reading Hoppock, and John Wesley Rockafellow, husband of Eli's daughter Mary Elizabeth Hoppock. After some back and forth, the property ended up in the hands of Reading Hoppock.
I can't end this section without adding a little more to the family craziness:  Back in 1888, Reading Hoppock (1856-1924) married Lydia W. Hoppock (1861-1942), daughter of Henry A. Hoppock and Mary Alpaugh of Bethlehem Township. What the relationship of that Henry & Mary Hoppock was to the Henry & Mary of Delaware Township I cannot say. One assumes that Reading and Lydia had it sorted out. They had one child, son George Ribble Hoppock. who died in 1971, age 71, without having married, so the line ended there.
Ozias Parks & Margaret Moore
Railroad Survey: "Ozias Parks"
Slaymaker list:  "Ozias Parks"
Beers:  "O. Parks"
Cramer Survey:  Not listed, but son William Parks (owner of the Eli Hoppock lot) was, with 60 acres, 1600 bearing peach trees, 800 baskets of peaches shipped on the Penn RR, 600 young peach trees, 3 tons coal, 250 tons? Grain & hay sold, 300 lb of lime, 1 ton of fertilizer, 560 cans of milk, 8 calves sold, 500 lb of poultry and 2,000 lb of pork, 25 bushels of potatoes.
Parks' grandson Horace L. Parks was also listed, born in 1862. He had 30 acres, consumed 3 tons of coal, half a ton of fertilizer, shipped 210 cans of milk and sold 3 calves.
Ozias Parke/Parks (1792-1877), son of Ozias Parkes, Sr. and Jane Robins, married Margaret Moore (1801-1889) in 1822. As mentioned before, she was the daughter of William Moore and Margaret Lawshe. Soon afterwards, Parks bought a lot at the intersection of Ferry Road and Locktown Sergeantsville Road, today the home of Bob & Laura Hornby.
Ozias and Margaret raised five children there: Asa (1822-1866) who married Eliza Jane Hartpence;  Jane (1825-1866), married to William H. Larew; William Moore Park (1827-1909), married to Sarah Hice;  Mary Ann Park (1832-1865) married to Charles R. Woodruff; and son John, born about 1842, married to an Elizabeth.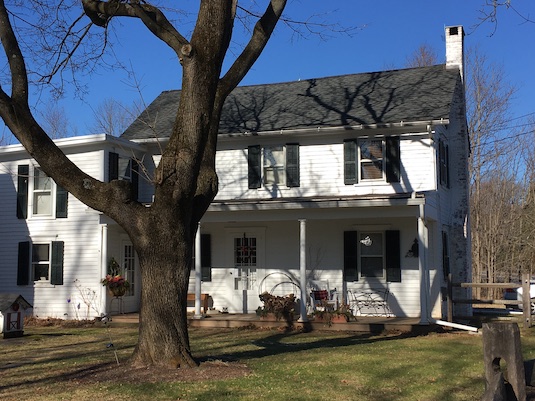 In 1850, when only their youngest child, John was living with them, Ozias and Margaret Park sold that property and five years later purchased a lot of 29.17 acres on Route 604 from Dr. Justus & Lydia B. Lessey, for $3,175. At that price we can rest assured there was already a house on the lot.13 The lot bordered the road from "Sergeants Ville to Head Quarters," John Smith, Nicholas B. Higgins, Richard Horne, John Green, Wm Dalrymple, and James Carrell. This was the same James Carrell who was shown next to Robert Abbott on the railroad survey map. Richard Horne was the one who sold his property to William & Sarah Park in 1853. Horne was named in the deed even though he had already sold the property to the Parks because the description was taken from an older deed, a very common practice.
A property owner who ought to have been named was William Moore, the father of Margaret Moore Parkes. William Moore (1765-1849) and Margaret Lawshe (1746-1857) were married in 1786. The couple had seven children, including Mary Moore who married Henry Hoppock, and Margaret Moore who married Ozias Parks. In 1806, Abraham Lawshe, William Moore's father-in-law, sold him a farm of 119.45 acres, land that surrounds the lots owned by Hoppock and Parks, and is commonly known today as the Copeland farm.
Dr. Justus Lessey & Lydia Kirkpatrick
Dr. Lessey and wife, who sold the house and lot to Ozias Parks, had not been long at that place. They bought the lot in 1847 from George W. Sharp. I have often wondered about Dr. Lessey and took this opportunity to see what the Hunterdon Gazette and other sources could tell me about him.
Justus Lessey was born in Connecticut in 1819. He first appears in Hunterdon County in 1847 when he purchased the lot in Delaware Township from George & Elizabeth Sharp. Lessey had just gotten married to Lydia Baker Kirkpatrick, daughter of Rev. Jacob D. Kirkpatrick, well-known Presbyterian minister at Ringoes, and Mary Burroughs Sutphen.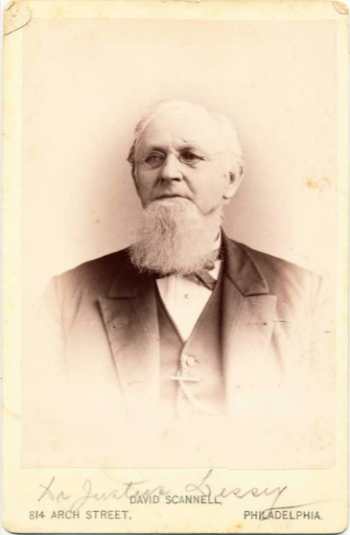 Dr. Lessey's first appearance in the Hunterdon Gazette was on December 28, 1847, when he participated with Dr. Wm Wetherill in an operation on Nathan Smith of Delaware Township for a cancerous tumor in his neck. Many ads followed featuring Lessey's medical services. But on April 4, 1855, Dr. Lessey announced that he "has removed from his Residence to the house lately occupied by A. Fulper, one door north of Wm. P. Emery's Store. Office in the same building." That was when Lessey sold the Delaware Township lot to Ozias Parks and relocated to Flemington. Things went downhill from there, and Lessey was forced to assign his goods to John C. Reed in 1858. Reed did not have much luck collecting from those who owed Dr. Lessey money, and on March 3, 1858, he held an Assignee's Sale offering the personal property of Dr. Lessey: "consisting of Rag and Ingrain Carpeting, Ward Robe, Book Case, Cane seated and office Chairs, Cook Stove and fixtures, one Parlor Stove for coal, one Air Tight Wood Stove, Sleigh, Bells, Harness, Vinegar Barrels, &c. Also, a splendid Case and Drawers, Medicine and Medical Library, worth the attention of the medical faculty."
It appears that Dr. Lessey was giving up his medical practice. He and his wife and two children, removed to Philadelphia, where the family somehow managed to get along, being counted there in the 1870 census. Lessey died in Philadelphia in 1900, and wife Lydia died there in 1904.
Prior to Lessey's ownership, turnover of the Delaware Township lot was fairly rapid from 1824 until the Parks arrived. Unlike those earlier owners, Ozias and Margaret Park remained on the property for the rest of their lives.
Ozias died on May 5, 1877 age 84, and was buried in the Lower Amwell Old Yard, the cemetery next to the German Baptist Church on Sandbrook Headquarters Road. Margaret, who was considerably younger than Ozias, died on March 23, 1889, age 88, and was buried next to her husband.
Michael V. Cole & Mary Sophia Abbott
Railroad Survey Map:  "Michael Cole"
Slaymaker list:  "Michael V. Cole"
Beers Atlas:  "W. S. Dalrymple"
Cramer Survey:  Not listed.
Michael Vanderveer Cole (1839-1927), son of Michael T. Cole and Gertrude Van Neste of Readington Township, married in 1864 Mary Sophia Abbott (1844-after 1920), daughter of Robert Laning Abbott and Elizabeth Wortman, also of Readington, and sister of the Robert L. Abbott mentioned above. How these Readington families came to be interested in Delaware Township property is a mystery, but it happened in 1873, when the railroad was in the planning stage.
Elizabeth Abbot bought her lot in Delaware Township on March 28, 1873. Mary Abbott Cole bought a lot across the road on March 31, 1873.14 This seems to have been a family endeavor. Mary was following in her mother's footsteps, being the one to buy the real estate, instead of her husband.
In keeping with the trend of female landowners, Mary Cole bought her lot from Ann Dalrymple, the daughter of William S. Dalrymple. Elizabeth Ann Dalrymple (1827-1904) never married. She used the name Ann in census records and was the surviving heir of her parents. I have not found a death notice for William Dalrymple who died in 1863, age 63, or for his widow Margaret Heath, who died in 1868, age 70.
There was an Ann Dalrymple in the 1870 census, age 43, living alone and employed as a dressmaker. I did not find her in the 1880 census, but by 1900 she was 72 years old, working as a housekeeper for Harrison Rounsavell, a 79-year-old widowed farmer of Sand Brook. She died in 1904, age 76, and was buried in the Sandy Ridge cemetery.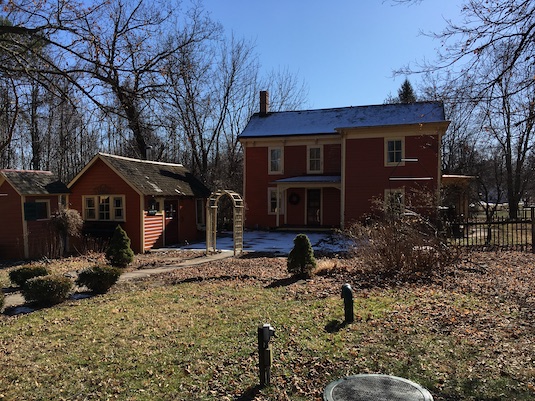 Mary Cole paid $1500 for a lot of 2.65 acres. For that price we can be sure there was a house on the lot. William Dalrymple was undoubtedly the homebuilder, even though his occupation was shoemaker in the 1850 and 1860 censuses; he bought the lot of 2.65 acres from John Conover and Elias & Rachel Conover in 1834 for only $106.15 In that deed, the property was described as bordering "a road commonly called Arnwine's lane." Today we call it Lambert Road, even though the Arnwine and Carrell families were the most important landowners there.
It seems that the Coles had moved to Delaware Township sometime before purchasing their lot on Arinwine's lane. A notice published in the Hunterdon Republican on January 23, 1873 identified Michael V. Cole as a resident of Delaware Township. It concerned disposition of his father's farm in Readington. It seems likely the Coles were renting the Dalrymple lot before purchasing it.
Mary S. Abbott and husband Michael V. Cole remained on this small lot, where Michael worked as a carpenter, until 1907, when they sold it to Mary E. Wilson, this time charging $2,000 for it.16 Afterwards, they moved in with their son William H. Cole and his wife Sybilla Reading. They lived not far away in Sergeantsville.
My first thought was that Mary Wilson was probably a widow looking for a nice house on a small lot to spend her later years on. But, no—once again, the property was purchased by a married woman. Mary Wilson was born Mary Elizabeth Haines (1857-1914), the daughter of Joseph Haines and Margaret Hoppock.17 In 1878, she married Clinton B. Wilson (1855-1923), son of James Wilson and Elizabeth Sutphen, and was still married when she bought the house of Ozias & Margaret Park in 1907.
There seems to be a pattern here, of married women purchasing property on their own. Perhaps it had to do with protecting assets from debt collectors. I have seen several instances in which a man who had gotten into debt conveyed his real estate to his wife. But that is not the case here. Was this a matter of estate planning or of some independent-minded women making their own investments? If I ever find out I will share the answer.
Mary E. Wilson kept the property until her death on December 4, 1914. Husband Clinton Wilson died on May 9, 1923. The couple were buried in the Lower Amwell Old Yard cemetery. Following Clinton Wilson's death, the heirs of Mary Wilson sold the house and lot to her married daughter-in-law, Jennie Wilson Smith.18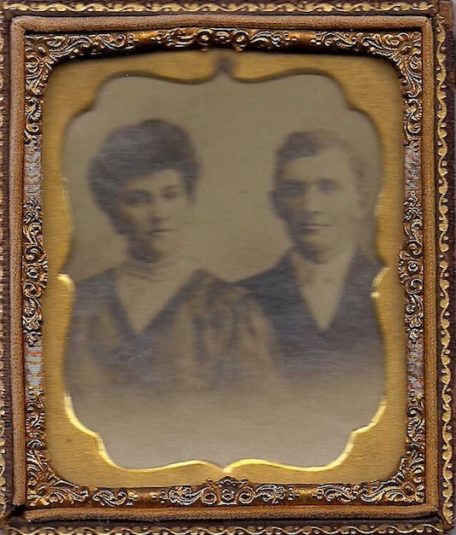 Amos Wilson (1879-1941), son of Clinton B. & Mary E. Haines Wilson, married Jennie Wilson Smith (1882-1970) about 1906. She was the daughter of George Smith and Emma Janice Kline of Readington Township. In the 1920s the couple began to operate a popular general store in Sergeantsville.
Amos and Jennie Wilson were the parents of Mary E. Wilson (born about  and Clinton B. Wilson, Jr. (1908-1985) who ran the store in Sergeantsville, having taken it over from his parents. He was also a teacher at the Sand Brook school, and a very well-known local historian who published articles in the Lambertville Beacon. It was his article on about the history of the Delaware Flemington Railroad Co. that was quoted at the beginning of this article.
—————————————–
I had intended to proceed next to the property on the route, that of James Carrell and wife Frances Opdycke, but I have already exceeded my (self-imposed) page limit, so Mr. Carrell will have to wait.
However, in the process of researching the Abbott lot, I came upon a series of family and real estate connections that fairly stunned me. It makes a good story, but it's not directly relevant here, so I will publish it separately, as "Surprising Connections."
The Series:
In the interests of making it easier to find related articles, I have listed here all the articles published so far in this particular series on the Delaware Flemington Railroad Company.
"The Railroad That Wasn't Built," 8/31/2019. Egbert T. Bush's article "The Delaware & Flemington Rail Road Company."
"Kessler & Company," 9/21/2019. History of the original investors in the company and what happened to them after it failed.
"The Route Not Taken, part one," 11/30/2019. Description of the Route as surveyed to run from Prallsville northeast across land of Kessler, Joseph Hunt, Edward & Mary Housel, Wm & Catherine Warman, Thomas & Mary Larison, Amos & Caroline Fisher, Wm F. & Eliza Bowen, Wm & Margaret Rake.
"The Route Not Taken, part two," 12/21/2019. Description of the Route as surveyed to run from land of Wm Rake northeast across land of Elias & Sarah Johnson, Henry & Sarah McManners, Jonathan & Elizabeth Dilts, Robert & Rebecca Abbott, the Lawshe tannery lot, Jacob & Harriet Lawshe, Cornelius & Elizabeth Higgins, Asher & Mary Ann Johnson.
"The Route Not Taken, part three," 1/14/2020. Description of the Route as surveyed to run from land of Asher Johnson northeast across land of Isaiah H. & Mary Moore, John H. & Catherine Gordon, Charles & Rebecca Green, the village of Sergeantsville.
"The Route Not Taken, part four," 1/25/2020. Description of the Route as surveyed to run from the east end of Sergeantsville northeast across land of Robert & Rebecca Abbott, Ely & Ann Hoppock, Ozias & Margaret Parks, Dr. Justus & Lydia Lessey, Michael & Mary Sophia Cole; also an article on the failed railroad by Clint Wilson.
"The Route Not Taken, part five," 3/21/2020. Description of the Route as surveyed to run from Lambert Road to the south end of Sand Brook.
Footnotes: