There are two farms in southern Delaware Township that are particularly interesting. They were part of the old Dimsdale proprietary tract north of Lambertville until 1750, when John Lambert, a recent immigrant from Connecticut, purchased it.
The Dimsdale Tract
The original proprietary tracts in Hunterdon County are a good way to study the early development of land ownership here. So, let's begin with a short history of the Dimsdale Tract. Like the two Lambert farms, there were two Dimsdale tracts, a short distance apart. The one I am concerned with is the more northerly one of 833 acres.
Before it could be surveyed, someone had to come forward with the sufficient number of proprietary rights in the Province of West New Jersey to qualify for the survey. Those rights were purchased in 1682 by Robert Dimsdale. Here is a description of that purchase, given as a recital in a later deed:
"Whereas Robert Dimsdale, State of Edmonton in the County of Middlesex in the Kingdom of Great Britain, Physician deceased, in his lifetime stood lawfully seized of and in one third part of one full square and undivided 90th part of 90 full equal and undivided 100 part of all that tract of land in America, formerly known by the name of West New Jersey as by Indentures of Lease and Release made or mentioned between Nicholas Lucas of Hertford . . . and Robert Dimsdale" on 27 Feb 1682, . . .1
Nicholas Lucas was one of the Quaker trustees in charge of the Province of West New Jersey, which had been acquired from Edward Byllinge. Ten "full equal and undivided" shares out of 100 had been granted to John Fenwick, leaving 90 shares for sale. It appears from the description that Dimsdale had purchased a third of one share.2
Robert Dimsdale was a physician ("chyrurgeon") who came to West New Jersey in 1681 and settled in Burlington County. He was a member of the West New Jersey Assembly in the years 1684-1686, but returned to England in 1688 where he remained for the rest of his life. In 1713, he married his second wife, Sarah Collins, daughter of Francis Collins and Mary Budd, also of Burlington County. I have not found an explanation for why Sarah Collins was living in Cambridgeshire, England when she married Robert Dimsdale, but Dimsdale after died in 1718, she returned to Burlington County where her husband's estate still held large properties.
In 1701, Robert Dimsdale's agent, John Scott, arranged for his two tracts near the "Allishocking Creek" to be surveyed, one of 833 acres and the other of 1264 acres.3 After Dimsdale's death in 1718, the property came to his sons, John and William, who had a new survey of the smaller tract made in 1724, amounting to 822 acres. It was located besides the "Allishocking Creek" as well as lands of Samuel Green and William Biddle.4 In 1746, John Dimsdale conveyed his rights in the property to Robert Smith and Ebenezer Large, who also acquired the Dimsdale holdings in Burlington County.5 On June 9, 1750, Smith and Large sold 831 acres to John Lambert of Kingwood Township for £750.6
John Lambert, yeoman of Kingwood
Despite owning this large tract in old Amwell Township, it appears that John Lambert and wife Abigail Bumstead lived and raised their children in Kingwood Township.7 They came to Hunterdon County from Connecticut in the mid 1740s. Their children were John (1714-1763), Gershom (1716-1763), Jeremiah (1731-1811, died childless), Thomas (dates not known, settled in New Germantown) and a daughter who died young. As you can see from the birth dates, the children were all born in Connecticut. John Lambert, Sr. died sometime after 1763; Abigail's death date is not known.8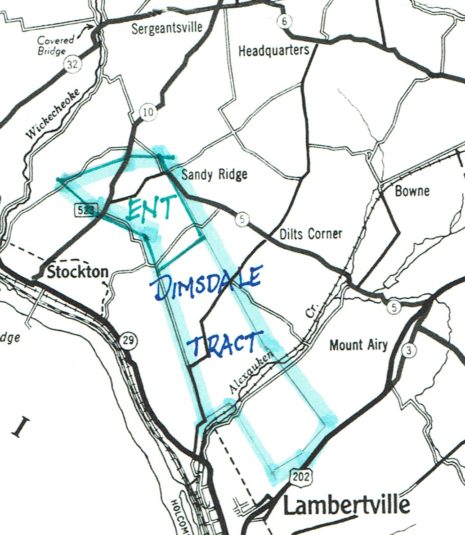 On July 27, 1750, about six weeks after purchasing the Dimsdale tract, John Lambert, yeoman of Kingwood, shrewdly sold the northern half of the property to Valentine Ent, yeoman of Amwell, for the same amount that he used to purchase the whole tract, £750.9 At the time of the sale, based on the metes & bounds given in the deed, his son Gershom was in possession of acreage just to the south of the 410 acres sold to Ent. But Gershom Lambert did not get the whole of the remaining tract; he shared it with his older brother John. I cannot document this fact because there was no deed of conveyance from John Lambert, Sr. to either son John or son Gershom. However, Snell wrote that John and Gershom "settled about two miles north of Coryell's Ferry. They bought adjoining tracts of land."10 Snell is obviously mistaken; the Lambert sons did not buy the property, they got the land from their father.
The map above is an approximation of the Dimsdale tract overlaid on an old road map of Delaware Township. Also designated is the northern section conveyed to Valentine Ent. It appears from this that Ent got less than half of the tract, which makes me wonder about Hammond's version. It should have been only twice as large as the Ent tract, not three times as large. As a reminder, the road running through Dilts Corner is the Lambertville-Headquarters Road, and the road along the western boundary of the tract is Seabrook Road.
John and Gershom Lambert both started their families during the years 1735-45, which means they were already married when they came to Hunterdon County with their parents.11 Because John Lambert Sr. continued to live in Kingwood, it seems likely that he purchased the Dimsdale tract for the benefit of his two elder sons. Their two farms are adjacent but located on different roads, in different tax blocks. One of them came to be owned by Sen. John Lambert (son of Gershom), while the other one belonged to his cousin Gershom Lambert (son of John). But which was which?
Like many early families, the Lamberts liked to reuse given names. The two names used most often by the Lamberts were John and Gershom. The father of that first John Lambert, who moved to Hunterdon County from Connecticut, was named Gershom, and his grandfather, the original immigrant to New England from Derbyshire, England, was named John.12 The brothers John and Gershom of Amwell Township carried on the tradition. John Lambert (1714-1763) and wife Mary Carr had three sons: John, Gershom and Jeremiah. Gershom Lambert (1716-1763) and wife Sarah Merriam had three sons: John, Joseph and Gershom.
Some sons and grandsons of John & Abigail Lambert:
John Lambert (1714-1763) & Mary Carr had:
1) John (c.1735/40-?)
2) Gershom Sr. (1754-1847) – "Long Gershom"
3) Jeremiah (c.1755-?)
Gershom Lambert (1716-1763) & Sarah Merriam (1726-1796) had:
1) Sen. John (1746-1823)
2) Joseph (1749-1821)
3) Gershom (1759-bef 1822) – "Miller Gershom"
If only these people had used middle names! The authors of "The Lamberts of Amwell" made use of nicknames to distinguish between the Gershoms. The son of John and Mary Lambert was known as Long Gershom, and the son of Gershom and Sarah Merriam Lambert was known as Miller Gershom.13
Of course, it doesn't help that these John's and Gershom's were very negligent about recording their deeds. In fact, John and Gershom's brother Joseph was given a 200-acre farm that ran along the east side of Seabrook Road almost bordering the Alexauken Creek on the south. We only know this because Joseph Lambert and wife Mary sold the 200+ acres to their son John Lambert on May 20, 1800, and on Nov. 24, 1806, Sen. John Lambert and wife Hannah quit claimed their rights in the property to John Lambert, Jr., son of Joseph Lambert.[#. H. C. Deeds Book 14, pp. 210, 211].
The Lambert Brothers, John and Gershom
Gershom Lambert (1716-1763), son of John and Abigail Lambert, died at the young age of 47, possibly of smallpox. Fortunately he had just enough time to write a will (he died the next day). Even though he was "of Amwell" when he wrote his will, he left the privilege of his house in Kingwood to his wife Sarah, who was to continue living with his father, John. He ordered his Amwell farm to be sold, and left the remainder of his property to his sons John and Joseph. After his named executors declined to act, administration was granted to the widow Sarah and to Jeremiah Lambert, who was probably Gershom Lambert's brother.
Curiously, Gershom's older brother John had written his will a month earlier, on February 14, 1763, naming brothers Gershom and Jeremiah his executors. He left his plantation in Amwell to his sons John, Gershom and Jeremiah, and died on March 29th, nine days after the death of brother Gershom. He was only 49; most likely he too died of smallpox.
It is my contention that the two brothers owned the adjacent farms in Amwell, with the result that the farm of John Lambert on Lambertville-Headquarters Road went to his sons John, Gershom and Jeremiah, while the Seabrook Road farm of Gershom Lambert, John's brother (you see my problem?), went to his sons John and Joseph.
Exactly how the Seabrook Road farm came to be owned by Sen. John Lambert cannot be documented, at least for now. There must have been more land that went to the Senator's brother Joseph. It appears that either Sen. Lambert or his father Gershom acquired additional acreage beyond the limits of the Dimsdale tract. In 1780, John Lambert was taxed on 300 acres and his brother Joseph Lambert was taxed on 200 acres. (Their cousin Gershom was also taxed on 200 acres.) Joseph's land was closer to Coryell's Ferry. Since the total of 500 acres comes to more than the acreage originally acquired by their father out of the Dimsdale tract, one must conclude that either the father or the sons purchased additional acreage, and never bothered to record their deeds.
Sen. John Lambert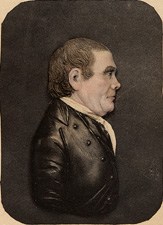 I have long been interested in this John Lambert, and have already begun publishing his letters written to his granddaughter during the time he served in the U. S. Senate.14  
In 1765, two years after the death of his father, John Lambert started a family. He was only 19 years old when he married a neighbor, Susannah Barber (1744-1779), daughter of John and Magdalen Barber.15 Although their first child, born in 1766, died an infant, they had seven children altogether. It is likely that in 1779 a serious illness struck the household, for on July 12th, his six-year-old son Gershom died, and a week later, on July 18th, so did his wife Susannah, age 35.
John Lambert did not serve in the military during the Revolution. In 1780, he was serving both as Amwell township assessor and as a member of the General Assembly, which may have been sufficient to absolve him of military duties. On October 6, 1781, Lambert married his second wife, Hannah Little, the widow of war hero Maj. Benjamin Dennis, who was killed in August 1779. John Lambert brought four children to the new family, and Hannah Dennis brought five. They added three more of their own to make a total of twelve children. This would seem to require a rather large house, but it does not appear that he made an addition to the house his father built.
In addition to being a member of the Assembly during the war, Lambert ran a store at Coryell's Ferry, and in 1782 joined with Robert Laning to reopen the ferry that used to operate there. Here is their advertisement published in the New-Jersey Gazette on July 24, 1782:
The Publick are hereby notified,
That the old noted ferry, known by the name of Coryell's ferry, which has for some time past been badly tended for want of boats, &c. the persons that lived at said ferry being removed, and the subscribers come to it, hath got the boats in the best order, which are so on both sides, and are able to ferry over with convenience at one trip four four-horse teams ; and the roads from Philadelphia to the North-River [Hudson River], Morristown, &c. are as near or nearer by this ferry, and much better.

We being determined to give the best attendance both early and late, hope the publick will please to favour us with their custom, where they may depend upon meeting with good entertainment, and the best usage, by the publick's humble servants.

John Lambert, Jersey side,
Robert Laning, P. side.
Coryell's Ferry, June 11, 1782.16
Lambert left the Assembly in 1788, but he was a justice of the peace in the 1790s, and became a member of the Governor's Council in 1791 in the administration of Gov. William Patterson. He served as vice-president of the Council from 1795 to 1800. From 1802 to 1803, he was president of the Council and served as Acting Governor. This was during a conflict in the legislature between Federalists and Republicans, in which Gov. Joseph Bloomfield temporarily lost support. In 1805 he was elected to Congress as a Jeffersonian Republican, and then to the U. S. Senate in 1808 for one term.17
Sen. Lambert's Farm
Sen. Lambert owned one of the two farms belonging to the sons of John Lambert, Sr. But which one? There has been some confusion over that question, probably because both farms were owned at one time by a man named Gershom Lambert. The Seabrook Road farm (Block 60 lot 12) was owned by Sen. John Lambert's father Gershom, while the Lambertville-Headquarters Rd. farm (Block 62 lot 12) was owned by Sen. John's cousin Gershom, son of the Senator's uncle John Lambert. You can see how references to the farm of Gershom Lambert can be so misleading.
Not only are the farms adjacent, but the two brothers (or their sons) built almost exactly identical houses. They are less similar today than they were originally, due to additions built by subsequent owners. They were described by Alfred G. Petrie who wrote that of the two farms owned by John and Gershom Lambert, "the house on the Gershom Lambert farm (now owned by Mr. James Hooven) is probably the oldest." The two houses were:
"built of stone and both have a rather unusual feature for houses in this vicinity, in having a broad central hall extending from the front to the rear of the house. Across the hall, half way back is a moveable partition which can be pushed into a groove in the wall in summer and in winter it was the custom to draw it out, making the front of the hall with its corner fireplace, warm and cozy. A door in the partition opens into the back of the hall where the stairway ascends to the second floor. There are rooms on both sides of the hall. These houses were identical except that the Gershom house was one foot larger in every direction." 18
The man most responsible for the confusion is probably John Lequear, author of Traditions of Hunterdon. In his book there is a picture of the Gershom Lambert house on Lambertville-Headquarters Road, which Lequear identified as belonging to Sen. John Lambert.19 But there are clues to show that Sen. John Lambert lived on Seabrook Road, not on Lambertville-Headquarters Road. The Hunterdon Historical Newsletter for 1969 showed the two houses and correctly identified their owners.20 Also, an old photograph of the Seabrook Road house was published in the Proceedings of the NJ Historical Society, a copy of which I found in the Anderson File at the HCHS.21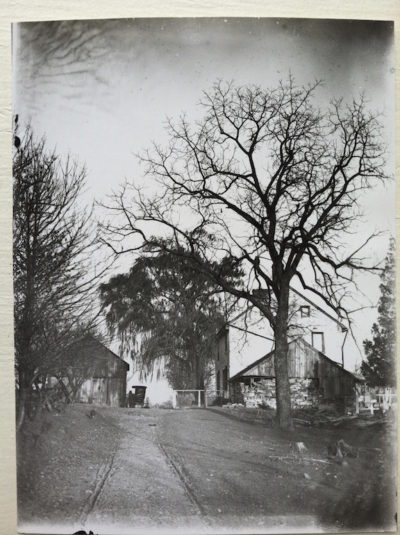 The different claims about who owned the house on Seabrook Road got me wondering, especially when Fred Sisser sent me another clue. It was a copy of an advertisement for the sale of the farm on Seabrook Road, with a picture of the house that matches the photo in the HCHS newsletter and the Anderson file. The person offering the farm for sale was Wm. D. Seabrook—and that is significant, as I will relate later.
Another item in the stack of evidence is an article about Sen. Lambert by Jonathan M. Hoppock that I found in the Lambert file at the HCHS. (Unfortunately, the copy of the clipping was not dated.) Hoppock wrote that John Lambert was born "on what is known as 'Seabrook's Farm,' in Delaware Township, about two and one-half miles northwest of the city of Lambertville, on the road leading to the Sandy Ridge Church." [I think he must have meant northeast.] "The correctness of this statement is vouched for by John M. Wilson, and other life-long citizens of that locality." Wilson was the son of Sen. William Wilson, who served in the NJ State Senate from 1835 to 1842, and whose own farm bordered Lambert's, across from Seabrook Road.
And then there is Egbert T. Bush, who wrote in his article "When Stockton Was Not So Dry," that George Hoppock married "the daughter of United States Senator John Lambert, who owned and occupied the Seabrook farm less than two miles away [from Stockton]."
After Sen. Lambert Died
Sen. John Lambert owned the Seabrook Road farm from about the time of his marriage to Susannah Barber, about 1765, until his death on February 4, 1823. To my amazement and regret, he did not write a will, so his property was supposed to be divided among the heirs in the traditional way–one third to the widow, and the other two-thirds divided among the children or their heirs. Despite being married twice and having many children, he had no surviving sons. His second wife, Hannah survived him, so she was entitled to a third of the estate. But the administrators were slow to act, so the heirs petitioned the Orphans Court to grant a division of the property. And that turned out to be very fortuitous, because a survey was made for the dower lot. And even better, a map of the survey was included in the division of Lambert's lands, which was recorded in the county clerk's office.22 This is a copy I made of the map; apologies for my penciled notes. The course running next to the north arrow follows Seabrook Road.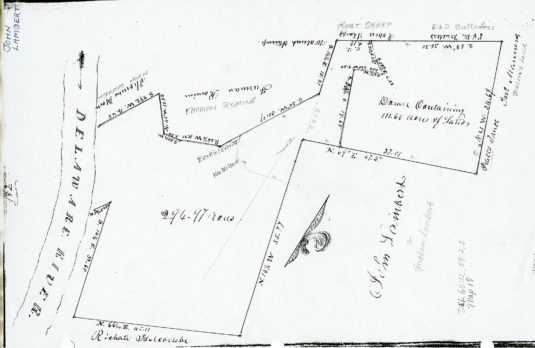 The map shows the Dower Lot as being 111.66 acres. The property lines come very close to those shown on the tax map for Block 60 lot 12. The remainder of John Lambert's property was a tract of 294.97 acres located mostly on the west side of Seabrook Road, extending to the Delaware River, much of which is occupied by Trap Rock Quarry today. This is not the most desirable land for farming purposes, which seems odd for an intelligent man like Lambert.
Note that excepted out of the division of 111.66 acres for the widow Hannah Lambert was the following:
. . . the use of one half of the cellar, the use of the kitchen the two west rooms on the lower floor of the dwelling house, the two East rooms up one pair of stairs, the use of the garret, one half the use of the spring and spring house, one half of the garden (the widest half her choice), one half of the wagon house from the north side, the new hovel and stabling, one half the barn yard and well of water by the same, the use of the threshing floor or reasonable time to thresh on doing as little injury as possible, in all the above excepting it is to be understood that the heirs and the widow Hannah Lambert have a common right to the necessary passes, lains [sic], gates, stairways and doors, but to use them with as little prejudice to the other part as possible.
All of this was to be shared with the heirs that petitioned the Orphan's Court for the division of Lambert's lands, which they did on September 24, 1825, two and a half years after the Senator's death. They were the four daughters of John and Susannah Lambert (Sarah, Amy, Achsah and Catharine), or their heirs, and the three daughters of John and Hannah Lambert (Jerusha, Miriam and Maria).
daughter Achsah Dennis, dec'd (d. 1814), wife of Thomas Dennis, also dec'd: their daughter Achsah L. Dennis [1797-1852, and later the wife of John K. Paxson]
daughter Sarah Coryell dec'd [c. bef 1805], wife of Jacob Coryell: her son Tunison Coryell [c.1785- 1832], and the children of her dec'd son Cornelius Coryell (1794-c.1824), Myra, Sarah Ann and Cornelius [sic, should be Cornelia] Coryell;
daughter Amy Hoppock, (widow of George Hoppock, mother of Wm. L. Hoppock)
daughter Catharine, wife of George Larason,
daughter Jerusha, wife of Abraham Holmes
daughter Miriam, wife of James Seabrook,
daughter Maria, wife of William Wilson
Because the census records are no help for this time period, I am only guessing that the people most likely to be sharing the Lambert household with Hannah Lambert were daughter Amy Hoppock (who may have been living with son Wm. L. Hoppock or daughter Susanna Wilson) and granddaughter Achsah L. Dennis (who was at this time a single orphan). The division did not state what was to become of the remaining 294.97 acres located to the west of Seabrook Road.
Hannah Little Lambert died on January 10, 1835, at the age of 88. She was buried next to her husband in the Barber Cemetery on Lambertville-Headquarters Road. There was no obituary for her in the Hunterdon or Trenton newspapers. Apparently, the Senator was all but forgotten by then, as well as Hannah's horrific experiences during the Revolution, which merit a separate story. Before she died, the farm was conveyed to her grandson, William L. Hoppock, who had married her daughter Maria Lambert. He purchased the farm on April 1, 1826. This was apparently not a public sale, for no notice of it was given in the Hunterdon Gazette.
The next post will describe what happened to the Senator's farm after 1826.
Correction:  I originally referred to Wm. L. Hoppock as the son-in-law of Hannah Lambert, when in fact he was her grandson. I also misused the term probate when referring to the estate of Sen. John Lambert.
10/21/16: Added information about the property of Joseph Lambert, which I did not have when I first published the article.
Footnotes: