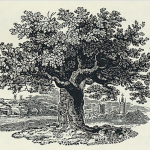 The Dilts family in Hunterdon County is abundant and always has been. However, I have not been able to attach William Dilts of Sandy Ridge to the larger Dilts family. His list of descendants will stand on its own until I can link him with the other Hunterdon County Dilts family.
First Generation:
(1) William Dilts (1765 – 1831) & Catharine Holcombe (1774 – 1868)
For more about this couple and their children, see Sandy Ridge, part two
Second Generation:
Since so many of the second generation were buried in the Sandy Ridge Cemetery, I have underlined the death dates of those buried there.
|     (2) Esther Hester Dilts (1794 – 1879) & John P. Hunt (1787 – 1860)
|     (2) John Dilts (1796 – 1890) & Rachel Lawshe Moore (1803 – 1895)
|     (2) Holcombe Dilts (1798 – 1877) & Mary Reed (1800 – 1881)
|     (2) Hon. Robert Dilts (1800 – 1887)
|     |     m. 1) Delilah Servis (1801 – 1824)
|     |     m. 2) Phebe Curry (1802 – 1879)
|     (2) Mary Dilts (1803 – 1895) & John Menaugh (1803 – 1864)
|     (2) Hannah Dilts (1805 – 1886) & George Hice (c.1787 – 1863)
|     (2) Rebecca Dilts (1807 – 1896) & Andrew Wolverton (c.1809 – 1881)
|     (2) Susanna Dilts (1810 – 1889) & Joseph G. Hunt (1800 – 1855)
|     (2) Catharine Dilts (1813 – 1893) & Tobias Shadinger (c.1814 – 1871)
|     (2) William Dilts (1815 – 1910) & Mary Aller (1807 – 1867), left Hunterdon
Third Generation:
|     (2) Esther Hester Dilts & John P. Hunt1
|     |     (3) Edward H. Hunt (1815 – 1881) & Elizabeth Higgins (1815 – 1882)
|     |     (3) Robert D. Hunt (1817 – 1881) & Sarah Sutton (1821 – 1888)
|     |     (3) Cornelius L. Hunt (1823 – 1884) & Mariah Salter (1824 – 1878)
|     |     (3) Mary Catharine Hunt (c.1826 – ?)
|     |     (3) Samuel R. Hunt (1829 – 1897) & Mary A. Bowne (1832 – 1882)
|     |     (3) John L. Hunt (c.1833 – 1834)
|     |     (3) Hannah R. Hunt (c.1837 – 1842)
|     |     (3) Lambert Hunt (c.1838 – ?)
|     |     (3) William D. Hunt (c.1851 – 1852)
|     (2) John Dilts & Rachel Lawshe Moore
|     |     (3) William M. Dilts (1821 – 1902) & Elizabeth Fulper (1819 – 1904)
|     |     (3) John Carr Dilts (1824 – 1901) & Hannah Van Syckel Lawshe (1829 – 1917)
|     |     (3) James P. Dilts (1826 – 1919) & Letitia R. Gordon (1830 – c.1906)
|     |     (3) George Larison Dilts (1829 – ) & Martha E. Wilson (1844 – 1908)
|     |     (3) Margaret A. Dilts (c.1831 – ?)
|     |     (3) Catharine Dilts (1836 – 1906)
|     |     (3) Robert H. Dilts (1840 – 1919) & Emily Laver Makin (1841 – 1916)
|     (2) Holcombe Dilts & Mary Reed
|     |     (3) Asa Reed Dilts (1823 – 1912) & Ann A. Gaddis (1825 – 1866)
|     |     (3) Charles B. Dilts (1825 – 1911) & Catharine Ent (c.1827 – ?)
|     |     (3) Sarah C. Dilts (c.1828 – ?) & William N. Adair (c.1824 – ?)
|     |     (3) Susannah MacIntyre Dilts (1829 – 1855)
|     (2) Hon. Robert Dilts & Phebe Curry
|     |     (3) Zephaniah C. Dilts (1826 – 1903) & Caroline H. Stevenson (1830 – 1892)
|     |     (3) Mary Ellen Dilts (c.1832 – ?)
|     |     (3) William Dilts (c.1834 – ?)
|     |     (3) John C. Dilts (c.1836 – ?) & Mary
|     |     (3) Elizabeth Dilts (c.1837 – ?)
|     |     (3) Levi Dilts (c.1839 – ?)
|     |     (3) Oliver Dilts (c.1847 – ?)
|     |     (3) Amy H. Dilts (c.1847 – ?) & Dr. Obadiah Herbert Sproul (c.1844 – ?)
|     (2) Mary Dilts & John Menaugh
|     |     (3) Elizabeth Menaugh (c.1821 – 1878) & Robert Sharp (1823 – 1881)
|     |     (3) William D. Menagh (1826 – 1842)
|     |     (3) Joseph D. Menagh (1842 – 1848)
|     |     (3) William Menaugh (c.1844 – ?)
|     (2) Rebecca Dilts & Andrew Wolverton
|     |     (3) Ann Wolverton (1832 – 1909)
|     |     |    m. 1) William Thatcher Godown (1825 – 1866)
|     |     |    m. 2) Firman Walker
|     |     (3) William D. Wolverton M.D. (1834 – 1922) & Anna Eliza Wilson (1837 – 1916)2
|     |     (3) Caroline T. Wolverton (1837 – 1933) & Andrew Dewitt Godown (1832 – 1908)
|     |     (3) Mary C. Wolverton (c.1839 – 1869) & Samuel A. Wallace (c.1830 – ?)
|     |     (3) Elizabeth Wolverton (1842 – 1860)
|     |     (3) Job Wolverton (c.1844 – 1891) & Ella Gravatt (1844 – 1871)
|     |     (3) Vorhis T. Wolverton (1845 – 1846)
|     |     (3) Emma Wolverton (1850 – ?) & Judson Voorhees (1848 – 1905)
|     (2) Catharine Dilts & Tobias Shadinger)
|     |     (3) Hester Ann Shadinger (c.1840 – ?) & Joseph M. Van Cleve (1834 – 1896)
|     |     (3) Susanna Shadinger (c.1842 – ?)
|     |     (3) Hannah R. Shadinger (c.1845 – 1874) & Charles W. Bodine (1847 – 1921)
|     |     (3) William D. Shadinger (c.1846 – ?)
|     |     (3) Jonathan Shadinger (1850 – 1850)
Fourth Generation:
|     (2) John Dilts & Rachel Lawshe Moore
|     |     (3) John Carr Dilts & Hannah Van Syckel Lawshe
|     |     |     (4) Sarah Elizabeth Dilts (1850 – after 1910) & Mahlon Green (1842 – 1919)
|     |     |     (4) James Spencer Dilts (1861 – 1934) & Mary Stevenson Hoagland (1863 – 1944)
|     |     |     (4) Anna L. Dilts (1864 – 1949)
|     |     |     (4) Harriet L. Dilts (1868 – after 1949) & Thomas S. Fisher (1862 – ?)
|     |     (3) James P. Dilts & Letitia R. Gordon
|     |     |     (4) John Dilts (c.1855 – bef. 1860)
|     |     (3) George Larison Dilts & Martha E. Wilson
|     |     |     (4) Charles J. Dilts (1883 – 1884)
|     |     (3) Robert H. Dilts & Emily Laver Makin
|     |     |     (4) Henry M. Dilts (1863 – after 1910) & Carrie Schulhas (1865 – ?)
|     |     |     (4) Charles M. Dilts (c.1867 – ?)
|     |     |     (4) Albert Dilts (c.1870 – ?)
|     |     |     (4) Elizabeth M. Dilts (1874 – ?)
|     |     |     (4) Robert M. Dilts (c.1876 – ?)
|     (2) Hon. Robert Dilts & Phebe Curry
|     |     (3) Zephaniah C. Dilts & Caroline H. Stevenson
|     |     |     (4) Samuel F. Dilts (1855 – 1892)
|     |     (3) John C. Dilts & Mary
|     |     |     (4) Donald Dilts (1894 – 1895)
|     |     (3) Amy H. Dilts & Dr. Obadiah Herbert Sproul
|     |     |     (4) Samuel H. L. Sproul (1882 – 1887)
|     |     |     (4) Florence Sproul (c.1871 – ?)
|     |     |     (4) Mary Edith Sproul (1877 – 1884)
|     |     |     (4) Albert Sproul (c.1878 – ?)
|     |     |     (4) John Robbie Sproul (1879 – 1884)
Fifth Generation:
|     (2) John Dilts & Rachel Lawshe Moore
|     |     (3) John Carr Dilts & Hannah Van Syckel Lawshe
|     |     |     (4) Sarah Elizabeth Dilts & Mahlon Green
|     |     |     |     (5) Green (1871 – 1871)
|     |     |     |     (5) Alena Green (1875 – 1949)
|     |     |     |     (5) Ida B. Green (1878 – 1879)
|     |     |     |     (5) Cora A. Green (1883 – 1884)
|     |     |     |     (5) Helen Green (1887 – 1930) & Kennedy (c.1885 – ?)
|     |     |     |     (5) Nellie Green (1887 – ?)
|     |     |     (4) James Spencer Dilts & Mary Stevenson Hoagland
|     |     |     |     (5) Leila Dilts (1882 – 1959) & John B. Ewing (1878 – 1964)
|     |     |     (4) Harriet L. Dilts & Thomas S. Fisher
|     |     |     |     (5) Myrtle Fisher (c.1890 – ?) & __ Raymond
Footnotes:
For the rest of this family, see The Hunt Family Tree ↩
This family is discussed in E. T. Bush's "Old Headstones & Headlines." ↩