In recognition of Labor Day this weekend I thought it would be interesting to see what labor was like when Egbert T. Bush was young. He would have been fifteen years old in 1863, during the Civil War. Since he was too young to be drafted, he was available to the neighborhood farmers who were short-handed, thanks to the war. His employer in those days left a big impression on the young man.
Working for "Big Wages" With Uncle Jaky Philhower

by Egbert T. Bush, Stockton, NJ
published in the Hunterdon County Democrat, January 2, 1930

One plain old farmer who has been dead almost fifty years still stands out clearly in memory. Many a time has he seemed to be demanding recognition, not by importuning but by sheer force of his personality. And there appears to be no better way to perform the pleasant duty of commemorating that personality than by telling the simple story of how it was Impressed upon the mind by close association in boyhood, and then thru all the remaining years of that farmer's life.

Being much in his employ from the age of seven or eight (no child labor laws to interfere then), I knew him at close range. My first job was dropping corn for one coverer and getting rich at 25 cents a day. But how long those days were! How the sun loitered on hot afternoons, and then stuck in the tall treetops from which it could hardly disentangle itself! Later, for "heels out of the way" of two coverers, the wages were thirty-seven and a half cents—"three shillings"—and the days were not quite so long.
Before the invention of mechanical corn planters, corn was planted by hand, sometimes using a wooden contraption that would punch shallow holes in the soil. The person holding the hand planter would walk in rows, followed by children whose job it was to drop in the seed and cover it. Hence, a "coverer." As for "heels out of the way," that one has me stumped and I will be happy to hear from anyone who can explain the term.
Detail of Franklin Township in the Beers & Comstock Atlas of 1873. Click to enlarge.

Jacob J. Philhower's big farm of 200 acres was just across the road from our little one of one-fourth the size. His was known as a part of the Jeremiah King holdings, a mile above Croton; ours had no distinction except for the finest elm tree that I ever saw in front of anybody's door. Alas, that tree was killed by lightning more, than fifty years ago!
The Philhower farm was located on Route 579, as Mr. Bush says, a mile north of Croton.
We [the Bush family] usually got our planting done in time to help with his [Philhower's], and our hay and harvest work in the same order. "Uncle Jaky" was always ready to show the boys how, and his demonstrations were accompanied by verbal instructions which, because of partial deafness, were loud enough to be heard on the next farm. Taking four grains in his hand, he would dash them at the hill with a curious motion by which he landed them in the right place, generally with the "hearts up," as fitted this admonition: "Give it a chuck like this! Then the hearts will be up and the corn will do better!" Experience never proved any advantage from the trick; but orders were orders in those days, and his directions were implicitly followed.
The four grains were seeds of corn, or perhaps buckwheat, which Philhower also grew. The "hills" that Unkle Jaky aimed at were small mounds of soil that were set out in rows, with four or five corn seeds in each hill.
A Practical Farmer

He was a practical farmer of the older days, having plenty of horses, cattle and sheep—always about 100 sheep—making piles of fertilizer for the farm. And his corn showed it. Tho always planted late, it was usually better than the average in the neighborhood. One of his quaint sayings humorously illustrates his idea of the proper time for planting: "June is plenty early enough to plant corn: July will do; but August is a little too late!" Experience showed that for our soil early June was soon enough, but the July part of it never proved satisfactory.

He brought the first mowing machine into our neighborhood, and a wonder it was, a great, unwieldy thing with heavy wooden frame and other parts in proportion. But it was a forerunner, and it did the work. His grandson, Wilbur Runkle, some ten years older than I and of gigantic proportions, did the mowing. He was very fond of horses and must always have the team when only one was working. The team for mowing consisted of two good horses at the tongue and a yellow mule on the lead. Wilbur always called her "Yaller," and often addressed her emphatically by that name. Yaller was a good animal but she had her own idea about quitting time. She would work all right 'till sunset and then strike. No manner of persuasion could ever get any more work out of Yaller for that day.

Trimming Fences

As soon as I could handle a scythe, my summer vacation was spent chiefly with Uncle Jaky, helping to haul hay and mowing along the fences when no hauling was in order. But this was not like so much of the fence trimming so glaringly needed now. There was no cutting of bushes or briers, no hammering of the scythe against stones or dead stubs from the cuttings of other years. His fences must all be trimmed annually, and the crop must be gathered, tho sometimes it had to be carried on the back for a long distance. If one demurred, he was likely to hear this, "Carry it out! Want the biggest kind of wages and then can't carry a little hay a hundred yards to save it! Dear bless my soul!"

Uncle Jaky was generous of advice about mowing: "Shave the sod! One inch at the bottom is worth two at the top! Get the bottom and you're sure of the top." A bit of crude philosophy often repeated, and always in these three short sentences, with pauses long enough to be impressive. That was characteristic. Everything must be done or said as a perfect repetition; no variation to spoil either work or sense.

Bible and Breakfast

All hands were expected to be there by sunrise to help with the morning work and then get ready for breakfast. But there was no hurry about getting to the table. Very deliberately he read a chapter from the Bible, then reverently closed the book, saying: "Thus readeth the nineteenth chapter of St. Matthew," or whatever it might be. This was followed by an earnest prayer which the boys thought they could repeat to perfection.

Like all meals there, breakfast was perfectly satisfactory. But the most satisfactory part was Uncle Jaky's first course—a drink of buttermilk from the big bowl at his right hand and the crunching of a bite from the raw onion at the side of his plate, followed by this admonition: "Drink butter-milk and eat onions; then you won't be sick!" Whether the prescription would serve in all cases may well be questioned; but I never knew him to be sick for a day in all those years.

He was the typical tough and hardy man of good habits, sunshine and good air.

"A Shower a-Hatching"

He was in no great hurry about getting to the field in the morning, but was not always ready to quit at night. If a load of hay was off a little before sunset, he was prone to scan the horizon and sagely remark: "Dear bless my soul! There's surely storm a-hatchin'. Boys, I think we'd better get another load!" "Let it hatch, Uncle Jaky," was the usual response. But if the danger was imminent, his "boys" were ready to help out.

Let nobody understand that he was a hard boss. He was not. These were merely his peculiarities, and are told to show him as he really was. He never wanted us to overwork; but he did like to have us work a good while and be all the time leisurely busy, as he was himself.

Wilbur and I soon became his steady cradlers. Wilbur went ahead with his quick and powerful stroke; I came four or five steps behind with my slow and lazy one. It was not hard to keep at that distance, but one could hardly live closer up. "Take your own stroke," he would say, and then dash in regardless of everything else.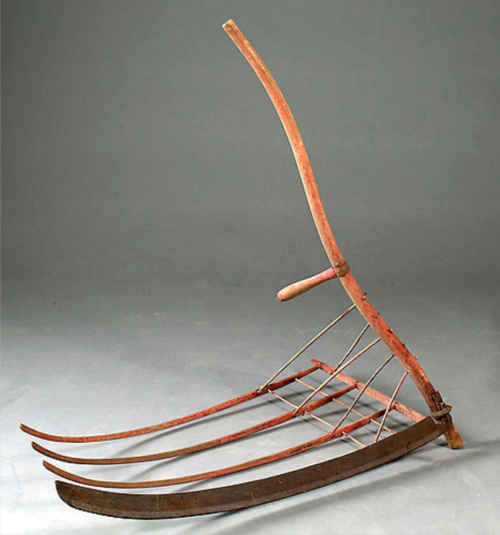 Time for some more old-time farming lore. A cradler was a type of scythe used for mowing hay. The stroke Wilbur and Bush would take was the stroke that cut the grass, catching it in the cradle before setting it down on the ground and moving on to the next stroke. I find it interesting that in 1930 people knew just what Bush was talking about, unlike today. Advances in farming techniques began as early as the days of Jaky Philhower, but it took awhile for them to be adopted, and decades for the technologies to improve. In fact, modern tractors did not become common in Hunterdon until after World War II.
If you don't own a farm yourself, you have probably noticed hay wagons, tractors, mowers, and balers out on the fields as you drive along Hunterdon's roads. No such thing back in the 1860s. It looked more like this:
(It gives me great joy to write that our farm fields were harvested of their hay just this past weekend, and thanks to the rainy summer we've had, it was a big harvest.)
Big Wages a Pet Aversion

"Big wages" were Uncle Jaky's pet aversion. But his idea of what constituted big wages was often perplexing, and sometimes costly to him. I recall one case. As I was cutting the row of shocks in our own cornfield, I saw him coming across, striking now and then a weed with his heavy cane. "Well, Egbert," he greeted me, "I've come to see if you can help with the buckwheat again."

"Yes; I'll be free for a while after this is done."

"Come tomorrow morning," and off he went, leisurely as always. Then he stopped, turned and came back: "What are you going to charge me this year?"

"The same as last year, a dollar a day all thru."

"Too much! Too much! I won't pay it!"

"Then that's settled." Off he went again, but again came back: "I'll tell you what I will do. I'll give you the price of a bushel of buckwheat for every day you work. That's fair!"

"All right; I'll be there."

We cut the buckwheat, raked it and set it up in loose bunches to dry—a very important matter in those days. When it was ready, all hands turned in to do the threshing. This was done with a four-horse lever power such as few of the young people have ever seen.

Four horses were hitched to as many long levers radiating from the hub of a great horizontal cogwheel, each horse being tied to the lever in front of him. The driver—Wilbur, of course—stood on a platform over the hub, driving the horses in a circular path passing between him and the fly-wheel at the far end of the long shaft that was carefully bridged over at the crossing. That kind of power was then almost superseded by the treadpower, which was more convenient but less efficient, harder and more dangerous for the horses. Well may the farm horses of today bless the inventor of the gasoline engine.
Well, for once I think Google Images has let me down. I could not find anything that quite corresponded with what Mr. Bush was describing. This is as close as I could get: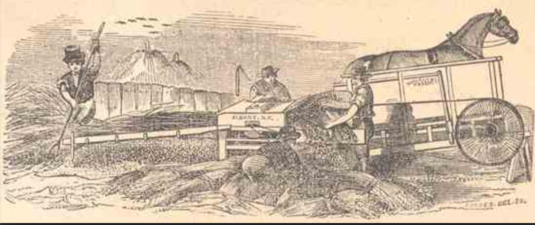 Figuring Wages

Nothing further was said about pay until near Christmas. Then Uncle Jaky came over with this greeting:

"Well, Egbert, I've come to pay you for helping with the buckwheat. How many days did you charge me for?"

"Fifteen."

"That's right, and here's your money, twenty-two dollars and fifty cents. And you're welcome to it. I'm always willing to give a man a bushel of the grain he works in for a day's work, and to pay him when I get it out of the grain. That's fair!"

Jacob J. Philhower and his wife, Elizabeth Apgar Philhower, had four daughters and three sons: Hannah, Rachel, Maria, Elizabeth, John, Conrad and Robert. Hannah married Joseph Runkle and died when Wilbur, the only child, was a few weeks old. Rachel married Aaron Griggs, lived on a farm near Flemington, and raised a large family, now all dead. Maria married Samuel F. Case and lived on a farm near the Summit schoolhouse; their large family have many descendants hereabout. Elizabeth married John De Hart, a city merchant. John married Elizabeth Allegar, lived and died long ago on a farm adjoining his father's. Conrad married Ruth, daughter of Mahlon Gary, lived near Cherryville, had one daughter and two sons—Hannah, Jacob and Mahlon. Hannah is the only survivor and lives in Lambertville. Robert married and raised several children, of whom nothing can now be learned.
I was surprised to read that a Philhower family was living in Franklin Township. Philhower is very much a Tewksbury Township name, and that is exactly where Jacob J. Philhower came from.
Philhower was the son of John Philhower and Rachel Sutton of Tewksbury, and grandson of German immigrants Philip and Mary Philhower, early settlers of Tewksbury. His mother Rachel descended from English immigrants who arrived in Plymouth, Massachusetts about 1637 or earlier. Her parents, John and Elizabeth Aubel Sutton also lived in Tewksbury Township. Jacob's father John Philhower was born in Tewksbury on July 6, 1792, the second of eleven children, and died intestate in September 1820.
Jacob J. Philhower married his wife Elizabeth Apgar on December 2, 1814. They probably set up housekeeping on his father's property. Jacob was named an administrator of his father's estate in 1820, along with his brother Philip, and brother-in-law Andrew Schuyler (husband of Jacob's sister Elizabeth). In 1825, Jacob purchased the sawmill property on the Rockaway from Oliver & Mary Ogden, and in 1827 bought a small lot from Minard & Mary Farley and Ann Farley, Minard's mother.
By 1832, Jacob and Elizabeth were the parents of eight children. It is no wonder then, that he joined with Andrew Schuyler and neighbor Daniel Potter Jr. to set up the Mountainville Academy, on a lot they purchased from Jacob C. and Maria Apgar. (Jacob C. Apgar was the step-brother of Jacob's wife Elizabeth Apgar.)
In 1834 and 1836, Jacob Philhower purchased a couple more small lots in Tewksbury, but by 1839 he seems to have changed his mind about milling and farming in the challenging terrain of Tewksbury Township. On November 9, 1839, he abandoned his home town and the family and neighbors he had dealt so closely with and purchased a tract of 200.07 acres in what was then Kingwood Township. It was sold by land speculators Charles Bartles and Aaron Vansyckle for $4700. They had purchased this tract only a few weeks previously from the estate of Jeremiah King, Sr., who died in 1829, leaving vast tracts of land to be disposed of by his executors.
I imagine Jacob Philhower was attracted to this location because it is in the Croton Plateau, which is amazingly flat—quite the opposite of farmland in Tewksbury Township. No need for his horses to drag a plow uphill and down anymore. Jacob and Elizabeth raised their children and spent the rest of their lives on this new farm.
Elizabeth died on February 28, 1864 at the age of 89. She was buried in the Methodist Cemetery in Cokesbury, Hunterdon County. Her husband continued on until his death at the age of 80, on June 4, 1880, and was buried alongside his wife. In the 1880 census, he was still living on his own as the head of household. Grandson Wilbur Runkle, who was 34, lived with him. Here's the odd thing—the census record is dated June 17th, which is two weeks after Jacob's death. Something tells me the census date is not to be taken literally.
A Strict Methodist

Jacob J. Philhower came from Mountainville and settled on the King farm in 1839, where he died June 4, 1880, leaving a record with which his numerous descendants, now reaching to the fifth generation, may well be satisfied. He was a solid, fearless and reliable man, a strict Methodist, and total abstainer, when that was something of a reproach.

Some of his ideas were peculiar, as the fixing of a bushel of grain for a day's work, payable when the money came in from the grain. Imagine a farmhand listening to such an offer now! Today it takes several bushels of grain to pay for a day's work, and nobody waits or should wait for his money. But there was always "method in his madness." He had caught the substance of an economic, truth—that the product of a day's labor must pay for it or the business must fail. The plutocrat whose plutocracy rests upon excess profits from an established necessity, can easily manage even an excessive increase in his payroll. He can make other people pay the wages; but the farmer cannot. And how dangerous it would be if he could! But when things shall have reached an equitable level, as they ultimately must, tho not thru noisy legislative bickerings; when the farmer can make the products of high wages bear the cost without injustice to the consumer, his greatest problem will be solved, the general public will be satisfied, and a good many vociferous statesmen will be wailing, "Othello's occupation's gone!"
Bush is quoting from the play Othello, Act 3, scene 3: "Farewell! Othello's occupation's gone." I'll leave it to Shakespeare experts to discuss why Othello lamented the loss of his occupation.
The occupation lost by those vociferous statesmen was making empty promises to farmers about how the government would guarantee them fair prices for their crops. Those statesmen would be out of a job if the free market accomplished the same thing.1 For farmers to pay their workers better they needed better prices for their crops. This is a perennial problem, since the products of agriculture are necessary commodities for everyone, not just the people who can afford higher prices.
A final note on Wilbur F. Runkle.2 He was the son of Jacob Philhower's daughter Hannah and her husband Joseph Runkle. Hannah Philhower Runkle died soon after Wilbur was born in 1845. Joseph Runkle remarried in 1849 and the next year, Joseph and second wife Nancy Wyckoff were living with Runkle's parents, Henry and Elizabeth, in Amwell Township. But Wilbur was not living with them. He had been taken in by Hannah's parents, and remained with them for the rest of their lives.
After Jacob Philhower's death, Runkle married Sarah Ann Opdycke on August 9, 1881. She was the widow of Nelson Trimmer of Croton who had died in 1868. In 1880, she was housekeeper to Jacob J. Philhower, which explains how Wilbur met Sallie. The couple did not have any children. They were counted in the 1900 census living in Kingwood Township, so they had moved away from Philhower's farm. Wilbur died in 1905, only 59 years old, and was buried in the Locust Grove Cemetery. Sallie was buried there too, but her date of death is not known. It was probably about the same time as her husband since she did not appear in the 1910 census.
Footnotes: