Egbert T. Bush was very fond of grand old trees, and when they had to come down, he lamented the loss in his articles, including one that I published awhile ago, titled "Old Sentinel Oak Has Passed." That huge tree, or as Bush would call it, a "Monarch," once stood along Route 523 as you enter Stockton. Today's article should have preceded "Old Sentinel Oak," as it concerns the neighborhood of that great tree before it was taken down.
As usual with Mr. Bush, he has crammed so much information into his article that it is impossible to cover it all in just one post. Today I will focus on the story of Col. John Sharp, his store and distillery. Mr. Bush begins with a description of the approach to Stockton from the north coming down Route 523. (Please note: the article is in italics; my comments are not.)
When Stockton Was Not So Dry

Old Sentinel Oak Has Seen Many Changes in the Village
Some Family History Given

By Egbert T. Bush, Stockton, N.J.,
published in the Hunterdon County Democrat, December 5, 1929

Rev. Dr. William H. Woolverton now owns, as his father did before him, a snug little corner lot situated just where the Sergeantsville Road comes staggering down into Main Street, miraculously missing the old sentinel oak. People tell us that if this corner could talk, it might reveal many interesting things concerning the early doings in this quiet borough. And there is little doubt that it could, particularly about that part of the doings of which it was then the center.
Rev. Dr. William H. Woolverton was certainly one of Stockton's more interesting residents, but this story is not the place for his biography.1 His father, Maurice Woolverton, bought the corner lot, which was then 9.24 acres, in 1877 from the estate of Col. John Sharp.2
Looking down upon that corner today, as you come dizzily winding in from the direction of Sergeantsville, you might at first mistake it for some kind of Italian sunken garden. And that would not be much of a mistake at most; for here the sons and daughters of Italy annually display their skill in producing many things to delight the Italian palate and please the American eye.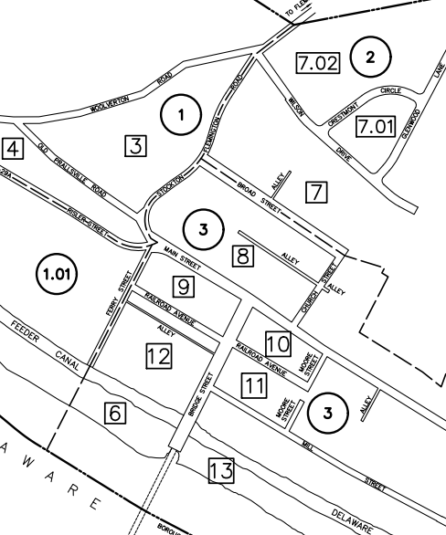 This "Italian sunken garden" was probably situated at the front of the large white Victorian house, in the yard that slopes down steeply from the house to Route 523. For many years the house was owned by the Suozzo family.3
This garden is so well irrigated by water led in tiny trenches from the unfailing spring run, that it laughs at droughts and goes right on shining in luxuriant green, while many gardens nearby lie brown and sizzling on the burning sand.

But it was not always so. It was never dry, but its old-time "wetness," though plentiful, did not raise vegetables, whatever else it might raise in abundance. If you go there now and sniff hard enough, you may imagine the scent of what that wetness was. Do not understand this is implying that anything mysterious is going on there, but rather that the soil may have become so permeated by the odor of "the good old days" that some thing of its glory might still reach your—imagination.
In "the good old days," distilled liquor was plentiful and certainly not frowned upon. But by 1929 when Mr. Bush wrote this article, such an item was not only frowned upon, it was illegal.
Once A Busy Spot

Be that as it may, this corner with the stone house still in the rear and the grounds about it, was a busy spot in times long gone. That house was built by Col. John Sharp in 1842, and a store was immediately established there by Daniel Sharp and Gershom Lambert, and was going until about 1865. During some of the later years of that period Sharp kept the post office in one corner of the store. It was a "general" store—so general that the distillery that stood on the same lot and was operated at that time by one of the partners, furnished an important item of the stock in trade. It is not thought that liquor was ever sold there by the drink. That was then hardly included in the grocer's line. But the customer of this store, as of many others, could buy a measure of whiskey there as readily as a measure of molasses, and no more was thought of the one transaction than about the other. It was a common custom. A real drought had not struck us yet [metaphor for the coming Prohibition era], though weather conditions were slowly changing, and ominous portents were beginning to be visible to discerning eyes. [i.e., the temperance movement.]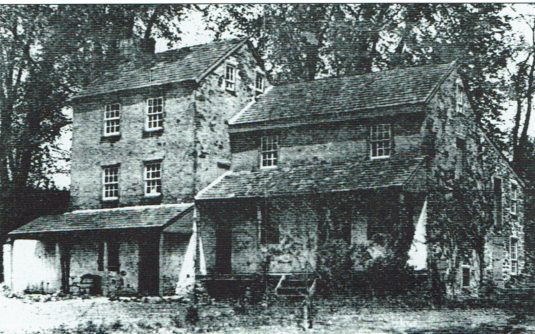 The store can be found at the corner of Route 523 and Old Prallsville Road, also known as Risler Street. The roads at the intersection that Mr. Bush was describing were very different in 1849 when this map was drawn up for the Belvidere Delaware Railroad in 1849. As you can see, Route 29 does not run directly past the mill at Prallsville. Instead, the road meets with Ferry St. and proceeds north along the path of Route 523. To get to the mill, one had to then turn onto one of two small lanes which are hard to identify with today's roads, but might have been Risler Street and Lower Creek Road. Note also that the name Prallsville seems to be located at the end of Ferry Street, which seems odd. Perhaps I am misinterpreting this map. In fact, it really doesn't make much sense, because Hoppock and Wilson owned the Prallsville Mill property.
Col. John Sharp
John Sharp was born August 25, 1792, the third child of Robert Sharp and Rachel Ent of Sandy Ridge. As well-known as Col. Sharp was, there is some uncertainty about his genealogy. For instance, John Sharp's death record identified his mother as Mary Sharp, rather than Rachel Sharp. Also, there is some question about Rachel Sharp's family. I was under the impression that she was the daughter of Valentine Ent and Susannah Moore. However, some family trees claim she was the daughter of Jacob Runk and Ann Rockafellar, since the Runk name appears often as a middle name in the Sharp family.4
Regrettably, Robert Sharp did not record his marriage to either Rachel or Mary, but when he wrote his will on April 10, 1831, he named his wife Rachel, and made extensive provisions for her support for the rest of her natural life. Egbert Bush wrote about the cemetery where Robert and Rachel Sharp were buried in "Runks and Sharps Are Sleeping Here," concerning the old Rockafellar Burying Ground in East Amwell. The inscription on Sharp's gravestone reads: "Robert Sharp, who departed this life January 31, 1883. Aged 84 years, 2 months and 15 days." This means he was born on November 16, 1748. He came to America sometime before 1780 from Deal in the County of Kent, England.5
Buried next to Robert Sharp is "Rachel, Consort of Robert Sharp, who died January 25, 1849. Aged 92 years." Therefore she was born about 1756/57. There was no Mary Sharp in that cemetery. Could it be that Mary was Robert's first wife? It seems unlikely, especially since John Sharp was the sixth of eight children. I wonder if perhaps the death certificate for John Sharp simply confused the name of his wife with that of his mother.
Like his father, John Sharp did not record his marriage to Maria Holcombe. She was born on March 30, 1805, the youngest child of Thomas Holcombe and his second wife, Mary T. Holcombe. John and Maria Sharp had six children, from 1821 to 1843, but three of them died as children. The surviving children were son Robert, 1823-1881, who married Sarah Prall,6 and daughters Caroline and Mary. Mary died when she was only 20, in 1847, but I do not know what happened to Caroline.7
The home of Col. John and Maria Sharp was located on the southwest side of Sandy Ridge-Mt. Airy Road (Block 55 lot 2.2 on the Delaware Twp. tax map), not all that far from the store location in Stockton. As it happens, Mr. Bush's home was around the corner of the Sharp farmstead, on Sandy Ridge Road, and Bush was maintaining an office at the Stockton Inn at the time he was writing this article. Thus, he often walked passed the location of Sharp's store on his way to his office.
A Short History of Prallsville & the Store Lot
On April 10, 1837, John Sharp bought the corner lot where he built his store. It was 9.24 acres, much larger than it is now. In fact by plotting the deed I found that the lot covered all of Stockton Block 1 lot 3 as it was surrounded by 1) the road from Prallsville to Trenton (Rte 29); 2) the road from Prallsville to Flemington (the Wolverton Road); and 3) the road to Centre Bridge (Route 523).
The seller was John Prall Lambert and the price was a whopping $1,150.8 This is a high price for the time and says to me that there was a house and probably other improvements on the property. But probably not built by Lambert because he owned the lot for only one year. He had purchased it from John Quincy Adams Loomis on April 2, 1836,9 Mr. Bush will tell us a little about John Loomis further along in this article. But he apparently was not aware of Loomis' impressive given names. Judging from his real estate transactions, he must have been born about 1815, but not much earlier. Since Adams did not become president until 1824, I suspect the name was in tribute to John Quincy Adams' role in the Treaty of Ghent which brought an end to the War of 1812.
Just as Lambert only owned the lot for one year, John Loomis also owned it for one year before selling it to Lambert. He had bought it from Peter Miller of Easton on October 2, 1835.10. Peter Miller had purchased the whole of John Prall, Jr.'s property from Prall's estate in 1834.11 It amounted to 276 acres, which covered all of Prallsville.
This purchase of the Prallsville tract was done strictly for investment purposes, as I am fairly certain Miller never left Easton, PA. He first sold a lot of 17.82 acres to John S. Wilson, on October 22, 1935 for $2,000.12 Wilson had been a partner with William Hoppock in running the Prallsville Mill after the death of John Prall, Jr. Next, Miller sold the lot of 9.24 acres to John Q. A. Loomis for $924 on October 27th.13 At those prices, we can assume there were improvements on those lots.
In 1841, Miller sold a tract of 250+ acres, basically the land remaining of the Prall tract, to Thomas P. Holcombe of Delaware twp. for $10,782.68.14 Nine years later, on March 27, 1850, Holcombe sold a tract of 136 acres to Asher & Morris Woolverton for $7,370. The property bordered Wm. S. Hoppock, John S. Wilson, Benj. Bodine, and John Sharp. This 136 acres was the old Prall farm up the hill from Prallsville, now known as the Wolverton Inn.
As Mr. Bush wrote, John Sharp built the corner store building in 1842. By that time he was 50 years old, and had been fairly successful as a local farmer. At the Joint Meeting of the NJ Legislature in March 1832, he was named Colonel of the 6th Regiment, Hunterdon Squadron,15 and was thereafter almost always referred to as Col. John Sharp. Sharp attended the July 4th Celebration at Lambertville in 1836, and gave the following toast at the dinner: "The laurels gained by our forefathers in the Revolution: may they be preserved untarnished, and may the Union be combined till time shall be no more." "Combined" is a curious word to use, especially as early as 1836. Col. Sharp was a Whig, so we may assume he was not happy with the presidency of Andrew Jackson. In 1840, he was a staunch supporter of the candidacy of William H. Harrison.16
As for the store, it was not Sharp's intention to be anything other than a farmer, as all the census records show. Being a merchant was also not his son Robert's kind of work. Robert Sharp was also always identified as a farmer, up until 1870 when he had apparently retired and was keeping the poor house.
Daniel Sharp & Gershom Lambert
As Mr. Bush wrote, as soon as the store building was constructed in 1842, "a store was immediately established there by Daniel Sharp and Gershom Lambert."
Daniel Runk Sharp (1818-1894) was the son of William Sharp and Esther Butterfoss, and nephew of Col. John Sharp. He married Mary Anna Rounsavel in 1842, the year that Sharp and Gershom Lambert opened up the store. Mary Anna was born in 1824 to Richard F. Rounsavel and wife Rebecca.17
The store was run by "Lambert & Sharp" of Prallsville, and later of Centre Bridge. This is known from notices in the Hunterdon Gazette, where various items were advertised for sale by their producers, including lists of their vendors. Lambert & Sharp were offering Hunt's Linament in 1846, Fisher's Indian Vegetable Syrup in 1849, Dr. N. B. Leidy's Sarsparilla Blood Pills in 1850, and Barnes' Camphorated Extract of Ginger in 1854. As Mr. Bush mentioned, products from the distillery, right next door, were also available at the store. And probably in the 1850s and 60s, a post office was located in one of the corners of the store.
Bush mentioned that the store was closed in 1865, at the end of the Civil War. It was common for mercantile partnerships to announce their creation and dissolution in the pages of the Gazette, but Lambert & Sharp did not bother to do that. It is a little surprising that John Sharp did not sell the property when the store closed. Instead, he held onto it for the rest of his life.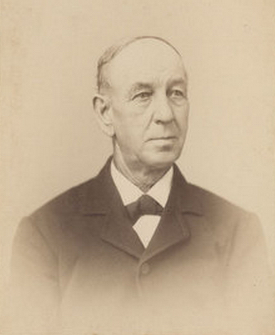 In 1864, Daniel R. Sharp was elected Freeholder from Delaware Township, and again in 1866. It is interesting to follow his changing occupations as the census years rolled by. In 1850 he was a 30-year-old farmer, with a wife and two children. Gershom Lambert was also living in the household, a single man, age 36 and a merchant. This suggests that in 1850, Lambert was running of the store.18 In 1860, Daniel Sharp had given up farming and shared in the work with Lambert, because Sharp was identified as a merchant that year, age 39, with wife and six children, and Gershom Lambert, age 46, merchant, was living with them.
Then in 1870, after the store had closed, Sharp became a lumber dealer, and Gershom Lambert had moved out. That year Gershom Lambert, age 53, was a dry goods merchant, living with Mahala Lambert age 39, who was keeping house, along with Mary and Sarah Lambert, both age 18, milliners. The Lambert household was listed next to the Sharp household in the census record. I have not been able to identity Mahala's family or whether she and Gershom were married. It seems unlikely since Mahala the daughters, who would have been born about 1852, were not living with Gershom in 1860. Finally, in 1880, when Sharp was 63 years old, he was listed as a mere "laborer." His wife had died, and his widowed daughter Rebecca Johnson was keeping house. Gershom Lambert is not to be found.19
The Will of Col. John Sharp
John Sharp of Delaware Township died on November 7, 1876, over ten years after the death of his wife. He was 84 years old and fairly wealthy, owning personal property worth $8000 and real estate worth $15,000, according to the 1870 census. Once again, I was surprised to discover there was no obituary for Col. John Sharp in the county newspapers.
John Sharp wrote his will on June 14, 1876. The list of bequests was a long one. He gave his desk and his newest harness to Elijah Holcombe, and directed that his executors, Elijah Holcombe, Nelson V. Young and George W. Runk, divide his wearing apparel between them.20
John and Maria Sharp had only one child who survived them, so most of the beneficiaries of Sharp's will related to his siblings. They were Jacob R. Sharp's daughters Rachael Phillips (wife of Jonathan Phillips) and Cornelia Ann Sharp (they got $1,000 each); Robert S. Lambert ("son of my dec'd sister Mary Lambert"); Mary Jane Rittenhouse, daughter of Wilson B. Rittenhouse; George W. Sharp and Daniel R. Sharp; Cornelia B. Larrison, widow of Gershom L. Larrison; Robert Sharp; Mary Ann Higgins, now Mary Ann Hill; Asa Higgins and Hannah Maria Higgins; and Mary Wilson, daughter of William S. Wilson. Jacob R. Sharp's daughters each got $1000. Everyone else got $500 except Mary Jane Rittenhouse who got $300 and Mary Wilson who got $200. Sharp's bequests amounted to $6500.
Here's an example of the relationships of the beneficiaries: The mother of Mary Jane Rittenhouse, daughter of Wilson B. Rittenhouse, was Rachel Lambert, who died in 1839. Rachel' parents were Daniel Lambert and Mary Polly Sharp (1780-1832), sister of John Sharp.
In addition to these beneficiaries, John Sharp left $2000, some real estate and personal property to Rachel Everitt, who had spent many years as housekeeper to Sharp, even before his wife Maria died. This particular item in the will I found interesting:
"The Executors before having an appraisal to let Rachael Everitt select all other things from amongst mine for she has a good many some in every day use, let her divide them herself for she knows all about them, for I believe her to be perfectly honest and will take nothing but what is her own."
At the time of his death, Sharp still owned the corner lot in Centre Bridge and left it to his executors to sell the property. Maurice Wolverton was the purchaser in 1877.21
After that long commentary, let us return to Mr. Bush's story:
The Distillery
When the distillery was established is not known, but it is known that it was operated as late as 1860. It stood near the creek and hard by the lonely watering trough of today. The cider mill stood further down against the bluff, the now crumbling retaining wall of which is thought to have been the rear foundation of the structure. On the high level, back of the mill the farmers unloaded their surplus apples, to be run down a chute to the grinder as needed, and ultimately to be transformed into that indispensable article of commerce for which New Jersey has so long been famous.
The "watering trough" is obviously long gone, but in 1929 there were still enough horses around for it to be needed, although Mr. Bush does note that it was "lonely." The distillery must have been located along Route 523 north of the corner lot. A close look will show there is a small ravine running along the road.
It was an ideal spot then and might still be such but for the change in ideals. The creek flows along the side next to the road, and a run of clear cold water from a lasting spring above comes rushing down the bluff in haste to join the creek. Not to mention possibilities for power, what a glorious chance to cool the worm! Our forefathers were not in the habit of sleeping away their opportunities while such natural advantages were minting useless to the sea.
When I first read this, I was baffled by the expression "to cool the worm." As it turns out, a worm is a spiral tube that is connected to a still. As vapour passes through it, it is cooled and condensed into an appetizing liquor. 22 How cooling the worm relates to the waterpower created by the creek, I cannot explain. Here's a charming photo (thanks Google images) of a re-enactor with his still: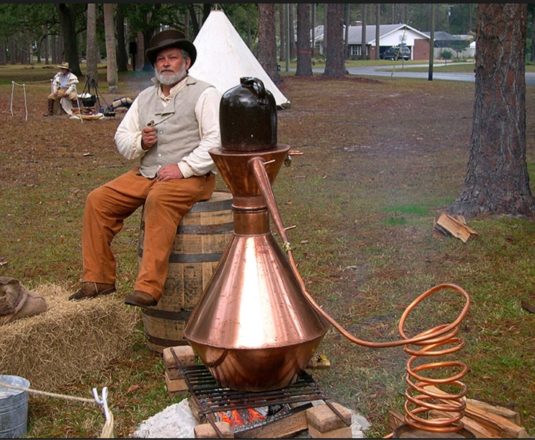 An Early Axe Factory

That corner was also the scene of another enterprise. John Loomis, the first blacksmith in Stockton, had his shop there, and in that shop he established an axe factory, driving his machinery by water power. That factory would look ridiculously insignificant now, but it was an innovation, and probably looked as much too big then as it would too little now. Though every "full-fledged" blacksmith was expected to make edged tools when wanted, the blacksmith was emphatically an individual. He made such things on orders, not as stock in trade. Loomis was fairly ahead of his time—no doubt too far ahead. He caught a glimmering of machinery and concentration and mass production. How such old time dreamers would be astonished if they could see into what beneficent yet dangerous realities their dreams have been developed!
John Q. A. Loomis
As I mentioned previously, John Loomis bought the corner lot in Stockton from Peter Miller in 1835, which Loomis sold to John P. Lambert the next year. James P. Snell (History of Hunterdon County, p. 375) wrote that Loomis' blacksmith shop and axe factory was located "in the old stone building above the Sharp & Lambert store-house. Mr. Loomis ran his machinery by water conveyed from the stream in wooden troughs." Oddly enough, I cannot find any record of the blacksmith John Loomis in the Hunterdon records on Ancestry.com. And there were no deeds recorded for him in Hunterdon prior to his purchase from Peter Miller. Loomis is something of a mystery. He is so inconspicuous that there is not even any mention of him in the Hunterdon Gazette. If Snell and Bush had not written about him, we would never know about his axe factory innovation.
The Question of Slacktown
By the time that John Sharp built his store-house, the Village of Stockton had acquired the name of Centre Bridge. In 1853 it became known as Stockton when a railroad station and post office were established near the bridge. It was named after Sen. Robert Field Stockton, a major investor in the Delaware and Raritan Canal. But at the time it was still part of Delaware Township, and did not become an separate municipality until 1898.
It appears, however, that the area around the Sharp-Lambert store had another name: "Slacktown." These days, most researchers think of the Slacktown neighborhood as being the vicinity of the Slack cemetery on the Locktown Road, just south of Route 12. But it appears there was another Slacktown.
The name Slacktown appeared in a deed dated January 17, 1872, when John Sharp of Delaware conveyed to his nephew George W. Sharp of the Village of Slacktown, for $150, a lot of land in Slacktown, bordering other land of both George and John Sharp, the road from Slacktown to Sergeantsville, and a lot belonging to John Mullhouse.23 The deed noted that in making this conveyance the grantee (George W. Sharp) was to have the privilege of laying pipes to conduct water to his building across the lands of the said John Sharp.24 Because the lot is very small, there is just not enough information to locate it satisfactorily; and the Beers Atlas of 1873 is of no help.
How it got its name is hard to say. The only Slack I am aware of in the area was Richard Slack, but he lived near Brookville, well south of the corner lot. Perhaps that is where this lot sold by John Sharp to George W. Sharp was located, instead of near the old Sharp-Lambert store.
Next post, the rest of "When Stockton Was Not So Dry."
Addendum, 9/23/2017: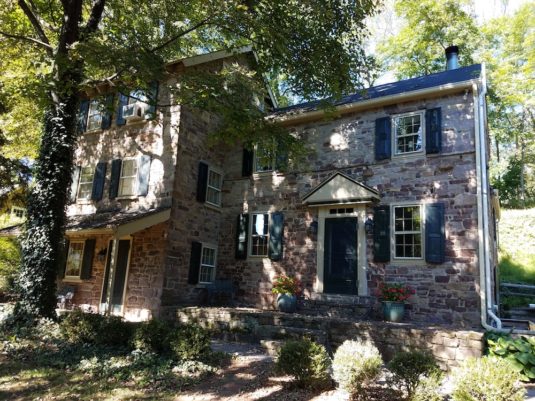 I was not able to visit the house until after publishing this article. But here is a photograph of how it looks today. The owner was able to give me a tour of the interior, which is quite beautiful. As it happens, the house is currently for sale. I recommend a visit through Sotheby's.
Footnotes: