The Fulper House on Biser Road
This house is just about gone. It won't be long. This past March, I wandered through the honeysuckle and multiflora to try to get some decent pictures, but wasn't very successful. Sleeping Beauty would never be wakened in that place, it so well guarded by weeds and fallen trees. Sadly, what is probably the oldest part of the house has already caved in. If I could have gotten closer, I might have been able to see some of the old woodwork inside, but that just wasn't possible.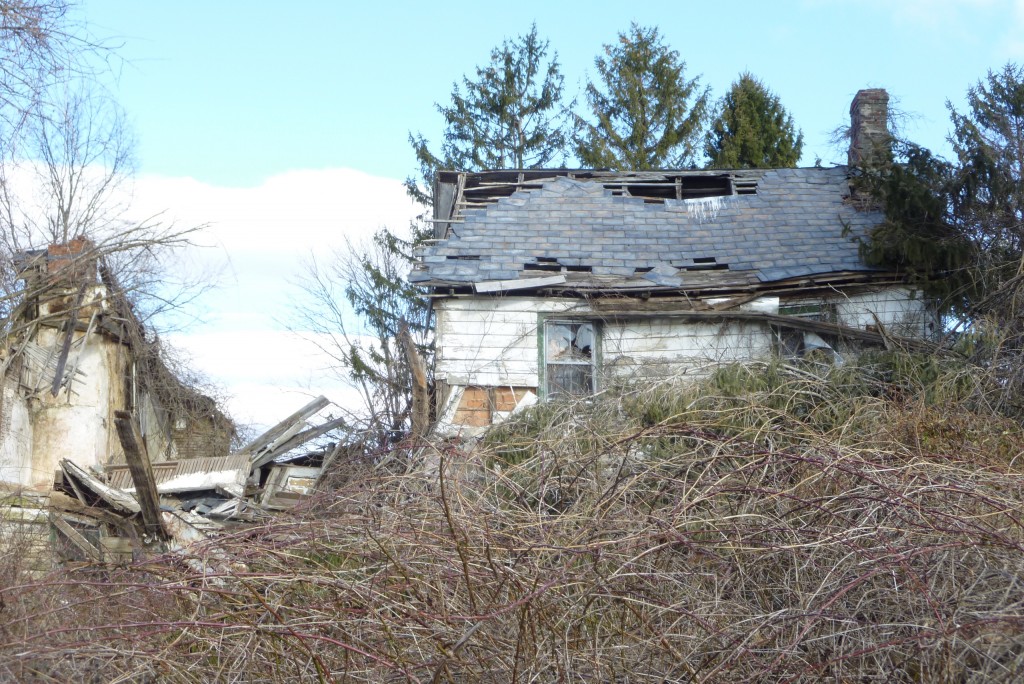 I've been told that Mrs. Biser once lived in this house, about the time that Biser Road got its name. This was a big disappointment to former mayor Andrew Leone, whose family had been living on this road for much longer than Mrs. Biser did.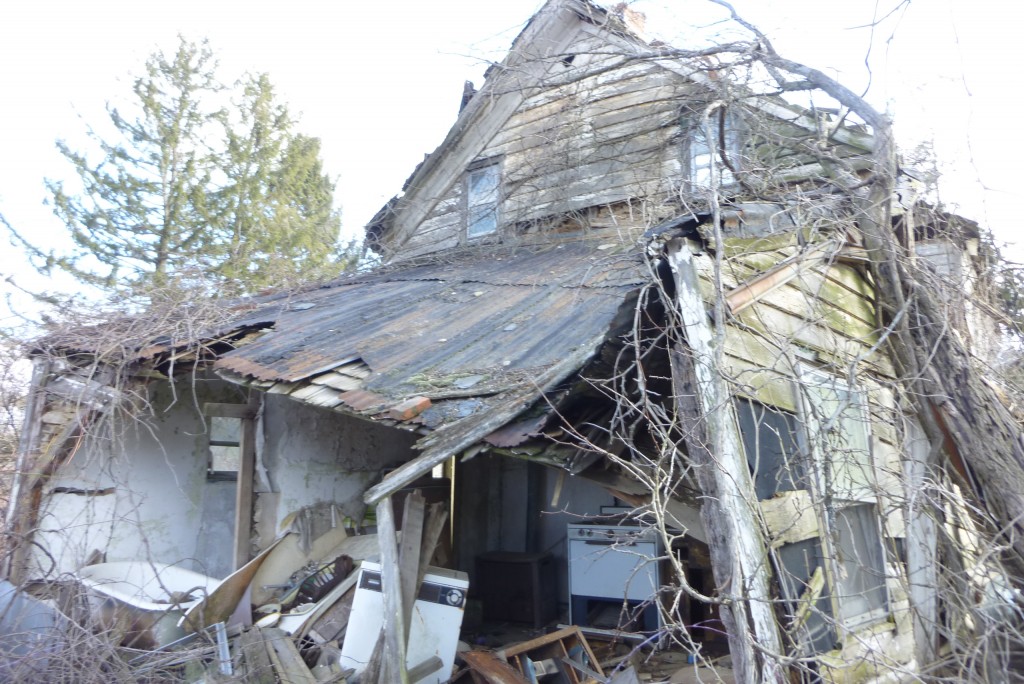 When the Township Historic Sites Survey was made in 1983, Dennis Bertland visited the site and got this picture. How things have changed.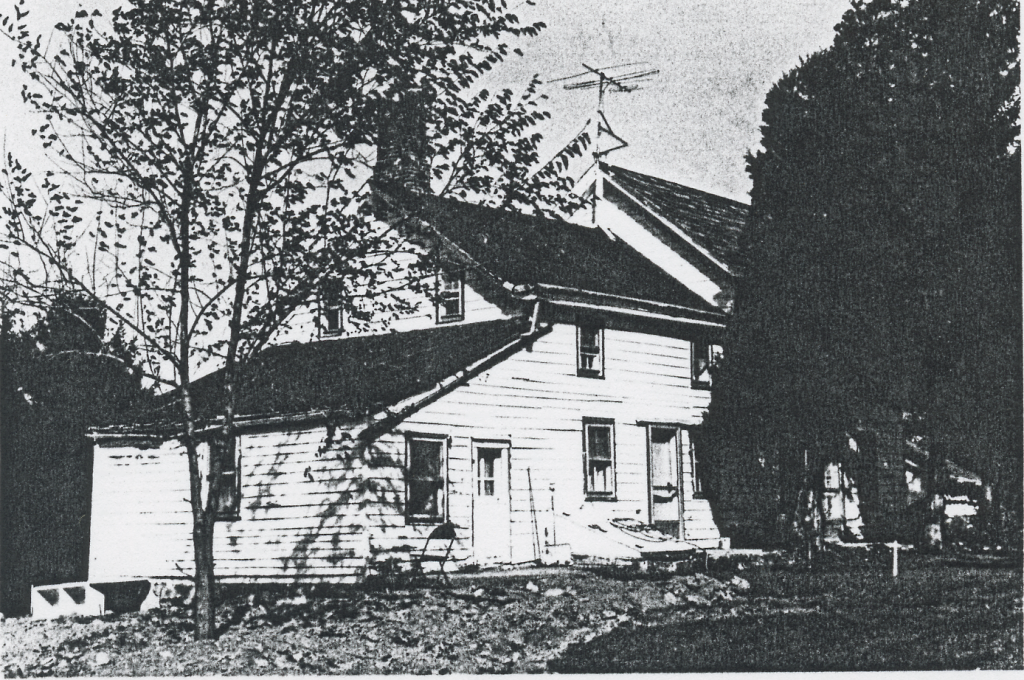 It appears that the smaller section is an 18th-century house. It should be—documents show that its earliest owner (other than the first proprietary owner, Nathan Allen) was Peter Fulper, who was born about 1725. But researching Peter Fulper and his family is a challenge because the family left very few records behind.
The first record I know of is in 1754, when Peter Fulper purchased a lot of 50 acres from Peter or Philip Kise.1 This suggests that Fulper was born around 1725-1730. I cannot say much about his origins, although he was probably an immigrant from Germany.2 On October 12, 1768, Philip Young of Amwell wrote his will in which he left to "Peter Fulpher, my wife's son, the plantation where he lives, of 100 acres, which I bought of Casper Hackenback." I know nothing of Casper Hackenback, so it is hard to say where this 100 acres is located, except that after Peter Fulper died, his heirs conveyed their rights in 100 acres to Peter's son Jacob Fulper. Philip Young's wife Mary obviously had been married to a man named Fulper before marrying Young.
In January 1780, Peter Fulper was taxed on 150 acres, 4 horses, 6 cattle, 1 pig. In June of that year, he was taxed on 4 horses, 5 cattle and 5 pigs. His son Jacob was also taxed on 150 acres in January and June. It appears from the listing of the tax ratables that Peter and Jacob owned separate farms of 150 acres each. These may be the farms that came to be known as the Upper Farm and the Lower Farm.
In 1786, Peter Fulper was again taxed on 150 acres, with 40 acres unimproved, and 4 horses, 4 cows and 6 hogs. Jacob Fulper was taxed on 150 acres, 31 unimproved, and livestock of 5 horses, 4 cows, and 1 hog.
By 1790 Jacob Fulper had acquired an additional 42 acres, as he was taxed on 192 acres, 35 unimproved, and 3 horses and 4 cows. Peter Fulper still had his 150 acres, 43 unimproved, and 4 horses and 6 cows.3
That's about all I know of Peter Fulper. I don't even know who he married. Her name might have been Mary. There is a death record for a Mrs. Mary Fulper who died on April 29, 1803 in New Jersey, but I have no more details than the name and date.4 Peter Fulper of Amwell died intestate in 1804, probably in January. Administration was granted to his sons Jacob and Peter Fulper.5 He had an inventory worth $450, made on Feb. 11, 1804 by John Covenhoven and Peter Rockafellow. It included some cash ($184.26) and clothing, a horse, a cow, corn, buckwheat, flax, hay, a windmill and rent owing from Jacob Fulper of $53.33. The rent owed by his son Jacob may have been on that 150 acres that Jacob was taxed on in 1780.
Peter Fulper must have been in his 70s when he died, and was probably a widower by then. His estate shows that he was not impoverished, but compared to other inventories of the time, he wasn't exactly wealthy either.
As mentioned above, on February 20, 1804, Peter Fulper's heirs conveyed their rights in 100 acres to Jacob "Fulpert" for a mere $20.6 The heirs named in the deed were  Samuel Groff and Christianna his wife, John Elgorden and Mary his wife, Mathew Thomson and Elizabeth his wife, James Atley? and Charity his wife, all of Amwell, and William Bughner and Sarah his wife of Northumberland County PA, "son-in-laws," daughters and heirs of Peter Fulper, late of Amwell dec'd. The property was bordered by William Barns, Jacob Bearder, John Trimmer and John Hoppock, which puts it in the neighborhood of Biser Road and Route 579.
Jacob Fulper married Catharine Hoppock, daughter of Tunis Hoppock and Antje Boss, about 1780. They had five children. Their daughter Elizabeth (1781-1848) married George Buchanan, son of the innkeeper John Buchanan. Son Peter Fulper Jr. (1785-1840) married Jerusha Larew in 1810. After the death of Peter Fulper, Jerusha married his brother William Fulper (1790-1883). Jacob and Catharine's daughter Sarah (1795-1866) married John Gordon, son of Agesilaus Gordon and Mary Opdycke, who lived north of Sergeantsville. There was also a son Jacob, born in 1787, but he died at the age of 11.7
It appears that the original farm came to be divided between "The Upper Farm," and "The Lower Farm."  It is the "Upper Farm" where the old house is located. It was probably the original house of Peter Fulper, enlarged by his son Jacob Fulper. The Lower Farm had access to Route 523, while the Upper Farm had to rely on a lane that ran over to Route 579, a lane that later on became Biser Road.
After Jacob Fulper died in 1814, his administrator, Peter Fisher, sold the Upper Farm of 119.5 acres to John Hughes and the Lower Farm to George Buchanan.
John Hughes was a disappointment. He started off well enough, by marrying into the prominent Besson family. His wife was Margaret Besson (1787-aft 1852), daughter of John Besson and Margaret Opdycke, and granddaughter of John Opdycke Esq. (If I tried to map out this family and its interlocking relationships, I'd need a 3D family tree.) They married in the Kingwood Baptist Church (probably at the Locktown branch of the church) on December 1, 1803.
In 1810 John Hughes bought land from John Besson Sr. and in 1815 from Andrew Bearder, administrator of Isaac Hummer dec'd.8 Then in 1816 he purchased the Upper Farm from the estate of Jacob Fulper dec'd. By this time, the Hughes family must have included some children, but I have no record of them. Margaret's father did not die until 1842, and by then he was in  his 90s, so he did not bother to write a will. But an Ancestry.com family tree identifies one daughter, named Mary Ann or 'Polly,' born on October 14, 1813, and apparently identified in her obituary as the last of 11 children. (Hm, eleven children in ten years. Quite a feat.)
Like many others during this time, John Hughes fell into debt. He had borrowed money from Charles Sergeant, who took him to court and got a writ of fieri facias to seize the real estate of John Hughes and offer it at a public sale. The property was described in the Hunterdon Gazette on April 16, 1825, the sale to take place on June 7th at the house of Isaac Rea, innkeeper. Rea was the husband of Delilah Buchanan, which means the sale took place at Buchanan's Tavern.9 The farm was described as 120 acres bordering George Buchanan and Henry Trimmer. One month later, at the suit of Joseph P. Chamberlin, the court issued a writ of attachment on Hughes' goods and chattels, which were offered for sale the following October to recover a debt of $300. This was advertised in the Gazette on May 10th, in which John Hughes was identified as "an absconding debtor." Whether or not he took his wife and children with him when he left town, I cannot say. For their sake, I hope so.
Dennis Bertland noted in the historic sites survey that the house was owned by "J. Trout" in 1851, 1860 and 1873.10 That would be Jeremiah Trout.
Jeremiah Trout (1805-1896) was the son of John Trout (1779-1808) and Annie Besson (1783-1866), which made him the grandson John Besson and Margaret Opdycke, and therefore the nephew of John Hughes. It is likely that Trout stepped in to purchase the Fulper farm when the Hughes family went missing. Jeremiah Trout was only three years old when his father was killed by lightning in 1808. Three years later, his mother married his uncle, George Trout, and they had four more children.
About 1828, Jeremiah Trout married Mary Ann Dunn (1808-1900), the daughter of Hugh Dunn and Hannah Dilts. They had 7 children, born 1829-1848.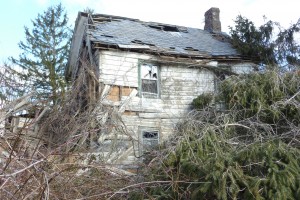 Jeremiah Trout was a fairly successful farmer. In 1850 his property was worth $2400, and by 1860 it was worth $5000. By 1870, he and his wife were still living at the farm, but all of their children had left except daughter Margaret who was 21 at the time. By 1880, the Trouts had moved to Sergeantsville presumably to retire. Their son Jeremiah H. Trout (Jr.) was proprietor of the Sergeantsville Hotel (now the Township Hall) from 1867 to 1872, but by 1880 was living in Kingwood Township. Jeremiah Trout died in 1896 and was buried in the Sand Brook Cemetery. His wife Mary died on April 15, 1900 and was buried next to him.
In 1983, when the historic sites survey was made, the property was owned by Robert Benjivenga, who lived in South Plainfield. Who owns it now, I cannot say. It makes little difference since, clearly, it is too late to save the house. An old house is a terrible thing to waste. Once it's gone, amnesia quickly sets in.
Addendum
June 30, 2013: Marilyn Cummings has taken a close look at my photos, and her conclusion is that this was probably not the house that Peter and then Jacob Fulper lived in. She dates it to early 19th century, which would make it the home of John and Margaret Hughes, and the larger section would have been built later, probably by Jeremiah Trout. The original Fulper house probably collapsed just as this one is doing now.
Footnotes: