Hunterdon County Needlework and Hunterdon County in the Civil War.
On Saturday (June 1st) I visited the Hunterdon County Historical Society in Flemington to see what had become of the familiar old Deats Memorial Library. Significant changes have been taking place there, triggered by the need to meet building requirements for handicap access. The results are impressive, and I am looking forward to spending time in these new digs.
Hunterdon County Needlework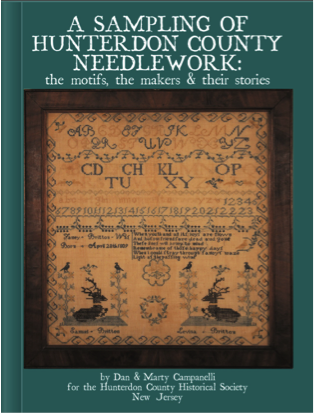 There was a special reason for going to the HCHS on June 1st. Dan and Marty Campanelli were there to sign copies of their new book, A Sampling of Hunterdon County Needlework; the motifs, the makers & their stories. The book contains 74 examples of 18th and 19th century samplers made by girls and young women who lived in Hunterdon County.  I never would have dreamed so many of these old works would still be around, and that Dan and Marty were able to track them down.
They got a wonderful turnout on Saturday, and us visitors were rewarded, not just with signed copies of the book, but the chance to see many of the samplers that were featured, and I have to say, some of them were just drop-dead gorgeous. The photographs in the book are wonderful, but they can never match the beauty of the objects themselves.
The book costs $25 plus $7 for shipping, and all proceeds benefit the Hunterdon Co. Historical Society. I think you can order online by visiting the HCHS webpage. Or you can call the Society at 908-782-1091 for more information.
There was one sample in particular that caught my attention. It was made by Harriet Buchanan Trout, a young woman I wrote about in the last of my articles on Buchanan's Tavern. It can be found on page 70 in the Campanelli book.
When Harriet Buchanan stitched her sampler, she was only 11 years old. The sampler is dated July 12, 1829. By 1829, Harriet's mother Delilah Buchanan had divorced or separated from Isaac Rea and was going it alone at the tavern while fending off lawsuits. You cannot see any signs of stress in Harriet's sampler, though. It all looks peacefully bucolic. The house that Harriet stitched may reflect how the tavern looked before additions were made, or it might just be a sort of universal house or model that she was taught at the school she attended. In any case, it is lovely.
Click on the image to get a better look at it.
Hunterdon County in the Civil War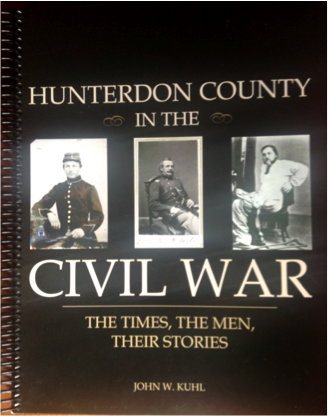 There was another book on my mind that I wanted to buy on Saturday. I was disappointed that its author was not present to sign the book, but I intend to get my copy signed one of these days. I'm speaking of Hunterdon County in the Civil War: The Times, The Men, Their Stories by John W. Kuhl. What a fantastic book this is, as one might expect from someone who has been researching the subject for fifty years. Not only is it packed with information, and an excellent summary of the politics of the times, but it is also beautifully laid out, thanks to the efforts of Beth Rice and Lora Jones. What is truly unbelievable is that the book, with a lengthy index, only costs $15, which seems to me a fraction of what it is worth. You can order a copy from the Hunterdon County Cultural and Heritage Commission, which happens to be the book's publisher. I suggest calling the office at 908-788-1490. You can also visit the office at the County Complex on Route 12 west of Flemington, but you better call first to find out when they're open. The book will be available in some bookstores, and I am told that John Kuhl is bringing copies along with him to Civil War encampments in New Jersey. I encourage you to track it down.
One of the men featured in Kuhl's book came to live in Raven Rock after the war ended. He was Courtland (or Cortland) Morris (p. 69). His uniform is fantastic (and Mr. Kuhl explains why). Morris was born in Plumstead, Bucks Co. on March 7, 1845, so he was still a teenager when this photograph was taken. In fact, he was a 17-year-old blacksmith when he enlisted. He stayed in the Army after the war, and even fought Indians under Gen. Custer, but fortunately for him, was not present at Little Big Horn. In 1871, he was back in New Jersey, employed as a lock tender for the D&R Canal at Raven Rock. And that is where he stayed until after 1920 when he moved to Lumberville, PA. He died there on November 30, 1924. His wife was Hannah Augusta Heath (1847-1883), daughter of Charles B. Heath and Sarah Rittenhouse. They had 5 children, one of whom died young. Their son Otto Morris (1876-after 1930) married Amy P. Naylor (1873-1924), daughter of George Naylor and Mary Jane Cronce, on November 12, 1898. Otto Morris was working at a stone quarry in Raven Rock in 1900; in 1910 he was a watchman on the railroad. By 1920, he had moved with his family to Trenton. In fact, all of the children of Courtland Morris from his first marriage left Hunterdon County.
About 1885, Courtland Morris married second Amanda Miebenor, and they had a daughter Emma about 1886. She married Samuel C. Wood and moved to Bucks County.
By 1920, Courtland Morris was again working as a blacksmith. He had been placed on the "Roll of Honor" by the Pennsylvania Railroad, perhaps upon his retirement from that company. But he was not inclined to stop working, even though he was 73 by then. After his death in 1924, his widow went to live with her daughter Emma Wood in Bucks County. As a sign of the esteem in which Morris was held, his daughter Emma named her son Cortland M. Wood.