Burials in the Rake Cemetery
In 1922, Hunterdon historian Hiram Deats visited the Rake Cemetery. He found 44 unlettered stones and 25 lettered ones. Those 25 stones were listed in the Hunterdon Historical Newsletter (vol. 3 no. 3, p. 2) and are give here.
I have added the ID number to those who can be found on Find-a-Grave. However, information on Find-a-Grave does not always agree with that which Hiram Deats recorded. I have used Mr. Deats' version as published in the newsletter, including brackets after initials.
Mary Davis, died 18 Nov 1825 age 53-1-18. #81650418
"Ebanezer Fisk, who died Nov. 12, 1852, aged 88 years and 8 months."
# 81650762
Isaac Godown, died 14 July 1857 age 69.
J[acob] G[odown] – no dates
Permilia Godown, died 21 Oct 1879 age 78
S[arah] G[odown] dau. John and Ann Lake – no dates
Striker Godown, Mar. 2, 1864. 34th year
J. G[ordon]
M. G[ordon]
Mary Gordon, d. 4 March 1851, 74-2-10. # 81650630
Otheniel Gordon, died 14 May 1826 age 52-11-18. # 23215610
I[saac] Lake, son of John and Ann, Oct. 15, 1825
Jane Lake, died 8 March 1827 age 62-6-2. # 23215710
L. W. Lake Sept. 16, 1846, 16 years. – Note: Mr. Deats listed this as W. Lake, but the first L is clearly visible.
Mary Lake, died 22 October 1851 age 75-5-19
S. Lake, Jan. 2, 1831, 57 and ½ years
Thomas Lake, died 23 Dec 1810 age 52-5-20
Permelia LaRue, died 23 Oct 1851 age 75-8-5. # 81650520
Sarah Ann La Rue, July 22, 1825, 0-8-1
Thomas G[ordon] La Rue, Jan. 23, 1826, age 12-5-3. # 23216847
Uriah LaRue, died 6 April 1814, age 40-0-11. # 81650499
Caroline Rake, 1834. # 81650918
Lydia Rake, 1802. # 81650747
[L x R was not on the Deats list]
Philip Rake Jr. died 19 Feb 1865 age 49-3-0. # 232157951
Mary Davis
Died November, 18, 1825 age 53-1-18. Her birthdate calculates to September 30, 1772. I have been unable to identify Mary Davis. She died too early to show up in the first census records. She might have been the wife of John Davis, who witnessed the will of Peter Young in 1785. In 1830 he bordered property owned by David Johnes of Headquarters.2 But I know nothing else about him. An examination of the deeds for John Davis did not provide an easy answer to his existence, and I have not found a marriage record for a John and Mary Davis. Obviously, Mary was not related to the later John Davis who owned the cemetery property, because he was an immigrant from Lithuania.
A search of the deed index shows that a Mary Davis sold many properties from 1803 to 1821, but none of the names are connected with the Sandbrook vicinity. And if she was the wife of John Davis, their marriage did not get recorded in Hunterdon County.
Ebenezer Fisk
In his article, "Sand Brook Once Had a Tavern Nearby," Egbert T. Bush wrote briefly about the Rake Cemetery. He was particularly taken with one of the men buried there, Ebenezer Fisk. He wrote:
"Nezer Fisk"

Strangely enough, a half hour after locating the stone last mentioned, I was asked: "Did you ever hear of "Nezer Fisk?" My interested reply brought forth a statement to the effect that "Nezer" was quite a character here during most of the early half of the past century. He had no kith or kin, and nobody knew anything about him except that he drifted into this hamlet while helping to build "the big bridge"—perhaps the one across the Delaware at Stockton—and stuck close to the good old place, ending his long life at Sand Brook, and is now sleeping here in his lonely grave.3
Mr. Bush gave us a little information about Mr. Fisk, but not much. His gravestone states that he died on November 12, 1852 at the age of 88, which means he was born about 1764, making him just a little too young to take part in the Revolutionary War.
In the 1850 census for Delaware Twp., Ebenezer Fiske was 86 and living with William Sergeant's family. There were others living with the Sergeants who were not related to them: Oliver H. Johnson 10, Elizabeth Dalrymple 15, Rachel Dalrymple 9, and Rebecca Rodenbock 27. The Sergeants may have been providing shelter for some of the town's poor.
It is intriguing to think of Fisk coming to Hunterdon County as a young man to work on the new "Centre Bridge," which was built in 1812. Why 'Nezer' Fisk decided to spend the rest of his life in Delaware Township is a mystery. But he must have been someone that people were fond of because he was given a proper burial, and a very handsome stone, probably provided by William Sergeant.
The Godown Family
Isaac Godown, died 14 July 1857 age 69.
J[acob] G[odown] – no dates
Permilia Godown, died 21 Oct 1879 age 78
S[arah] G[odown] dau. John and Ann Lake – no dates
Striker Godown,. Mar. 2, 1864. 34th year
The earliest members of the Godown family to take up residence in Hunterdon county are not easy to research. They left very little record behind. The Godown's buried in the Rake Cemetery were Jacob Godown, probably his wife Sarah Lake, their son Isaac Godown, and Isaac's wife Permelia Myers Godown. (See The Godown Family Tree.)
The first of the family to settle in Amwell Township was Jacob Godown, who bought property near the Alexauken ("Allishoking") Creek, north of Lambertville. It was inherited by his son Jacob and grandson Evans Godown, who sold it in 1797. It is infuriating to me that neither Jacob Sr., Jacob Jr. or Evans Godown wrote a will. And because their real estate transactions took place in the 18th century, their deeds are mostly missing. Also, I have no information on the wives of Jacob Sr., and Jacob, Jr.
However, Evans Godown and wife Mary Thatcher had eleven children, and several of them married into families connected with the Sandbrook neighborhood, including Rounsavells, Thatchers, and Lakes. This suggests that Evans Godown (or Evan, depending on what record you're looking at) was the one who moved to that area.
Of all the children of Evan and Mary Godown, their son Jacob appears to have been the one most connected to the Sandbrook area. In 1783 he married Sarah Lake, the daughter of John Lake and Sarah Robins, whose farm was on the east side of Sandbrook-Headquarters Road, south of Sandbrook. Some years later, Jacob Godown acquired a farm straddling Yard Road, on property once owned by the Rounsavel family, and therefore a part of the old Cook proprietary tract. It was conveyed to Richard Rounsavel's son-in-law Isaac Stout in the 1790s. Stout sold a farm of 55 acres to Jacob Godown in 1798. Jacob and Sarah Lake Godown remained there for the rest of their lives. The farm of 55 acres was sold by Jacob Godown's heirs to William Hice on April 28, 1832.4
Jacob Godown appeared in the 1830 census as a man in his 60s living with a woman in her 60s, also a woman in her 30s, a boy aged 15 to 19, a boy & a girl aged 10-14, and a girl under 5. This woman in her 30s was most likely Jacob and Sarah's widowed daughter and her children, but I cannot identify her.
Sarah Lake Godown died on September 16, 1831.5 Her husband Jacob Godown died two months later, on November 11th. He was buried in the Rake Cemetery. It is not certain whether Sarah was or not. There is an "S. Lake" buried there who died in 1831. She most likely was Jacob's wife, but it is odd that the name on the stone was Lake instead of Godown.
Surprisingly, only one of Jacob and Sarah's children is buried in the Rake Cemetery. They had seven altogether, including John A. Godown (1787-c.1848) who married Abigail Robins, daughter of Jonathan Robbins, Jr. and Mary Huff, and moved to Alexandria Township. There was a daughter Polly, about whom I have no information, and a daughter Sarah, born 1792, who married John Hice (1758-1832) as his second wife.6 John and Sarah Godown Hice had a daughter Amy who married Thomas Gordon in 1828. Thomas Gordon's parents, Othniel and Mary Heath Gordon were buried in the Rake Cemetery. More about them below.
Getting back to the children of Jacob and Sarah Lake Godown, they had a son Evan, named after Jacob's father, who died sometime after 1870, a bachelor. He had been living and working on the farm of Simon Myres, even at the age of 77, along with Simon Myres' son Peter Myres, also age 77. Daughter Rhoda Godown, born 1796, married Jonathan Reading Higgins in 1818; the couple moved away to Cayuga County, New York.
The one child buried in the Rake cemetery was Isaac Godown, born about 1788. He married Parmelia Myers (1792-1879), daughter of Albertus Myers and Anna Hann, on April 30, 1814.7 Parmelia was not related to the Myers family that Isaac's brother Evan was working for.
In the 1850 census for Delaware Township, Isaac Godown was 64 years old and retired. Living with him were wife Permelia age 57, son Stryker Godown age 21 who was doing the farming, and daughter Matilda age 14.
Isaac Godown died on July 14, 1857 age 69. His wife Permilia [Myers] Godown survived him by several years, dying on October 21, 1870 at age 77.8
Of the four Godown children (Pierson, Elizabeth, Striker/Stryer and Matilda), only son Stryker was buried in the Rake Cemetery. He died on March 2, 1864 age 34. The age and date strongly suggest that Stryker Godown had served in the Civil War. However, in the 1860 census, Stryker Godown, age 29, was living in the household of Jacob and Sarah Lake, without an occupation, suggesting he had health problems. There were also six non-family residents in the Godown household, three of them in their 70s. It is likely that the Godowns operated a poorhouse.
The Gordon Family
Mary Gordon, d. 4 March 1851, 74-2-10.
Otheniel Gordon, died 14 May 1826 age 52-11-18.
J. G[ordon]
M. G[ordon]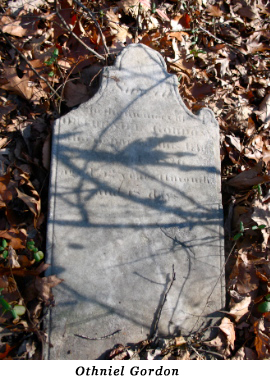 When I visited the cemetery, I only found two gravestones for the Gordons, one for Otheniel [sic] Gordon and one for his wife Mary. Othniel Gordon, born in 1774, was the youngest son of Franklin and Ann Gordon.9 Othniel Gordon owned a farm of 119 acres on Locktown-Sergeantsville Road and Reading Road which he got from his father, Franklin Gordon. (See Gordon Family Tree.)
Othniel Gordon married Mary Heath, daughter of Capt. John Heath and Jane Lake, in 1797. And there's another connection with the Sandbrook area. Jane Lake was the daughter of Garret Lake (c.1720 NY – 1787) and wife Sarah. She was the brother of Thomas Lake (1758-c.1821) who married Catharine Larew, and whose son Othniel Lake married Permelia Holcombe. They had a son William Lake who married Mary Jane Rounsavel and daughter Micah who married Hezekiah Larew. If you've lost track of all these interconnections you are not alone.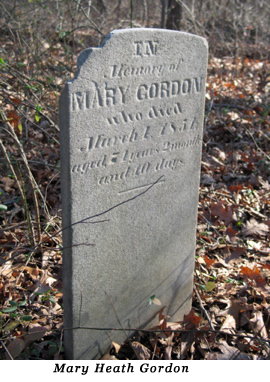 "Otheniel" Gordon, died on May 14, 1826 age 52-11-18. His wife Mary Gordon, died on March 4, 1851 age 74-2-10. It is hard to see what this couple's connection was to the Rake cemetery, since their home was located to the northwest of Sergeantsville, not close to Sandbrook at all. Mary Heath Gordon, who survived her husband, was living with her son-in-law John German in 1850, and that family also did not live near Sandbrook.
Here's a possible answer: The son of Othniel and Mary Gordon was Thomas Gordon who married Amy Hice. This couple was buried in the Milford Cemetery. But Amy's parents were John Hice and Sarah Godown, who did have connections with Sandbrook. But a more compelling argument is the fact that Othniel Gordon's sister was Permelia Gordon Larew, wife of Uriah Larew, and both of them were buried in the Rake Cemetery.
So, the next question is who did the J.G. and M.G. stones belong to? Deats attributed them to the Gordon family. But since there were no dates on those stones, it's pretty impossible to say, especially since the Gordons did not live near the cemetery. Your guess is as good as mine.
The Lake Family
I[saac] Lake, son of John and Ann. Oct. 15, 1825
Jane Lake, died 8 March 1827 age 62-6-2. # 23215710
L. W. Lake Sept. 16, 1846, 16 years. – Note: Mr. Deats listed this as W. Lake, but the first L is clearly visible.
Mary Lake, died 22 October 1851 age 75-5-19
S. Lake, Jan. 2, 1831, 57 and ½ years
Thomas Lake, died 23 Dec 1810 age 52-5-20
I should note here that in 1931, Egbert T. Bush called the Rake Cemetery the "Lake Burying Ground," and identified only three Lake gravestones: Thomas Lake, died 23 Dec 1810, age 52; Jane Lake, died 1 March 1827 age 62; and Mary Lake, died 27 October 1857 age 75. Two of the other Lakes buried here were connected with the Godown family (above)—Isaac, who married Elizabeth Godown in 1783, and S[arah] who married Elizabeth's brother Jacob Godown.
Thomas Lake's stone has disappeared, also the stone for I. Lake.
Lakes and Rakes were neighbors, owning property on either side of the Sandbrook-Headquarters Road. That must have made for a few neighborhood jokes. It also explains why Lake family members were buried in the Rake Cemetery.
A little background on the Lake family: John Lake was the brother of Garret Lake, mentioned above. They were sons of John Lake (c.1654-1729) and Neltje Claessen (c.16530c.1699). He married Sarah Ann Robins, daughter of Isaac Robins and Azubah Thatcher in 1756. They had ten children, two of whom married into the Godown family, Isaac who married Elizabeth and Sarah who married Jacob. Two others married into the Sergeant family: Cornelius who married Mary and Mary who married Charles. There was also Azubah who married John Buchanan of Buchanan's Tavern, Ann who married Henry Shepherd, Margaret who married Henry Trimmer and John who married Ann Dilts.(See the Lake Family Tree)
John Lake inherited land from his father Thomas in 1765, which, according to the will, Thomas Lake had purchased from Adam Aller. This was the Lake farm that bordered Sandbrook-Headquarters Road. John Lake lived to a very old age, dying in 1809 age 81. His wife Sarah Ann lived on until 1823 when she died at the age of 86.10
It is not known where they were buried, but the Rake Cemetery seems the most likely place. If they were buried there, their stones are lost, just as John Rake, Sr. and his first wife's stones were lost.
Lake's son Thomas died soon afterwards, on Dec. 23, 1810 at the age of 52. He was buried in the Rake Cemetery, and his stone counted by Hiram Deats, although I could not find it when I visited in 1994.
John Lake died without writing a will. Administrators of his estate were his sons-in-law Cornelius Lake and Henry Trimmer. Nothing was done to divide up the estate until after Lake's widow Sarah died. Unlike his father, Thomas Lake did write a will, ordering that his "negro man" be freed "upon paying a compensation of 50 cents to my estate." This was carried out in 1812, when the executor manumitted a slave named Jube.11 Thomas Lake ordered proceeds from the sale of his personal property to be divided equally between his mother Anna Lake and sisters Jane and Mary Lake.
Jane Lake is buried in the Rake Cemetery. Her stone says she died on March 1, 1827, age 62. The Lake Family Bible says she was born on Oct. 6, 1784 and died on May 8, 1827.
Like her brother, Jane Lake never married, and like her brother, she also wrote a will. She left property to a niece Jane Lake, daughter of John Lake, and to nephew William Sergeant, son of Mary Lake. Philip Rake was one of those who witnessed her will, which she signed with a mark rather than a signature. I have not located her burial stone.
Thomas Lake's sister Mary became the wife of Charles Sergeant. She died in October 1851. Presumably, she is buried in the Pine Hill Cemetery next to her husband, although her stone has been lost.
There is a Mary Lake buried in the Rake Cemetery, who death is given as October 27, 1857, age 75. It is unlikely that this was Thomas' sister Mary, who would have been identified as Mary Sergeant. Using the rule of proximity, one would expect the mother of William Sergeant to be buried here. But the dates are just a little too off.
The only Mary who seems to fit is the daughter of Thomas Lake (1758-c.1821) and Catharine Larew (c1760-?), granddaughter of Garret & Sarah Lake. Garret Lake did not live near Sand Brook. His property was near Reading Road and Locktown-Sergeantsville Road. His son Thomas also did not live at Sandbrook. However, they both owned land in the neighborhood of the Larews and the Gordons, and both of those families have members buried in the Rake cemetery.
Mary Lake, granddaughter of Garret Lake, died unmarried as far as I know, without writing a will. As far as I can tell, her father Thomas did not write a will either.
Getting back to the 1810 will of Thomas Lake of Sandbrook, he left his share of his father's plantation to his nephew William Sergeant (son of Charles Sergeant and Mary Lake). He also had a share in a lot of land where a different John Lake lived, which he gave to his nephew Thomas, son of his brother Isaac Lake. Then he made his friend (and brother-in-law) Henry Trimmer his executor.
In 1826, William Sergeant, son of John Lake's daughter Mary Lake Sergeant, acquired the old Lake farm from his various heirs.12 The deed, dated April 7, 1826, described the property this way:
"Whereas John Lake Sr. deceased was seized of a plantation in Amwell bordered on the north by Philip Rake, on the east by Robert Holcombe deceased and John Hice, on the south by Israel Poulson, on the west by a road that separates it from lands of Samuel Fauss and Isaac Fox and part by Cornelius Hoppock, of 100 acres, and having died intestate, his property descended by law to his sons & daughters, the sons getting two shares and the daughters one . . ."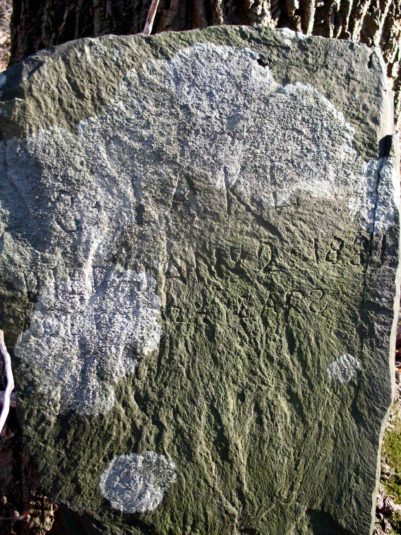 There are many unanswered questions about the Lake family. For instance: there is an S. Lake buried here, with the S carved backwards, and a death date of January 2nd, 1831. You can't tell from the picture, but the gravestone is quite large. She might be the daughter of Thomas Lake and Catharine Larew; or the daughter of Isaac Lake (1757-1825) and Elizabeth Godown.
I have speculated above that she might have been the Sarah Lake (born June 2, 1760, died September 16, 1831) who married Jacob Godown, and was another sister of Thomas Lake who died in 1810. Her birth and death dates were recorded in the John Lake Bible. If there was another Sarah Lake who died in 1831, I do not know who she could have been.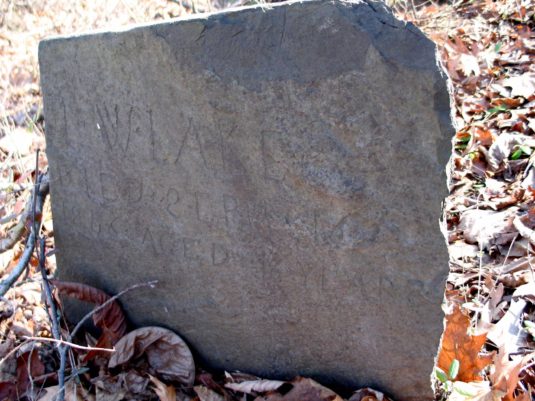 One mysterious stone belonging to a member of the Lake family seems to read: "L. [?] W. Lake, died September 16, 18L6, age 16 years." At least, that's the way I read it on the gravestone. But Mr. Deats saw it differently. He wrote "W. Lake, Sept. 16, 1846, 16 years. Whether it was L. W. Lake or just W. Lake, I cannot identify him or her.
The La Rue Family
Permelia LaRue, died 23 Oct 1851 age 75-8-5. # 81650520
Sarah Ann La Rue, July 22, 1825, 0-8-1
Thomas G[ordon] La Rue, Jan. 23, 1826, age 12-5-3. # 23216847
Uriah LaRue, died 6 April 1814, age 40-0-11. # 81650499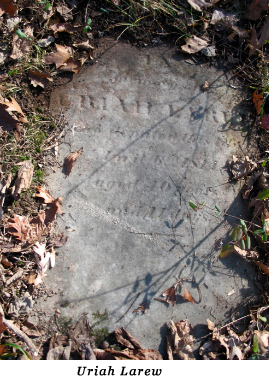 Permelia LaRue (176-1851) was the sister of Othniel Gordon (above), daughter of Franklin & Ann Gordon. She married Uriah LaRue in 1798 and had five or six children from 1799 to about 1812 or 1813. Uriah LaRue/Larew (1774-1814) was the son of Abraham Larew (1727-1806) and Mary Thatcher (1733-c1821). He grew up on a large farm to the west of Sergeantsville, which Uriah Larew inherited, along with his brother Isaac Larew, in 1806.
None of the children of Uriah and Permelia LaRue married into Sandbrook families. However, they did name a son Gordon LaRue (1800-1871), and Uriah Larew's sister married a Rounsavell. It seems clear that the LaRue's connection with the Rake cemetery was primarily through the Gordon family.
Uriah Larew was only 40 years old when he died. Afterwards, his widow Permelia moved to Readington Township. She was counted there in the 1850 census as a head of household, with her three daughters, living next to her son Elisha LaRue and his family. When she died the next year, she was buried next to her husband in the Rake Cemetery.
As to the two La Rue children who were buried here, it is possible that Thomas G. La Rue, who was born in 1813 (based on the age and date of death on his gravestone), was the son of Uriah and Permelia La Rue, as he would have been born before Uriah died in 1814. But Sarah Ann, who died in 1825, eight months old, must have been grandchild.
The Williamsons
The last of the Rake Cemetery graves to discuss are the ones belonging to Sarah, wife of William Williamson, who died on June 17, 1850, at age 91 (born c. 1759), and Abraham Williamson, who died July 28, 1851 at age 68 (born c. 1783). The ages given suggest that Abraham was a son of William and Sarah Williamson.
Their gravestones are missing, and their names are also missing from Hiram Deats' list. Where did they come from? I promise I did not make them up. But their identities remain a mystery. Despite the fact that I have a lot of information on the Williamson family, I cannot identify these particular members. And despite the fact that Williamson descendants have spent years documenting this family, none of them can identify them either.
But I can't just toss them out, because Williamsons did have a connection with the Rake Cemetery. Asher Williamson (1777-1860) bought part of the John Rake farm from Philip Rake in 1815, and he served as executor of Jacob Rake's estate in 1817. Much later on, Barton Hummer Williamson (1875-1956) came to live near the Cemetery. But neither Asher nor Barton seem to be related to the mysterious Abraham and Sarah.
I will have to wait until I can find more information on those two. The Williamson family has a rich history, which I hope to explore in the future. I will note, however, that Barton's father, Asher Voorhees Williamson, was the proud owner of a very unusual letter about Horace Greeley, as described in this article by Egbert T. Bush: Poor Horace Greeley.
Where Were Sand Brook Residents Buried?
Having written about Lakes, Rakes, Larews, Godowns, and Gordons all being buried here, it strikes me as a little odd that more residents of Sand Brook are not here. There is no one from the Fauss family, no Rockafellars, Kitchens or Moores. This is a reminder that people have many different reasons for choosing where to be buried. For many people, church-connected cemeteries were most important, which is why many Sand Brook residents were buried in the Lower Amwell Old Yard (associated with the German Baptist or Dunkard church), the Sandbrook Cemetery next to the newer German Baptist Church in the village, and Larison's Corner Cemetery (associated with the Amwell First Presbyterian church).
Here are some Sandbrook area people of yore who were not buried in the Rake Cemetery:
Ida M. Bearder, died 1954, buried in the Cherryville Cemetery
John Carr Dilts, died 1901, buried in the Lower Amwell Old Yard
Children of Arthur Fauss: John Fauss died 1940, Rachel Fauss died 1937, both buried in the Sandbrook Church Cemetery
Hannah Higgins, wife of Samuel Gary, died 1884, buried Sandy Ridge Cemetery
George N. Holcombe, died 1900, buried Sandy Ridge Cemetery
Sarah Johnson, wife of Ervin Frank Kerr, died after 1950, buried in Rosemont
Mary Wolverton, wife of Harrison Kinsey, died 1884, buried Sandbrook Church Cemetery
Stephan Knowles, died 1945, buried Rosemont Cemetery
Mary Manning, wife of Wm. T. Sergeant, died 1933, buried Rosemont Cemetery
Wm. T. Sergeant died 1918, buried Rosemont Cemetery
Jane Robins, wife of Amos Sutton, died 1934, buried Sutton Burying Ground
Mary Ann Dunn, wife of Jeremiah Trout, died 1900, buried Sandbrook Church Cemetery
Jeremiah Trout, died 1896, buried Sandbrook Church Cemetery
Israel P. Williamson, died 1932, buried Sandbrook Church Cemetery
If you wish to add names to this list, please do so in the comments.
Footnotes: