Concerning the history of one of Hunterdon's Earliest Families
This article is a continuation of the history of the Cook Proprietary Tract,1 The previous articles dealt with the northern half of the tract. It is time to turn our attention to the southern portion, half of which came into the possession of the Rounsavell family at a very early date, and remained in the family for many years thereafter. The other half was acquired by John Young, and after his death was conveyed to John Hice in 1789. The Young and Hice families will have to wait for another time.
Richard Rounsavell and Family
There is an overabundance of Richard Rounsavells in Hunterdon County. And it does not help that the spelling of the name has been wildly inconsistent: Rounsavel, Rounsaval, Rounsaville, Rounsifull, Rounsifer, Rounsevelt, etc. According to the authors of the Rounsavell Genealogy, the name originates from the small village of Roncevalles, Spain—located in the Pyrenees mountains, straddling the border of France and Spain. The name literally is translated as "valley of thorns", and was also the site of the military defeat of Charlemagne's army in 778, and the death of Charlemagne's nephew, Roland.2
There were two branches of the family in America, one that settled in Massachusetts, led by Philip Rounsevell, and the other in New Jersey led by Richard Rounsavell. Notice the different spelling. The Genealogy's authors found that descendants of the Massachusetts family tended to use the '-evell' spelling, while the New Jersey family used '-savell.' But there is certainly no hard and fast rule. I often see the Rounsavil spelling as well as Rounsavel. For the rest of this article, I will generally use the spelling Rounsavell, except in certain cases, like references to author Brian Rounsavill.
To add to the confusion, sometimes the same Richard was identified as Richard Sr. and sometimes as Richard Jr. The terms Sr. and Jr., as used in the 18th century, did not necessarily mean a father-son relationship. It simply meant there were two men of the same name in the same vicinity, and that one was older than the other. In this case, however, the references are definitely to fathers and sons. Families persistently reused given names from generation to generation, and that was very much the case with this family. There were five succeeding Richard Rounsavells in Hunterdon County.
The First Richard Rounsavell
If we consider Hopewell Township as part of Hunterdon County, which it was until the mid 19th century, then the Rounsavells surely count as among the earliest settlers in the county. Richard, his wife Hannah and their very young children came to Hopewell from Southampton, Long Island in 1701 or 1702, when very few settlers were present.
In 1687, Richard Rounsavell listed as a proprietor and inhabitant of Stratford, Connecticut. It is thought that he had immigrated to Connecticut from the southwest of England. The Rounsavell Genealogy does not provide definitive evidence of Richard Rounsavell's origins, but by process of collecting circumstantial evidence and then eliminating what did not fit, the authors concluded that the immigrant Richard was born March 12, 1658, and christened in Padstow, Cornwall on March 22, 1658. He was the twelfth child of Roger Rounsevall and Mary Warne, and grandson of Richard (1574-1658) and Jane Rounsevall. Richard Rounsavel came to Stratford, Connecticut around 1680, and received a town lot there in January 1685.3
Stratford, Connecticut did not suit Rounsavell. Sometime between 1687 (his last record in Stratford) and 1698 he moved to Southampton, Long Island.4 It was in 1698 that Richard and his wife Hannah were present with their two children, Richard and Martha, according to a list of inhabitants of Wickapogue, in which Richard's name was spelled "Rounsifull."5
In 1701 or 1702, Richard and Hannah Rounsavell and their first two children, moved again, this time to Hopewell Township, New Jersey, which was then in the county of Burlington. (Hunterdon County was not created until 1713/14.) This made the Rounsavell family among the earliest settlers in what became Hunterdon County.6
Richard Rounsavell was one of the 38 signers of an agreement with Daniel Coxe to settle the disputed land titles in Coxe's Hopewell tract. The agreement is dated August 26, 1703, which is after the date of Rounsavell's inventory on March 10, 1703. Does that mean that the agreement was not dated until everyone had signed it? No, it means that the date March 10, 1703 was given in Old Style, in which the year did not begin until March 25th. Therefore, the agreement was signed by the elder Richard Rounsavell in 1703, and he died the following year in February 1704. His will was recorded on April 28, 1704.
As you can see, the move to Hopewell Township did Richard Rounsavell little good. Soon after arriving, on February 5, 1703, he wrote his will, naming his wife Hannah the sole executrix of his "visible estate" and referring to three (unnamed) children. The will was witnessed by Daniel Howell, Samuel Davis and Alexander Lockhart.7 The three children were most likely Richard (1690-1775), Martha (c.1697) and Benjamin (c.1700-1778).
In his will, Rounsavell wrote "to my well beloved wife, Hannah to care and look after my children to cherish and chastise them." She had to do more than that—she had to deal with the estate, having been named sole executrix. But a widow with young children to care for must have needed help from her neighbors. Sadly, after the will was proved in 1704, there are no further estate papers or guardianships, and nothing is known of what happened to Hannah. She may have re-married but there is no record of that. If she did not re-marry, the minor children may have been assigned a guardian, as was generally the practice in the 18th century, but there is no record of that either in the New Jersey Archives Abstracts of Wills & Estates.
Of the three children of Richard and Hannah Rounsavell, only one came to live on the Cook Proprietary Tract, and that was Richard, born about 1695 (often identified as Sr.).
Family of Richard and Rebecca Bogart Rounsavell
The eldest son Richard was only about 9 years old when his father died. Presumably he remained with his mother in Hopewell, at least for a time. He became acquainted with the Bogart family of Amwell, who had moved there from New York sometime before 1714, or at least one particular member of it. On April 3, 1718, he married Rebecca Bogart, 18-year-old daughter of Cornelius Bogart and Cornelia Delmater.8.
The couple's first child, Mary, was born on October 12, 1719 and was christened at the Harlingen Dutch Reformed Church on April 13, 1728. This was actually the town of Harlingen now in Somerset County.9 The second child, Benjamin Rounsavell, was born April 14, 1721, followed by daughter Hannah on January 12, 1723, and daughter Jane on October 24, 1727. The next child, named Richard (often identified as "Jr."), was born April 19, 1734, followed by daughter Rebeccah on April 19, 1739, and lastly, son Henry born on June 26, 1744.10
Son Benjamin took up residence in Readington and Kingwood Townships, and later moved to Virginia (now West Virginia). The youngest son Henry took up residence in Amwell Township, where he lived his entire life. It appears that his farm was near his brother Richard's, but he managed to avoid being recorded. In 1773 his father Richard bequeathed him 100 acres bordering Edward Taylor and John Young, which puts him in the Cook Proprietary Tract, and he was taxed in Amwell on 100 acres in 1780, and on 102 acres in 1786. Henry married Elizabeth Clara Heath (c.1760-1818), daughter of David Heath and Mary Worthington, on March 15, 1781 at St. Andrews Church in Amwell. They had seven children, from 1782 to 1794, but none of them settled on Henry's farm. He does not appear in the index of Hunterdon County deeds, and he did not record a will. Perplexing.
Since this article concerns the Cook Proprietary Tract, I will focus instead on the other Rounsavell who settled there, Henry's brother Richard iii. Research into his life can be confusing, because he and his father were both referred to as Richard, Jr. in some documents. To keep things straight, the Richard Rounsavell Sr. (c.1695-1775) who first moved to Amwell Township will be referred to as Richard ii and his son Richard (1734-1777) will be Richard iii in this article.11
The earliest record of Richard Rounsavell ii's residence in Hunterdon County is dated 1724 when he was elected a Constable.12 This was a position of some stature, which says much about how Rounsavell comported himself as a young man. He was only about 25 years old when elected.
But where were Richard and his family living? It is possible the Rounsavell family were still living in Hopewell Township. But they clearly made some trips to Readington in the 1730s and may have been living there by 1741, as Richard's brother Benjamin Rounsavall (c.1700-1778) was a well-documented resident there. On April 23, 1732, Richard and Rebecca Bogart Rounsavell had their son Henry christened at the Reformed Church of Readington Township, and in 1741, Richard was listed as a freeholder of the town and eligible for jury duty.13
The Rounsavells Move to Amwell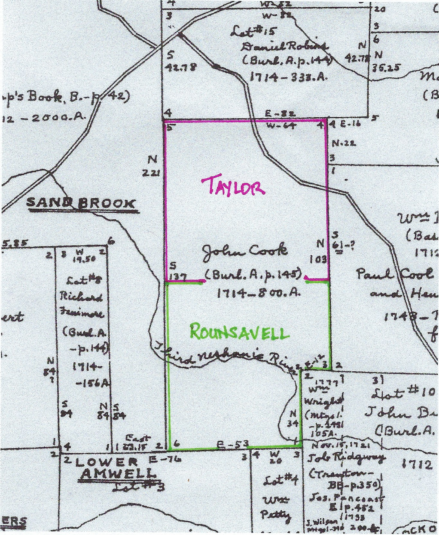 On May 2, 1743, Richard Rounsavell ii bought 135 acres in Amwell Township (now Delaware Township) from Hendrick Forst.14 This was one of the lots created out of the 800-acre proprietary tract belonging to John Cook. Whether the Rounsavells moved from Readington to Amwell Township in 1743 is not possible to say.
Who was Hendrick Forst, and how did he acquire 135 acres out of the Cook tract? A Hendrick Forst was counted among immigrant arrivals to Philadelphia in 1735.15 I have so far found no other information about him. Perhaps he was related to a John VanVorst who acquired land near Sandy Ridge as early as 1722, and was counted as an Amwell freeholder in 1741.
A deed recital explained to us how John Cook sold the northern half of his 800-acre tract to Martha Borden, although it did not provide a date of sale. The sale of the southern half must have taken place sometime after 1714, but the purchaser remains a mystery.
In 1744, Richard Rounsavell (ii) was identified as bordering owner to land of John Taylor and John Haddon in Amwell Township.16 As described in the previous article (Cook-Taylor), John Taylor acquired the northern 400 acres in 1741. But the deed of sale was not recorded; the sale only appears as a recital in a later deed and does not state who owned the southern half of the tract before 1741.
But that property description pushes the date of Rounsavell's ownership back to 1741, since it states that Richard Rounsavell was a bordering owner to John Taylor that year. The description began at "a corner of the Division between him [John Taylor] and Richard Rounsavell . . ." This is the only evidence we have that Rounsavell acquired the lower half of the Cook tract by 1741.
On January 19, 1747, Rebecah Bogart Rounsavell died in Amwell Township. She was only 47 years old and left seven children behind, the youngest being Henry, born in 1744. Richard Rounsavell needed a new wife, and with all those young children, he needed one badly. His second wife was named Ann, but there is no record of when the marriage took place. We only know of her because of the family bible record which states that Ann died on April 5, 1773, only one month after husband Richard wrote his will in which he left half his plantation to her.
Richard Rounsavell, Jr. (iii)
Richard and Rebecca's son Richard (iii) got married about 1752/53. This would make Richard only 19, and his new wife, Rachel Stout, even younger, about 15. I have based the marriage date on the birth year of their first child Rebecca, who was born in 1754.
Rachel Stout was the daughter and eighth child of Freegift Stout, Sr. (1693-1766) and Mary Higgins (1700-c.1773), who lived in today's East Amwell Township. Rachel's father wrote his will in 1763, in which he bequeathed "moveable" property to his daughters, including Rachel Rounsavell, wife of Richard Rounsavell, Jr. of Amwell.
Richard Rounsavell (iii), being born in 1734, was old enough to have land transactions of his own by around 1755. In 1757, Richard Rounsavell "Jr" witnessed the will of Thomas Kitchen of the Sandbrook neighborhood. This is the earliest known appearance of Richard (iii) in county records, and confirms that he lived in the vicinity of Sandbrook, which is just west of the Cook tract. On June 3, 1760, Richard Rounsavell Jr. (iii) of Amwell, made the inventory of the estate of his father's neighbor, Thomas Taylor, along with Abraham Larew. On June 9th he was listed as a fellowbondsman to Edward Taylor, administrator of Thomas Taylor deceased of Amwell.
In 1759, a "Richard Rounsavail" was among a group of several individuals who signed a petition to bring Rev. Andrew Morton to Amwell to serve as the first minister of St. Andrew's Presbyterian Church. In November 1762, he joined with other subscribers (including Samuel Kitchen and Edward Taylor) in support of the minister who had become controversial.17 Was this the father or the son? I suspect it was the father, Richard (ii). Rev. Morton was a scandalous character who is thought to have impregnated the daughter of his host, John Garrison. The congregation was divided over the matter, some supporting Morton, like Rounsavell, and others supporting Garrison's claims. Richard must have felt strongly about this, to the extent that it was stated that "the church books were clandestinely taken away by Richard Rounsavel, which he still keeps in his possession." Eventually, Morton departed for North Carolina, leaving Esther Garrison in the lurch.18
In 1763, Frances Robins, widow of Daniel Robins, petitioned for a tavern license "in the place where she now lives," being Buchanan's Corner (See Buchanan's Tavern.) Some of those who signed her petition were Richard Rounsavell, Edward Taylor, Samuel Kitchen, Philip Calvin, Tho. Merrell and John Trimmer.
In the 1760s, a Richard Rounsavel frequently participated in the settling of estates. But whether it was Richard (ii) or Richard (iii) is hard to say. I am inclined to think it was Richard iii because by this time, Richard ii was in his 70s. One reason it is difficult to distinguish between the two is that we cannot say whether they were living in the same household or in separate ones.
On August 8, 1765, a Richard Rounsavell, along with David Heath and Philip Dilz, witnessed the will of Jost Hoppaugh (Hoppock) of Amwell. On September 19th, Richard Rounsavell, "Jr." and Peter Rockafeller made Hoppaugh's Inventory. On October 17th, Richard Rounsavell made the Inventory of Thomas Lake of Amwell with Jonathan Higgins. The next year, on March 26, Richard Rounsavell, "Jr." made the Inventory of Casper Michael Stapel with George Andreas Vierselius. May 9, 1767, Richard Rounsavell, "Jr." was named Executor of the estate of Christian Cowell of Amwell with Cowell's son Mortice; the will was witnessed by Samuel Kitchen, Thomas Lake, and William Rockafeller, all of them residents of the Sand Brook vicinity. That year a letter was left for Rounsavell at the Trenton Post Office.19
In 1768, Richard Rounsavell witnessed a deed of Richard Pecker to Elias Hummer.20 On May 14th of that year, Richard Rounsavell Jr. witnessed the will of Richard Pecker of Amwell with Richard and Andrew Heath. On October 15th, he made the Inventory of Pecker's estate with Richard Heath. On July 6, 1769, Richard Rounsavell Jr. witnessed the will of Joseph Stout of Hopewell with Hannah Kinney, Eden Burrowes. Letters were left for him in the Trenton Post Office in 1769, and again in 1774.21
All of the Richard, Jr.'s mentioned above are most likely Richard (iii).
Rachel Rounsavell's mother Mary Stout wrote her will on September 29, 1770, leaving to her three daughters, Mary (wife of Richard Chamberlin of Virginia), Rebecca (wife of Edward Taylor, who owned the land north of the Rounsavell tract) and Rachel (wife of Richard Rounsavell, Jr. (ii) of Amwell) all her estate. The will was recorded on April 19, 1773.
This chronology of activity suggests that Richard Rounsavell (iii) was living on the Sandbrook property in the 1760s and 1770s. His father Richard (ii) and stepmother Ann were probably living with him, because when Richard (ii) wrote his will on March 15, 1773, he was still the owner of the Amwell tract purchased from Hendrick Forst.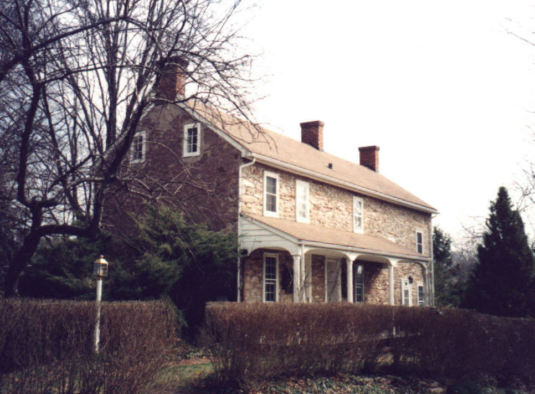 The house once owned by the Rounsavells is still standing on Yard Road today. Like most old stone houses in Hunterdon County, it was originally covered with stucco.
The Will of Richard Rounsavell
In his will dated Marc 15, 1773, Richard Rounsavell, yeoman of Amwell (Richard ii) left half of the plantation "where he lives" to his second wife Ann. To his eldest son Benjamin he left 5 shillings. Benjamin, who lived in Kingwood Township, had married Charity Quick (her parents are not identified)22 and worshipped at the Kingwood Baptist Church until 1770 when he moved to Loudon County, Virginia. By 1800 he was living in Ohio.23 The Rounsavell Genealogy speculates that this bequest was due to a falling out, instead of to primogeniture, since Benjamin's other siblings got valuable bequests. But another theory is that Richard (ii) had already provided for his eldest son and felt he needed no more from his estate. In fact, this item of 5 shillings to son Benjamin was mentioned before any of the other children's were listed, which gave it emphasis.
The balance of the home plantation, excepting out 102 acres, was given to son Richard (iii). Of the 102 acres excepted, 100 acres, bounded by Edward Taylor and John Young, were left to son Henry (1744-1824). Two acres on the north side of the brook, including a house and garden were reserved for daughter Jane Danesdale [sic], widow.24 The brook referred to was the Third Neshanic, also known as Sand Brook.
Daughter Mary, wife of Cornelius Bowman, was given £20. Daughter Hannah Rounsavell was to be supported on the plantation. Rounsavell named his wife Ann executor of the estate along with "friend" Edward Taylor. The will was witnessed by Martha Boyd, Tunis Quick, Jr. and William Frazer, the minister of St. Andrews Church.
Edward Taylor was more than a friend. He was the son of the John Taylor who divided the Cook proprietary tract with Richard Rounsavell (ii). And Edward Taylor was the husband of Rebecca Stout, sister of Rachel Stout Rounsavell, and thus brother-in-law of Richard Rounsavell (iii). He was tax collector for Amwell Township in 1770 and owned a plantation of 227 acres, located to the northeast of the Rounsavell property.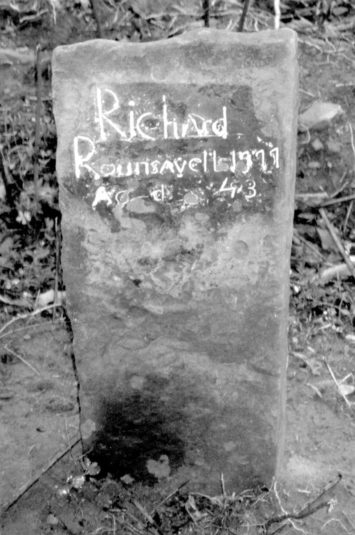 Richard Rounsavell (ii) died on December 3, 1775.25 It is not known where he and his two wives were buried. However, his son Richard (iii) was buried in the Sutton Burying Ground two years later, which was located on the old Cook tract and is now mostly ruined and neglected. It is possible the elder Richard (ii) and his wives were also buried there and their stones lost.
My apologies for this photograph of Richard, Jr.'s (iii) gravestone. It is an old photo that was obviously touched up to reveal the carving. I do not have a better one.
On December 7, 1775, Inventory for Richard Rounsavell, dec'd was made by Samuel Furman and George Trout; it amounted to £165.18.5. The will was proved (recorded) on December 11, 1775.
What is interesting about this will is that the total size of the home plantation appears to be about 204 acres, which is almost twice as much as the deed from Hendrick Forst in 1743. Clearly, deeds are missing. It is regrettable that Richard Rounsavell (ii) was so negligent about recording his deeds, but inasmuch as this required a long trip to Trenton on horseback over very bad roads, one can understand his reluctance.
Richard Sr.'s son Richard, Jr. (iii) did not live much longer than his father did. He wrote his will on January 20, 1777, while the Revolutionary War was raging in New Jersey. He was only 42 years old, but there is no evidence that he served in the local militia.
He left his real and personal estate to his wife Rachel during her life. To his eldest son Freegift Rounsavell, he left two lots of 11 acres in Kingwood bought from John Rounsavell, when he became 25 years of age. John was almost certainly the nephew of Richard Rounsavell (iii), son of Benjamin and Charity Rounsavell.
The balance of the estate was left to "my children," who were unnamed. Executors were wife Rachel and brother-in-law Isaac Stout (Rachel's brother). The will was witnessed by Edward Taylor, Robert Wheten, and Daniel Hull.26 Richard Rounsavell (iii) died on February 13, 1777, age 42.
Probably because she still had young children at the time, the widow Rachel Stout Rounsavell, who was about 40 years old when her husband died, quickly remarried. Her second husband was Evan Godown (c.1745-1790). They were married on September 23, 1779 at St. Andrews Anglican Church.27
The will of Richard Rounsavell (iii) was not recorded until November 2, 1782, five years after his death; the executors were his widow Rachel Godown and her brother Isaac Stout. His Inventory amounted to £ 131.1.4 and was made by friend Edward Taylor and brother Henry Rounsavell.28
There is a house on the 135 acres that Richard Rounsavell (ii) owned that is most likely the home that he built for himself and family. It is located on the north side of Yard Road, where the road makes a sharp turn. It has sandstone walls and the usual arrangement of rooms, doors and windows for an 18th century Hunterdon farmhouse. The larger western section has two doors and originally had two rooms, each with a fireplace. The eastern, and probably earlier, section is at a lower level and has asymmetrical fenestration. The window muntins of both sections and the woodwork in the western section appear to be of the federal period.29
If the house was built after the Revolution, then neither Richard (ii) nor Richard (iii) would have resided there. But a study of the 400-acre tract that Richard Rounsavell (ii) acquired indicates that there is no other place where he is likely to have lived. The house itself, with its separate sections, separate entries, separate fireplaces and stairways, seems to have been intended to accommodate two families, most likely that of Richard (ii) and (iii). It is quite possible that the original house was "modernized" sometime after the Revolution.
Up next—The Rounsavells, part two.
Addendum, the gravestone:
Brian Rounsavell found the stone in the Sutton Burying Ground. You may be wondering about the white lettering in the photograph. Here is his explanation:
"It is a really old piece of red slate that was hand carved so the surface is very uneven and the letters are not straight or uniform, which says a lot about their character or situation. Seems he died at only 43 so he must have taken ill suddenly with his father passing only two years prior. I felt so fortunate to have been able to find the stone and upright it once again. It was literally almost a foot below the surface and would have been lost for good. So when we discovered it, we could barely see the writing but the sunlight caught it just right and revealed the story. Being out in the woods, I photographed it from many angles and none seemed to work due to the shade, so I resorted to the old shaving cream method as a last resort. I bet preservation purists will object, but considering how it was almost lost to the sands of time, I wanted to get a decent photo once and for all so future generations can see the writing and know the story."
Footnotes: