The Case-Dilts Farm
Once again, I return to Egbert T. Bush's article, "Sandy Ridge Long a Farm Community." He wrote:
. . . George Rittenhouse, who previously had owned the Joseph D. Case farm and erected the dwelling still in use there. The original dwelling on that farm stood a hundred yards or more westward, by the fine spring still doing business as of old. The farm was later owned by Ely Kitchen, grandfather of Recorder Theodore G. Kitchen of Lambertville. Rev. George Young bought it later, and in 1875 conveyed it to Joseph D. Case, who held it for 55 years, and sold it a few weeks ago.
This paragraph threw me off for awhile. I thought Mr. Bush had confused Joseph B. Case with Joseph D. Case. These names!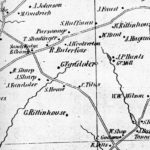 As it happens, the farm that was owned by Joseph D. Case in 1875, and previously by George Rittenhouse, was a farm of 64.15 acres located between Dilts Corner and Brookville. Ely Kitchen and wife Mary were unable to pay their mortgage, so Rev. Young bought the farm at a sheriff's sale in 1874 and the next year sold it to Joseph D. Case.1
The Joseph B. Case Farm
Much closer to Sandy Ridge, and more relevant to this area is the farm owned by Joseph B. Case. It was located on Route 523 (Block 53 lot 2), opposite the Jackson lot (See "Sandy Ridge, part five.").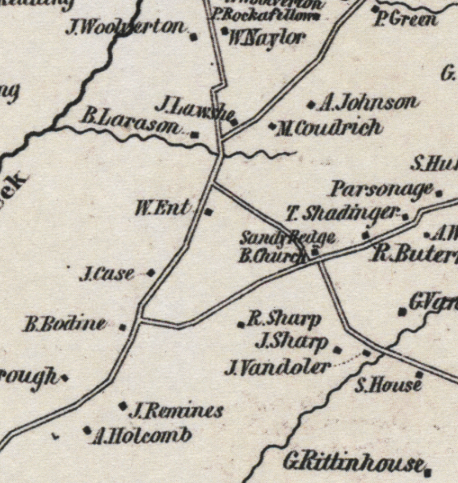 Rev. George Young had purchased that farm as well, but he bought it from John and Rachel Dilts on April 1, 1871 for $5,150.2 It consisted of a collection of seven small lots amounting altogether to 27.39 acres. And the next year, he sold all those lots to Cornelius Bodine for $5,700. As part of the package, he also included a lot purchased from Benjamin Larison in 1871, for a total of 31 acres.3
Cornelius W. Bodine (1823-1904) was the son of Benjamin Bodine, about whom I wrote in "Sandy Ridge, part four." The farm sold to Cornelius Bodine was located just to the north of the Benjamin Bodine farm, so it was originally part of the Valentine Ent tract. Cornelius married Miriam Chapman Romine (1834-1900) on October 10, 1853. She was the daughter of Deacon James Romine and Sarah Quinby Chapman.
Cornelius Bodine was almost 50 years old when he bought the farm. A few years previously, Bodine had purchased a 20-acres lot on Route 523 not far to the south of Grafton Road from his brother William Bodine. He sold this lot to Rev. George Young on the same day he purchased the collection of small lots from Rev. Young.4
Cornelius and Miriam Bodine remained on the farm until Miriam died in 1900 age 65, and then Cornelius's death at the age of 81 in 1904. His heirs sold the farm to Lambert Moore in 1906.
Lambert Moore & Jennie Fisher
There were two Lambert Moore's who were almost the same age. The Lambert who bought the Bodine farm was born March 6, 1874 to George Moore and Annie L. Sutton of Delaware Twp. In 1895 he married Jennie M. Fisher (1872-1959), daughter of John B. Fisher and Deborah Bunn. Lambert Moore was a farmer who died of a heart attack on June 28, 1930, at the age of 56. His widow sold the farm on November 5, 1930 to John E. and Mary Bush.
The other Lambert Moore lived in Lambertville. He was the son of Allen Holcombe Moore and Emma Pidcock Chidester, born 1878 in West Amwell, died in Lambertville age 72. He married Anna King Brink.
As mentioned before, Lambert Moore bought the farm from the heirs of Cornelius Bodine on April 3, 1906. At the time the farm was 21 acres for which Moore paid $2,200. This was much less than Bodine had paid for it in 1872, which was $5,700. But then Bodine had bought a tract of 31 acres. Why the large price difference when the acreage difference was only 10 acres? Was this just a matter of supply and demand in the real estate market? I do not know.
To show how the farm came to be owned by Joseph B. Case, I am going to go back to the beginning, when it was part of the 410 acres sold to Valentine Ent.
Early History of the Farm
As mentioned before, the farm owned by Conrelius Bodine and Joseph B. Case was originally part of the 410 acres acquired by Valentine Ent in 1750. Most of the Ent tract was on the east side of Route 523. The farm of Joseph B. Case as well as the one owned by Benjamin Bodine farm were on the west side of the road.
Figuring out how it was separated from the rest of the property was a little challenging since deeds were not clear about it. I've written previously of how the farm of Peter and Sabillah Bodine was located there and came into possession of Benjamin Bodine (Sandy Ridge, part four). This was on Block 53 Lot 3, just south of the Case farm.5
Valentine Ent's Estate
Valentine Ent died in 1770. His wife Susannah and her brothers Peter & Daniel Moore were named Executors. Although the farm was divided into several partcels, there are only two deeds on file concerning purchasers of those lots. One was the deed to Peter Bodine and his wife Sabillah Ent on August 13, 1781 for a lot of 16.5 acres, and the other was found in the recital of a later deed stating that on August 15, 1781 a lot was conveyed to "Susan Ent, late Susan Cox." The Bodine lot bordered "Susan Ent."6
So who was this Susan Cox Ent, or Susan Ent Cox?
Another clue is found in her will, dated September 2, 1795, in which Sarah Cox of Amwell bequeathed to sons James and John, who were still minors, "the lot of land whereon Andrew Butterfoss now lives (deed being in hands of John Severns), to be divided between them when of age." And if her sons did not survive to adulthood, the land was to go to the two children of Peter Bodine.
The two Cox children did grow up, and on May 3, 1808, sold a lot of 16.5 acres to Capt. Charles Ent for $800.7 The deed included a recital referring back to 410 acres owned by Valentine Ent. This is especially interesting because the lot sold to Peter & Sabillah Bodine in 1781 was also 16.5 acres. Was this the Bodine lot or did Ent's executors sell equal sized lots to Peter and Sarah?
This all suggests that Sarah Cox or Sarah Ent was related to Peter Bodine or Sabillah Ent. She was about the right age to be a child of Valentine & Susannah Ent. But lists of the Ent children never include a Sarah, and the only daughter-in-law named Sarah was Sarah Kent who married Capt. Peter Ent, who moved to Ohio. I am stumped.
Captain Charles Ent
Unlike most of the Ents living in Sandy Ridge, Charles Ent was not directly descended from Valentine Ent and Susannah Moore. He was born May 14, 1767 in Germantown, PA to Theobald Ent (1737-1794) and his second wife, Maria Barbara Haas (1753-1833).
He was not old enough to serve in the Revolution, but he was a Captain in the War of 1812, and was promoted to Major.
But before the War of 1812, he had made his way to Amwell Township after the Revolution where he married, on April 29, 1786, a Mary Johnson (1769-1859) whom I have not been able to link up with the Amwell Johnson family.
By 1804, Ent was a property owner in the Sandy Ridge area. That year he was named as bordering property that Peter and Sarah Ent sold that year to Robert Sharp. It's quite possible Ent was residing on Sarah Cox's lot before he purchased it from her sons.
It has been written that he was postmaster for Prallsville during the years 1805 to 1807.8 In 1805, in a letter to his wife Hannah, John Lambert wrote "Mr. Charles Ent to deliver the letter once it reaches Mr. Wilson's hands." E. T. Bush also wrote that on March 14, 1807, Charles Ent, Postmaster at Prallsville, gave a receipt to Henry Vandolah for a subscription to the Trenton True America.
Unfortunately, there was no official post office in Prallsville until 1817, according to Jim Walker's Hunterdon County New Jersey Postal History, 2008, p. 66. Could Ent have been functioning as an unofficial postmaster?
On May 11, 1818, Maj. Charles Ent & wife Mary of Amwell conveyed to Elisha Holcombe of same for $1600, a part of that plantation sold by John Lambert to Valentine Ent, which was "sold to Sarah Ent, late Sarah Cox as by deed bearing date the 15th day of August 1781." The deed mentions her will bequeathing the land to her sons James & John Cox, but not what happened after that. The lot bordered Isaac Skillman, Peter Bodine, William Taylor, Robert Sharp and the great road, being 16.5 acres.9
After selling the small farm to Elisha Holcombe, Charles and Mary Ent and their 14 children moved to Ohio. They were counted in the 1820 and 1830 census for Morgan Township in Butler County, Ohio.
Charles Ent died on June 20, 1847 in Shandon, Butler Co., Ohio and was buried in the New London Cemetery. Mary Johnson Ent died on April 15, 1859, age 90, and was buried next to her husband.10 All 14 of their children lived to adulthood, although a few of them died in their 20s.
Elisha Holcombe
Elisha Holcombe (1788-1835) was the son of Richard Holcombe and Hannah Emley of Lambertville. That Richard Holcombe was the one who accepted a mortgage from Daniel Ent and then sued for non-payment, resulting in bankruptcy for Daniel Ent.
Elisha Holcombe had a connection with the residents of Sandy Ridge through his older brother George (1781-1855) who married Catherine Butterfoss, daughter of Daniel and Esther Butterfoss.
In 1810, Elisha Holcombe married Anne Charity Brewer (1791-1878), the daughter of Samuel Brewer and Catharine Horner, and also sister of William Brewer who married Sarah Susannah Ent, daughter of Capt. Peter Ent and granddaughter of Valentine Ent. A typical interconnected Hunterdon County family.
Elisha and Anne/Charity Holcombe had 7 children, from 1810 to 1824. The youngest was Mary Wilson Holcombe (1824-1906) who married Ely Kitchen, the same who bought the farm of George W. Rittenhouse near Brookville Hollow Road.
Prior to purchasing the farm of Sarah Cox, Elisha Holcombe had been investing in East Amwell property on the York Road, and judging from his other investments it seems unlikely to me that the Holcombes actually lived on the Ent farm. But who their tenant was during the 12 years of ownership I cannot say.
The Holcombe's sold the farm of 16.5 acres to John and Ury Mason on March 30, 1830. Only five years later, Elisha Holcombe died at the age of 46. His wife Anne survived until 1878, dying at age 86. They were both buried in the Sandy Ridge Cemetery.
The Masons
John and Ury Mason of Kingwood Township bought the 16.5-acre lot for $1,000. At first I thought the purchasers were John Mason of Kingwood (c.1741-1813) and his wife Ury Mitchell (1756-1827). But neither of them were alive in 1830. Instead it was their two children, John, Jr. (b. c. 1790) and Ury (b. c. 1810) who bought the farm as joint tenants. Why, as residents of Kingwood Township, they would have done that is a mystery to me. Not long after the purchase, on May 28, 1832, Ury Mason married David Rake, and on March 18, 1834, John Mason conveyed his share of the property to David and Ury Rake for $600.11
David Rake was the son of Jacob Rake and Hannah Thatcher of Sand Brook. In 1842 Rake purchased the Sergeantsville Inn. But before that, on May 21, 1839, he and wife Ury sold the Ent farm to Joseph B. Case for $1,275. It was still 16.5 acres.12
Joseph B. Case
Joseph B. Case (1811-1870) was the son of John Case and Mary Rounsavel of Sand Brook. In 1835 he married Elizabeth Reed (1816-1842). She was also from Sand Brook, the daughter of Jesse C. Reed & Rachel Moore. They had one child, Abigail Holcombe Case, born November 1836, who married William Large (1833-1898), son of Jacob Large and Sarah Sutton.13
Elizabeth Reed Case was only 25 when she died in 1842. Joseph then married Matilda Ann Higgins, daughter of Nicholas B. Higgins and Hannah Hill, who lived south of Sergeantsville, and north of Sandy Ridge. Joseph and Matilda had a son Amos H. Case in 1844. But Matilda Ann also died young, in 1846, about 35 years of age. Sometime after that, Case married his third wife, Anna Moore (1813-1871).14
While Case was living at the Ent farm, he was elected Freeholder from Delaware Township, and served during the years 1856 and 1857. Unfortunately, there was another Joseph B. Case, about the same age, who lived in Raritan Township at the time, so it is difficult to sort out who was doing what as reported in the Gazette, the Democrat and the Republican. Fortunately, The Gazette did specify that the Joseph Case elected Freeholder came from Delaware Township.
During the years after 1839, Case purchased other small lots surrounding his small farm, so that by 1868 when he and wife Anna sold the property, it amounted to 24.28 acres. The 1860 census showed Case, age 49, a farmer, living with wife Anna 47, and son Amos, age 15. The following census of 1870 showed that the family had moved to Hungry Neck, Somerset County, Maryland, where Case was a 60-year-old farmer with real estate worth $10,000. Wife Ann was 55 and son Amos was 24. Joseph B. Case died there on July 23, 1870, age 59-3-4 (remarkable how age fluctuates in census records). His body was returned to Delaware Twp. for burial in the Sandy Ridge Cemetery. His widow Anne came with him, and took up residence in Raritan Twp. with the family of William Swallow (1824-1899) and wife Elizabeth Case (1827-1893). Elizabeth must have been related somehow to Joseph B. Case, perhaps as a sister or cousin. He did have a sister Elizabeth (1825-1905), but she was the second wife of Hiram Wilson (1814-1901).
John Dilts
On February 8, 1868, Joseph and Anna Case sold the farm of 24.28 acres to John Dilts of Lambertville for $4,800, a princely sum for such a small farm.15 The deed spelled out each of the seven lots that the farm consisted of, including the 13.5 acres sold to Case by David & Ury Mason Rake.
It appears that Dilts never lived on the farm. On April 1, 1871, he and wife Rachel sold it to Rev. George Young for $5,150, a nice profit.16 But I don't think Rev. Young lived there either because he sold it the next year to Cornelius Bodine, for $5,700. With additional purchases, the farm now contained 31 acres.17
After Bodine died in 1904, his heirs sold the farm to Lambert Moore, but now it was only 21 acres. After Lambert Moore's death in 1930, the farm was sold to John E. Bush.
John E. Bush
John Ephraim Bush was born September 17, 1878 in North Branch, Somerset County to Thomas Bowman Bush and Elizabeth Cox. In 1900 he was a 22-year-old farm laborer living with Frank and Maria Dunster of Bridgewater. About 1903 or 1904, he married Mary Isabelle (Mamie) Sloat, who was born in 1885 in Colorado. About that time, John and his parents had moved to Readington Township, where John and Mamie were counted in the 1910 census. They were also counted there in 1930, the year that the Bush's purchased the farm of Lambert Moore.
It is just a coincidence that John E. Bush settled on a farm so near to the home of Egbert Trimmer Bush, who was living on Sandy Ridge Road in 1930. They were entirely unrelated.
John Bush was widely respected as a dairyman. He was a member of the Hunterdon County Holstein Association and the Grange at Whitehouse. He undoubtedly joined while living in Readington Township at Barley Sheaf, and kept up his membership after moving to Delaware Township. According to his obituary, he "specialized in purebred Holstein cows on the 60-acre farm."18
Unfortunately, soon after his move, he became very ill, and was ordered by his doctor not to work for three months. Try telling that to a dairyman! It was too much for John Bush. On May 16, 1932, only a year and a half after buying the farm, he shot himself in the woodshed. His body was not found until after his sons, Grover and John, Jr. had returned to the house after doing the morning chores. His loss was deeply felt, as we can see from one of his obituaries:
Death has entered our Grange circle and taken from our midst our beloved brother, John E. Bush, and in his death Whitehouse Grange No. 159, has lost a true and faithful brother of our circle and an esteemed citizen. . . . as a token or our respect, be it Resolved, That our charter be draped in mourning for thirty days, and be it further Resolved, That a copy of these resolutions be published in the Whitehouse Review.19
I suspect that when John Bush moved to Delaware Township he made some investments in his dairy herd, and probably dairy equipment, because when he died he was in debt. That may have contributed to his despair. In 1934, a deed was recorded from the estate of Lambert Moore to Mary I. Bush.20 This probably had to do with clearing up the title while also clearing up Bush's bankruptcy. On June 22, 1935, Frank G. Lott, a bankruptcy lawyer, conveyed the farm, on behalf of the widow Mary Bush, to Granville Dilts.21 When Lambert Moore's widow sold the farm to John E. Bush, it consisted of 43.5 acres. It still did when Granville Dilts purchased it.
Granville Dilts
This farm was long known as the Granville Dilts farm probably because he lived there for 38 years. He bought it in 1935 and sold to Jay Hoff in 1978. The only owner who stayed longer is Jay Hoff himself, who still resides here.
Granville Dilts (1898-1983) was the son of Emanual (Manning) L. Dilts and Sarah Catherine Burket of Raritan Township. He married Hannah Barrick in September 1927, and they had two children: Sarah Catherine (1931-1985) and Foster Dilts (1933-1976). Both Sarah and Foster never married.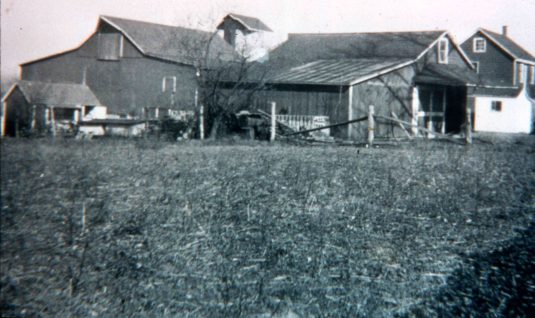 In among the wonderful photographs collected by Paul Kurzenberger, is this picture of the barn on Granville Dilts' farm, before a fire destroyed most of it.
Like so many interesting properties in Hunterdon County, this one has a long history of owners devoted to agriculture in one form or another.
My series on Sandy Ridge will end next time with a history of the Vandolah family and a special article about Cyrus Vandolah and his old tortoise.
Footnotes: