Being part three in a four-part post about an article written by Egbert T. Bush titled "Sergeant's Mills Once a Prosperous Place" and published in the Hunterdon County Democrat on January 16, 1930.
In Egbert T. Bush's article, "Sergeant's Mills Once a Prosperous Place," he listed the names of the original trustees of the old Green Sergeant School, but he told us very little about them.
Being the curious sort, I wondered about the men he named who lived in the Rosemont valley, one of the most beautiful and photographed places in New Jersey. Here is the relevant paragraph from Mr. Bush's article concerning the school trustees:
Most of the men named in the conveyance can be traced to near-by farms. John Salter lived on the farm west of the bridge now owned by Gardner J. Fisher and earlier by John Hampton. Asher Reading owned the Asa Cronce farm now owned by Oscar B. Hann. James Snyder at one time lived on the William Brown farm near the sawmill. In 1816 he bought of Richard Green a farm of 124 acres adjoining lands of Abraham Williamson, John Wolverton and Jacob Housel, and touching the road "leading from Skunktown to Rittenhouse's tavern." This farm had been devised to Richard Green by will of Samuel Green in 1797.
I decided to focus on John Salter, Asher Reading and James Snyder, and the history of their properties. But as usual, the article is too long for the website, so Mr. Snyder will have to wait until next week.
The Original European Owner
The proprietary owner of the Rosemont Valley, on both sides of the road, extending on the east to the covered bridge, and on the west to a point somewhat east of the village of Rosemont was Jonathan Wilson.1 This tract was located just west of the Dorothy Medcalf tract mentioned in a previous post. Both of these were just north of the Lotting Purchase Line, meaning that this land was part of the purchase made by John Reading and others from resident Indians in 1803, on behalf of the West Jersey Proprietors.2 The Wilson tract was also just south of the 1665 acres acquired by Charles Wolverton early in the 18th century.
I know very little about Jonathan Wilson, other than that he was probably a Quaker, and lived his life in London, England. On September 12, 1696 he married Mary Stacy, daughter of Henry and Mary Nevill Stacy, another Quaker family. Wilson died in London on September 8, 1717. His widow remarried George Mason and came to America where she died in Philadelphia in 1746.
According to a recital in a later deed,3 Mary Wilson Mason, and husband George Mason conveyed the entire property to Thomas Hatton and Clement Plumsted "both Late of the city of Philadelphia, Merchants." Unfortunately, the recital is very confusing about who exactly Mary Mason was:
By a certain Indenture of 2 Sept 1732 between George Mason of Allen Town, Monmouth County, Weaver and wife Mary, formerly the wife of Jonathan Wilson, as also one of the daughters of Henry Stacy, late of Stepney in the county of Middlesex in Great Brittain, Factor Deceased by Mary his wife also deceased, she the said Mary the daughter being also one of the sisters of Elizabeth Burge and Sarah Montgomrie thus the said Mary Mason Elizabeth Burge and Sarah Montgomerie being also sisters and co-heirs of Samuel Stacy deceased, the only son and heir at Law of the said Henry of the one part.
Hatton and Plumsted offered the land for sale in 1740, as advertised in the American Weekly Mercury. Here is how the property was described:
Beginning at a Black-Oak for a Corner standing on the Line of the Land of John Reading, deceased, from thence extending North 78 Chains and fifty Links, to a Hicory Tree for a second Corner, from thence East 71 Chains and 25 Links to a Hicory for a third Corner, thence South by Dorothy Metcalf's land 80 Chains to a fourth Corner, from thence North Westerly 80 degrees 34 Chains to a fifth Corner standing by Quechecheoke, from thence by John Reading's Land aforesaid, South 80 degrees Westerly 39 Chains to the first mentioned Corner, containing 500 Acres with the customary Allowances for Roads. Being Land surveyed unto Jonathan Wilson deceased, in Right of Mary his Wife, one of the Daughters of Henry Stacy deceased, since intermarried with George Mason, and by the said George, and Mary his Wife, conveyed to Clement Plumstead and Thomas Hatton, in Trust to sell, as by the Writings in the Hands of Charles Brockden at Philadelphia may appear. –The Pennsylvania Gazette, April 24, 1740."
Note how the Wickecheoke Creek was spelled. "Quechecheoke" was just one of many many variations on what must have been an unpronounceable Indian name.
Unfortunately, the newspapers did not publish who bought the property, and there is no record of a deed from Hatton & Plumsted.4 However, there is some reason to think, based on later deeds, that Richard Green (c.1712-1794) acquired a significant portion of the original tract, which was passed on to his son Samuel Green (c.1740-1799), who passed it on to his son Richard Green (c.1770-aft 1840).
The Salter Farm
Mr. Bush wrote:
John Salter lived on the farm west of the bridge now owned by Gardner J. Fisher and earlier by John Hampton.
John Salter was the son of James Salter and Agnes Housel. He was born on August 19, 1789, and married in 1812 to Elizabeth Wolverton, daughter of Joel Wolverton and Anne Runyan. He acquired his farm in 1830 from his father James' estate, after coming to terms with his brother Mathias Salter.
James Salter died on February 19, 1829, at his home in Alexandria Township without writing a will. He was born on December 30, 1754, the son of Richard Salter of Monmouth and Hannah Lawrence, who were married in Middletown, Monmouth Co. on June 23, 1721. James Salter owned two farms with woodlots, one in Alexandria Township where he lived, and the other, the 107-acre farm in Amwell Township where his son John lived.
James Salter acquired this farm from his wife's family. Agnes Housel was the daughter of Matthias Housel and Ann Williamson, and the granddaughter of Jacobus and Catharina Housel, German immigrants. I am certain that Agnes was related to Peter Housel (often spelt Houshelt, or variations of that) in some way. Peter was the son of Johannes and Eleanor Housel, and grandson of Casper Housel. I am pretty sure he was the owner of this land, but there were other Peter Housels of the same time period. In any case, one of the Peter Housels became possessed of 187 acres in Amwell on which he was taxed in 1780 and 1786. That last date is odd because the Peter that I mentioned died intestate in 1784. Administration was granted his widow Mary Hoppock. She and son Jacob Housel had joint ownership for a time.
Note:  After publishing this article, I discovered that an earlier article by Jonathan M. Hoppock, discussed early schools in Delaware Township, and included a description of a very early schoolhouse that once stood on the Salter farm. I suspect it was built by Jacob Housel.
Unfortunately, Jacob Housel became indebted and was taken to court. His case was heard in Chancery Court and a special master, Edward R. Bullock, was ordered to offer the property at public auction, whereupon it was purchased by Aaron Vansyckle of Bethlehem Township on April 2, 1822.5 This seems odd, but as it happens Vansyckle was married to Catharine Opdcyke, daughter of Joshua, which put him in touch with many of her Amwell relations, including the Opdycke's of Sergeant's Mills. In any case, the sale consisted of three lots, one of them being a tract of 182 acres.
On April 10, 1822, Aaron and Catharine Vansyckle sold a tract of 107.49 acres in Amwell Township to James Salter of Alexandria Township, plus a woodlot of 12.82 acres for $4,800.6 This was the farm that son John Salter came to own.
John and Elizabeth Salter had six or seven children, from 1815 to 1828, hence his interest in a local school. In 1840 John Salter was elected Surveyor of Highways for Delaware Township along with John Lambert, and was also elected to the school committee.
The house that now stands on the property is not the original one that John Salter and family first lived in. According to the application to the National Register for the Rosemont Agricultural District, the house that is there now was built in the 1860s or later. But Salter still owned the farm in 1860, so the house is most likely his second one, perhaps built to accommodate his son Joel and family.
In 1870, the census reported that John Salter was 81 years old, a farmer with land worth $8000 and personal property worth $500. Living with him were his son Joel W. Salter, 51, his wife Sarah 48, and children Ellen 22, Malcolm 18 and William B. 15. Elizabeth Wolverton Salter died on December 20, 1868, age 77. Five years later John Salter attempted suicide but survived for two days. He explained that he was "tired of life." He died on February 22, 1873, and was buried in the Rosemont Cemetery next to his wife.
John Salter's son Joel W. Salter sold the farm to John Trego Hampton sometime before 1873. Perhaps this was a contributing factor in Salter's attempted suicide. John T. Hampton died in 1898, so he must have sold the farm to Gardner J. Fisher some time before that.
The Fisher Family
Although Gardner Johnson Fisher was not one of the school trustees in 1830, he was mentioned by Mr. Bush. He was one of the seven children of Henry Hearl Fisher and Anna Johnson, born in 1849, died 1925.
His mother Anna Johnson was the daughter of William Johnson (1782-1869) and Urania Sergeant (c.1790-c.1872), which connects her with many old Hunterdon families. She was the granddaughter of Martin Johnson and Anna Trout, Loman Sergeant and Lydia Wolverton. Her first cousin, Hiram Johnson, son of George Johnson and Nancy Kugler, bought the farm of Tunis Case, which was across the road from the Salter farm.
Gardner's father, Henry Hearl Fisher, was the son of Rev. George Fisher (1768-1846) and Hannah Hiler (c.1770-c.1810). His grandfather George Fisher, was a German immigrant, born about 1740, who settled at Changewater about 1790.7
Gardner J. Fisher left the family farm as soon as he could. In the 1870 census, when Fisher was 19, he was counted in Lambertville, clerking in a store and boarding with the Grant family. In every following census up through 1910 he was a resident of Lambertville. By 1880 he had become an owner of a dry goods and grocery store, and was always a boarder, never a home-owner, changing dwellings at least every ten years. During all the years that Fisher lived in Lambertville, he must have had a tenant to manage the farm for him.
Gardner Fisher died unmarried on March 5, 1925, and is buried in the Holcombe-Riverview Cemetery, (which is surprising if Mr. Bush thought he owned the farm in 1930.) But his brother, John Wesley Fisher, had a son, Henry H. Fisher, father of the Henry H. Fisher, Jr. who also lived on that farm and died in 2008. Henry H. Fisher, Sr.'s mother was Sarah Sergeant Johnson, daughter of Richard Green Johnson and Carrie M. Wood. This Richard Green Johnson was the son of George S. Johnson, Jr. and Sarah Sergeant, granddaughter of Charles Sergeant and Sarah Green. Got that? I didn't think so. So here is a five-generation pedigree chart:
The Asher Reading Farm
This farm just west of the Salters, began as part of Peter Housel's plantation. I have not found evidence of how Peter Housel came into possession of it. His father, Johannes Housel, was purchasing property in Amwell Township in the 1720s and 30s, but his will of 1761 only left to his children the plantation on which he was living, and it appears that that property was closer to Ringoes. In any case, Peter Housel probably got ownership of the Rosemont valley property sometime after his father's death. Peter died in 1784 at a fairly young age, around 48 years old.
After Housel's death, the Rosemont property became part of his son Jacob's home farm. When Jacob Housel went into debt, this farm was bought by Aaron Vansyckle, Esq. along with the farm that became home to John Salter. Vansyckle divided the Rosemont property and sold this farm to Jacob Housel's son Wilson Housel. Wilson Housel was not interested in living there. He ran the mill in Milford, so on Sept. 15, 1826, he and wife Abigail Lowrey sold the farm of 72.22 acres plus a tract of 18.21 acres to Asher Reading for $859.08.8
Asher Reading, 1784-1864, was the son of William Reading and Ann Emley. His brother William married Elizabeth Sergeant, daughter of Charles and Sarah Sergeant, and lived in the small house next to the Covered Bridge.9 When he bought the farm on the north side of the road, Asher Reading was living across the road from this property in the house close to the road. He had purchase it on May 10, 1809, a year after selling his rights in his father's plantation to his brother Elisha Reading. He probably used the proceeds from that sale to purchase the 62.5 acres on the south side of the road from Rittenhouse Tavern (Rosemont) to Skunk Town (Sergeantsville). He bought it from Isaac Servis, son-in-law of Jacob Case, dec'd.10 Asher was newly married when he bought the farm. On March 12, 1808, Asher Reading married Margaret Wolverton, daughter of John Wolverton and Rachel Quinby.
One reason for believing that Asher Reading lived on the old Case property rather than the farm he bought from Vansyckle is that Mr. Bush wrote that "Asher Reading owned the Asa Cronce farm now owned by Oscar B. Hann." Bush was referring to the farm on the south side of the road.
Five years before becoming a trustee of Green Sergeant School, Asher Reading was chosen to be constable for Amwell Township and Hunterdon County coroner in 1825 and 1826. He ran for this office as a Republican, but thanks to Andrew Jackson, it wasn't long before Democrats took over, ending Reading's civil service career. There is little other notice of him in the Hunterdon Gazette, although in 1859, under items connected with the Hunterdon County Agricultural Fair, he was awarded a prize for "the Best roadster." In 1859 the term "roadster" did not mean an automobile, but rather "a business horse, mare or gelding."
Asher Reading died in 1864 at the age of 79. His wife outlived him by nearly twenty years. A notice in the Hunterdon Republican dated April 5, 1880 read: "Mrs. Margaret Reading, living with her son-in-law, Asa E. Cronce, near Rosemont, celebrated her 95th birthday on March 17, 1883. She has 42 grandchildren, 51 great grandchildren and 4 great great grandchildren, and most are still living." I should mention that she had eight children, and they all married. Margaret Wolverton Reading died on March 26, 1883, age 96. Sadly, she had outlived her daughter Margaret Cronce who died in 1871, only 43 years old.
Asher Reading wrote his will sometime in 1861. I mean that literally—he wrote his own will, and did not trouble himself to have someone check it for spelling. It made interesting reading. He left to his daughter Margaret Cronce the 62.5 acres on the south side of the road, and to his son Samuel W. Reading he left the farm on the north side of the road. The will was recorded February 5, 1864.
Samuel Wolverton Reading
This beautiful farm has become very well-known thanks to the lovely red barn with the white cupola, pictured here. I have often wondered who built it. If I knew exactly when it was built, I would be able to say, but apparently it could have been built anytime between 1850 and 1900. That being the case, considering that Asher Reading was 79 when he died in 1864, I suspect it was his son Samuel Wolverton Reading.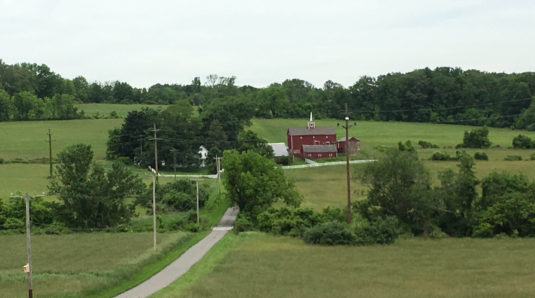 Reading was born on Sept. 18, 1822, so he was certainly ready [sorry for the pun] for some schooling by 1830. Asher & Margaret Reading's eight children were born between 1809 and 1828. Probably only the youngest four children would have been of school age in 1830.
In 1845 Samuel W. Reading married Catherine H. Bodine, daughter of Benjamin Bodine and Catharine Ent, who lived on a large farm on Route 523 not far from Stockton. They were members of the Sandy Ridge Baptist Church, and were buried in the cemetery there; perhaps the Reading family worshipped there also. I do wonder how Samuel and Catherine became acquainted.
The couple was counted in the 1850 census, with Samuel being a 27-year-old farmer, wife Catharine 28, and three young children—Martha, Asher and Mary. Living with them was Samuel Housel 29, a carriage maker, and wife Rachel. I have little doubt that Samuel Housel was related in some way to the original Housels—Peter and son Jacob. But I have not had any luck connecting him. He was born in 1821, fought in the Civil War, married Rachel Kerr in 1849, and died in 1863. He and Rachel, who died in 1896, are buried in the Mount Hope Cemetery in Lambertville.
Samuel Reading's wife Catherine, mother of five children, died at the very young age of 29, on January 11, 1855. The youngest child, named Augustus Reading, died an infant on March 20, 1855. Four years later, on January 15, 1859, Samuel W. Reading married again, his new wife being LaRiene (Lorraine) Cline, daughter of John and Margaret Cline. She was 24 years old when they married, and Samuel was 37. They had one child, Kensyl C. Reading, born November 18, 1863.11
The Beers Atlas of 1873 shows that the Reading farm was owned by the "Estate of S. W. Reading." This is because Samuel W. Reading died at the age of 50 on March 27, 1873. His death was occasioned by a fatal accident which Mr. Bush described toward the end of his article on Sergeant's Mills. He wrote:
In the spring of 1873, as Samuel W. Reading was driving his team hitched to the hearse of Samuel Hartpence, then the undertaker in Rosemont, the team ran away on "Cherry Hill," near the farm of the late Edward Hillier. The hearse was demolished and both men were seriously injured. Hartpence ultimately recovered, but Reading died after a few days of suffering at his home between the covered bridge and Rosemont.12
The Hunterdon Democrat published Samuel Reading's obituary on April 1, 1873, adding a little more detail:
"Fatal Runaway Accident. On Wednesday morning last, Mr. Samuel R. [sic] Reading, of Delaware Township, was seated with Mr. Samuel Hartpence, the Rosemont undertaker, on a hearse, and were on their way to attend a funeral at Locktown. While going along, the young and spirited team they were driving took fright from the breaking of a spring of the vehicle and ran away, and coming in contact with a snow bank, both men were thrown from the hearse … Mr. Hartpence escaped with a few bruises, but Mr. Reading, besides other injuries sustained a fracture of the skull, from the effects of which he died on Thursday morning."
The death of Samuel Reading left his widow with two nearly grown children at home, son Asher age 25 (he would marry Lucy K. Reading on October 16, 1873) and daughter Mary age 23 (she would marry Geo. W. Fulper on December 30, 1874). Daughter Martha had married William Lair in 1869 and daughter Sybilla had married Frank P. Wagner on January 30, 1873.
The widow was not content to remain alone. Only one year after her husband died she married her neighbor, Asa E. Cronce. Asa Cronce had been a widower since 1871, when first wife, Margaret Reading, died. She was the daughter of Asher and Margaret Reading, which means that Asa and LaReine's previous spouses had been siblings.
As mentioned before, Asa Cronce had taken possession of the farm on the south side of the Rosemont-Sergeantsville Road after the death of Asher Reading, Sr. Perhaps the reason that LaReine remarried so quickly was that she needed a new home.
On March 28, 1874, LaReine Reading was obliged to quit claim her rights in the farm where she was living. This was the result of a lawsuit that ended up in the NJ Court of Chancery, involving the heirs of Asher Reading, probably disputing LaReine's right to remain on the farm. The court ordered Special Master Edward Bullock to put the farm up for sale at public auction, which he did on November 12, 1873, at which time, Rachel Reading Green, sister of Samuel W. Reading, bid a whopping $7,654.44 for a farm of 83.02 acres.13 The deed did not identify who all the plaintiffs were, but I suspect Rachel was one of them.
The marriage of LaReine Reading and As Cronce may have been one of convenience, but it was a successful one. The couple remained together until Asa's death in 1902 at age 81. LaReine died the next year, at age 70. The two are buried together in the Rosemont Cemetery.
As for Rachel Wolverton Reading Green, she had married Manuel Green in 1846; by 1873 when she bought the farm she was 47 years old, and mother of eight children, living at Headquarters. Her husband Manuel was a blacksmith and miller. Clearly Rachel did not buy the farm for her family. She probably represented the other heirs of Asher Reading. Of her seven siblings, only three of them were alive in 1873: Mary Reading (1809-1876, married John Golden, had 8 children); John W. Reading (1812-1898, married to Lucinda Gordon, had 4 children); Kensyl Reading (1812-1900, married to Hannah Risler, had 6 children), along with Rachel and her 8 children. The other siblings who predeceased their father also had many children.
Rachel did not sell the property until 1909, when she was a widow living in Kingwood Township. This surprises me—I thought she would sell the farm and divide the proceeds with the heirs of Asher Reading. Who exactly was living on the farm from 1873 to 1909 I cannot say. Perhaps it was one of her children—more research on that question is needed.
It could not have been the buyer, Charles I. Matthews, because he was not born until 1877, and did not marry until 1910, after he had purchased the farm.14 His wife was Hannah H. Fisher, daughter of John W. Fisher and Phyllis Ann Hullay and sister of Henry H. Fisher (1881-1955), who was living next door on the old Salter farm.
Impending Disaster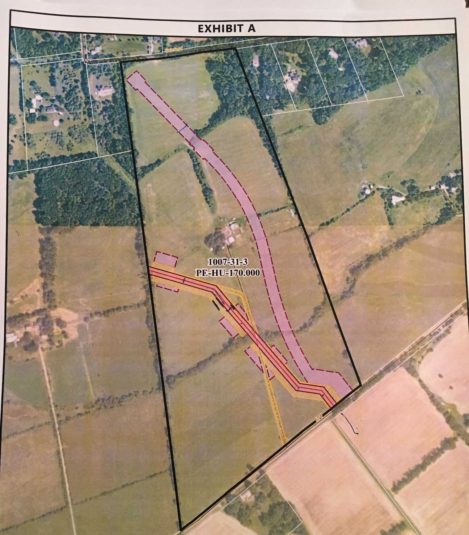 I have labored some over this particular property not only because it is one of the most beautiful farms in the Township and in Hunterdon County, and even in the State of New Jersey, but because the farm is threatened. It will no longer be so beautiful if PennEast gets its way.
As part of its plan to burrow through the county, the Reading farm will be one of its greatest victims, as you can see from the map.
Not only will the pipeline run very close to that beautiful barn, but a staging area is also planned for the property, which involves planting large trucks and heavy equipment right in front of the house. The damage this will do is horrendous. It is hard to imagine why this would even be contemplated, but when the bottom line is all that matters, collateral damage becomes insignificant. It not insignificant to us who know and love this property.
Footnotes: