This series of posts has been based on an article by Egbert T. Bush called "Sergeant's Mills Once a Prosperous Place." My previous post dealt with two of the four farms located in the Rosemont valley, on the north side of the road from Rittenhouse's Tavern (Rosemont) to Skunk Town (Sergeantsville), otherwise known as Route 604. This post will describe the owner of the third farm, and include the rest of Mr. Bush's article.
When naming trustees of Green Sergeant school in 1830, Mr. Bush included James Snyder. He wrote:
James Snyder at one time lived on the William Brown farm near the sawmill. In 1816 he bought of Richard Green a farm of 124 acres adjoining lands of Abraham Williamson, John Wolverton and Jacob Housel, and touching the road "leading from Skunktown to Rittenhouse's tavern." This farm had been devised to Richard Green by will of Samuel Green in 1797.
The Green Family
Richard Green, who sold the farm to James Snyder, was born about 1770 to Samuel Green and Elizabeth Waterhouse.1 On January 28, 1797, Samuel Green bequeathed to his son Richard the homestead plantation of 164 acres bordering Isaac & Lott Rittenhouse, Tunis Case, Jacob Housel, William Marsh, and John Woolverton. He named Richard executor of his estate along with his sons-in-law, Charles Sergeant and John Hoagland.
This property had originally belonged to the Wolvertons. I have not yet found a record of Samuel's purchase. It may have been bought by his father, Richard Green, who died intestate in 1794. Richard Green's estate was administered by Henry Waterhouse of Kingwood, who had married Richard's daughter Elizabeth. Richard Green's son Samuel was married to Elizabeth Waterhouse, sister of Henry Waterhouse. This suggests to me that Richard Green, Sr. may have been the one to purchase the property later owned by James Snyder.
Samuel Green's son Richard was born about 1770, and married first an Elizabeth, surname unknown. They had a daughter Elizabeth born in 1794. Elizabeth Green died before 1796 when Richard Green married his second wife, Mary (Polly) Wood. They had five children, from about 1800 to 1816.
On June 11, 1809, Richard and Mary Green sold 8 acres and 32 acres out of the 164 acres inherited from his father to John Rittenhouse. Rittenhouse later sold the lots to Maurice McConnell. This left a residue of 124+ acres which the Greens sold to James Snyder on September 8, 1816. The farm bordered Abraham Williamson, John Wolverton, and Jacob Housel.2 The next day, Richard Green bought a 96-acre property from Isaac Larew. This had formerly belonged to William Marsh and was located just north of the valley, along Sanford Road.
James Snyder Esq.
James Snyder Esq. was the most prominent of the men who lived in the Rosemont Valley. He was born about 1786 to Henry Snyder, who may have emigrated from Germany in June 1758, married Mary Dusenberry (1762-1846), and died in 1842. He was buried in the Old Bethlehem Presbyterian Churchyard (according to Find-a-Grave). The earliest record I have of James is his marriage on May 1, 1813 to Elizabeth Reed, daughter of Capt. Asa Reed and Elizabeth Bray. The Reeds lived on the farm in Rosemont now owned by the Cane family. Snyder's first purchase of real estate was a small lot in Raven Rock in 1814, but he and his wife sold it two years later. In 1815, James Snyder acted as administrator of his father-in-law's estate, along with brother-in-law Jesse C. Reed.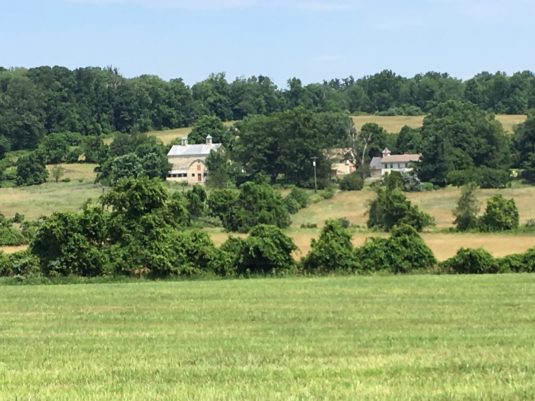 As Mr. Bush wrote, James Snyder came into possession of his farm on the Rosemont-Sergeantsville Road in 1816. I wish I knew what James Snyder was doing during the first years after moving to his new home. He was off the radar until about ten years later when he got a political appointment. In 1825, Snyder was appointed a Justice by the Joint Meeting of the State Legislature. He was reappointed in 1830, and in 1831 was nominated for Freeholder of Hunterdon County. That same year he was elected to the Amwell (not yet Delaware Twp.) Town Committee. In 1832, he was named Collector for Amwell Township. At the Hunterdon Democratic Meeting held in Flemington on May 6, 1834, he was appointed to a committee from Amwell to attend the Democratic State Convention in Trenton. So Snyder was a follower of Andrew Jackson, who had been elected to his second term in 1832. The other big event in 1834 was the opening of the D&R Canal.
Snyder's wife Elizabeth died the next year, on January 16, 1835, age 39, after having given birth to five children: Louisa Snyder (m. Enoch Ent); Garner B. Snyder; Charles B. Snyder (m. Rachel M. Cronce); Wilson Smith Snyder (m. Mary S. Wilson) and Elizabeth Snyder (m. George B. Heath).
Despite this loss, James Snyder's political career proceeded apace. He was reappointed Justice in 1836. In 1837 he was one of many nominated for a seat in the New Jersey Assembly. In April 1838 at the first ever town meeting for newly created Delaware Township, Snyder was named a Hunterdon County Freeholder along with James J. Fisher. In October 1838, he was nominated again for the Assembly, and this time won the election. According to the Hunterdon Gazette, out of five representatives from Hunterdon County, James Snyder was only outpolled by Philip Hiler, Snyder getting 2600 votes to Hiler's 2602 votes. Being a member of the Assembly did not prevent Snyder from serving as Freeholder at the same time. He also won re-election to the Freeholder Board from 1839 through 1843.
In 1839, Snyder was nominated again by the Democratic Party for the Assembly but instead he was elected to the Governor's Council, the 19th-century equivalent of the State Senate. The Hunterdon Gazette listed him as a candidate for "The Loco Foco Ticket," which was a disparaging term used by Whigs for Andrew Jackson's party.
The Gazette showed that Snyder was the only candidate for Council, and won Hunterdon County with 2226 votes. And again, he was the Democratic Freeholder for Delaware Township, while James J. Fisher was the Whig Freeholder. In fact, Snyder was Director of the Freeholder Board in 1843. He also served on the Delaware Township School Committee with A. B. Chamberlin and William Wilson.
The Gazette did not list Snyder for the Council in 1840. Instead it just listed the "Regular Ticket" (meaning James Snyder) which won 2152 votes, compared to John Lilly of Lambertville who won 2112 votes. Snyder was still Freeholder from Delaware Township; the other Freeholder was Abraham Conover. Snyder also served on the Township School Committee with A. B. Chamberlin and John Lambert.
However, 1840 was the last year of Snyder's legislative career. Later in 1840, the Whig Party won the Presidential election, and took over the Assembly from the Democrats. From 1841 on, Snyder limited himself to county and local offices.
James Snyder married his second wife Lucy B. Cronce on March 21, 1840. They were married by the Methodist preacher, Rev. Amos Merselles; notice of the marriage in the Democrat spelled her name as 'Craunce.' She had four children: John S. Snyder (c.1843-1939); Mary Ann Snyder (m. James W. Johnson); James F. Snyder and Alfred Reed Snyder. Lucy Cronce Snyder lived to be 87, dying in 1894, twenty years after her husband died. She was most likely the daughter of John Cronce who died intestate in 1816. However, a deed to his heirs in 1817 named George, Henry, John Jr., Adam, William and Elizabeth, but no Lucy.3
In 1847, James Snyder became a member of the Delaware Township Committee, and continued as such through 1849. He also served as a Justice of the Peace, and Judge of Election. He served as Sheriff of Hunterdon County in 1850, and in 1853 became a commissioner of the Lumberville Delaware Bridge Co. Subscriptions were available at Snyder's office in Flemington.
Just before the Civil War broke out, when James Snyder was around 74 years old, he and wife Lucy sold 88.92 acres in the Rosemont valley to George H. Allen, a Flemington banker, then living in Delaware Township.4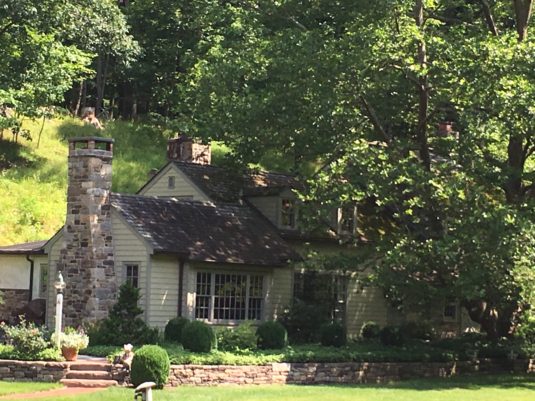 At the same time, the Snyders purchased a couple lots a short distance south of Sergeant's Mill, one from William H. and Jane Larue of 7.31 acres on the east side of Lower Creek Road, the other from Job and Catherine Wolverton of 7.12 acres.5 The lot sold by Wm. & Jane Larue included a very old stone house originally owned by Moses Rittenhouse and wife Mary Ringo in the 18th century. William H. Larue had obtained the property from his father Uriah Larue in 1859, who had gotten it in 1850 from Westley J. and Mary Rockafellar, who bought it from Job and Catharine Wolverton in 1845. The 1860 Map of Philadelphia and Environs shows "J. Snyder" living there.
During the Civil War, Snyder served on a committee to raise funds to pay volunteers to substitute for draftees to the Union Army. This was the result of a meeting held by "the inhabitants of the Township of Delaware, who are in favor of the Union and the constitution," held in "Holcombe's Hall, in Sergeantsville" on July 30th.6
"Pursuant to notice, the inhabitants of the Township of Delaware, who are in favor of the Union and the constitution, met in Holcombe's Hall, in Sergeantsville, on the evening of the 30th ult. The object of the meeting was to encourage enlistments and solicit aid for volunteers."
After the war, Snyder seems to have retired from public life. I found no more offices for him in the Hunterdon Gazette or Hunterdon Republican. He had certainly done more than his share. He also appears to have left his home on Lower Creek Road; the Beers Atlas of Hunterdon County, published in 1873, lists a "W. F. Bowne" at that location, rather than J. Snyder. Perhaps in his old age he moved in with one of his children.7
James Snyder, Esq. died on June 14, 1874 at the age of 88, and was buried in the Rosemont Cemetery. Both the Hunterdon Democrat and Republican published his obituary. The Democrat wrote
"The Hon. James Snyder, who served this county as member of Assembly and Senate some 25 years ago, died at his residence in Delaware township on the 14th inst., at an advanced age. He was also Sheriff of the county many years ago."
The Republican's obituary was slightly different:
"Death at his residence in Delaware Township, 14 June 1874. James Snyder, Esq., aged 89 years. He had served in the Assembly and the Senate about 24 years ago. He was then elected Sheriff. He was the father of Rev. G. R. Snyder of the New Jersey M. E. Conference and was universally respected."
Oddly enough, considering this flattering obituary, there is no estate recorded for James Snyder in the Hunterdon Surrogate's Court.8
The Rest of Mr. Bush's Article
Here is the rest of the Bush article following the paragraph above about James Snyder as a trustee of Green Sergeant's School, with some of my comments:
Jonas Thatcher owned the farm in Sergeantsville now owned by Lewis C. Bird, on which farm may still be found the early Thatcher burying ground. In 1824 Edward Welsted, Sheriff, conveyed to Jonas Thatcher a farm running down to the road "leading from Center Bridge to Skunktown," and touching his other lands there. David Rockafellar lived on the Henry R. McManners farm, now owned by Jay Aten. Mahlon Smith, lay Judge of the Hunterdon County Court, lived in Pine Hill.
The other trustees named by Mr. Bush, Jonas Thatcher, David Rockafellar, Mahlon Smith and John Gordon, cannot be said to have lived near Sergeant's Mill. Jonas Thatcher lived in Sergeantsville.9 The farm that Mr. Bush refers to that Thatcher bought in 1824 belonged to his son-in-law William Rockafellar, who failed to pay the mortgage he had given to Jonas Thatcher. The property of 99.29 acres was ordered to be sold, and Thatcher was the highest bidder.10 I do not think Thatcher abandoned his home property in the center of Sergeantsville; he may have allowed his daughter Rachel and husband Wm. Rockafellar to continue living there.
The other trustees, David Rockafellar and Mahlon Smith, lived further away, Rockafellar on a farm on Route 523 a little ways north of Covered Bridge Road, and Smith on Pine Hill Road. Clearly, the area covered by the Green Sergeant School was quite large, consisting of most of central Delaware Township. I will skip over these men, but will give a little attention to John Gordon, who, as Mr. Bush wrote, "lived on the hill farm now owned by his granddaughter, Sarah E. Fisher." That is the property located on the Locktown-Sergeantsville Road near Reading Road.
John Gordon was Sarah E. Fisher's grandfather. He was born in 1786 to Agesilaus Gordon and Mary Opdycke, making him the grandson of Thomas Gordon, Sr., Margaret Olphant, John Opdycke Esq. and Margaret Green. Agesilaus Gordon, who ran the tavern in Sergeantsville in 1780, died intestate in 1815. His son John lived to be 79, dying in 1865. His wife was Sarah Fulper, daughter of Jacob Fulper and Catharine Hoppock. She died one year after John Gordon did. Their farm on the Locktown-Sergeantsville Road was originally part of the old tract of land bought by Thomas Gordon in 1722.11
John and Sarah Gordon had only one child, a daughter named Lucinda, who was born in 1817. She married John Wolverton Reading, son of the Asher Reading I have written about in the previous article. They married in 1839 and had four children, one of them being daughter Sarah Elizabeth, born in 1852. She married Charles T. Fisher in 1873. Surprisingly, Charles Fisher did not belong to the Fisher clan that Gardner John Fisher belonged to. The ancestor of Charles Fisher was Tunis Fisher.
Job Wolverton lived on the farm now owned by Mahlon Corson. He was the grandfather of the late Dr. William D. Wolverton, of the U.S.A., and his two sisters, Mrs. Godown and Mrs. Voorhees, now living on Sandy Ridge. Garrett Wilson, the grantor, owned the Butterfoss farm, then including the lands conveyed.
This single paragraph needs a lot of unpacking, as they say. First of all, the farm of Job Wolverton was on the Covered Bridge Road, now owned by Roger and Fredericka Harris. Job Wolverton was born to Gabriel Wolverton and Catharine McMurphy in 1788. In 1808 he married Anna Housel, daughter of John and Catharine. They had seven children. Anna died in 1826, and two years later, Job Wolverton married Catharine Servis, and had four more children. His grandson William D. Wolverton was a surgeon in the Civil War and had an illustrious career, but spent very little of his life in Delaware Twp. His sister Ann married William T. Godown in 1852, and his sister Emma married Judson Voorhees. The father of these three (and also the son of Job and Anna Wolverton) was Andrew Wolverton (c.1809-1881) who married Rebecca Dilts in 1829.
Some Tragedies of the Community

This community has had its full share of painful tragedies. John Salter, after growing old and despondent, took his own life at the home before mentioned; and the demented wife of John Case, son of Tunis, who lived on the Hiram Johnson farm, sought relief in the same way.12
The John Case whose wife was "demented" escapes me. The Hiram Johnson farm was originally the farm of Capt. Tunis Case, who had a son John, born about 1754. I believe he was the John Case, Sr. who appears in the Hunterdon Gazette of 1837 and 1838, who was selling his farm in Amwell and most of his personal possessions. This was probably in preparation for his departure from Hunterdon County to Indiana in 1838. His wife was Elizabeth Huff, who may have been the unhappy wife who "sought relief" as John Salter did. More research is needed, but the Gazette is not very informative.
The death of Samuel W. Reading, was discussed in the previous post. The next tragedy was truly a terrible one:
On the night of December 7, 1875, Izer Rake and Joseph Sherman took refuge in the Sergeant school-house. Whether they meant to spend the night there, or to tarry only for a short rest and a little relief from the cold, will never be known. Evidently they fell asleep in the genial warmth of the stove, from which the pipe had somehow been disconnected. In the morning both men were found dead by suffocation. Both were in the prime of life, and each left a wife and young family.
Izer Rake was only 38 when he died. He was the son of Elias M. Rake and Catharine Wolverton, Catharine being the daughter of John Wolverton and Elizabeth Roads. John Wolverton was the brother of Job Wolverton, previously mentioned. Izer G. Rake was married to Amie Buchanan, daughter of John Buchanan and Catharine Williamson. They married in 1856 and had ten children in only 19 years. Amie was heavily burdened following the death of her husband in 1875. In 1887, she married her second husband, William Swallow who had experienced his own troubles. According to the Hunterdon Democrat, in July 1873,
"While some men were mowing grass in a field of Mr. William Swallow, near Sand Brook, a flint stone was struck by a scythe. It emitted fire and ignited the dry grass, burning the entire field and extending to the woods adjoining and burning the outer edge. The fire was only extinguished by the rain which came in the evening. This is the first instance of that kind that has ever come to our knowledge"
Swallow's next tragedy was the death of his first wife, Mary Moore, in 1886.
Izer Rake's companion on the night he died, Joseph Sherman, was the son of Francis Sherman and Mary Maxwell, and died at the age of 51. He had married Susan C. Howell in 1852. They only had two children, and only one of them survived to adulthood, daughter Emma Alice Sherman, who married Dewitt Snyder. Susan Howell Sherman was the daughter of Richard Howell and Sarah Nevius. (I have not figured out how Richard Howell connects with the extensive Howell family of Hunterdon County.) Following the death of Joseph Sherman, his widow Susan did not remarry. In 1900 she was the owner of a farm in Delaware Township, and son-in-law Dewitt Snyder was doing the farmwork. She died in 1904. Both she and Joseph Sherman are buried in the Sandy Ridge Cemetery.
John W. Reading, an aged farmer living on the John Gordon farm, now owned by Reading's daughter, Sarah E. Fisher, was killed by a runaway of his team in Sergeantsville, October 19, 1898. He was a brother to the Samuel Reading mentioned in the earlier tragedy.

January 26, 1894, Lewis Snyder, who lived on the John Bray farm, had a runaway in which he was killed by being thrown from a load of sheaves.
I believe this was the son of James Snyder, Esq. and Elizabeth Reed. Lewis Snyder was born about 1824. His obituary in the Hunterdon Republican was published on January 31, 1894:
Accidental Death in Delaware Tp. Lewis Snyder, aged about 70 years. While hauling oats from a barrack to a barn, the team ran away, throwing him from the load to the ground with such force as to render him unconscious. He died about an hour later. He was a farmer and leaves a wife, Catharine, of Delaware Tp.
Returning to Bush's list of tragedies:
About 20 years ago, a lad of 15, son of John R. Miller, who lived with Charles Everitt, being frightened by a meaningless threat of arrest for some trivial offense, took a gun and, by the aid of a string tied to the trigger and to a rail in the fence, shot himself to death in the J. W. Allen lane near the school-house. O, a careless word, fraught with a world of woe!13
A Fine Old Settlement

Portrait of Richard Green Johnson

But this hamlet life has not been chiefly tragedy. It has been and is a fine old settlement, with many pleasant things remaining. One pleasant thing to note is that the old mansion house is now occupied by a great-great-grandson of the original Sergeant here. Chester Johnson, the present owner, is a son of Richard Green Johnson, who owned it before him, and whose mother was a daughter of Green Sergeant. Chester's children are therefore the sixth generation of Sergeant blood to occupy that house—an unusual record for the present time.
Even more unusual, Chester Johnson's grandson Alan Johnson has lived in the house for many years and now his son is living there. That makes eight generations. Mr. Bush wrote his article in 1930. It was not long after this that the mill was demolished. Chester Johnson had thought seriously of restoring the mill, which, as Mr. Bush observed, had badly deteriorated. But the decision was put it off, and eventually Johnson was dissuaded by his family. The mill was taken down and in the 1950s the foundation was sold to Lloyd Wescott to use in the construction of his swimming pool.14
Mr. Bush continues:
Like most old hamlets, this one has its interesting traditions. One such is of old-time slaves that were given quarters in the basement of the mansion house. Being told that one of these slaves was buried in the apple orchard and that his grave was one marked by a stone, Charles Opdyke, who was conducting me over the grounds, enthusiastically agreed to help in a hunt for that stone. After much looking, we located it at the far end of the plot, beyond what had been cultivated ground.

A small but shapely stone it is, firmly set to commemorate the humble sleeper below. By careful inspection, the letters "R W" were found crudely cut into the top of the stone, no doubt by one who had kindly feelings for the deceased, without regard to "race, color or previous condition of servitude." Then arose a natural wondering: What had they called the negro? But I took the liberty to say, "Rondo or whatever they called the faithful negro."
It is my guess that the gravestone was carved not for "Rondo," but for the slave Robbin who was bequeathed by John Opdycke to his son Samuel way back in 1777. Although this comment by Mr. Bush makes me wince, it must be remembered that Bush was writing in 1930, when racism was even more widespread than today, and taken for granted most everyone. Allowing that Mr. Bush's attempts at respect seem a little inept now, we must acknowledge that they were well meant.
I have done what I could to provide information on all of the people Mr. Bush mentioned in his article, but in some cases my knowledge of them is sketchy or non-existent, so I hope that any of their descendants who happen to read this will make allowances and add information or correct what I have written in the comments section.
The next post will turn to the east of Sergeant's Mills and describe a very unusual school located on Reading Road in the early 1830s.
Footnotes: