part eleven of The Route Not Taken
My previous article described the Carman homestead and the farm of Judiah Higgins, where the Carman Family Burying Ground is located. However, I failed to finish the history of the old Carman plantation. That is because it came to be owned by the next landowner along the railroad route:  Aaron Carman Hoagland, the son of Mary Carman and Andrew Hoagland.
Aaron C. Hoagland & Susan Rockafellar
Aaron Carman Hoagland was born in 1805, the first of four children, to Andrew Hoagland and Mary Carman. On December 24, 1829 he married Susan Rockafellow (1807-1870), daughter of Jacob Bellis Rockafellar and Charity Snyder.1
One year before his marriage, Aaron C. Hoagland joined with his grandfather Elijah Carman to purchase part of the Jediah Higgins tract. This was identified as Lot 5 in the division of Jediah Higgins' real estate, amounting to 78 acres. It was conveyed to them by the widow of Judiah Higgins, Jr. on January 22, 1828 for $1200.2
It is unusual to find a land purchase by a grandfather-grandson partnership. In this case especially so because Aaron's father Andrew Hoagland was very much alive at the time. As it turned out, the purchase was also important for Aaron because that is where he built his home and with his wife Susan raised a family of eight children, born from 1830 to 1846. Aaron C. Hoagland's homestead appears on the railroad survey map (above) as well as the 1850 Raritan Township map.
After Elijah Carman died in 1841, his daughter Mary inherited his share of the 78 acres and along with husband Andrew Hoagland conveyed it to their son Aaron on January 3, 1842, giving Aaron a complete title to the property.3
The Old Route to 523
As part of the discussion of landowners along the railroad route to Flemington, we cannot ignore the history associated with Johanna Farms Road, which did not come to have that name until well into the 20th century. The road was in fact a fairly old one, and in 1851 looked quite different from the way it did when Johanna Farms came into business.
As the Cornell Map of 1851 shows, at that time, the road branched off to the northwest, paralleling what the map labeled as "Walnut Brook," and connecting with Route 523 opposite properties owned by "J. Hoagland" and "E. Hoagland," (James and Elijah Hoagland, brothers of Aaron C. Hoagland). It is also shown in the Raritan Township Map of 1850, aligning exactly with the Brook.
The Creek and the road ran through the tract of land sold by Richard and Elizabeth Hill to Andrew Hoagland in 1810. No landowners are shown along the brook. Could it be that the original road or path ran north from Hampton Corner Road up to the creek, then along the creek to end at Route 523? That stretch of road vanished by the time that county maps for 1860 and 1873 were published, but in the 20th century it was restored by a developer and is now known as Autumn Leaf Blvd. Perhaps one reason it vanished was that until the development was built there were no houses along the old road.
The Hoagland Sawmill
The creek with the disappearing road led to a sawmill, which was situated on a 15-acre lot that Mary Hoagland and husband Andrew sold to their son Aaron C. Hoagland in 1842 for $315.4 The lot bordered other land of Aaron Hoagland's as well as the Poor House Farm and the farm of Samuel M. Higgins.5 Elijah Carman, Mary's father, had purchased the lot in 1822 from executors of John Aller's estate.6 The sawmill appears on the Cornell map, shown above.
The existence of this sawmill was recognized in a notice in the Hunterdon Republican for August 15, 1883:  "There is a saw mill on the farm of the late Aaron C. Hoagland, near Copper Hill, that was built in 1791." If it was built in 1791, and presumably that information was provided by Aaron Hoagland, then it dated back to his grandfather Elijah Carman.
This transfer was completed on June 2, 1842 when Aaron's grandmother, Jane Carman, who was by then about 82 years old, sold her rights in the saw mill property to Aaron in exchange for a life estate in "certain lots in Raritan bordering Thatcher Prall) of 67 acres."7 That property was the part of the old Carman farm on the west side of Johanna Farms Road. The deed described the sawmill lot as "the east end of the homestead plantation of Elijah Carman dec'd which he bequeathed to his wife Jane Carman," in his will dated Feb 1, 1806.
As mentioned before, the planned route of the Railroad would cross the farm of Aaron C. Hoagland, not very far north of his house and farm buildings. How did he feel about this? As a farmer, he could not have been keen to have a rail line bisecting his fields. And it's not as if the train was going to stop for him to load his peach trees and peaches. Surprisingly, he was not included in Isaac Cramer's agricultural survey. However, he was mentioned by Edgar T. Bush in his article The Delaware Flemington Railroad Company when writing about engineer Slaymaker's list of landowners, which included distances the line would travel across their properties:
"Some of these names appear twice and some three times, showing that lands owned by them were touched at different points on the route, a separate amount being calculated for each time the name was given. The amounts taken ran from one-hundredth of an acre taken from Alex Higgins to 8.97 acres taken from Aaron C. Hoagland, through whose farm the route extended for more than a mile."
In 1840, Hoagland got active in Whig politics and worked to get Harrison and Tyler elected. Later on, he became involved with the Hunterdon County Temperance Society and his local vigilant society.
Hoagland was a man concerned with the education of his children, so he became a school trustee for the Neshanic School, which can be seen on the Raritan Township map of 1850 on the east side of Route 31 at its intersection with Kuhl Road. In 1839, Hoagland, together with two other trustees, Lambert Bosenbury and Leonard P. Kuhl, advertised for the services of a school teacher in the Hunterdon Gazette. They wanted
A MAN qualified to teach the ordinary branches of an English education, such as Reading, Writing, Arithmetic, English Grammar, Geography, &c., and capable of governing a school, . . . He must possess unquestionable recommendations. None others need apply.

P.S.  A Female Teacher possessing the above qualifications would find encouragement.
In 1853, Hoagland purchased a relatively small lot of 16.29 acres from his neighbor to the north, John Schenck Higgins, owner of the old Higgins farmstead. The lot touched the corner of Johanna Farms Road where it turned sharply east (or south, depending on the direction one was headed). Hoagland paid a considerable amount of money for this lot that had no house on it–$1547.55 or $95/acre, much higher than the going rate. Hoagland must have felt this was an important lot to have as it connected his own farm on the north side of Johanna Farms Road with his mother's farm on the west side.
The years following the Civil War were apparently difficult ones. In 1865, Hoagland's income tax bill came to $56.25. The next year it was $42.95. In 1868 it was only $35.35 and in 1869 had dropped to $25.20. To add to Hoagland's misery, on July 17, 1870, his wife Susan died at the age of 63. She was buried in the Presbyterian Cemetery in Flemington.8
In 1873, Beers surveyed property owners and Slaymaker made his list of landowners. "Mrs. Hoagland" appeared on the Beers Atlas but was eliminated from Slaymaker's map. Mary Carman Hoagland died on Sept. 19, 1873, age 88, and was buried in the Flemington Presbyterian Cemetery with her daughter in law. Presumably, Slaymaker was uncertain about who owned Mary Hoagland's farm after her death.
The 1880 census shows that the Hoagland household was limited to male residents: Aaron Hoagland 74 (1806) farmer; son Peter 43 (1837) single, "servant"; son George 40 (1840) widowed, boarder; grandson James Jr. 17 (1863) "(This boy keeps house for the family)"; grandson Robert S. 8 (1871). Despite his age, only Aaron was employed, leaving us to wonder if his sons were disabled. And relying on a 17-year-old boy to keep house seems a little desperate.
There is some reason to think that by this time Aaron Hoagland had moved to the old homestead property on the west side of Johanna Farms Road, while the farm on the north of the road was occupied by tenant George Cronce, who was also listed in the 1880 census, on the same page:  George Cronce 44 (1836) farmer, wife Rachel 39, sons Alexander G. 16, Harry 13 (1857); daughters Annie 11 and Mary 5; servant John Buck 18.
But Hoagland had too many houses. In December 1881, he advertised in the Hunterdon republican that he had "houses for rent near his residence." The ad was repeated on January 19, 1882 and on March 15, 1883.
By 1882, Hoagland was 76 years old and was "intending to give up his interest in farming." He advertised that he would "sell at his residence near Copper Hill, his Live Stock, Farming Implements and Household Goods."
Hoagland's tenant, George W. Cronce, had an unpleasant experience in February 1883. The Hunterdon Republican reported:
Highway Robbery. George W. Cronce, who lives on the farm of Aaron C. Hoagland in Raritan Tp., who works the farm and collects fertilizers, was out collecting and on his way home, near Croton, he was accosted by 4 men in a wagon, who robbed him of $460 in money and a couple of notes. One of George W. Ellicott for $279 and one of B. Hockenbury, for $30. He was unable to recognize any of his assailants.
Aaron C. Hoagland died at the age of 77 on May 14, 1883. He was buried next to his wife Susan in the Flemington Presbyterian cemetery.
Only three of his eight children survived him, and not by much. Son Andrew had moved to Chicago, where he died in 1889. Son Peter died in 1885, age 51. His obituary in the Hunterdon Republican stated that he "died on Sunday at his residence near the brick yards in Flemington from congestion of the brain after a short illness."
Son George R. Hoagland was a school teacher. His wife Levantia Brainard died in 1870, but he remained in Raritan Township until after the death of his father, when he moved to South Dakota, married a second time and took up stock raising.
After Aaron C. Hoagland
Because of this, the Orphans Court named Elijah W. Bellis, a neighbor, to be the administrator of Aaron C. Hoagland's estate. In October, five months after Hoagland's death, Bellis put this notice in the Hunterdon Republican:
Sale of Real Estate to be held on 14 Nov. 1883. Elijah W. Bellis, Administrator of the estate of Aaron C. Hoagland, dec'd, will sell on the premises, the following real estate:

No. 1. The homestead Farm, of 133 Acres in Raritan Tp., whereon John Morehead resides. The dwelling is large enough for 2 families and the outbuildings are in good repair. There is also a brick tenant house and the farm is watered by Walnut Brook.

No. 2. A farm of 161 Acres that adjoins the above, occupied by George W. Cronce. The dwelling is brick and has ample rooms for a large family. There are two tenant houses and one of the oldest Saw Mills in the County is on this property. These farms are located within 2 miles of Flemington on a nearly level road. Interested persons may call on the Administrator living nearby.
Lot 1, the homestead farm of 133 acres, was originally the home of Samuel and Mary Carman, consisting of the brick house on the west side of Johanna Farms Road (Block 63 lot 35) and adjacent land. Bordering owners were Thatcher Prall, James Hoagland, and Theodore Young.
Lot 2 was the house on the north side of the Road, on property (Block 63 lot 33) that Aaron Hoagland and Elijah Carman had bought from Judiah Higgins, dec'd in 1828, and was leased to George Cronce. This property included the lot with the sawmill on the south side of the road.
On Nov. 21, 1883, Bellis sold Hoagland's farm of 133 acres in Raritan Twp. to the person residing there, Hoagland's son-in-law John Morehead (or Muirhead) for $60.50 per acre. This was the husband of Aaron and Susan's daughter Mary (1835-1877). He was a widower when Aaron C. Hoagland died and had probably been living in one of the Hoagland houses and doing much of the farm work there. He was counted separately in the 1880 census, as a 43-year-old widower and farmer, living with sons William, age 18, and John, age 15.
Like those before him, in 1893 when he was ready to give up farming, John Morehead advertised on March 8th in the Hunterdon Republican:
a large public sale to be held on 23 Mar. 1893 . . . at his residence about 2-1/2 miles south of Flemington, on the well known farm of Aaron Hoagland near Copper Hill, the following Personal Property: Live stock, wagons, farming equipment and utensils and Household Goods and furniture.
Morehead was not giving up farming voluntarily. He was forced into retirement by having gone into debt and being sued by heirs of Judiah Higgins. The property was seized by Sheriff W. Howard Lake and sold at public sale on May 27, 1891 to land investor Henry A. Fluck for $6,000.9
You may notice that Morehead's farm was seized two years before Morehead gave up farming. It may be that he had hopes of buying it back but finally gave up in 1893.
Higgins Family at the Carman Farm
I was dismayed when I discovered the farm had been sold to Fluck because deeds attributed to Henry A. Fluck fill many pages in the Index Book.
Sometimes when I hit what seems to be a brick wall, I start researching from another angle. In this case, I was backtracking to make sure I hadn't missed any Higgins deeds, and much to my surprise, in the process I happened upon the Fluck deed I wanted.
In June 1894, Henry A. Fluck and wife Annie sold the farm to heirs of Judiah Higgins, as tenants in common, but they did something rather odd. They sold a one fifth share of the property to Isaacher H. Higgins, J. Schenck Higgins, Mary E. Marsh, Lucretia R. Higgins and Mabel Higgins, all of Raritan twp., for $1200, and a four-fifths share to Jonathan Higgins, Ellen H. Parker, Mary H. Fulper & Julia H. Young, all of Flemington, for $4800.10
Actually there is an explanation for this arrangement. Mary E. Marsh, Isaachar, J. Schenck, Lucretia and Mable Higgins were all children of William Fisher Higgins (1826-1892), son of Judiah Higgins & Charity Fisher. Jonathan Higgins, Ellen H. Parker, Mary H. Fulper & Julia H. Young were siblings of William Fisher Higgins. One other sibling, Lucretia, had died in 1866. (See The Higgins Tree.)
William Fisher Higgins would have gotten a one-fifth share had he been alive. Since he had died, his share went to his children.
I discussed the Higgins family in some detail in the previous post, but as a reminder, Judiah, or Jedidiah, Higgins (1799-1890), husband of Charity Fisher, was the son of Capt. Jonathan Higgins & Eleanor Polhemus, making him a nephew of the original Judiah Higgins who obtained the tract of 222 acres back in 1794, a property that bordered the Carman farm on the north.
This set up a perfectly awful nightmare for deed searchers (like yours truly). Even though nothing was said in the Fluck deeds about Judiah Higgins dec'd, later deeds made it apparent that his children had bought the Carman farm with their inheritance. This is born out by a county map published in 1902 which shows the Carman farm owned by "Est. J. Higgins".
That estate, which should have been settled back in 1890 when Higgins died, was to fill the deed books for many years to come as the children and grandchildren sorted out who got what. I will spare you that here.
After the Higgins
Family Search has microfilmed Hunterdon County deeds up through Book 300. Any deeds recorded in later books must be consulted in the County Clerk's office, which has unfortunately been closed due to the coronavirus. However, the Index Book on the Family Search website includes deeds up through 1955, so I tried to figure out by using just the Index what happened to the Carman-Hoagland farm. I got a hint from Dave Stothoff, who was familiar with the house and knew that in 1937 it was purchased by a movie star. He even found a notice of the sale in the New York Times.
Consulting the Deed Index, I found that the farm had been sold to Sylvia Sidney by Amplius B. C. Bodine, generally known as "ABC Bodine".11 How did the farm get from the Higgins heirs to Mr. Bodine?
Chances are the person who sold the farm to ABC Bodine was William M. Schomp, Esq. in 1936. Try as I might I could not figure out how he connected back to the Higgins family. But that's probably because Schomp was elected Sheriff in 1935. The Deed Index does not always indicate a sheriff's sale. The Index shows that in 1933 a Judiah Higgins sold land to the Hunterdon County National Bank, and the next year Hunterdon County Title Abstract & Mortgage Co. sold a property to Wm M. Schomp. A look at those deeds may help find the missing links.
Sylvia Sidney
Here is the notice of Sidney's purchase published in the New York Times of December 4, 1937:
"Sylvia Sidney, the actress, has purchased a residence dating back to 1805 on a farm located two miles south of Flemington in Hunterdon County, N.J. Records show that the property was owned at one time by Samuel Carmon, who settled in the section about 200 years ago. Yeaton & Yeaton, brokers, negotiated the sale."
Right off the bat, I was intrigued, not because of the famous actress but because of the date given for the house's construction. Presumably this was taken from a datestone, but since I was unable to visit the house, I cannot say for sure. However, the date is completely consistent with the time period when Elijah Carman was in possession of the property.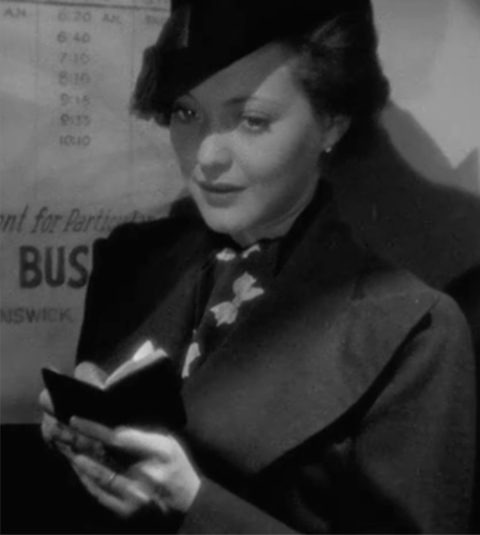 As for Ms. Sidney, I concede that having a Hollywood actress in the neighborhood is pretty interesting. At the time she purchased the farm, Sidney was between husbands. She had married Random House publisher Bennett Cerf in October 1935, but that marriage ended six months later. In 1938 She married her second husband, an acting teacher named Luther Adler. That marriage lasted until 1946. The next year she married Carlton Alsop whom she divorced in 1951. It was one year after marrying Alsop that Sidney sold her Hunterdon farm to Henry P. Seely and wife.12
Wikipedia has a biography of Sylvia Sidney along with a "filmography." I was impressed to learn she had starred in movies with the likes of Gary Cooper, Spencer Tracy, Henry Fonda and Cary Grant, among many others. In the 1930s she was one of Hollywood's highest paid actresses, which may explain how she could afford a country hideaway in 1937. That year she appeared in "You Only Live Once" and "Dead End." The previous year she starred in "Fury" and "Sabotage." Her filmography is a very long one.
Despite her success, she felt she was being type-cast and didn't like it. At one point she complained of her repetitious roles as "the girl of the gangster, then the sister who was bringing up the gangster, then later the mother of the gangster, and they always had me ironing somebody's shirt."
That concludes my history of the Carman Farm. However, there is one deed from Mary Hoagland that I have not yet discussed, but must do so in the next post, as it concerned the origins of Johanna Farms Road.
Footnotes: