Clinton Began As a Speculative Venture
The history of the town of Clinton is a fascinating one. The borough has so much character and charm, but it had a rocky start.
The original owner of the land that became the town of Clinton was David McKinney, who built a grist mill on the South Branch of the Raritan sometime before 1763 on land purchased from Mahlon Kirkbride of Bucks County. But after falling into debt, he had to sell his property back to Kirkbride in 1770, who almost immediately sold it to one Mahlon Taylor of Lebanon Township. Taylor ran the mills during the Revolution, but he also ran into debt, and finally had to put the property up for sale in 1782. Daniel Hunt Esq. purchased the property that year, and built up the milling business enough to warrant calling the surrounding area Hunt's Mills. He mortgaged the property to Robert Taylor in 1799,1 and was eventually forced to convey it to his sons Ralph Hunt and Daniel Hunt, Jr. in 1799 and 1803.2 By 1828 the Hunt family was forced to give up the property. It is the history of Clinton after that time, when it acquired its appearance as an early 19th century village, that I wish to write about.
Regrettably, most of the buildings lining the Main Street today do not date from its early layout in the 1820s. A large number of those buildings were destroyed in a terrible fire in 1892. Many of them were probably built in the popular Greek Revival style. But the layout remains the same. The men responsible for that were Archibald S. Taylor and John W. Bray. The story begins with Archibald's father, Robert Taylor.3
Robert Taylor
Robert Taylor came to Hunterdon County from Londonderry, Ireland, although he probably was not Irish himself. Family history says he came alone when he was 17 years old and arrived with 30 guineas in his pocket. He went to work first as a school teacher, but in 1762 was hired to work as a clerk at the Union Iron Works owned by Allen & Turner. The man who managed the iron works was John Hackett. He lived in the house today known as Solitude House.4
John Hackett took a liking to Robert Taylor, and allowed him to live in the mansion house with the Hackett family. When Col. Hackett died in 1775, Robert Taylor took over for him as manager of the works, running the forges in both High Bridge and Andover, at a time when the country was in turmoil. During the years while Col. Hackett was in charge, the works were owned by the partnership known as Allen & Turner, consisting of William Allen and Joseph Turner, both of them very successful and prosperous Philadelphia businessman. They were also somewhat frustrated by the business climate created by restrictions on trade with Britain. Even so, Allen & Turner were not inclined to support the Revolution and refused to sell the ironworks to the self-proclaimed State of New Jersey. But the products of the forge were desperately needed for the war effort, so New Jersey took possession under the supervision of Col. Thomas Maybury. But Robert Taylor was the one who kept the Union Iron Works going, producing cannon balls for the Continental Army which were hauled to Trenton in wagons. After the war, the iron works were closed for several decades. All the land attached to the iron works was divided into farms, and Robert Taylor got his pick of several tracts. With all this land, Taylor became a wealthy man. As evidence that he was acquainted with Daniel Hunt, in 1794, Taylor, Daniel Hunt and Jacob Anderson were present to witness the will of Gen. William Maxwell, who died unexpectedly while visiting Col. Charles Stewart.
Getting Back the Hunt Tract
Daniel Hunt, Esq. purchased his 384.5 acres which covered almost all of the town of Clinton east of the South Branch from Mahlon Taylor (no relation to Robert Taylor) in 1782, at the end of the Revolution.5 He mortgaged the property to Mahlon Taylor in 1793 and in 1798 rented it to Daniel and John LaTourette. In 1803, he conveyed the property to his son Ralph Hunt, who became like his father an important man in Hunt's Mills, holding the position of Freeholder, Justice of the Court of Common Pleas and Orphans Court. But by 1822, his debts were piling up and the court ordered that Hunt's property be seized and sold at public auction to satisfy his creditors.
The property was purchased in 1823 by John Allen Taylor (son of Robert Taylor) and Joseph Bonnell, but shortly afterward Joseph Bonnell died. Meanwhile, in 1824, the NJ Supreme Court ruled in favor of Ralph Hunt, apparently voiding the Sheriff's sale, and returning the property at Hunt's Mills to him.
Archibald Stewart Taylor
Robert Taylor's sons were the aforementioned John Allen Taylor and Archibald Stewart Taylor, whose mother was Sarah Bartholomew.6 There is no explanation for Taylor's failure to marry her. She was still living in his house at the time his will was written on February 11, 1819, where he called her "my friend and companion."7 Perhaps she had a previous spouse who would not divorce her.
Archibald S. Taylor succeeded to his father's foundry business at High Bridge when he was forty years old. In addition to the iron works, Robert Taylor left his sons a vast amount of real estate. They divided it between them in a deed dated October 9, 1826.8 Some time after this, John A. Taylor left Hunterdon County for New York City, where he met his wife Sarah Lawrence, and raised a family there.
The tract sold by Ralph Hunt was not on the list of properties in the division of lands between John A. and Archibald S. Taylor. It had been returned to Hunt when the court ruled against one of his debtors in 1823. But Archibald S. Taylor, probably acting as his father's executor, sued Hunt in NJ Chancery Court, which ruled in his favor in December 1827. This led to a sheriff's sale of the enormous acreage that had long been in the Hunt family, including a tract of 384+ acres (excepting out 188.83 acres sold to David Miller), an 80-acre lot of woodland in Lebanon Township, formerly the property of Benjamin Stout, and two small lots of 1.5 and 1.75 acres. The sale took place on April 2, 1828, and was conducted by Sheriff Peter Forman.9
The highest bidder was Archibald S. Taylor himself, who paid the handsome sum of $15,820. The mortgage that the Hunt owed to his father (Robert Taylor) amounted to only $12,605.97, suggesting there may have been some active bidding for the property. Mr. Taylor was not himself present at the sale. The property was purchased in his name by a Major Gibman.10
Here is an important map in the road records at the Hunterdon County Clerk's Office that shows exactly what was purchased on Archibald S. Taylor's behalf: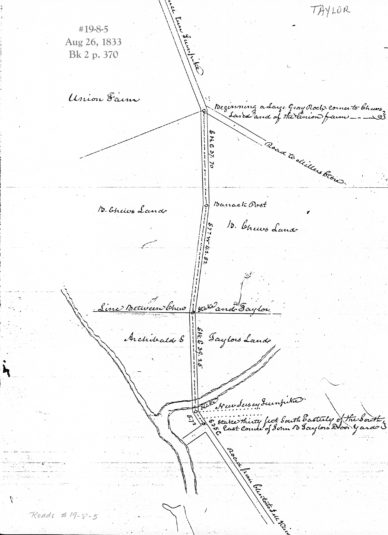 Taylor was persuaded to make this investment by his brother-in-law, John Watson Bray, Jr. (1788-1866). Archibald S. Taylor's wife Nancy was John W. Bray's sister Ann (Nancy) Bray (1781-1835). Nancy and John W. were children of John Watson Bray, Sr. of Lebanon (1738-1806, son of Andrew Bray & Margaret Watson) and Susannah Bray (1742-1807, daughter of James Bray, Sr. and his first wife).
John Watson Bray, Sr. served as a lieutenant in the Lebanon Militia during the Revolutionary War, and fought alongside his father Andrew and his son Andrew at the Battle of Monmouth. He married Mary Grandin, daughter of John F. Grandin, M.D. and Mary Newell. Mary Grandin Bray's sister was Elizabeth Grandin, who married Benjamin V. Hunt in 1805 (the son of Daniel Hunt, Esq. and brother of Ralph Hunt of Hunt's Mills). Tracing the relationships of these Clinton/Lebanon families can get complicated, especially Brays, Hunts and Taylors.
In 1827, John W. Bray was serving as freeholder for Lebanon Township. His son John W. Bray, Jr. played a large role in Archibald Taylor's life and in the development of what came to be known as the town of Clinton, so more should be said about him. Previous to the Clinton real estate venture, Bray was actively promoting development in Hunterdon. At the July 4th celebration of 1825 in Lebanon Township, he gave the following toast: To "the state of New Jersey – may her natural advantages, of water Powers, &c. &c. render her to the U. States, what the great manufacturing towns Birmingham and Manchester are to great Britain."11 In 1826, he was appointed, with William Hunt, to represent Lebanon Township at the state Republican [Jacksonian] convention in Trenton. During this time, he also involved himself in the push to reform the school system.
John W. Bray, Jr. seems to have been a natural born entrepreneur. According to James P. Snell, "a new mercantile era appeared to dawn" in 1825 when Bray took over the old Ralph Hunt store. After that, "the business history of Clinton has had no break."12 How Bray managed to convince his brother-in-law to buy the old Hunt tract in 1828 is an interesting question. According to Archibald S. Taylor, John W. Bray
. . . frequently called on me & expressed his high estimation of the value of the Clinton property and advised me to purchase it. [illegible; . . . as I was] not qualified for active business & did not wish to engage in any. This I repeatedly refused to do but he repeatedly urged it and used many arguments to induce me to purchase among others he represented that it would some day be an advantageous situation for my children to engage in business and that if I purchase at any price short of $20,000, I must realize out of it the loss I would sustain by the intermediary(?) incumbrances. As a further inducement he offered that if I would purchase the property he would rent it himself & pay me a rent of $1200 a year—equal to the interest of my mortgage claims. This offer apparently so liberal induced me to accede to his wishes.—at another interview he proposed to me that as my eldest son John B. Taylor was at home not engaged in any business I should purchase of him (Bray) one half of his stock of goods for John and he would take him into partnership & they could do a very profitable business. After consulting John on the subject I assented to this and in that transaction advanced to my son $3800 which went into the firm & has been dissipated On the day of the sale of the Clinton property J. W. Bray attended and had it bought in my name.13
As he wrote, Taylor preferred the peace and quiet of his home at Solitude House and left the management of the property to his son, John Bray Taylor (1806-1866) and his brother-in-law.14 Taylor continued:
"In the spring following [1828] Bray moved onto the property, I leased it to the firm of Bray & Taylor for the $1200 a year, they took possession of it, extended their business & commenced erecting buildings & making improvements on the property which Bray represented to be necessary."
According to Snell, John B. Taylor and John W. Bray and been partners in a distillery business before the purchase of Hunt's property. After the sale, J. B. Taylor became a partner in the store that Bray had operated since 1825, and afterwards the partnership took over the mills. The post office had been operating since 1818, with Ishi Hunt (son of Ralph Hunt) as postmaster, according to Snell, although Jim Walker's history of Hunterdon Post Offices states that Ralph Hunt was named postmaster of Hunt's Mills on October 28, 1816. However, after 1828, the name of the post office was changed to Clinton, in honor of DeWitt Clinton, former governor of New York and the man responsible for the Erie Canal, who had died on February 11, 1828. (Neither Snell nor Walker named the new postmaster in 1828. Presumably it was either Bray or Taylor, or one of their employees.)
It was probably Bray who was inspired to name the area after DeWitt Clinton. He had great visions for the area surrounding the junction of Spruce Run and the South Branch. The first use of the name 'Clinton' to appear in the Hunterdon Gazette was on March 18, 1829, in a notice for the firm of Bray & Taylor, offering Oil Cake Meal and Ground "Plaister" for sale,
"for which all kinds of GRAIN will be taken in payment. The subscribers [Bray & Taylor] will also exchange Ground for Stone Plaister, by receiving the pay for grinding. Bray & Taylor, Clinton, N.J., March 6, 1829, Formerly Hunt's Mills."
The Development of the Town of Clinton
What made John W. Bray so confident that he could make a success of his newborn town of Clinton? In 1806, the New Jersey Turnpike was established to run from New Brunswick to Easton. Probably thanks to the influence of Daniel Hunt, Esq., who died that year, the road crossed the South Branch near Hunt's Mills. And in 1813, the Spruce Run Turnpike that ran from Flemington to the Union Iron Works was also established. This meant increased traffic in the vicinity.15
After 1828, development in Clinton happened at a rapid pace. There is an interesting letter on file in the Taylor Papers at the Hunterdon County Historical Society, written by Archibald Taylor to his son Midshipman George W. Taylor, dated August 9, 1829. Reference was made to "your uncle Bray" and another uncle [whose name is illegible but looks like 'Oshar'] and a Mr. Hunt [probably William Hunt]. I have wondered about this 'Oshar.' Could he have been Ishi Hunt, son of Ralph Hunt? I know little about this Ishi Hunt other than that he was about the same age as George W. Taylor.
Elizabeth Grandin (1786-1873), daughter of John F. Grandin and Mary Newell, married Benjamin VanCleve Hunt. Elizabeth's sister Mary married John Watson Bray, Jr. Benjamin V. Hunt was a brother of Ralph Hunt, and therefore the uncle of Ishi Hunt. Therefore, Ishi Hunt was not directly related to G. W. Taylor. But in the 19th century, the term uncle or cousin was used rather loosely. Taylor wrote:
"I think likely the former [the other uncle 'Oshar'] will move up to Mrs. Johnson and take the store as your Uncle B. [Bray] and John [George's brother, John B. Taylor] intends giving it up, and having their business less complicated. Clinton now looks very perty [sic], you will hardly know the place when you return."
The schoolhouse in Clinton was built when the village was still Hunt's Mills.
"The first district school house in the village was a stone structure 20 feet square built in 1827 upon ground donated by David Miller, and stood at the corner of Center and New Streets. The school was probably on the north side of Center Street, it was gone by 1886, as the pictorial of Clinton does not show such a school building."16
The Town of Clinton website describes some of the first people to move into the new town:
This offering served as a magnet to industrious Germans living in the region, and it is to their presence that the town owed its somewhat systematic growth. The new residents and shopkeepers had such names as Young, Stiger, Hoffman, Garman, Kline and Fisher. Another early primitive house was built on a lot purchase in the 1830s from Bray and Taylor by a Garman. It is of stone, steeply embanked. Near it was another like it, on land owned by a Hoffman, since demolished. This vernacular form was not uncommon for this period when newcomers were arriving as settlers. A third house like it, built for a laborer on Halstead Street, perhaps even at a later date, also follows this convention.
There were several lots sold in 1830. One of the first was sold on April 24, 1830 by Bray & Taylor to Israel Smith of Bethlehem. It was 0.1 acres in the Village of Clinton bordering the N.J. Turnpike Road, John Green and other land of Bray & Taylor, and cost $980, which suggests that there was already a structure there. Four days later, Archibald Taylor sold 0.15 acres to Israel Smith of Bethlehem on the west side of the South Branch and the east side of the NJ Turnpike Road near the bridge, for $50.00. 17
On June 9, 1830, Bray & Taylor sold to the Trustees of the Presbyterian Church of Clinton, 0.8 acres north of the N.J. Turnpike Road and south of a limestone ridge, for $1.18 Snell wrote:
"During the winter of 1829-30 an agitation in favor of the erection of a Presbyterian church took shape, and at a meeting in which A. D. Dunham, J. W. Bray, J. B. Taylor, Nehemiah Dunham, A. W. Dunham, A. S. Taylor and others participated it was resolved to build a house of worship upon a lot donated by Bray & Taylor, and the work of construction, being commenced in May 1830, was completed the same year, in which the edifice was also dedicated."19
The originating membership was only 13 but it jumped to 76 by 1833.
On June 28, 1832, Archibald Taylor, John Bray & John B. Taylor and their wives sold 5.75 acres for $937.73 to Cunningham Crawford of Lebanon. The lot ran north of the N.J. Turnpike Road and south of the South Branch and the millpond.20 On September 8th of that year, Archibald Taylor sold 5,040 square feet on the south side of the street in front of the stone storehouse to Adam Stiger of Mansfield, Sussex, for $62.00.21
On September 20, 1832, Taylor sold 3,300 square feet to John Race of Lebanon. The lot was north of "the street running from the bridge to the house of John B. Taylor [Center Street] in line with the front of the piazza [sic] of the stone store house," and cost $103. On the same day, A. S. Taylor sold to Daniel Spangeburg of Bethlehem for $75, 6000 square feet on the south side of the street in front of the stone store house, bordered by Adam Stiger's lot, and also 0.64 acres on south side of the N.J. Turnpike Road, by Christopher Young's lot to John H.Rodenbock of Lebanon for $312.43.22
In December, 1832, Archibald S. Taylor put a notice in the Hunterdon Gazette that 20 "handsome building lots" were available in the village of Clinton. (I suspect it was really John W. Bray who put in the notice, using Taylor's name, as he so often did.)
VENDUE.
The subscriber will offer for Sale, on Saturday the 9th day of February next, at 10 o'clock, at the house of Israel Smith, Innkeeper in the village of Clinton, New Jersey.
TWENTY HANDSOME Building Lots,
of different sizes, situated in said village. – Also, a Lot on which is a new brick building erected for a Foundry, and Smith Shop, very suitable for a mechanic – Also the shop now occupied by __ Bush, chairmaker – and a valuable Brick Yard. The payments will be made easy, and title unquestionable.

He also offers at Private Sale, A FARM, Of about 140 acres of first rate Limestone Land, level and well watered, comprising a good proportion of Woodland, with a good new dwelling, being a part of the Clinton Property. The payments of this will also be made easy, and title indisputable. Possession of this, as well as of the Lots, will be given on the first day of April.
For further description of the property, those wishing to purchase are referred to Bray & Taylor, upon the premises. [signed] Archibald S. Taylor.  Lebanon, New Jersey. Dec. 26, 1832.23
On March 4, 1833, Taylor sold 1.5 acres south of the millpond, by the road "from Kinney's mills," and a lot of John B. Taylor to Israel Smith, now of Lebanon, for $1000.24 This lot must have had a building on it. It was probably at the corner of Center and Leigh Streets, and may have been Smith's tavern lot. Israel Smith opened the tavern that is now the Clinton House in 1830, in a building that Bray & Taylor had built.
On April 30, 1833, Archibald S. Taylor sold to Rachel Fisher of Lebanon 0.23 acres south of the N.J. Turnpike Road and by John Hagen, for $600.25 This is the house at 60 Center Street. At some time during the year of 1833, Taylor also sold a lot of 0.27 acres at the southeast corner of Rachel Fisher's lot to John Hagen. The cost was $400.26 It is difficult to determine from this price whether there was a house on this lot. If there was, it was not a valuable house; if there was no house, the lot was very valuable.
A lot sold by Bray & Taylor on May 6, 1833 of 1.16 acres bordering George Robinson and John Huffman's lot, south of the N.J. Turnpike Road was sold to John Spencer of Lebanon, for $110. A quarter of an acre on the south side of Main Street near the bridge was sold by A. S. Taylor on May 14th to Adam Stiger costing $325. On September 5, 1835, a quarter-acre lot was sold by A. S. Taylor to John W. Bray of Lebanon, bordering David Miller, in Lebanon Twp. for $380. On September 5, 1833, John Hagen sold his lot on the southeast corner of Rachel Fisher's lot for $400 to Christopher Young of Bethlehem. 27
A lot sold by Archibald Taylor to his son George W. Taylor in 1834 on what is today Leigh Street but at the time was called the road from Grey Rock to Jacob Kline's Tavern was described as No.5 on a map drawn up by Edward Welsted.28 This map is referred to in other deeds for the Town of Clinton. Regrettably, this map is not on file at the Hunterdon County Clerk's Office or the Hunterdon County Historical Society. If it is ever found, it should give us a much better picture of the original layout of the town.
In 1830, Bray & Taylor conveyed the mill property on the east bank of the South Branch to James R. Dunham and George W. Taylor (another son of Archibald S. Taylor and Nancy Bray). In 1834, they "abandoned the mill business" to Dunham & Taylor.29 The mill on the west bank was acquired by John W. Snider.
On 30 March 1836 Jacob M. Kline and his wife Rachel sold the lot of 0.23 acres by John Hagen to Henry M. Kline of Amwell for $700. Two days later Archibald Taylor sold 106 acres in four lots near the Village of Clinton to Caleb O. Halsted of New York City for $7096.10.30
So much activity in such a short time span probably helped conceal the dangerous pit that Archibald S. Taylor was falling in to. He never really got out of it either. Next week, part two of the sad saga of the man who got in over his head and the man who was duped.
Corrections and Addendum: On July 20, 2016 I made a large number of spelling and grammatical corrections, as well as adding some new information, in particular, a road map of early Clinton and vicinity.
Footnotes: