This is an article by Egbert T. Bush about the village of Cherryville in Franklin Township, Hunterdon County. It serves as a follow-up to my article on the earliest owners of the Cherryville Tavern, back when the village was known as Anderson Town, after the early tavern owner, James Anderson.
Cherryville, Once Called Dogtown,
Has Long History
Nobody Knows When the Old "Dogtown Tavern" Was Built
Some Neighborhood History1
by Egbert T. Bush, Stockton, N.J.
Hunterdon Co. Democrat, December 19, 1929
If you go up Cox's Hill and by way of the many angled road past Klinesville and the old "Pint" [Bush is referring to the Point Tavern] to Cherryville, you will see a big house standing on the northeast corner at the crossing of your road by the way from Quakertown to Young's Mills (now Sunnyside). That is the "Dogtown Tavern" of early days, supposed to be the oldest building in the village. Nobody knows its age.
Unfortunately, the building is no longer there to answer the question of its age as it was destroyed by fire in 1877. (I will have something to say about the location of the old tavern house at the end of this article.)
It was old in the days of its earliest-known keeper, Reuben McPherson, who owned this lot and an adjoining farm for several years and met a tragic death there January 16, 1831. On that cold and snowy morning, as family tradition describes it, he went to the barn to do the morning feeding. He failed to return on time, and search disclosed that he had fallen down the hatchway from the mow and was lying dead upon the floor.
In fact, McPherson only owned the property from February 1827 until his death four years later. The widow kept it until 1838. (For the owners who preceded the McPhersons, see "James Anderson's Tavern.")
The widow, Sarah Barton McPherson, a descendent [granddaughter] of Capt. Elisha Barton of the Revolution, who lived on the farm near Klinesville, now owned by Jacob G. Barton, another descendent, was left with three daughters, Mary, Charity, and Elizabeth, and one son, John, the oldest [Mary] being fifteen. Another son was born in the following April and was named Reuben. I recall that in much later days the family often quoted the mother's serious comment upon the naming: "I wonder if this is to be the third Reuben McPherson killed by accident."

Two other men by that name [Reuben McPherson] had been so killed. One of them was shot at a "general training" in Quakertown long before, by a discharge from that most deadly type of firearms, a gun that "was not loaded."
That first Reuben, "killed by the accidental discharge of a gun at a training at Quakertown, in 1793,"2 was only 39 when he died. The second Reuben, his son, died, as Mr. Bush wrote, in 1831, when he was only 37.
I am happy to say that the mother's disregard for that superstitious maxim, "If there have been two of a kind there will be three," was fully justified. This boy [Reuben, Jr., (1831-1902)] grew to manhood, learned cabinetmaking at Quakertown with Theodore Probasco, worked for a short time in Milford, married Abigail Tomson there in 1855, and took his bride to Chicago, where they spent much of their lives together. He became Master Car Builder for the I.C.R.R. [Illinois Central Railroad] and later for the F. and P. M. R.R. [Flint and Pere Marquette Railroad]. He died at Benton Harbor, Michigan, in 1902 [age 70]. His son, E. E. McPherson, D.D.S., is practicing in Chicago, where his mother died a few weeks ago, aged 92.
Sarah Barton's Family
The mother of Reuben McPherson that Bush referred to, Sarah Barton McPherson (1797-1845), was the eldest child of John Barton, Esq. and Charity Golden. She married Reuben McPherson when she was 18 and Reuben was 22. The couple's first child Mary left home shortly after her father died, when she married Jacob Snyder. (We'll be hearing more about Jacob Snyder.)
Reuben and Sarah's youngest child, Reuben, Jr., was born four months after the death of his father. Seven years later, on May 26, 1838, the widow Sarah married second George Case (1774-1840), who was also widowed in 1831. In fact, his first wife was Reuben's sister, Sarah McPherson (1781-1831), the mother of eight children. The youngest child, Margaret, was born the year that Sarah McPherson Case died, and since Sarah died in January of 1831, it is more than likely that Sarah died in childbirth.
George Case and Sarah Barton McPherson had a daughter Sarah Ann, born April 18, 1839. Just a short time later, on Dec. 26, 1840, George Case died, age 66, leaving Sarah again a widow. (I did not find an obituary for Case in either the Gazette or the Democrat.) The three youngest Case children and his and Sarah Barton's daughter Sarah were still minors.
John Barton's Will
Sarah Barton McPherson was again a widowed and had been for three years before her father, John Barton, Esq., wrote his will on Sept 8, 1843. After bequeathing a quarter of the residue of his estate to each of his daughters (Jemima Smith, Nancy Case, and Maria Rake), he added this:
The remaining one other Equal fourth part or share thereof I give and bequeath to my grandchildren, the children of Reuben McFarson, decd. To be divided Equally among them, Share and Share alike: To them, their heirs and assigns forever.
And then there is this:
"And it is further my will that my daughter, Sarah Case, take no part of my Estate under this my last will and testament."
We are left to speculate about why Barton would leave nothing to his widowed daughter or her daughter with George Case. One can only presume that Barton had a low opinion of George Case and that Sarah married him against Barton's will. John Barton died on March 5, 1845, age 72. Not long afterwards, a contagious fever hit Cherryville, killing Sarah and her daughter (which Mr. Bush will mention below).
The following is out of order from Mr. Bush's article, but I prefer to keep all mentions of Sarah Barton together.
Death of Sarah Barton McPherson Case
"A similar fever [i.e., typhoid] scourged Cherryville in 1845, carrying off several, among them Sarah Barton McPherson (then Case by marriage to George) and her daughter Sarah Ann Case, aged six. Neither outbreak has ever been explained. The second [Sarah's] was at first attributed to the old well that had served the house and community so long; but investigation showed the well to be guiltless. Only the one family took the fever and nothing of the kind has ever been there since."
Sarah died on August 31st, and daughter Sarah died October 3rd. Sarah, her daughter Sarah and husband George Case were buried in the Grandin Presbyterian Cemetery. Sarah's first husband Reuben McPherson was buried in the Barton Family Cemetery, another indication of estrangement.
A Side Note: John Barton McPherson (1821-1884) was the son of Reuben McPherson and Sarah Barton. About December 1841 he married Sarah Ann Bush (1820-1913), daughter of Jacob Bush and Sarah Trimmer, and sister of Sidney L. Bush who married John B. McPherson's sister Elizabeth. Sidney & Elizabeth were parents of Egbert T. Bush, author of this article, a fact he neglected to mention.
From Marshall to Wagner
The daughter Charity [daughter of Reuben McPherson & Sarah Barton] married John T. Marshall and raised a large family of boys on a farm at Young's Mills. Anson [Marshall], the youngest and only survivor, now lives in Flemington. William E., the oldest, was the father of Judge Erwin E. Marshall of Mercer county.
Bush wasn't kidding about a large family of boys. There were nine boys in the family and not a single girl. Two of the boys died as children: John (1839-1848) and Stewart B. (1847-1863).
Charity's husband John F. Marshall (1807-1874) was born to William Furman Marshall and Susannah Trimmer of Young's Mills, Franklin Twp. (present Sunnyside). His name is sometimes shown as John F. and other times as Mr. Bush used it, as John T. Marshall. Given his parents' names, it could be either, but more likely T.
Marshall married Charity McPherson in June 1836, four and a half years after the death of Charity's father Reuben. On May 6, 1838, Commissioners appointed to sell McPherson's property held a public sale "at the house of Jacob Snyder, Inn Keeper at Dogtown in Kingwood," Dogtown being the then current name for what had been Anderson Town. (The name Cherryville was coming into use, but Dogtown was more common.) The highest bidder was John T. Marshall, who made a handsome bid, as described by Mr. Bush.
After the death of Reuben McPherson, the property lay undivided until 1838, when upon order of the court, the commissioners exposed at public sale "the tavern lot with farm attached, at the house of Jacob Snyder, Inn keeper at Dogtown." It was sold to John T. Marshall for $2,450. Snyder was at that time husband of the daughter, Mary McPherson. He soon after bought a farm near Cherryville, where they raised a large family and spent the rest of their lives. Marshall soon disposed of his Dogtown holdings and went to farming elsewhere.
The deed to John T. Marshall3 described the property as being "tavern house and farm at Dogtown in Kingwood," bordering the great road from Flemington to Sidney, Thomas McPherson's land, the lot set aside for the widow's dower, the road from Dogtown to "the branch" (the South Branch of the Raritan), other land of said Reuben McPherson dec'd, Adam Conrad, and Christopher Kuhl.
Only five years later, on Jan. 28, 1843, John & Charity Marshall made a property swap with Peter & Ann Green.4 The Greens got the tavern lot of 65 acres for $2750 (a nice profit for the Marshalls), and the Marshalls got five lots in the vicinity of Cherryville for $2500. Marshall died in 1874 at the age of 67 and wife Charity died in 1898, age 80. The couple was buried in the Cherryville Cemetery, which can be found on Find-a-Grave, attached to the Baptist Church. It is most likely that Snyder ran the tavern while it was owned by the Marshalls.
Jacob Snyder, Innkeeper at Dogtown
Jacob Snyder (1803-1868), son of John Snyder and Delsie Dilts of Franklin, married Mary McPherson, Charity's oldest sister, about 1832. The couple proceeded to have twelve children, outdoing the Marshalls. In 1834, Snyder advertised with his neighbor David Everitt their fine horse available for breeding at their stable in Dogtown. And the next year, Snyder offered to accept wool, take it to the carding mill in Clinton, and return it to his customers.
When Mr. Bush wrote that Snyder "soon after bought a farm near Cherryville," this was not quite right. It was not until April 1847 that Jacob Snyder of Raritan Township purchased a farm of 120 acres on the road from Cherryville to Quakertown for $1,000 from John & Elizabeth Snyder of Franklin Township.5
Here is a detail from the Cornell Map of 1851 showing the road from Cherryville to Quakertown. Oddly enough, "J. Snyder" does not appear on that road but instead on the road running south from Quakertown (today's Route 579.).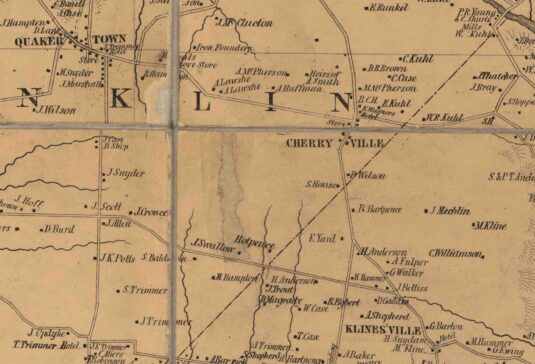 The Wagners, 1845-1855
Between 1843 and 1845, there was a rapid turnover of the tavern owners. In 1843, the same year he bought it, Peter Green & wife Nancy of Kingwood Township sold the tavern lot, now reduced to 10 acres, to David Rake, also of Kingwood, for $1300. The next year David & Alva Rake sold it to David Gaddis for $1126. In 1845 David & Sarah Gaddis of Kingwood sold it to Elias Wagner of Delaware Township for $1300, and it is Wagner's name we see on the Cornell Map of 1851.6
But Elias was not the tavernkeeper. That role was played by his father Henry, who was listed in the Franklin Township census of 1850 as head of household, age 68, tavernkeeper, with Elias, age 43 employed as a farmer. Henry had been keeping taverns his whole adult life. He was running the tavern in Sergeantsville when the town of Delaware was created in 1838. (See Tavernkeeper of Skunktown.) I have not found proof that Elias was the son of Henry and wife Catharine, but it is most likely.
From Wagner to Trimmer
Elias kept the tavern property for ten years. By 1855, when he sold it, his father was in his 60s and probably wanting to retire. Elias sold the tavern lot of 10 acres to Asa S. Snyder for $1500, a nice $200 profit.7
Asa S. Snyder (c.1815-1866), son of Daniel and Amy Snyder of Amwell Township, married Mary Sine in 1844, but she died tragically at age 25 in 1849. Snyder married second in 1851, Esther Shepherd (c.1828-1868), daughter of Richard Shepherd and Deborah Rounsavel of Delaware Township. The couple were living in Kingwood near the Supreme School in the early 1850s. (See The Supreme School.)
As far as I can tell, Asa and Jacob Snyder were only indirectly related. They came from different Snyder families, but their spouses were distantly related, being 5th cousins and descendants of Richard and Penelope Stout.
Snyder only kept the tavern for one year. On April 1, 1856, Asa S. & Esther Snyder of Franklin Township sold the property to Abraham Lawshe, also of Franklin, for $2,000.
But Snyder remained in the neighborhood for a few years. In August 1857, he was named Cherryville postmaster. He ran for county clerk in the Democratic Caucus of 1859 but lost to John Alpaugh. Perhaps that soured him on the neighborhood; in the 1860 census, Asa and Esther were living in Tewksbury township where Asa was again a hotelkeeper. He died in Kingwood in 1866, age 51 and was buried in the Methodist Cemetery there. However, Esther Shepherd Snyder, who died in 1868, was buried in the Presbyterian Cemetery in Kingwood, assuming that Find-a-Grave is correct. Perhaps not; neither her parents nor her children were buried there.
What the Snyders conveyed to Lawshe was "all that tavern house in Cherryville and parcel of about 10 acres in Franklin Twp.," bordering the grate [sic] road from Flemington to Sidney, Thomas McPherson, the widow's dower, the grate road from Chereville [sic] to the Branch, William W. Aller, David Everitt, and the road from Flemington to Clinton; subject to three mortgages.8
Abraham Lawshe (1794-1884), son of Jacob Lawshe and Hannah Vansyckle, was married to Sarah Garrison (1799-1881), daughter of George Garrison and Mary Johnston. The tavern lot was not Lawshe's only property in Franklin Township, as you can see on the detail Cornell map above; he owned two parcels on the north side of the road from Cherryville to Quakertown.
Lawshe kept the tavern property for only seven months, which makes one wonder whether the tavern was profitable. On November 8, 1856, he and wife Sarah sold the 10-acre lot to William Nixon of Franklin Township for $2,100.9 The property had the same description as in the deed from Snyder to Lawshe.
Nixon to Johnson/Baker
William Nixon knew a little about tavern-keeping. His father, the Hon. William Nixon (1776-1839) had briefly run a tavern at Point Breeze in 1830.10 William Jr. got himself a tavern license for his tavern in Cherryville on April 22, 1857. But it wasn't long before he was tavern-keeping in other locations (Locktown, Everittstown).
He kept the Dogtown Tavern until January 29, 1858 when he and wife Delilah sold it to Margaretta C. Johnson of Raritan Township for $2,200.11 Two years later, on June 30, 1858, Margaretta became Margaretta C. Baker, wife of John H. Baker of Franklin Township.
But before that marriage took place, and before Margaretta bought the tavern lot, John H. Baker sold her some property. In fact, on Dec. 15, 1857, while he was living in Raritan Township, Baker sold her seven lots located in Franklin, Raritan and Delaware Townships, lots that he had gotten from the division of his grandfather Henry Baker's real estate. Henry Baker (c.1763-1806), a Revolutionary War veteran, was a neighbor of the Barton family, and made John Barton one of his executors. He was also John H. Baker's guardian in 1802.12 At the time of this deed, Margaretta was living in Jersey City, Hudson County.
John E. Trimmer
With almost every sale, the tavern lot gained a little in value. On April 30, 1860, Margaretta C. Baker sold the tavern lot to John Trimmer of Franklin Township for $2,450.13 And here I run into trouble—there are just too many John Trimmers to sort out. My best guess is that he was John E. Trimmer, Jr. (1831-1916), son of John E. Trimmer, Sr. and Elizabeth Wolverton Smith, also of Franklin, who married Emeline Clark Snyder (1839-1916), daughter of William Snyder and Rhoda Compton, also of Franklin. (As far as I can tell, Emeline Snyder Trimmer was not related to Asa or Jacob Snyder.)
John and Emeline Trimmer divided the 10-acre lot into three smaller ones. On March 30, 1864, the Trimmers sold the tavern property, reduced to 4.31 acres, to Samuel Rupell of Franklin Township.14 The price was $2,000.
Samuel Rupell
If I am right, Samuel Rupell (1825-1912) was the orphaned son of Joseph Ruple and Rachel Case of Alexandria Township, Joseph having died at the age of about 39, before Samuel was born. On July 24, 1852, Samuel was married to Sarah Ann Rodenbough (1833-1901), daughter of Herbert J. Rodenbough and Margaret Smith of Bethlehem Township.
At this point, Mr. Bush digressed to write about some of the local families, the school, the blacksmith shop and the churches of Cherryville. I must set that section aside. He returns to the tavern to describe its most notorious owner.
Little is known about the later keepers of the tavern. Samuel Rupell was there at the beginning of the Civil War. He was bitterly opposed to that war, as were so many about him; but Samuel had a way of saying things "right out in meetin'." He got in trouble with the authorities and left his business rather suddenly. No punishment was ever imposed. He was followed by Milton Schomp, who tarried but a few years. Then the old place went permanently dry.
Rupell was, like most Hunterdon men, a Democrat, and Democrats were not keen supporters of anything Abraham Lincoln wanted to do. Rupell took things a little further than most.
During the Civil War, Samuel Ruple's only engagement with politics was to get elected as pound keeper for Franklin Township in April 1864. But in July 1864, he was drafted to fill a deficiency, and that's when he got "in trouble with the authorities," as Mr. Bush put it, by which he meant that Rupell dodged the draft. One year later, on April 9, 1865, Lee surrendered, but Samuel had not returned home by May 31, 1865, so Sarah A. Rupel obtained a tavern license herself, and paid $15 for it, when most tavernkeepers only paid $10 (according to the Hunterdon Gazette; the Republican said her fee was $10.) On Nov. 3, 1865, the Republican published a list of those having deserted, and Ruple's named was on it. The paper added a note that he had deserted on July 21, 1864, which was probably shortly after being drafted. (Note: Only five men deserted from Franklin Twp., but the list of deserters from Lambertville was a very long one.)
Samuel must have made occasional visits home. On one of them, he and Sarah decided to sell the tavern lot, and it was advertised for sale in the Gazette on Nov. 8, 1865. The sale took place on February 23, 1866, when it was purchased by Jacob Rupell of Alexandria Township for $2300.15
Then on Nov. 1, 1867, this appeared in the Republican:
AWOL captured. Samuel Ruple, formerly of Cherryville, was finally caught and is now in jail in Trenton. He was drafted and failed to report, but left for Canada, as was then said. After a while he came back but kept secreted. His return becoming known, officers came to arrest him, but he made fight and after a severe struggle succeeded in again escaping. He was recently arrested in Philadelphia and brought to Trenton for trial.
It will be necessary to comb through the Trenton court records to find out what happened to Mr. Rupell there, but apparently, he recovered his standing in the community, being chosen to serve on the County's Grand Jury in 1870 and again in 1873. He was a Cherryville resident when the 1870 census was taken, age 48, working as a carpenter, owning no real estate, and personal property worth only $100. Wife Sarah was 38, keeping house; children were Samuel 15, a farm laborer, Mahlon 13 and Maggie 10 in school, and Thomas J. just one year old.
In 1881, Samuel Rupell was elected Freeholder from Franklin Township. Clearly, the voters were forgiving. It emboldened Rupell to try for the NJ Assembly in the 2nd district in the fall of 1882. He lost the Democratic Caucus vote to the popular future Sheriff and Flemington hotel keeper, W. Howard Lake, coming in 3rd out of 4 candidates. He tried again in 1884 and lost again.
Passions may have run high during that election. During the December 1882 term of the County Circuit Court, Elias Morgan was indicted for assault and battery on Samuel Rupel; the verdict was not guilty. Rupell probably over-reacted to some comment.
Then about 1885, Samuel Rupell took over running Thatcher Trimmer's tavern known as the Old Frog (a tavern that Mr. Bush also wrote about), and then purchased it on Jan. 20, 1886. However, he lost the liquor license. By the 1880s, the temperance movement had put quite few taverns out of business, but it may well have been Rupell's own fault.
The Rupells remained in Franklin Twp. Sarah Ann died there on March 30, 1901, age 68, and was buried in the Union Cemetery at Grandin. Samuel moved in with his daughter Mary Potts and died several years later at age 86 in 1912. He was buried next to his wife.
Rupell to Ellicott
As mentioned above, at war's end, the Rupells sold the tavern lot of 4.31 acres to Jacob Ruple for $2300.16 I could not figure out who this Jacob Ruple was, but it is more than likely that he was a relative of Samuel and Sarah Rupell's.
Mr. Bush wrote that after Samuel Rupell's departure, the tavern was run by Milton Schomp, "who tarried but a few years. Then the old place went permanently dry." Schomp must have rented it from Jacob Rupell, who went into some sort of partnership with several gentlemen trading as Welch & Company. This company got sued in 1873 in the Court of Chancery by real estate investor Mary Ann Warford Ellicott. She won the suit and acquired the property but proceeded to do nothing with it.17
As a result, the house burned down in 1877, as reported in the Hunterdon Republican on May 3, 1877:
"Old Tavern. The Tavern at Cherryville, built in 1736, now owned by Mrs. Elliot [sic, Ellicott] and unoccupied for several years, finally yielded to the elements and tumbled into ruins during the storm last week."
I cannot say how the Republican came up with the date of 1736. The earliest tavernkeeper I know of wasn't even born until 1743. The tavern property bought by Mrs. Ellicott in 1873 was the 4.31-acre lot on the northeast corner of the village, a lot that can still be seen on the Franklin Township tax map.
Returning to Mr. Bush:
The rather imposing old house still says "Tavern" to passing automobiles. They do not understand the language and might not stop if they did. It looked old and shabby about the time of going dry. But, unlike those of us who have known it so long, it looks younger to-day that it did sixty years ago. That is probably because it has been repaired and "made as good as new," while we have not.
Controversy
Obviously, it was not the tavern house on the northeast corner that was "made as good as new," but must have been the one on the northwest corner, which is still there today. Here is the house as it appears on Google Maps: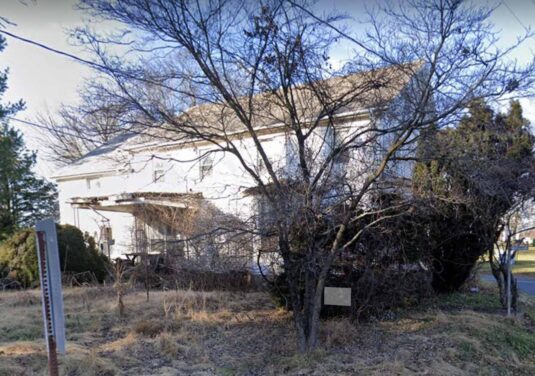 That house is unquestionably old, although badly renovated. And here is a detail from the Cornell Map of 1851 showing Wagner's Hotel on the northeast corner, but nothing at all on the northwest corner.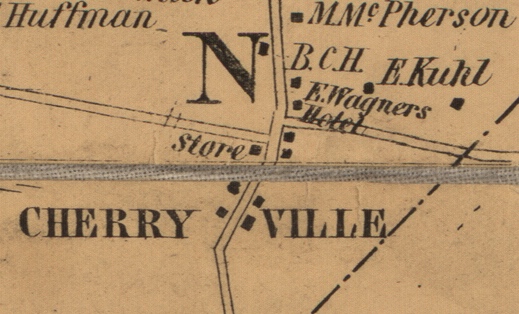 The Beers Atlas of 1873 shows no hotel at all in Cherryville. It shows a building with no owner on the northwest corner, just south of the Baptist Church, and on the northeast corner "W. Case" and "J. Q. Case," neither of whom ran a tavern or a hotel.
So, how to explain the old building on the northwest corner? Could it have been part of the old 65-acre tavern lot? The answer is no. Plotting the deed from Marshall to Green in 1843 shows that the old building was not part of the tavern lot, which was located entirely east of the north-south road through Cherryville. And deeds show that the old house on the west side belonged to the Everitt family.
When Peter & Nancy Green sold the tavern to David Rake, they reduced the lot to ten acres, entirely on the northeast corner. And when John & Emeline Trimmer sold the tavern to the notorious Samuel Rupell in 1864, it was further reduced to 4.31 acres, still located entirely on the northeast corner.
Returning to Mr. Bush:
The Cherryville Name
The name Cherryville is said to have been given in 1839, in honor of the Cherry family who owned most of the land thereabout. That may be so, but effort has so far failed to find any considerable holdings in that name. More likely it was given for some other reasons, one being that it is much more euphonious than Dogtown. No matter; Cherryville it is, a very fine name for a good old village.
What prompted the name change in 1839 is hard to say. That was one year after the tavern lot was sold by the estate of Reuben McPherson to John T. Marshall. It could well be that Mr. Marshall wanted a more euphonious name to attract tavern customers. The first use of Dogtown that I found was in 1833 and it was still being used in 1843, when Marshall sold the tavern to Peter Green, and identified it as located in Cherryville. But the road through the village was called "the great road from Dogtown to the branch," i.e., South Branch of the Raritan, i.e., present-day Sand Hill Road.
Despite Mr. Bush's claim, there were, in fact, many members of the Cherry family living in the general area, going back all the way to John Cherry (c.1736-1819) who married Mary Rockhill, and whose son John got himself a tavern license in 1812 to operate James Anderson's tavern (see James Anderson's Tavern).
At this point, I think Mr. Bush should have the last word:
Whether it was Dogtown or Cherryville or somebody's Tavern, the people of that old community seem to have been always steady, hard-working and thrifty. Fifty years ago, that region, extending over Lansdowne, Sidney and Quakertown, was considered the center of the peach-growing industry of Hunterdon county and Hunterdon was almost, if not quite, the banner peach-growing county of the State at that time. But the business began to languish largely on account of unsatisfactory returns. Then the San Jose scale came along and almost completed the destruction.

The old-time names are seldom heard or heard as only echoes from the past. But there stands the old house, a community landmark, much as it stood when they were still writing it "seventeen hundred and ____." May it look upon new generations meeting the struggles of life, though in very different ways, with the same determination and high purpose that animated the community [of] old.
Footnotes: