part 12 of The Route Not Taken
My last post (A Rockafellar Homestead Divided) concerned the farm of Jacob B. Rockafellar who died without a will in 1813. His farm was divided into 28 lots in 1820 and distributed among the heirs. A division map was drawn that showed the bordering owner on the north to be our old friend, Elijah Carman.
But what the division map did not show was that the Carman property was not a farm, but the lane that extended along the northern boundary of the Rockafellar farm, from Carman's home on the west to today's Route 31 on the east.1
Today I will take a look at who owned the farms on the north side of the Carman-Hoagland Road. And it just so happens that those properties were traversed by the proposed rail line that was to run from Prallsville to Flemington. Which means that this article will finish my study of landowners along Johanna Farms Road and return us to a study of the route of the railroad that was never built.2
Aaron C. Hoagland's Farm
Aaron and Susan Hoagland owned their farm in 1852 when Aaron's mother Mary Hoagland sold the lane that was to become Johanna Farms Road to her son. The Hoaglands still owned the farm in 1873 when the rail line was surveyed. This was part of the farm described in "Carman, Hoagland & Higgins." Here is a detail from the railroad survey map drawn in 1873.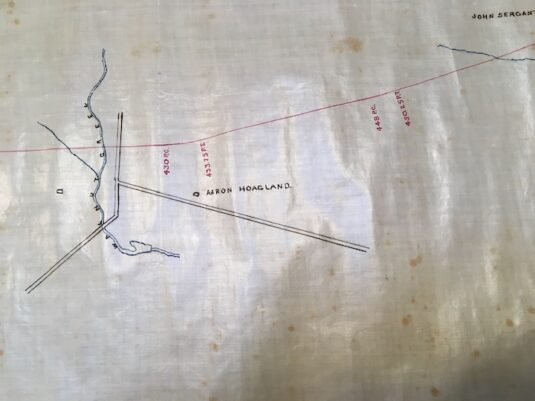 Aaron C. Hoagland owned his farm up until his death which occurred on May 14, 1883, when he was 77 years old. He was buried in the Flemington Presbyterian Church Cemetery next to his wife Susan, who had died in July 1870, age 63.
Curiously, on May 15, 1883, the Hunterdon Republican reported that "There is a sawmill on the farm of the late Aaron C. Hoagland, near Copper Hill, that was built in 1791." (It can be seen on the detail below of the Raritan Township Map of 1850.) That observation came one day after Hoagland's death.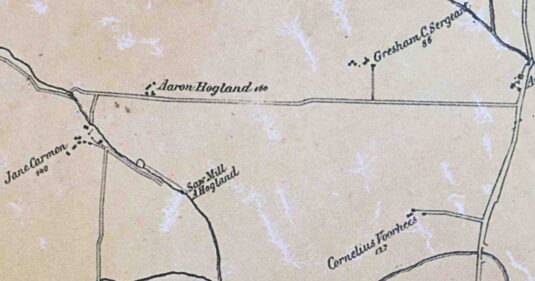 The builder of the sawmill was either Elijah Carman (1756-1841), grandfather of Aaron C. Hoagland, or William Anderson (c.1710-1789), whose grandsons sold that property to Elijah Carman in 1795.3
It appears that only three of Aaron & Susan Hoagland's eight children survived them. Son Andrew Jackson Hoagland (1831-1891) moved to Chicago. Son George R. Hoagland (1840-1919) moved to South Dakota. The third son, Peter R. Hoagland (1834-1885) remained in Raritan Township.
It is surprising, given the amount of real estate he owned, that Aaron C. Hoagland did not write a will, despite his advanced age. One would expect the Orphans Court to appoint son Peter as administrator, but instead it chose Elijah Wilson Bellis (1835-1898). He was the son of Adam M. Bellis and Ann Wilson, who lived nearby on the west side of old Route 31 (generally known as "the road from Flemington to Trenton").
The reason Peter was not named was that he had become seriously in debt. In fact, on December 11, 1883, he conveyed his rights in his father's property to Elijah W. Bellis as administrator of the estate for $1, so I assume Peter owed money to his father.4 Peter R. Hoagland died in January 1885 "at his residence near the brick yards in Flemington from congestion of the brain after a short illness." 5
Back on October 10, 1883, the Republican reported that the administrator of Hoagland's estate, Elijah W. Bellis, would hold a public sale of Hoagland's property. The property was described as two large lots:
No. 1. The homestead Farm, of 133 Acres in Raritan Tp., whereon John Morehead resides. The dwelling is large enough for 2 families and the outbuildings are in good repair. There is also a brick tenant house and the farm is watered by Walnut Brook.

No. 2. A farm of 161 Acres that adjoins the above, occupied by George W. Cronce. The dwelling is brick and has ample rooms for a large family. There are two tenant houses and one of the oldest Saw Mills in the County is on this property. These farms are located within 2 miles of Flemington on a nearly level road. Interested persons may call on the Administrator living nearby.
On November 21, 1883, the Hunterdon Republican reported that the "homestead farm" of 161.89 acres had been sold to Jacob Schlapfer of Raritan for $10,834.88, along with a woodlot of 16.29 acres.6 That was the farm occupied by George W. Cronce in the description above, and bordered Joseph Sergeant, the road from Flemington to Ringoes, John Sergeant, John S. Higgins, Schlapfer's woodlot, John Morehead, and William Dally. It lay on both sides of Johanna Farms Road and included the houses shown on the Raritan Township map above as well as the sawmill on the south side of the road.
The other property of 133.62 acres was sold to its occupant, Hoagland's son-in-law John Muirhead on the same day. The Republican stated that the 133+ acres was the homestead farm, and one would think so, given the family connection. It was located just south of the property occupied by Elijah and Jane Carman in years past, on the west side of Johanna Farms Road, and was therefore not the homestead of Aaron C. Hoagland. The deed, which wasn't recorded until April 1, 1884, listed the buyers as John Morehead [sic] and George R. Hoagland, both of Raritan Twp., who paid $8,094.01 for the property, which bordered that of Jacob Schlapfer.7
George R. Hoagland was the son who eventually moved to South Dakota. After purchasing the farm of 133+ acres with his brother-in-law, he moved to New York City and on the same day, April 1, 1884, conveyed his share of the farm to "Moorehead" for $1.8 No doubt there is a story behind those two transactions. George's wife was Levantia Jane Brainard, born in 1841 in Rome, Oneida Co., New York. Their marriage took place in 1868, but only two years later, Levantia died at the Hoagland farm, age 29. In the 1880 census, George was living in Raritan Township with his father. Soon afterwards, he moved to New York City, where he married his second wife, Leora L. Hewitt. The couple then moved to South Dakota where Leora died in 1912.
As for John Morehead/Muirhead, he had married Aaron and Susan Hoagland's daughter Mary in 1860. By the time Aaron Hoagland died, Morehead was also a widower, as Mary Hoagland Morehead died in 1877 at the age of 41. They had no children, and it appears that Morehead did not remarry.
Things did not go well for Morehead. He was sued for debt by administrators of the estate of Judiah Higgins in 1891, and the court seized his farm and ordered it to be sold. The buyer was Henry A. Fluck of Flemington. Fluck owned a huge amount of property, so I have not been able to identify when he sold the farm, but it appears that Fluck allowed Morehead to remain on the farm for some time. On March 8, 1893, the Republican published this notice:
Large Public Sale to be held on 23 Mar. 1893. John Morehead will sell at his residence about 2-1/2 miles south of Flemington, on the well-known farm of Aaron Hoagland near Copper Hill, the following Personal Property: Live stock, wagons, farming equipment and utensils and Household Goods and furniture.
Morehead died on November 12, 1897, at the age of 60, and was buried in the Reformed Church Cemetery in Readington Township.
Let us now move on to the next farm along the route of the rail line, the farms owned by John P. Sergeant. This farm was north of Johanna Farms Road, but its southern boundary did not run along the road.
Below is a detail from the Raritan Township tax map showing locations of the farms of Aaron C. Hoagland, John P. Sergeant and Gershom C. Sergeant, among others. Keep in mind that the lot lines of today do not necessarily match the lot lines of the mid 19th century, but they are close.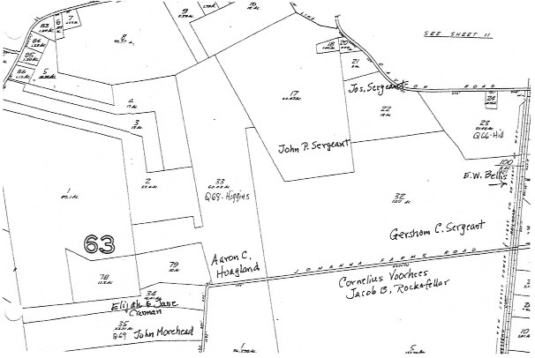 The Hill-Sergeant Farm
This farm is the one shown on the tax map as Block 63 lot 17. Here is the chain of title for that farm, starting prior to the Revolution and ending in the mid 19th century:
Jonathan Hill & Sarah Smith
Samuel Hill & Martha Carman
William Maxwell & Sarah Dusenbury
Joseph Sergeant & Gershom C. Sergeant
John P. Sergeant & Mary Young
Jonathan Hill & Sarah Smith
Like the Hoagland farm, the Sergeant farm was at one time owned by the Hill family, as described in Carman, Hoagland & Higgins. Just to review, in 1772, Jonathan Hill purchased the property at a sheriff's sale.9 It was part of a large tract of land in the Penn-Coxe 5,000-acre proprietary tract at the southwest corner of modern Flemington, on either side of Dayton Road and either side of Route 523. In his will dated Sept. 2, 1778, Jonathan Hill left to his eldest son Samuel "that part of the plantation where he now lives."
Samuel Hill
Samuel Hill (c.1745-1824), the son of Jonathan Hill & Sarah Smith, married Martha Carman (1750-1783, sister of Elijah Carman) about 1768. Their three children were Jonathan, Martha (married Joseph Reading) and Isaac (1783-1850, married Margaret O. Yard). After Martha Carman Hill's death at the age of 32, Samuel Hill married second Sarah Trout (1761-1854), one of the many children of George Trout and Hannah Lequear (see Trout Family Tree). Sarah Trout Hill had four children: Hannah (m. Nicholas B. Higgins), Elizabeth (m. Paul K. Dilts), Asher T. (m. Susan Wyckoff) and John (seeHill Family Tree).
Samuel Hill wrote his will on May 12, 1820, "being aged and infirm of body." He provided for his wife Sarah by specifying she was to have "two rooms of her choice in my house, use of the kitchen and cellar, a third share of the garden, poultry, apples, firewood and $100 every year during her widowhood in lieu of dower." To his sons John and Asher and daughters Hannah Higgins and Elizabeth Dilts he left "the farm where I now live." Based on where widow Sarah and son Asher Hill were living in later maps, that homestead farm appears to have straddled Dayton Road.
I confess I have not identified all the properties owned by Samuel Hill. The property I am interested in was the one that he conveyed to his son Jonathan in 1807. On May 20, 1807, Samuel & Sarah Hill of Amwell conveyed to Jonathan Hill, Jr. for $1648, a tract of 68.66 acres in Amwell bordering the northeast side of Judiah Higgins' land, other land of Samuel Hill, "the brook," and land of Elijah Carman, it "being part of a greater tract of land devised to said Samuel Hill by his father Jonathan Hill dec'd."10
Like Peter Hoagland, Jonathan Hill could not stay out of debt. A very interesting deed dated July 22, 1820 (only a few months after his father had written his will) was recorded in 1824.11 It involved a sheriff's sale resulting from the suit brought by the New Hope Delaware Bridge Co. v. Jonathan Hill in the Court of Common Pleas for a debt of $6,000. It also involved a judgment obtained by William & John Maxwell, administrators of George C. Maxwell dec'd v. Jonathan Hill for a debt of $1,418.74, and another judgment for John Maxwell, Sr. for a debt of $637.34.
Sheriff John Cavanagh was given a writ of fieri facias by the Court of Common Pleas to seized Hill's property, which he conveyed at a public sale to William Maxwell as highest bidder for $165. The property consisted of the lot of 68.33 acres, being the same lot sold to Jonathan Hill by Samuel & Sarah Hill on 20 May 1807. There were also two smaller lots, one of 1.25 acres in Kingwood twp. bordering William Risler, Wm Fulper, Jacob Pegg, which Hill bought from William Trimmer dec'd in 1815, and a lot of 4.27 acres bordering Ezekiel Anderson dec'd, land late Judiah Higgins dec'd, and land late Jonathan Hill [Sr.], which Jonathan Jr. bought from his brother Isaac and wife Margaret in May 1814.12 The total came to 72.93 acres.
What happened to Jonathan Hill after this sale I cannot say—he disappears. There was a Jonathan Hill born about the same time who ended up in Erie Co., PA and died there in 1836, but he was the son of Joseph & Mary Hill, who were distantly related to Samuel Hill.
William Maxwell
In the process of researching the William Maxwell who purchased the farm of Jonathan Hill in 1820, I discovered what a challenge it is to sort out this family, what with the several Williams, Johns and Georges who appear in Hunterdon County in the 18th century. I remain confused about them and will need to do more research. But I can say that the William Maxwell who purchased the Hill farm in 1820 was William Maxwell, Esq. (1785-1828), the son of Col. John Maxwell and Mary Ann Clifford of Greenwich, Sussex County, NJ. He was the second youngest child of nine. The youngest, William's brother, was Col. John Maxwell (1787-1820), who married Ann Hill (1787-1830), daughter of Elder Isaac Hill, Sr. and Mary Hunt, and first cousin of Jonathan Hill, above.
The sheriff's sale of 1820 mentioned a judgment obtained by William & John Maxwell, administrators of George C. Maxwell dec'd v. Jonathan Hill for a debt of $1,418.74. William, John and George Maxwell were brothers. This George Maxwell (1771-1816) was the George who had been elected a Congressman in 1810 and served one term, from 1811 to 1813 during a critical time in America's history, when war was declared against Great Britain.13
The parents of George, William and John Maxwell were Irish immigrants who settled in Warren County, which was then part of old Hunterdon County. That was where William Maxwell spent his youth, but his ambition was to become an attorney, so he moved to Flemington, the county seat, where one had a better chance of gaining a legal education. He began his law practice in Flemington in 1808, and was admitted to the Bar in 1817.14 That same year he was elected Deacon of the Presbyterian Church in Flemington. This was one year after the death of his brother George, who had also served as Deacon.
Like his parents, William Maxwell also had nine children with his wife Sarah Dusenbury (c.1780-after 1825). I have very little information on her. She is thought to be the eldest child of Henry and Lydia Dusenbury of Lebanon Township, which is quite likely considering that the firstborn child of William and Sarah Maxwell was Henry Dusenbury Maxwell, born 1812, who moved to Easton, PA. In fact, all of the Maxwell's children appear to have ended up in Easton.15
There were many land transactions in William and Sarah Maxwell's name, but the one of interest here is the property of Jonathan Hill, in particular, the tract of 63 acres, more or less, bordering Elijah Carman, Judiah Higgins and Samuel Hill.16
This property was not a home for the Maxwells; they resided on Main Street in Flemington, where William practiced law. The farm must have been rented out, but the tenant farmer's name is not known.
William Maxwell was only 43 when he died on August 20, 1828. The Hunterdon Gazette, the only newspaper being published in Hunterdon County at the time, published a brief obituary on August 27th:  "DIED on Wednesday last the 20th inst. William Maxwell, Esq. Counselor at Law, son of the late John Maxwell, Esq."
Obituaries being what they were in the 1820s, nothing was said about the cause of death, and survivors were not named. Did his wife Sarah survive him? I cannot say. William and Sarah were buried in the cemetery of the Flemington Presbyterian Church, but there are no dates on their gravestones.17
The Gazette did publish on August 27th the following testimonial from Maxwell's fellow barristers:
At a meeting of a number of the members of the Court and Bar, of the county of Hunterdon, held at Flemington on the 25th of August instant, Nathaniel Saxton, Esq. was requested to preside, and Alexander Wurts acted as secretary. The chairman having announced to the meeting of the recent death of William Maxwell, Esq., Counselor at Law, on motion, it was Resolved, that this meeting do respectfully and sincerely sympathize with the family and relatives of the deceased, on this afflicting dispensation. Resolved, that as a mark of the esteem which we have long entertained for the deceased, and of respect for his memory, we will wear the usual badge of mourning for thirty days. Resolved, that these proceedings be published in the Hunterdon Gazette. Nathaniel Saxton, Chm., Alexander Wurts, Sec'y.
Because William Maxwell died intestate, the Surrogate, who happened to be another George Maxwell, had to name an administrator for the estate. He chose Maxwell's fellow attorney Charles Bartles, Esq., who put up a bond of $5,000. Sureties for the bond were Nathaniel Saxton and Joseph Bartles.18
On March 29, 1830, Charles Bartles, Administrator of William Maxwell's estate, conveyed to Joseph and Gershom C. Sergeant of Amwell two properties in Amwell Township, one of 68.66 acres and another of 4.72 acres.19 The larger lot was bordered by Samuel Hill, a brook (being a branch of the Neshanic River), Jacob Rockafellow, land formerly Jonathan Hill's and land formerly Ezekiel Anderson's. This was the property that Maxwell had purchased back in 1820 from Sheriff John Cavanagh. It is interesting that William Maxwell had held on to this farm for ten years.
Charles Bartles had several other properties belonging to the Maxwells to dispose of. In the spring of 1830, he sold Maxwell properties to Joseph Reading, Samuel Hill, and John H. Anderson.20
Joseph Sergeant was the father of Gershom C. Sergeant and also of John P. Sergeant. The three of them resided in this area of Raritan Township between Johanna Farms Road and Dayton Road and will be described in the next post.
Footnotes:
I described the origins of this road in "Hoagland's Road, part one." ↩
To see a list of articles on the subject of the "Delaware-Flemington Railroad," go to the right-hand sidebar, and scroll down to "Topics," where you can click on "railroads." ↩
See Deed Book 9 p.509. ↩
H.C. Deed Book 203 p.172. ↩
Hunterdon Republican, Jan. 21, 1885. His wife Mary E. Lambert had died very young in 1863. She was the daughter of Asher Lambert, Esq. and Jerusha Thatcher. Peter and Mary had one child, son James (1863-1953) who was married to Nellie Taylor Stivers (1863-1952). ↩
H.C. Deed Book 204 p.276. The deed was not recorded until April 1, 1884. ↩
H.C. Deed Book 204 p.633. ↩
H.C. Deed Book 204 p.694. ↩
Recital, H.C. Deed Book 6 p.355. ↩
H.C. Deed Book 17 p.422. ↩
H.C. Deed Book 36 p.196. ↩
H.C. Deeds Book 25 p.4 and Book 26 p.458. ↩
George Maxwell had died intestate in 1816; his wife Rachel Bryan had predeceased him in 1807. The couple is buried in the Pleasant Ridge Cemetery. Their son John was only 12 years old and daughter Anna Maria was only ten years old when George Maxwell died. ↩
See James P. Snell, History of Hunterdon Co., p. 206. ↩
Henry Dusenbury Maxwell wrote a history of the Maxwell family that I would love to see, titled The Maxwell Family: Descendants of John and Ann Maxwell, 1701-1894, published in 1895. It is not to be found in the library of the Hunterdon Co. Historical Society or on Google Books. Pam Robinson, the HCHS Librarian, located a copy at the Easton Public Library. ↩
H.C. Deed Book 36 p.196. ↩
A family tree on Ancestry.com claims that Maxwell died in Greenwich Township and was buried in the Presbyterian Church Cemetery there. That is incorrect. The confusion may stem from the fact that William's parents, John Maxwell and Mary Ann Clifford, lived in Greenwich and were buried in Greenwich Cemetery. ↩
George Maxwell (1774-1834), the County Surrogate, was the son of William Maxwell and Susanna Kitchen of Bethlehem Township. I have not yet been able to discover a relationship with the earlier George Maxwell. But this second George Maxwell was also a politican, having served as member of the State Assembly and of the Legislative Council. ↩
H.C. Deed Book 48 p.119. ↩
I confess I have not seen these deeds; the copy of Book 48 at the Family Search website is entirely too difficult to read. A trip to the County Clerk's Office is in order. ↩