or Dilts Farm Revisited, part two
Part one focused on the family of Judson Rittenhouse and Martha Bodine, who lived on the farm now known as the Sarah Dilts Farm Park in Delaware Township for most of their lives. The farm was purchased by Judson's father, Wilson Bray Rittenhouse, in 1844. This article will first describe Wilson and his family, and then will trace the history of this property back to the first European owner.
In the process, I will be able to correct my previous chain of title for the Rittenhouse-Dilts Farm in which I claimed that it had been owned by Isaac Larew. I have discovered that was not the case.
The Rittenhouse Farm
Here's another correction–it was written somewhere that Wilson B. Rittenhouse acquired his farm from his father. In fact, Wilson bought it on his own, on September 24, 1844, from Cornelius and Sarah Wilson. It was a farm of 63.26 acres for which he paid $1,897.08.1 The property was bordered by the Hagaman farm, William W. Wilson, Henry Lawshe, Wilson Hunt, and John Hunt.
The farm does not appear on the Cornell Map of 1851, but it does on the Philadelphia Map of 1860.2 On what is now Buchanan Road one can find on the map "W. B. Rittenhouse." That stretch of road was surveyed in 1857.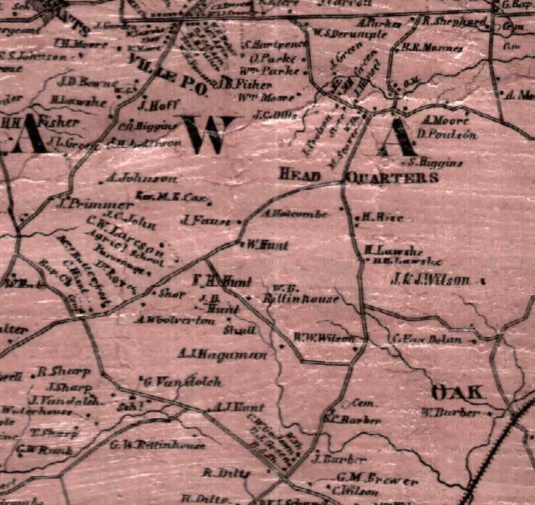 The odd thing about this map is that the continuation of the road that ends up in Sergeantsville, known today as Rittenhouse Road, had not yet been surveyed. A petition to survey it was submitted in 1866. But that does not mean the route was not used. In early deeds, before either road was made public, they were known as "the road from Sergeantsville to Dilts Corner." (For more on Rittenhouse and Buchanan Roads, see Rittenhouse Road.)
Wilson Bray Rittenhouse & Ury Ann Ent
As mentioned before, Wilson B. Rittenhouse bought the farm and built the first (and only) farmhouse there in 1844. This was not long after Rittenhouse had married his second wife Ury Ann Ent (c.1813-1888), daughter of John Ent, Sr. and wife Rebecca (maiden name unknown) of Sandy Ridge.
Wilson Bray Rittenhouse was born September 26, 1813, the seventh of nine children of Jonathan Rittenhouse and Delilah Bray. At the time his parents were living near Stockton, but later on moved to a property at Sandy Ridge owned by Charles Sergeant. When Wilson reached adulthood he became a teacher at the Vandolah School nearby.
Correction, September 08, 2019:  In my first article on the Dilts Farm, I wrote that Wilson B. Rittenhouse's first wife was unknown. Her existence is based on the fact that Wilson had a daughter, Mary Jane (Jennie) Rittenhouse, who was born on July 10, 1836, and later married Rev. James M. Cox. It wasn't until  that I discovered my mistake. I had taken the marriage date of Wilson and Rachel Lambert to be September 26, 1837, as reported in Hunterdon Marriage Records compiled by Hiram Deats. If I had taken the trouble to look up the record under Rachel Lambert's name, I would have seen two marriage records for Rachel and Wilson, both by Rev. Wright, both on September 26, but one in 1837 and the other in 1835.
A closer look showed another mistake–Rachel's death date of 1839. That is the year given on Find-a-Grave. But the Hunterdon Gazette published her obituary on April 26, 1837, giving her death date as March 28, 1837. Rachel Lambert, daughter of Daniel and Polly Sharp Lambert, could not have died before she married. The wedding year of 1835 is the correct one, and Wilson's daughter Mary Jane (Jennie) Rittenhouse was Rachel's child, not some unknown first wife. My apologies.
It took awhile for Wilson Rittenhouse to recover from that tragedy. It was not until April 24, 1842 that he married Ury Ann Ent. That marriage was far more successful than his previous ones. Wilson and Ury had seven children, losing only one as an infant. The others were: Newton Bateman (1844-1912), Rachel B. (1846-1922), Amy (1848-1913), Cornelius W. (1850-1912), Delilah (1853-1925) and Judson (1855-1920). I cannot say for certain what Rachel's middle initial stood for, but it had to be either Bray or Bateman. The mystery also holds for her brother Cornelius, as no document I came across spelled out his middle name, but my guess is Wilson, since his father bought his farm from Cornelius and Sarah Wilson.
In the 1850 census, the family consisted of Wilson B. Rittenhouse age 36, farmer, with property worth $3,050, "Ure Ann" 36, and their children John Newton 6, Rachel 4, and Amy 2. At the end of the list came daughter Mary Jane, age 14.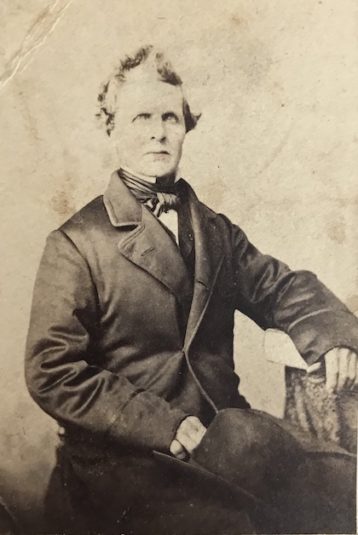 My previous article featured many photographs from the Judson Rittenhouse family provided to me by Karen Cummings Whitehead. I saved one of them for this article—a portrait of Wilson B. Rittenhouse. Karen Whitehead wrote:
Also I have another photo that was taken in a studio in Philadelphia, that was with these others. It looks older, more somber Victorian. It's a formal photo of a man and very very faint in pencil under the photo was what looked to be "W.P. Rittenhouse."
When he was 64 years old, Wilson Bray Rittenhouse wrote his will, on April 28, 1879. He made the usual provisions for his wife Ury, and left money to his four daughters and two of his sons (Newton and Cornelius). To his "youngest son Judson Rittenhouse" he left "my homestead on which he now resides." Rittenhouse died three years later at age 67 and was buried in the Sandy Ridge Cemetery. Ury Ann died seven years later, age 75, and was buried next to him.
It took some confusing research for me to figure out how the 62+ acre property came to be sold to Wilson B. Rittenhouse. And it took some more effort to figure out how to tell this story. I learned once again that researching a property is best done from newer to older deeds, i.e., working backward, but describing the history of a property is far better done going forward. So let's start with the very first European owner.
Adlord Bowde/Boude and Daniel Coxe
Sometime ago, I took a close look at these two gentlemen. They were of interest because Coxe served as governor of the Province of West New Jersey in the 1680s, and Adlord Bowde had purchased a tract of 30,000 acres from the native people in 1688 that included much of southern Hunterdon County. (See West NJ 1688 and Daniel Coxe, part one.)
My conclusion that Bowde's purchase was made on behalf of Coxe was probably inaccurate. Because Coxe was Governor at the time, the purchase was made on his behalf and on behalf of the proprietors of the Province of West New Jersey. It was an Indian purchase, and Bowde had to have been authorized by the Proprietors to negotiate with the Lenape who lived there.
Coxe had previously acquired twelve whole proprietary shares, which entitled him to have a large acreage surveyed in the Bowde Purchase. Buying a proprietary share was equivalent to buying stock in a corporation. It was the practice of the Board of Proprietors to issue a dividend of 5,000 acres per share once an Indian purchase had been made.
The property that was surveyed to Coxe included all of today's Hopewell Township. But it did not extend all the way to the northern boundary of the 30,000-acre purchase. This meant that other proprietors were entitled to make surveys in this area between the Hopewell Township's northern boundary and the Lotting Purchase line. (For more on the Lotting Purchase, see "Historical Glossary.")
Early 18th Century Owners
One of the West Jersey proprietors was Benjamin Field, yeoman of Burlington County. In 1700 and 1701, he had several large surveys made in the northern part of Adlord Bowde's 30,000-acre tract, in what became Hunterdon County.
Benjamin Field was born in 1670 to Robert and Susanna Field of Newtown, Queens County, New York. Probably about 1692, he married Experience Allen, daughter of Jedediah & Elisabeth Allen, and sister of Nathan Allen, Esq., who, like Field, acquired large tracts of land in Hunterdon County.
Sometime after Bowde's Purchase was approved, probably around 1700, Benjamin Field used his dividend to get a survey of 700 acres made for him along the northern border of the Purchase, as shown on the Hammond Map below.
This was only one of several tracts of land that Field acquired in Hunterdon County. They were strictly investments; Field had no intention of leaving his home in Chesterfield. He was quick to sell and reap a profit, although it seems he was content to settle for a rather small one. On March 13, 1701, Benjamin Field of Chesterfield, Burlington County, Province of West New Jersey, conveyed to John Way of Newtown, Queens County, NY, the entire 700-acre tract.3 The cost for this large property was only £105. Perhaps the price was so low because Field and Way considered the land unimproved wilderness.
In fact, though, it was not wilderness to the native people. The deed description states that the tract bordered land surveyed to Richard Bull and William Biddle, and was located "above the Indian town of Jathalamensey." This of course is a phonetic spelling of the actual name, which is not known. The tract was much closer to Stockton than to Lambertville, so it seems likely that the place that became known as Howell's Ferry on the north end of Stockton was once an Indian village, and the road running northeast from that point (today's Route 523) was a well-trod Indian path.4
It is also likely that the Lenape who resided at this "Indian town" were the ones that Adlord Bowde negotiated with. As I wrote in West NJ 1688, the deed to Adlord Bowde, dated April 9th, 1688, named the sachems, or "Sackimackers," who sold land to Bowde. They were Hocham, Kepanoockonickon, Romasickamen, Tiptaopaman and Vevenutting (again, the phonetic spelling), and the deed stated that the purchase was made "on behalf of Gov. Daniel Coxe."5
Benjamin Field died shortly after making the sale to John Way. He was only 32 years old. His death is recorded in Burlington Church records as May 16, 1702. Three days earlier, Field wrote his will, making his widow Experience his sole executor. The will mentioned the 2400 acres "above the Falls of the Delaware," that he still owned after selling 700 to John Way.
I suspect that both Benjamin and Experience Field were suffering from a virulent disease, perhaps smallpox, because just a few days later, on May 30, 1702, Experience Field of Burlington City wrote her own will, leaving most of her property to her four surviving children. She died sometime before January 1705.
John Way remained at his home on Long Island and held onto the Amwell property until 1722, when he sold it to Eden Marselison and John Van Forst for £222.6 The conveyance identified the bordering owners as Richard Bull on the north, Samuel Green on the northeast, William Biddle on the east, and Robert Dimsdale on the southwest.
The names of Marselison and Van Forst were apparently something of a stumbling block for clerks. Alternate spellings for Marselison were Mersellas, Eda Meselyons, etc., and Van Vorst appeared as Vanforst, Van Vorst, and Vanvorst. For consistency's sake, I will stick with Van Vorst, since that is the most likely original spelling.
John Van Vorst
One of the earliest records for John Van Vorst was dated December 5, 1732, when he sold a tract of 130 acres out of his share of the 700-acre Field tract to Johannes Wimmer. According to "an enlightening preamble" in a later deed cited by Egbert T. Bush, the property bordered land sold by Eden Marselison to Johannes Johnson, which had been sold to Marselison & Van Vorst by John Way in 1722.7 Wimmer's property was described as bordering Edward Farrel or Harrel, Van Vorst and Dimsdale, which puts it at the southeastern end of the original Field tract, quite a distance away from Headquarters and from the Dilts Farm.
Johannes Wimmer appeared as a bordering owner to Edward Ferrel in March 1737, when Ferrel applied for a loan from the Hunterdon County Loan Office for a lot of 50 acres. Wimmer, whose name was spelled "Whynder" bordered Ferrell on the south. Robert Dimsdale bordered the property on the west and John Van Vorst on the east.8 A month later, John Van Vorst also got a mortgage from the Loan Office. He mortgaged a tract of 185 acres for £20.9 By plotting the description in the mortgage, I found that it nearly exactly matches the properties along the north side of Buchanan Road and extending east across the Lambertville-Headquarters Road.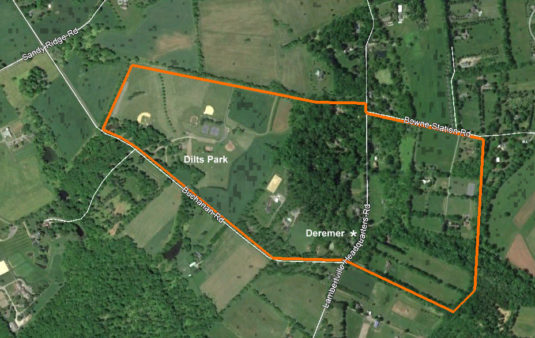 This mortgage is very important to the history of the Rittenhouse-Dilts Farm. Because it so clearly matches existing property lines, we can be certain of the fact that the Rittenhouse-Dilts farm was part of Van Vorst's property. Not only that, it tells us that Vanforst was probably living somewhere on this tract. The mortgage stated that it was "the place whereon the said John Vanforst [sic] and his improvements are now upon." The mortgage was discharged and refinanced in 1739. (At that time, Marselison's name was spelled "Eda Meselyons.")10
The Triangle Tract
I cannot resist calling it that. At some point, John Van Vorst acquired an adjacent property of 150 acres, triangular in shape. It was not part of Benjamin Field's 700 acres. It was adjacent, on the east side, and therefore bordered Van Vorst's 185 acres on the east (as you can see on the Hammond map above), but Van Vorst did not record the deed. Eventually it came into the hands of Isaac Larew, who mortgaged the property in 1768.11 The dividing line between Larew's land and the large Field tract ran parallel on the east to today's Lambertville-Headquarters Road, with the Larew tract on the east and Vanvorst's 185 acres on the west.
One reason for taking the trouble to set out the early chain of title for the Dilts Farm is because in my previous article I mistakenly identified the Dilts Farm property as being part of the 150 acres owned by Isaac Larew. The mistake came about because Abraham Deremer acquired both the 150-acre tract as well as the 185 acres of John Vanvorst. There was a lovely chain of title for the 150 acres in a later deed, but not for the tract where Vanvorst lived. My mistake was failing to plot out all the deeds.
Isaac Larew
The Larew family was an extensive one in 18th-century Amwell Township, beginning with the immigrants, Abraham Larew and Alche Gerretson. The family settled in Hopewell Township, but some of their children moved north into Amwell. Isaac Larew was a grandson, whose father Abraham died in Hopewell in 1749/1750. About that time, Isaac married Jerusha Hyde (1735-1806), daughter of Jonathan Hyde and Elizabeth Leverel of Kingwood. A mortgage of 1752 shows that Isaac Larew owned land near Sergeantsville which he sold to Amos Thatcher in 1760.12
By 1768, Larew had come into possession of Vanvorst's 150 acres, as shown in his mortgage of that year.13 In 1771, Larew became uncomfortable about the state of affairs in New Jersey and sold the 150 acres plus an adjacent 20-acre lot to Abraham Deremer, Cornelius Hoppock and Samuel Corle.14 (By the way, the recital in this deed was the one I had used in the first Dilts Farm article. It states that Nathaniel Leonard had owned the 150 acres some time before 1745, and that John Van Vorst owned the extra 20-acre lot on the west side, which was on the Field tract.)
There is a family tradition that Larew was paid in Continental paper, and that after the Revolution, when he returned to New Jersey, his paper money was worthless. One descendant wrote that Larew burned his money. There's just one small problem–they weren't issuing Continental paper in 1771. Another inconsistency is the fact that Isaac Larew was taxed on 150 acres in 1780. He died intestate, "penniless and heartbroken," according to Hiram Deats, in 1785.
Samuel Corle
It is unclear whether the Samuel Corle who bought Larew's land with Abraham Deremer was Samuel, Sr. or Samuel, Jr. According to Egbert Bush (in his article, "Let's Stop Off at Bowne Station"), Corle, Sr.'s farm was on the Larew property. Bush identified it as being "The farm just across the public road [Bowne Station Road], now owned by Dr. Wilfred F. Harrison."
I traced the Harrison farm and found that it had previously been owned by William Barber and wife Catharine Corle, daughter of Samuel Corle, Jr. and Catharine Deremer. You see where I'm going with this? It appears that Deremer conveyed part of his share in the 150 acres to Samuel Corle, Sr. sometime between 1771 and the Revolution. Samuel Corle was a fierce Loyalist and did not like the direction things were going. But instead of just leaving town, like Larew, Samuel Corle completely disappeared, as Mr. Bush wrote:
He owned it at the time of the Revolution. Samuel was a Loyalist, strictly adhering to the cause of the northern country. And whenever "loyalty" and "patriotism" clash in a neighborhood, there is likely to be more or less trouble. Though no serious clashings of neighbor with neighbor here are of record, or even trouble with the state or colonial authorities, one night Samuel Corle disappeared as though the earth had gaped, swallowed him down and then closed its mouth so tight that no sign of lip or mouth could ever be found. Whether there had been foul play or whether he had fled in fear of it, Samuel Corle was never heard from after that night. His affairs, financial and otherwise, were all in satisfactory condition, and the natural supposition was that his attitude toward the struggle for liberty was in some way the cause of his disappearance.
Cornelius Hoppock
The third member of the group purchasing Larew's property was Cornelius Hoppock who married the other Catharine Corle, i.e., the sister of Samuel Corle, Jr. Abraham Deremer probably conveyed some of his share to Cornelius Hoppock the way he did to Samuel Corle. Hoppock lived nearby in today's West Amwell, and after wife Catharine died in 1782, he married second Jemima Barber, daughter of John Barber and Magdalen Johnson, and sister of Samuel Barber, who married two of the daughters of Cornelius Hoppock and Catharine Corle. Talk about a close-knit family!
Returning to Van Vorst's 185 acres
In 1747, John Van Vorst sold part of his holdings to Abraham Deremer. We know this from the recital in a deed of 1784 in which Deremer sold part of this land to Andrew Larison.15 The property concerned was located along Sandy Ridge-Mt. Airy Road, on its southwest side, so it is not directly concerned with the Dilts Farm property, but it tells us that Deremer had been buying land from Van Vorst at a very early date.
But there is a problem. The description in Isaac Larew's mortgage of 1768 states that Garret Williamson owned property on Larew's western boundary, which is where the 185 acres was located. You can see Williamson's name on the Hammond map, above. But Abraham Deremer was also bordering the property.
Garret Williamson is just as mysterious as John Vanvorst. There were several Garret Williamsons in the 18th century, but none were living in Hunterdon County until the early 19th century, which is too late. I thought perhaps it might be one of the Garret Williamsons of Somerset County who remained there and owned the Amwell property as an investment. But there is no deed recorded in Hunterdon for a sale by him.
But there was definitely a Garret Williamson in the area in the 1760s, which we know from court records. It seems as if Williamson thought he had a claim on land owned by others. The records of the NJ Supreme Court show that in 1764, Williamson was "sued for Trespass & Ejectment by Cornelius Barber." The next year he was sued by John Barber and Caleb Farlee for debt, and in 1766 was again sued for "Trespass & Ejectment" by Edin Mersellas.16
I have contacted Williamson researchers for information on this Garret, but have drawn a blank. This is one Williamson who seems to have fallen through the cracks. We might as well leave him there and move on to . . .
Abraham Deremer
Abraham Deremer, a French Huguenot whose name was probably spelled De Remer, was born to Isaac Deremer, Sr. and Annetje Woertman, who were married in Brooklyn in 1705.17
Deremer was known as "a wealthy savant." I would love to know how he acquired that description. If he was a savant, surely he would have had writings and a large library, but no mention is made of them. As far as wealth goes, he probably made it the only way available in 18th century western New Jersey. Egbert T. Bush explained:
In those days, rural speculation was largely in real estate. There was no such thing as "playing the stock market," or if there was anything akin to "Wall Street," it was still in the harmless stage of infancy and all unknown in rural communities. Fortunes were made slowly and lost rarely—never made or lost "over night." But, in spite of slow processes and "unscientific methods," the proportion of relatively prosperous men seems to have been larger, and their prosperity more substantial than can be claimed for our age of bigger and better things.18
Deremer's House & Family
Previously I mentioned that John Van Vorst lived on his tract of 185 acres in 1737. We do not know exactly where his house was located, but I would not be at all surprised to learn that it was near or at the location of Abraham Deremer's house, which stood on the west side of Lambertville Headquarters Road, just north of the intersection with Buchanan Road. Deremer's house still stands today, one of Delaware Township's best examples of 18th-century homesteads.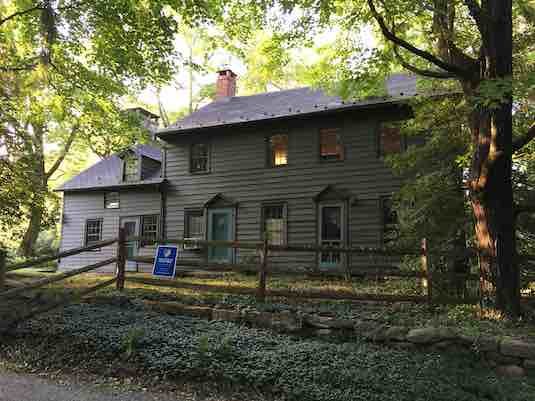 The Delaware Township Historic Sites Survey for this house (#1007-75) states that it dates to the 18th or early 19th centuries. It is a clapboard 2-½ story house perpendicular to the road with a stone addition. Sometimes homeowners jump to conclusions about when their houses were built. A good example of this is an article about the house published in Colonial Homes Magazine in 1991, in which the owners claimed a date of construction as 1730. But there is no basis in fact for making that assumption, just because John Van Vorst owned the property around that time. One must date a house by its construction, not by it ownership. To amuse us a little more, the article stated that the house was built by "Isaac Lauren" (presumably a misreading of Larew), and the article was named "Headquarters House," even though the house is some distance from the village. However, the photographs are lovely!19
This is a good place to describe Abraham Deremer's family. His wife was named Charity, but her maiden name is not known. She and Abraham had three daughters: Catherine, Jane and Leah. Catherine (c.1749-1835) married Samuel Corle (1745-1834), son of Samuel Corle, Sr. Jane (1755-1834) married Capt. John Wilson (1755-1822), son of James and Margaret Wilson. Leah (c.1757-1781) married Thomas Holcombe (1754-1822), son of Samuel Holcombe and Eleanor Barber. (After Leah's death, Thomas Holcombe married Mary T. Holcombe (1767-1835), daughter of Richard Holcombe and Ann Atkinson.)
During his lifetime, Abraham Deremer acquired many properties in old Amwell Township. On January 29, 1791, when he was 66 years old, he wrote his will, distributing his properties among his heirs. He ordered "land between John Barber's and John Covenhoven's to be partitioned per survey by John Lowry Oct 9, 1790."
To his son-in-law Samuel Corle and wife Catherine, he bequeathed "the lands on east side during their life, then to grandson Benjamin Corle, he to pay sister Nancy £200." But Benjamin Corle died young, in 1812, and was survived by his parents. Samuel Corle wrote his will on September 28, 1829, leaving his homestead to son-in-law William Barber. The Corle-Barber home was located on Bowne Station Road at the eastern boundary of Larew's Triangular Tract.
Abraham Deremer's will left to his other son-in-law John Wilson and wife Jane land "on the west side" for life then to grandson Abraham Deremer Wilson, he to divide £200 among sisters Mary, Jane, Leah, Elizabetha and Sarah Wilson and any others that are born.
That property "on the west side" of the division was the 185 acres first owned by John Van Vorst. Deremer named his two sons-in-law, Wilson and Corle, his executors. He did not include his third son-in-law, Thomas Holcombe. In fact he did not name Holcombe at all, and only left a financial bequest to daughter Leah Holcombe. Perhaps this was because Holcombe was 1) very wealthy, and 2) lived further away in Kingwood Township.
John Wilson
John Wilson (1755-1822) was the third of eight children born to James and Margaret Wilson. James Wilson came to Amwell Township from Freehold, Monmouth County.
The children of James & Margaret Wilson, like the children of Abraham Deremer and their neighbors, married into local families. James, Jr. married Peggy Hunt; William married Sarah Vandolah; John married Jane Deremer; Jerusha married Isaac Wolverton; Elijah married Elizabeth Skillman; Charity married Samuel Barber; and Rebecca married John Hoppock. It makes quite a web of relationships.
It's even more striking with John Wilson and Jane Deremer, who had ten children. Among the locals who married into their family was Andrew Larison who married daughter Mary, Caleb Moore who married Jane, Sen. Joseph Moore who married Leah, Samuel Wolverton who married Elizabeth, Elizabeth H. Reading who married John S. Wilson, Susanna Hoppock who married David, Anna Lambert who married William, and Sarah Huffman who married Cornelius.
John Wilson was a Revolutionary war veteran, and afterwards, his father conveyed to him, on April 8, 1784, a tract of 113 acres in today's East Amwell.20 This was not the only property owned by Wilson, not by a long shot. His list of deeds is a lengthy one. Unfortunately, a name like John Wilson is a bit too common for comfort. I have 37 men with that name born between 1706 and 1815, so I cannot be certain that all the deeds recorded during Capt. John Wilson's lifetime can be attributed to him.
When John Wilson was 67 years old, he wrote his will, dated March 10, 1821. He still owned, in addition to all his other property, a life estate in the old Deremer farm. His will read: "to son Rev. Abraham Deremer Wilson by his grandfather's will to possess my farm after his mother's decease so that he will be fully equal to any of his brothers and sisters."21
John Wilson died on January 5, 1822, age 66, and was buried in the Barber Cemetery on Lambertville-Headquarters Road, a short distance south of the old Deremer house. His wife Jane Deremer Wilson survived him by 12 years, dying on August 14, 1834, age 78, and was also buried in the Barber Cemetery.
Rev. Abraham Deremer Wilson (1789-1876) was the eldest son (and sixth child) of Capt. John and Jane Deremer Wilson. He was, like many ministers, somewhat itinerant, and was living in Shawangunk, Ulster County, NY with his wife Julia Ann when in 1828 he sold the now 174-acre farm he had inherited to his brothers, William and Cornelius Wilson. Surprising to me was the fact that their mother, Jane, who had a life estate in the farm, was still alive at the time. It is most likely that she was living in the Deremer house with her son William.
William W. Wilson
Ten years later, on February 2, 1838, brothers William and Cornelius divided the old farm between them, Cornelius keeping the 74 acres on which the Rittenhouse-Dilts farm was located, and William keeping the eastern part.22 By that time, William (1796-1875) had married Anna Lambert and had two daughters with her. The marriage took place on March 29, 1831, probably at the Presbyterian Church in Ringoes, because Rev. Kirkpatrick officiated.23
Anna Lambert was born May 16, 1811, a date we have from her gravestone. Identifying her parents has been a struggle. At present my best guess is that she was the daughter of Daniel Lambert and Mary (Polly) Sharp, who had a daughter Ann/Anna about 1810. Their daughter Rachel (Anna's sister) was probably the second wife of Wilson Bray Rittenhouse.24
After the death of Anna Lambert Wilson, William W. Wilson married second Jerusha Thatcher (1808-1879), daughter of Amos Thatcher and Mary Sine. They had no children.
The Two William Wilsons
Much to my dismay, I find that there was another William Wilson who is easy to confuse with William W. Wilson, son of John Wilson and Jane Deremer.
I could not find any mention of a William W. Wilson in the Hunterdon Gazette, but William Wilson was very prominent. He was born in Antrim, Ireland in May 1781, making him fifteen years older than William W. He must have been a person of some wealth and standing when he arrived in America, because very soon after arriving, he married about 1820 Maria Lambert, daughter of Sen. John Lambert and Hannah Little. Their two children were John Wilson (1821-1873) and William Wilson (1822-1850).
More evidence of his social standing is the fact that in 1835 he was elected to the State Council (our State Senate), and served through 1842. Prior to his election, he was among those actively supporting Andrew Jackson for president.
The earliest notice of him in the Hunterdon Gazette concerns the Hunterdon County Bible Society. He was one of their "managers" from 1826 through 1830, and was also active in the County's Temperance Society.
I could go on at some length, but the point is that William W. Wilson, who probably adopted the middle initial to distinguish himself from this other more prominent William, led a much quieter life than the Irish William did.
Cornelius Wilson & Sarah Huffman
Cornelius Wilson (1798-1877) was the youngest of the ten children of Capt. John Wilson and Jane Deremer. When he and his brother William divided the Van Vorst farm between them in 1838, Cornelius was still single. It wasn't until March 27, 1844 that he married Sarah Huffman (1803-1875), daughter of John Huffman.
I had trouble identifying Sarah Huffman Wilson until I found a deed of April 7, 1848, in which the heirs of John Huffman conveyed his property in Kingwood Township to Edward Harrison.25 Those heirs were identified by name, including Cornelius Wilson and his wife Sarah.
Cornelius and Sarah Wilson had only one child, a daughter Catharine, who died in 1857, age ten.
There isn't much to say about Cornelius Wilson's life, as the census records of 1840 are very uninformative. He also kept himself out of records books and newspapers. Census records show that he lived in Delaware Township for his lifetime, and in 1860 was listed next to his brother William.
There is one exception to Wilson's inconspicuousness, and that is his investments in real estate. His list of deeds is a very long one. They are only of interest here in order to determine where he was living, since he was not living on the tract of land sold to Wilson Bray Rittenhouse in 1844. I suspect his home farm was the one he purchased in 1836 from his sister Jane, the widow of Caleb Moore.26 That farm of 58.25 acres was at the corner of Sandy Ridge-Mt. Airy Road and Lambertville Headquarters Road, and was on the west side of a farm owned by his brother David Wilson.
It was probably Cornelius Wilson's marriage in 1844 that prompted him to sell his 62+ acres to Wilson Bray Rittenhouse, which brings us to the end of the history of the owners of the Sarah Dilts Farm Park.
I wish to thank Marilyn Cummings for preparing the Hammond detail map to indicate modern roads and for the aerial view with outline of the Deremer farm.
I had considered publishing a Wilson Family Tree along with this article, but Wilsons are very hard to research, and I have a lot of unknowns as yet. And besides, I'd have to publish three different Wilson trees to cover the Wilsons living in Hunterdon County. The Wilson Trees will have to wait.
Footnotes: