This article by Egbert T. Bush concerns a family who lived in the Croton neighborhood in the mid-19th century. I thought it typical of Mr. Bush's style of writing, which may seem a bit florid, but is full of empathy for the characters he described.
Hardscrabble the Scene of Boy Hunt Many Years Ago

Victim, Thomas T. Hully, Died Recently at the Age of 82
Found Alive and Sleeping

By Egbert T. Bush, Stockton, NJ
Hunterdon County Democrat, March 26, 1936

My good friend H. Hart Case writes me that his curiosity was aroused by reading of the death of Thomas T. Hully, who died near Lambertville Feb. 11, 1936, at the age of 82 years. Mr. Case wished me to see if I could identify this Thomas Hully with the boy "Thomas Hully," concerning whom Mr. Case's father, Samuel C. Case (son of the late Samuel F.), had so often told him an interesting story. But he warned me that his father always called the name "Holly." That was no discouragement. Many people still so pronounce the name, and we find it sometimes so written in official documents.

By calling upon Mrs. Ethel L. Van Horn, wife of LeRoy Van Horn, of Stockton, and daughter of the late Thomas T. Hully, I learned that he was that identical boy. She told me that his father was Samuel Hully and that his mother's name was Hannah, just as Mr. Case had related. Also, that both had come from England, making the identification sure.

We find that Samuel Hully and his wife Hannah came to this country about the middle of the past century. Whether they came to that vicinity immediately or not we cannot tell, but in 1857 we find them living and owning land on the big hill two miles west of Flemington, officially called "Summit," but to us Swampers always "Hardscrabble."
Before Mr. Bush proceeds with his tale, here is some background on Samuel Hulley and his family. In my research I found that the name was most often spelled Hulley, although "Hully" and "Holly" also get used. Holly was pretty rare in documents, but probably not in  conversation. On Samuel and Hannah's gravestones in the Flemington Presbyterian Church cemetery the name is spelled Hulley.
Samuel Hulley was born in England in 1804 and, according to his naturalization record, he arrived in Pennsylvania in 1836 and was naturalized there on August 24, 1846. He probably married his wife Hannah W. Taylor, who was also born in England, around 1850, for their first child, Jonathan, was born about 1851. But I have no further record of him, and the Hulley family does not show up in the 1850 and 1860 census records.
Mr. Bush is correct that the family was living in the Croton area in 1857, for in that year, on March 13, Samuel "Holley" purchase two lots on Raritan Township, one of 10.57 acres, the other of 11.36 acres, from Charles and Catharine Brown, for $315.1 At that price it is hard to image a house on one of those lots, but there must have been one, unless Hulley was renting his home nearby.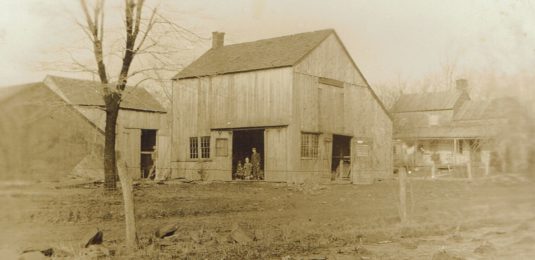 Here is a photograph from the Kurzenberger collection depicting a barn and house in the Croton area that I have not identified. However it gives some idea of what properties in the area looked like in the early 1900s. Perhaps things were a little sprucer back in 1857.
I will have more to say about this property, but for now let us continue with Mr. Bush's story.
Promised a Straw Hat

One day when Thomas was only about three years old [Thomas was born February 1854], Samuel went to Flemington, the town of many stores in those days. Before leaving home he promised the boy that he would bring him a straw hat. Of course, the child was elated. It did not take much to elate a child at the time, so few things not absolutely necessary were allowed. The father seemed to be gone a long time, and the boy became restless. He begged his mother to let him go and meet his father. Of course, she could not agree to that, but the boy was persistent. No doubt he felt able to take care of himself. What child ever felt otherwise under such circumstances? The watch kept over him was not strict enough to keep him from slipping away and going to meet that hat.
I must interrupt once again to consider how Samuel Hulley got to Flemington. It is possible that he walked. In the pre-automobile days, people walked much more than they do now, and thought little of it. As I wrote in my recent article on Baptistown, before State Highway 12 was created to accommodate automobile traffic, the old roads were far more interrupted, with much sharper corners, which made little difference if you were walking or on a horse or driving a carriage or wagon, but would be very inconvenient in a car. Here is a detail of the Cornell Map of 1851 showing the route that Hulley most likely took.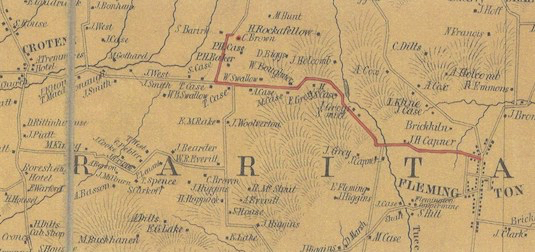 The map shows "C. Brown" on today's Decker Road. Since the Cornell Map was published in 1851, we can assume that this is the lot that Hulley bought in 1857. Hulley must have walked down Decker Road to Old Croton Road, which took him all the way to Capner Street in Flemington, a distance of about four miles.
In his article, "Summit School Known for Years as Hardscrabble,"2 Mr. Bush wrote about the challenge of walking up this road.
It may be that some jocular old settler found it hard "scrabble" to get up that hill under certain unfavorable conditions either in himself or in the weather or both, and gave it the name which seemed at the time most appropriate. Anyhow, the name stuck tight. Hardscrabble it was, is and will continue to be with some of us who are merely leftovers.

When the road was "improved" several years ago, the engineer reduced the grade of that hill by increasing the length. He followed an arc instead of a chord and made the road much easier; but the traveler must still reach the same altitude, though he does not have to "make" the same grade.
Continuing with the "boy hunt:"
When the mother thought it time to go out and see what Tommy was doing, no Tommy could be found. Calls were of no avail. Search along the lane failed to locate the runaway. Tommy was evidently making good use of his opportunity. Tho she might not be able to overtake him, there was hope he might meet his father and be brought back. But Samuel came home without Tommy.

Search Became General

Then was started a search that soon became general. The woods of the whole hillside soon became filled with anxious neighbors, all determined to find that boy if possible. All the remainder of that day the search was kept up without result. Night came. Still the search went on. Lights, calls, entreaties were all in vain. The number of anxious searchers increased as the evening advanced. They were coming from far and near, some even from Flemington, where news of the trouble had been received.3

It was summer and, of course, there was no danger of freezing. But drowning or other mishap was liable to befall the luckless child.

As if to make matters worse, a great shower came up, with vivid lightning and deafening thunder. Still the search went on, regardless of weather conditions. No good old-time neighborhood ever slept while there was hope of saving the life of a lost child.

A long, hard night it was. Morning came at last, with no tidings of the child. The search had been organized with certain sound-signals to indicate that the boy had been found. No such enlivening signal had been heard. But there was no disposition to quit. The child must be found. Who could say or even feel otherwise?

Parents Horrified

Image [sic] the feelings of those parents! All that long and fruitless search, with their child exposed to terrible suffering and probably to death! No pen picture is needed. Every mother and every father can feel it. There is none who cannot understand the human sympathy which bound the searchers to their voluntary task.

The day was wearing away, and the gloom of ultimate defeat was pressing hard. But hark! The signal! The signal! Caught up and relayed to the most distant searchers, it told the joyful tale – the boy was found. Or was there also sadness in that sound? Most of the listeners did not know at first, but there was relief at least.

The lucky finder came across a big log that looked as if it might afford some shelter. Careful examination disclosed the boy snugly cuddled alongside, fast asleep. He had evidently realized the partial protection offered and, in his childish philosophy, made the best of the situation. It was thought that upon reaching the road, Tommy had turned the wrong way, then taken to the wood and became utterly confused. I know that to be lost is painfully confusing to a child, and have good reason to know that the feeling is not at all pleasant to older people.

Found Alive and Sleeping

Tommy was found alive and sleeping, which might seem to mean that he had suffered no serious injury. But that was not the case. The poor boy had to suffer the consequences of the incident during the remainder of his long life. It was found that his eyes had been badly injured. The glare of the lightning, together with his exhausted condition at the time, was given as the cause. From that time his eyes were very weak and troublesome, growing worse and worse as the years went by. For many years before his death, he had been almost totally blind. Yet in spite of his great affliction, Thomas Hully was always a farmer, often doing what it seemed almost impossible for him to do.

Samuel Barrick is said to have been the man who found the lost boy. But there were scores of others equally interested. Among these must have been Cases, Bakers, Smith, Gilses, Rodenbaughs (or "Rudebocks"), Sealses, Browns, Rakes, Garys, Buchanans, and doubtless twice as many others whose names cannot readily be recalled at his late day.
If you scan the Cornell map in the vicinity of the "C. Brown" property, you will find many of these family names. Samuel Barrack's property was one of the nearest.
The Hulley Family
Samuel and Hannah Hully had three children:  Anna, who married John Fisher and lived on the Fisher farm near Green Sergeant's Mills;  Thomas T., the boy of our story, and Jonathan, who went to Chicago in early youth, and was never heard from after the great fire of 1871.
This explains why I could not find a record of Jonathan Hulley. Although Thomas Hulley escaped a sad fate in 1857, tragedy struck the family in 1863. On October 21st of that year, Samuel and Hannah's daughter Frances Elizabeth died of diphtheria, age 14 years 1 month. She was buried in the Flemington Presbyterian Church cemetery. So Mr. Bush was slightly mistaken—the family had four children.
The Taylor Lots
Two years after the lost-boy incident, Samuel "Hully" of Raritan Township bought two more lots in the Township, one of 18.17 acres, the other of 6 acres, from William E. and Catharine Anderson of Flemington for $406.4 Judging from the bordering owners named in the deed, it is clear that these lots were located just north of the property Hulley had purchased in 1857 from Charles & Catharine Brown.
But on the same day, March 15, 1859, Samuel Hulley, acting as administrator of John Taylor, deceased, sold those two lots back to William E. Anderson. This turned out to be a clue to the Hulley family history.
It seems that John Taylor, who was born in England about 1820, was living in Raritan Township in 1853 when he purchased these lots from John R. & Mary Ann Case of Readington Township. This is four years before Hannah Taylor Hulley and husband Samuel bought their lots, right next to the John Taylor lots. Since Hannah was born in 1813, and John Taylor, who died on Dec. 6, 1855, was buried in the same cemetery as Hannah was, and Samuel Hulley was acting as administrator of his estate, it seems more than likely that Hannah and John were siblings. The Hulleys may even have been living on the Taylor property before purchasing their own, since the deed of 1857 states that Samuel "Holley" was "of Raritan Township."
Note: I haven't figured out how Anderson came into possession of the two lots, since his deed to Samuel Hulley only referred to the sale by John R. Case to John Taylor. Another frustration is that John Taylor's purchase happened just after the Cornell map was drawn, so his name does not appear there.
The Carrell 20 acres
On January 30, 1866, Samuel "Holly" of Delaware Township bought a lot of 20 acres from Samuel A. & Mary Carrell of Delaware Twp. for $600.5 It bordered John D. Hoppock, Jacob Bodine, other land of Samuel A. Carrell, and Daniel J. Moore, and was located on the Locktown Sergeantsville Road.
This deed tells us that the Hulley family had left Raritan Township and moved to Delaware Township. It was one of a few moves the family made after Tommy had been found in 1857.
Samuel A. Carrell had first sold this lot to Elias Hoppock in 1860 for a surprising $1200 since it was not a residential lot.6 Two years later, Elias and wife Rebecca sold it back to Carrell for only $455, with an interesting proviso: all white oak logs on the property that are suitable for sawing were reserved; also the corn stalks and stones; also the hickory if any remaining.7 So when Carrell sold the lot to Samuel Hulley in 1866, there was not much left to harvest, and yet Carrell still charged $600 for it.
Three months after buying the 20-acre lot in Delaware Township, the Hulleys sold their two lots in Raritan Township where they had been living when son Tommy got lost. The purchaser was William Brown who paid $1200 for them, which was quite a bit more than the Hulleys had paid for it in 1857 and suggests some significant improvement had been made.8
By 1868, the Hulleys had moved away from Hunterdon County to Danville, Pennsylvania.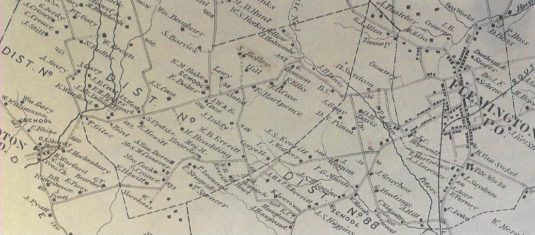 Despite what was shown on the Atlas map for Raritan Township, the Hulleys were counted in the 1870 census for Danville, PA. Hulley was 55 years old, born in England, working as a contractor. His wife Hannah was 56 years old, also born in England. Their children were Jonathan 19, apprentice contractor; Thomas 14, also an apprentice contractor; and daughter Anna 13. Also in the household was John Buckely 31, stone mason, also born in England.
The 89.2 acres
The reason I know they had moved by 1868, is that on September 14th of that year, the Hulleys purchased a tract of 89.2 acres in Delaware Township, and were described in the deed as "late of Delaware Township."
I must now take the liberty of rearranging the order of Mr. Bush's article. The following was the last paragraph, but it belongs here in the chronology:
We find that Samuel Hully sold his Summit farm to William Brown in 1866. Two years later, he bought of Edmund Perry, in consideration of $6,000, the 89-acre farm on the hill one mile north of Sergeantsville. In 1902 this farm was conveyed to Thomas T. Hully, the lost boy of 1857.
Here we come to another one of those coincidences that keep popping up in my research. This 89.2 acres was sold to Edmund Perry by Samuel A. Carrell's administrator in 1862 for $4,596.83 and was sold to Carrell in 1838 by the heirs of Cornelius Williamson deceased for $3,574.74.9 In that deed of 1838, the property was described as bordering the road from the Great Swamp to Head Quarters, Josiah Parkes, Gideon Moore, __ Hoppock, and Asher Williamson. That "road from the Great Swamp to Head Quarters" was actually Ferry Road. The 89.2 acres was bordered on the west by Ferry Road and on the east by the tract of land belonging to the Williamson family that I described in "Route Not Taken, part five," just recently published.
This farm of 89.2 acres would be no end of trouble for the Hulleys and for Edmund & Elizabeth Perry. The Perrys sold this farm along with a lot of 5.58 acres to the Hulleys for $6,000.10 This was much more than the Hulleys could manage, so they got a mortgage. But when Perry purchased it from Carrell in 1862,11 he also needed a mortgage, which he got from Elisha Warford. The Hulleys assumed this mortgage of $3,000 when they bought the property.
There is a record of how the sale to Perry was arranged. On April 7, 1862, Elisha Warford's son-in-law, Benjamin Ellicott, wrote this letter:
"Pap has informed us that Chamberlain – Administrator – having failed to pay $1000 upon His Mortgage on Sam'l Carryl's Farm agreed upon between him and Ed. Perry to let the whole Mortgage for $3000. lay upon said Farm, as before the Sale to Perry who also gave to Him, Two Mortgages on Property in Flemington severally for $700, and $500, upon condition that He became surety for the Payment of the balance of the purchase money of said Farew [Larew?] by Perry – thereby enabling Perry to take from Chamberlain a Deed therefor."12
It amazes me how naïve people were about borrowing from Elisha Warford. It must have been widely known that if payments to Warford were not made promptly, one could be sure of being taken to court.
Sheriff Sales
I would not be surprised to learn that the Hulleys moved to Danville to get away from persistent creditors. First there was a suit by Asa Higgins against William E. Anderson, the man who had purchased the lots once owned by John Taylor. The court issued a writ of fieri facias (ordering the sheriff to seize the properties and sell them at public sale) not only on those Taylor lots, but also on the two lots owned by Charles Brown and then the Hulleys. The public sale was advertised by Sheriff Richard Bellis in the Hunterdon Republican on April 14, 1870.13
As it happened, Asa Higgins was the highest bidder, for $920.14 The deed stated that the sale was the result of a suit by William S. and Isabel Brown, and the list of defendants was a long one: Charles Buckman, Wm E. Anderson and Peter I. Nevius, survivor of Lambert Bowman dec'd, Samuel Hully, Edw. R. Bullock assignee of Phillip S. Parke, Charles Brown and Sarah Meyers. The complaint went all the way back to John Taylor who gave a mortgage to John R. Case on April 1, 1853, and to the mortgage given by Samuel Hully to Wm E. Anderson, Peter Nevius and Lambert Bowman.
Then on May 17, 1870, Sheriff Bellis advertised another sale, this time for the 89.2 acres plus a 5.58-acre woodlot, "seized as the property of Samuel Hulley and others, and taken in execution at the suit of Elisha Warford."
Apparently, there was no purchaser at the sale in 1870. Another public sale for the 89.2 acres was held on January 12, 1874. Elisha Warford had died in 1871, and his daughter and heir, Mary Ann Warford Ellicott, took over management of his properties. At this sale, she was the highest bidder, at $500.15
As Mr. Bush wrote, eventually, the Hulleys' son Thomas was able to buy this farm for himself, which he did on April 5, 1902. The grantor was George H. Buchanan of California, by Willis Buchanan his attorney and resident of Raritan Twp. What was sold was the exact same 89.2 acres for $1500.16 Fortunately for Thomas, by 1902, the property was no longer encumbered by a mortgage. As to how George H. Buchanan came into possession, that is hard to say. Mary Ann W. Ellicott died on February 26, 1892, without writing a will. (Much to my amazement, I could not find an obituary for her.) On August 12, 1895, her heirs sold the 89.2 acres to Elizabeth Buchanan of Delaware Township for $2,000.17 How it got from Elizabeth Buchanan in 1895 to George H. Buchanan sometime before 1902 I have not yet discovered. The deed index doesn't list George H. Buchanan as a grantee, and deeds for Elizabeth Buchanan don't apply to this property.
The Last Hulley Property
The last sale of real estate by Samuel and Hannah Hulley took place on October 26, 1871, while the couple was still living in Danville, Pennsylvania. They sold their lot of 20 acres bordering John D. Hoppock, Jacob Bodine, Samuel A. Carrell, Daniel J. Moore, and John Moore, which the Hulleys had purchased from Samuel A. Carrell in 1866, to one P. R. Johnson of Wilkesboro, Luzerne Co., PA, for $1,000. The Hulleys did well on this sale, since they had only paid $600 for the property.18 In the deed, Mrs. Hulley was identified as Hannah Winterbotham, which tells us what her middle initial W stood for.
P. R. Johnson was Priestley R. Johnson, who died intestate in 1879 in Wilkes-Barre, Pennsylvania, and whose administrator for his Hunterdon County estate was Chester Van Syckel, Esq. of Flemington. On May 20, 1880, Van Syckel sold the 20-acre lot to Jerome G. Miller, also of Wilkes-Barre, for $400.19 This was a sale ordered by the Orphans Court because Johnson's estate was not sufficient to cover his debts. Miller immediately sold the lot to John Finney of Lambertville, the timberman and owner of the Spokes Works there. Finney kept the lot for the rest of his life. After his death in 1894, his heirs sold it on March 25, 1911, along with five other lots in Delaware Township, to Oscar B. Hann and William N. Hann,20 and there I will stop.
After Hully lost his property:
As Mr. Bush mentioned, daughter Anna Hulley, married John Wesley Fisher. The wedding took place on February 20, 1879, when Anna was identified as Phyllis Ann Hullay. Fisher was the son of Henry H. Fisher and Anna Johnson, and in 1880, John Wesley and Anna Hullay Fisher were living with John's parents in Sergeantsville.
By the time of the 1880 census, Samuel and Hannah Hulley had returned to Delaware Township. Hulley's name was again spelled Hulley, but now he was 60 years old and working as a farmer, wife Hannah W. age 60 was keeping house. Son Thomas was still living with them, now age 24, still single, and working as a farm laborer.
Samuel Hulley died the next year and was buried at the Flemington Presbyterian Church cemetery. Hannah Taylor Hulley lived on until 1899, dying at the age of 86. She was buried next to her husband, and her daughter Frances.
Mr. Bush wrote:
Thomas T. Hully married Matilda, daughter of Jacob Suydam.21 They had three children:  Anna married Charles Huffman and lives near Lambertville;  Ethel L., who is mentioned above, and Samuel, now living on a farm near Mt. Pleasant.
In 1920, after the death of Matilda Hulley, Thomas was 65 years old, still living on the Ferry Road farm with his son Samuel M. Hulley, age 16, who was working as a type maker at a rubber mill. But ten years later, Thomas had moved in with his daughter Anna Huffman, her husband Charles and their three children, living on Dilts Corner Road. He probably remained there until his death in 1936, when he finally came to the attention of Egbert T. Bush.
Mr. Bush wrote an article about the neighborhood school, once known as Hardscrabble school, but later called Summit School. I have published most of his article with comments here: Summit School, and here: Summit School, part two.
Footnotes: