In my research I have often come across references to Johnson's Tavern as a landmark. Deeds refer to it when identifying roads, like "the road from Swamp Meeting House (Locktown) to Johnson's Tavern" or "the road from Rittenhouse Tavern (Rosemont) to Johnson's Tavern." And sometimes it is just "the great road to Johnson's Tavern," which is today's Route 519 through Kingwood Township.
Fortunately, Egbert T. Bush wrote an article about this ancient Hunterdon landmark, which I will happily reproduce here. It is my normal practice to interrupt Mr. Bush with commentary, but in this case, it seemed best to hold off until I the end of Bush's article (with only minor interruptions) and follow with my own version of the tavern's history.
Before beginning, I'd like to show exactly where the tavern was located, as Mr. Bush was a little vague, stating only that it was "on the King's Highway." The 'King's Highway' was that 'great road' referred to above, being today's Route 519, running north from Prallsville through Rosemont, north through Baptistown and on to Warren County. But, of course, there were other "King's Highways" in western New Jersey, so we need to be a little more specific.
Johnson's Tavern was located north of the village of Milltown, on the east side of Route 519. On the Cornell map below, it is shown as 'Tomlinson's Hotel.' The road joining Route 519 from the east is today's Kingwood Locktown Road.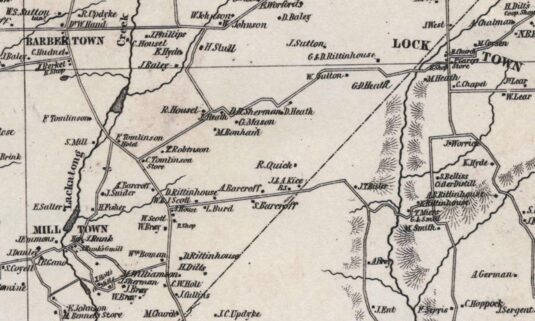 Kingwood Tavern,
Substantial Relic Of a Bygone Day
Building Known In Early Days As Johnson's Tavern
Martha Washington a Guest
by Egbert T. Bush, Stockton, NJ
published April 23, 1931, Hunterdon Co. Democrat
On the old-time "King's Highway," 3 ½ miles north of Rosemont, stands one of the most substantial relics of the old-fashioned taverns to be found in Hunterdon County. This Kingwood Tavern was long known and noted as "Johnson's Tavern," and has long been a landmark for surrounding communities. The name "Johnson's" seems to have been deeply impressed upon it by the long proprietorship of John Johnson.

Elizabeth Johnson, Hart Johnson and William Johnson, executors of John Johnson, by deed dated May 8, 1831, conveyed "The tract of land in Kingwood Township, known as the Tavern Property," to Francis Tomlinson. The deed says: "Beginning at a white oak tree in line of land formerly Samuel Davis's, now John Bonham's, thence * * * to a stake by the side of the old mill pond; thence to the middle of the Lackatong Creek; thence * * * to a stake by the end of the mill pond * * * containing forty-five and sixty-hundredths acres.

Johnson Bought In 1793

It is also found that Joseph Hart and wife had conveyed the same property to John Johnson, September 30, 1793.

While the connection is unfortunately broken, we have good authority for saying that this was a part of the tract of several hundred acres which Daniel Howell purchased of Christopher Cornelius, and which said Howell conveyed to Francis Tomlinson in 1754. A part of this tract is said to have been conveyed by Tomlinson to Dennis Wolverton in 1760, and by Woolverton conveyed to his son-in-law, Daniel Bray, in 1784, being the farm on which Gen. Daniel Bray lived and labored until his death in 1819.

It appears that the first conveyance to Francis Tomlinson included not only the Tavern lot, but the Store lot and much other land hereabout. Certainly, all of these came into the hands of this or a later Francis Tomlinson very early. It is quite probable that the later Francis built the present Tavern house, though there is nothing by which to verify this supposition, except the ownership of the land at or about the time at which the building must have been erected. The price paid for the property a hundred years ago indicates that the present structure was here at that time.
It is important to keep in mind that the Francis Tomlinson who bought the tavern lot in 1754 was not the same as the one who bought it in 1831. Also, that Gen. Bray lived near Johnson's Tavern, but did not own the tavern property. Here is how the tavern house looks today: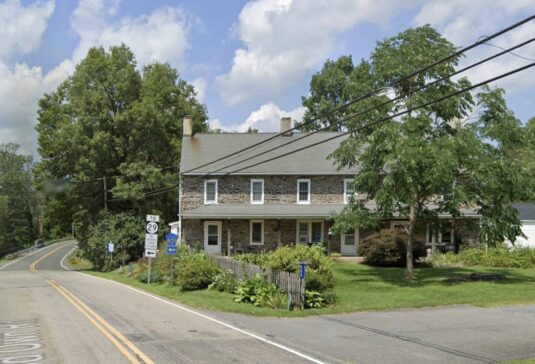 We learn that the first Tavern house was built of logs—a thing which could easily have been guessed. Also, that the house was kept during the Revolution by William Campbell, who was followed by William Hart. The property then came into the hands of Joseph Hart and wife, who conveyed it to John Johnson in 1793. When the first Tavern was opened here is only a conjecture. The hamlet appears to be one of the oldest in Hunterdon County; and it is not likely that a lively hamlet such as this of the old days, remained long without the indispensable "accommodations for travelers."

Tradition says that Martha Washington visited the old log Tavern on at least one occasion; that she once took breakfast there, and before leaving, bought a quart of huckleberries of a neighboring farmer's wife, who enjoyed those huckleberries all the rest of her life. It was no little distinction to be able to say: "That time when I sold them huckleberries to Mrs. Washington."
One must wonder where Mrs. Washington was going. It had to be either north or south on Rte 519. There doesn't seem to be a reason for her to be there, but one should remember that Mrs. Washington spent all of the winters during the Revolution with her husband in his winter camps, and one of those camps was in Morristown after the Battle of Princeton. Perhaps Martha was following by a separate route. Except that huckleberries are not available in the dead of winter. Theories anyone?
In 1855 John Runk, William Bonham and A. V. Van Fleet, commissioners to divide the real estate of Francis Tomlinson, conveyed the Tavern property to Everitt Bonham for $2,700. Bonham sold it to Thomas Cherry in 1856, for $2,850.
Mr. Bush is referring here to the second Francis Tomlinson, born 1794 to Charles Tomlinson & Rachel Roat. He died in 1854. The first one died in 1784.
Sold Again In 1942 [sic]

As a side reference, we find that David Rockafellow and John Duckworth, executors of Francis Tomlinson, conveyed a small lot to Francis Tomlinson declaring that they "did expose said land for sale at the house of said Francis Tomlinson, Inn Keeper in the Township of Kingwood, on the fifth day of November 1842." Which says plainly enough that one Francis Tomlinson was dead, and that another was keeper of the Tavern and purchaser of the outlying lot.
I must interrupt here to state that the typesetter mistakenly used the date 1942 instead of 1842, and secondly, that the tavern lot was not sold in 1842. Also, that Rockafellow & Duckworth were executors of the estate not of Francis Tomlinson but of Henry Rockafellow. The deed described a four-acre lot bordering land of John Johnson and Francis Tomlinson.1 However, Mr. Bush is correct—one Francis Tomlinson was dead, and another was keeping the tavern.
By deed dated April 1, 1867, Andrew B. Rittenhouse, Bennett Vansyckle and Ambrose Barcroft, commissioners to divide the real estate of Thomas Cherry (father of William, who still lives in the vicinity), conveyed the Tavern property—then cut to 17 acres by previous sale of all on the west side of the road—to George S. Trimmer, familiarly known here and in his old Quakertown neighborhood as "Pin Oak;" but why that nickname was probably never explained.

July 31, 1875, Wesley Bellis, Sheriff, conveyed the property to Ambrose Barcroft by deed mentioned but not recorded. In 1877 Barcroft conveyed the same to Mathias Brink, who sold it to George Hoffman in 1880. March 3, 1884, Lemuel Hoffman, Special Guardian, conveyed the same to Nathan Cane, who sold it to Joseph Niece in 1903. By his will probated February 13, 1929, Joseph Niece devised it to his daughter, Edna Bellis, who still owns and occupies the attractive old house, which plainly declares itself to have been a tavern of the "old school," and a most imposing and commodious one of its kind.

Drowned In the Lackatong [sic, Lockatong]

The Lackatong Creek crosses the road a short distance north of the Tavern and furnishes a part of the boundary lines of the property; but how anybody can ever find the "middle of said Creek, the various courses thereof," is a real puzzle to those who know the freakishness of such streams. The mill pond before mentioned as "old" in [a] deed of 1831, was on this creek, east of the road. From that pond a mill race crossing the road at some distance above the bridge, carried water to a sawmill 200 yards beyond. We are told in print that this mill was built by "Mr. Tomlinson." But when, or by which of the many Tomlinsons, we are not informed. That it was by the original appears quite likely from comparison of dates known. There may still be seen traces of the foundation and of the race, but the mill is only a memory. Jesse Carey, who bought the mill lot of Thomas Cherry in 1856, is remembered as operating the mill until about 1866. Like most other old-time sawmills, this active one died of starvation long ago.

Charles Opdyke remembers a sad accident that occurred here in the spring of 1876. A young man named Charles M. Blue took his wife to the vicinity of the old "Brick Tavern," to visit her own folks and others, as a sort of relief from their recent bereavement—the loss of their only child. Leaving Mrs. Blue at the home of Mahlon Bonnell he started in the evening for their own home at Idell [southwest of the tavern], where he was managing a small farm. By the time he reached Kingwood, the Lackatong had become a raging torrent, overflowing its banks and the road about the bridges. By some miscalculation, when just over the arch bridge, Blue drove a little too far to the right. The wagon was overturned, and the man was drowned.
Here I must make a lengthier interruption: The 'Brick Tavern' that Bush refers to was a very notable building located in Perryville in Union Township. You could get there by continuing on from Johnson's Tavern, up Route 519 to Pittstown where you would take Route 513 and then turn onto the Perryville Road. It is located just south of Route 78, where it was moved when the highway was constructed.2
Frenchtown also had a Brick Tavern, but it is unlikely that the Blues traveled there. The Blues had a family connection with the Perryville neighborhood. Charles M. Blue was married to Elizabeth Johnson (1853-1886), daughter of Henry Johnson and Sarah A. Butler of Union Township, where the Perryville Tavern was located. However, it does not appear that Henry Johnson was in any way related to John Johnson.3
Nobody knew of the accident until the next morning, though some did recall hearing shouts late in the evening before. The horse had struggled partly out of the water, and was found standing, unable to get farther, while the water flowed past, nearly up to his body. Search was made for the man, and his body was found lodged at some distance below. Charles Opdyke says that upon him devolved the sad duty of carrying news of the disaster to the young widow, and further says what we can readily believe, that it was no easy task.

The First Store

Nobody knows when a store was first started here. Tradition—and possibly something a little more exact—says that a store was once kept in a small house just where the wagon-house on the Tavern lot has stood for many years. The house on the corner now occupied by the store and dwelling of Preston S. Emmons is, historically stated as built in 1833. But again, no mention is made of the builder. If the date is right, it was evidently built by one of the Tomlinsons; and the probability is very strong that the earlier store was under the same management and was abandoned when one on the corner was erected. Emmons bought the property of his father-in-law, George Kugler, who had bought it many years before of John Bellis. We find this corner marked "C. Tomlinson's Store," on a map of the county made in 1851. Charles Tomlinson was County Clerk of this county 1855-1859. He removed to Flemington and died there in 1875, as his will dated July 20, and probated August 23, of that year indicates. There is now here a large and attractive building, giving evidence of care and prosperity.
The store was located on the south side of the Kingwood-Locktown Road at the intersection with 519, as shown on the Cornell map above. Charles Tomlinson was the son of Francis Tomlinson iii, about whom I will have more to say in another article.
Mr. Bush proceeds to give us the contents of an old store book, which was probably not the store run by the Tomlinsons. It was more likely the store located nearby in Milltown, identified in 1851 as "H. Bennet's Store."
From An Old Account Book

From "Blotter A" of the old-time firm of Runk & Kugler, kindly loaned the writer by the present owner of the store, together with a dozen other old books, the following interesting entries are extracted:

April 1, 1834, Elias B. Waterhouse Dr. to 9 ¾ lamb at 6, 58 cts. April 2, Francis Roberson Dr. to Pr. Shoes $1.06 ½; ½ yd. Crape lining 37 ½ cts., $1.44.

August 4. John Hartpence Dr. to Brandy $1.26. Richard Opdyke to ½ gal. Rum, 23cts.

Aug. 5, Aaron Barcroft Cr. by 16 ¾ lb Butter, $2.10.

Sept. 1, 1834, Mahlon Warford Dr. to 4 lb. Mackarel 16 cents.  James Falkner Dr. to 9 Bush. Potatoes $2.25.

Sept. 2. Ambrose Bonham Dr. to 1 qt. Whiskey 12 ½ cents.

Sept. 10, Warford Cr. By 120 lb. flax at 6 ¾ cts. or 7 cts. trade.

Oct 15, Rebecca Barcroft Dr. to 1 box pits 25 cents. One may well wonder what these were. We are not surprised now to find any strange thing advertised or charged. But what were "pits" doing in boxes a hundred years ago?

The first entry in "Blotter 7," 1835, is this:

"Joseph West Cr. by 1 hogshead Molasses from Philadelphia $2.75; 1 Barrel Sugar 50 cents; flax to Philadelphia $4.50." It seems that transportation was rather costly in those days. But who would like now to drive a team and wagon to Philadelphia and back, bearing his own expenses, for $7.75? Who would drive his lightest truck so laden, for any such money?

Another charge in the same blotter is: "Reuben Blue Dr. to ½ gal. tar, 12 ½ cents." We have tried in vain to find whether this Reuben Blue was the father of Charles Blue, who met that tragic death in the Lackatong forty years later.
As far as I can tell, he was in fact the father of Charles M. Blue, as well as James S. Blue and Ezekiel Blue. Reuben V. Blue (c.1808 -1864) and wife Levina (c.1815-1892) did indeed have a son Charles, born c.1847, who died age 29 on Sept 20, 1864. The older Blues were buried in the Rosemont Cemetery.
An Ardent Republican

It is impossible to trace close connections of proprietors at this interesting old store stand, or to gather such knowledge of them as we should like to do. Of the Kingwood merchant, John Bellis,4 who was a brother of Sheriff Wesley Bellis, this story is told:

Early in the days of the Civil War, he kept the store at Locktown. John was an ardent Republican, while his surroundings were quite as ardently something else. Things grew so warm that some of the "hot heads" thought it would benefit the country if they could "scare a little sense into the head of that radical." So, they actually dug a grave and let it "leak out" who was to be the occupant. But John did not scare "worth a cent." And here the story ends abruptly, just as though subsequent events had not been altogether satisfactory. Anyhow, John never occupied the place so laboriously prepared for him and, of course, nobody ever meant that he should.

Later John went to Barbertown and established a store there, afterward selling out to George Housel. Then he flitted about for a few years, and finally settled at the Kingwood store, where he made a success of the business and a fine reputation for himself.

But there is so much to tell about this good old hamlet! If justice is to be half done, a later article will be necessary.
Commentary: The Tavern
As it turns out, the headline given to this article by the Democrat's editor is a little misleading, as the article focuses as much on the store as on the tavern. I will limit my commentary to the tavern and leave the store for another time.
Many readers will be familiar with Old Inns and Taverns in West Jersey by Charles S. Boyer, 1962. Here is what he has to say about Johnson's Tavern (p.232):
The earliest tavern in what is now known as the village of Kingwood (formerly called Johnson's) was kept in a log cabin built by William Coolback, about 1766, and continued by him until 1774 or 1775. William Campbell was the next landlord and kept the tavern until 1780, when he was succeeded by Joseph Hart. During the tenancy of James Hart, who succeeded Joseph Hart, in 1790, it is said that the first Masonic Lodge in Hunterdon County was formed and held its early meetings at his tavern. After one year, John Johnson became the tavern keeper and, with the exception of the years 1794 and 1795, when John Cowdrick was keeping this house, was licensed until the early 1800's. In 1818, this tavern, which was described as six miles from Center Bridge on the main road to Sussex County, was offered at private sale. It was then described as "late the property of John Johnson, dec'd."
And Dominick Mazzagetti included Johnson's Tavern in his work "More Inns of Colonial Days," with the information given in Boyers' book. He made one slight error, stating that Cowdrick was one of the owners. He was not—he was one of the tavernkeepers, which is slightly different.
Earliest History
I tried to locate the deed that Mr. Bush used for his recital of the sale from Henry 'Hone' to Philip Bird, but failed.5 However, Philip Bird's descendants (son John Bird, 1784-1846, and grandson Levi Bird/Burd, 1814-1868) held onto the homestead which was located in the vicinity of the intersection of Featherbed Lane and Route 519, just south of the property acquired by Francis Tomlinson. Apparently, Mr. Bush included this recital to show how the Tomlinson property fit in with the earliest tracts of land in Kingwood. Because it does not include the location of Johnson's Tavern, I will pass over it.
Here is a detail of the Hammond Map for this area of Kingwood Township. It seems to me more likely that the tavern was located in an area owned by Andrew Pettit in 1714.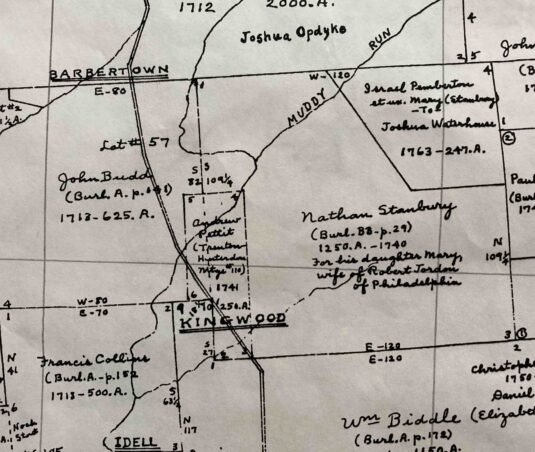 Andrew & Dinah W. Pettit
Andrew Pettit (c.1716-1748), son of Nathaniel Pettit, Jr. & Elizabeth Heath, married c.1736 Dinah Wolverton (1711-c.1811?), daughter Charles Wolverton and Mary Leet Chadwick. To show how closely these early families were related, consider this: Dennis Woolverton (1709-1774), father of Elizabeth Tomlinson and Mary Bray, was married to Elizabeth Pettit (1714-1783), sister of Andrew Pettit. Andrew's wife Dinah was the sister of Dennis Woolverton.
Andrew Pettit appears to have been the only one of Nathaniel Pettit's sons to remain in Hunterdon County. He was probably named after a maternal grandfather. In 1741, back before Kingwood Township was created out of Bethlehem Township, Pettit got a mortgage from the Hunterdon County Loan Office on 250 acres for £16 (Loan No.110). It was described just the way Hammond mapped it.6
In May 1748, Andrew Pettit applied for a tavern license.7 But he died soon afterwards, at a young age (only 32), leaving widow Dinah with three minor children (Charles, Nathaniel and Elizabeth).
Dinah Pettit was not named administrator of Andrew Pettit's estate until October 21, 1748, with Job Robins as surety. Nearly twenty years later, on Feb 23, 1765, Charles, Nathaniel and Elizbeth Pettit recited that Andrew Pettit late of Amwell died intestate leaving them his children as heirs, and that administration of his estate was given to their mother Dinah Pettit, who had since married Jonathan Furman of Amwell; they acknowledged receipt of their share of the estate.8 There is a reference somewhere that Dinah applied for a tavern license after Andrew died, and in 1779 she was taxed in Kingwood Township. But just what happened to the Pettit property after that I cannot say, and I do not know exactly where the Pettit tavern was located.
A Neighborhood of Taverns
Johnson's Tavern was surrounded by other taverns. On the Kingwood Road (Route 519) there was the Baptistown tavern to the north and the Rittenhouse tavern to the south at Rosemont. The Point Breeze Tavern was located on route 12 halfway between Croton and Locktown Road, and there was a tavern at Croton. Going north from Croton on Rte 579 there was the Frog Tavern. Going south on 579 took one to the Upper and Lower Boarshead taverns, and further south to Buchanan's Tavern. Going east from Johnson's, there was the tavern at Locktown.
But there were none to be found between Route 519 and the Delaware River until one came to the village of Alexandria, later known as Frenchtown. Further south along the river, there was a tavern in Saxtonville (Raven Rock) on Route 29. As Bush wrote, "the weary traveler had no relief when going westward from Croton until he reached Baptistown."
From Tavern to Hotel
By 1851, when the Cornell map was published, the temperance movement had gained traction and it was no longer acceptable to identify one's business as a tavern. Tavernkeepers were obliged to identify their inns as hotels, removing the emphasis on alcohol. There was "W. Horn's Hotel" in Baptistown, the "T. Trimmer Hotel" at Croton, the "Boarshead Hotel," a hotel at Klinesville closer to Flemington, "H. Johnson's Hotel" in Rosemont, "W. W. Hall's Hotel" in Ringoes, "Smith's Hotel" in Stockton, a hotel in Saxtonville (Raven Rock), the "Lambertsville Hotel," "L. Stryker's Hotel" in Pittstown, and the "S. Trimmer Hotel" in Quakertown, and of course, Johnson's Tavern which was then labeled "Tomlinson's Hotel." And that is just the southeast part of Hunterdon.
Owners of Johnson's Tavern
Mr. Bush gave a short history of the earliest owners of the property that included the tavern lot. That is not my focus here, so I will skip ahead to the 19th century owners: First the Tomlinsons, then the Harts, then Johnson, then back to the Tomlinsons.
James P. Snell wrote in History of Hunterdon County: "The earliest tavern in Kingwood was kept in a log cabin by William Campbell. He was an ardent Whig and kept the little tavern at the time of the Revolution. William Hart next kept the tavern, then John Johnson, son-in-law of Hart, and it went by the name of "Johnson's Tavern" for many years."
I have a slightly different version of the tavern's early history. But once again, one must point out the difference between tavern-owners and tavern-keepers. Distinguishing between them can be very tricky. Mid-18th century tavern licenses are regrettably scarce.
That first tavernkeeper mentioned by Mr. Bush, William Campbell, eludes identification. The next one Bush named, William Hart, apparently did not own the property. He was a contemporary of the man who did, Francis Tomlinson, Sr. Tomlinson was the one who bought the property from Christopher Cornelius in 1754.9
Francis Tomlinson, Sr.
Francis Tomlinson (1729-1784), son of Thomas Tomlinson & Joan Walsley of Bucks County, PA, married c.1757 Elizabeth Wolverton (1736-1760), daughter of Dennis Wolverton & Elizabeth Pettit. Tomlinson was a Quaker who was dismissed from Abington Monthly Meeting in Bucks County to the Kingwood Friends on Dec. 12, 1768,10 meaning he was allowed to move away from Bucks County to join the Quaker Meeting in Kingwood Township. But since he had married about ten years earlier, it seems likely he had been commuting from Kingwood to Abington in order to worship. (For more on the Tomlinson family, see Tomlinson Family Tree.)
Elizabeth Wolverton Tomlinson was only 24 years old when she died, after giving birth to two, possibly three, children. Daughter Mary married Thomas Sherman (1751-1831), son of Edward Sherman, Sr. and Elizabeth Tomlinson, who was a sister of Francis Tomlinson, Sr. I have no information on daughter Rebecca.
Francis married a second time in 1763. His new wife was Dinah Wolverton (1738-c.1787), daughter of Robert Wolverton & Mary Fox, and cousin-once-removed to Francis' first wife Elizabeth. The marriage took place in the Kingwood Friends Monthly Meeting,
The Woolverton Genealogy by Macdonald & McAdams (p.15) speculates that Dinah was Tomlinson's third wife, without naming who that missing wife was. It also suggests that Dinah had an eighth child with someone previous to marrying Tomlinson. This eighth child may have been Eleanor who later married Joseph Hart. Or she might have been the third child of Elizabeth Wolverton Tomlinson.
Tomlinson owned his tavern property during the years of the French and Indian War, which lasted from 1754 to 1763. I have sometimes wondered how that war affected residents of a well-settled area like western New Jersey. The threat of Indian attack and a concern over France laying claim to their properties was only experienced by settlers to the west but supporting the army that was needed to wage that war had to come from places like New Jersey.
Tomlinson's Property
Kingwood historian 'JayBee' wrote in the 1890s that Francis Tomlinson, Sr. "purchased a tract of land at Kingwood. It has been cut up into 8 or 9 farms and lots."11 The Tomlinson property was probably extensive. A later deed shows that it ran on both sides of Route 519, and the map of 1851 shows "F. Tomlinson" on the west side of the road a short distance north of the hotel's location, and "C. Tomlinson Store" a short distance south.
One of those who purchased part of the Tomlinson tract was Dennis Woolverton, father of Tomlinson's wife Elizabeth. In his will dated March 23, 1772, Woolverton bequeathed a plantation to daughter Mary Wolverton that he "bought of Francis Tomlinson." Mary Wolverton married Daniel Bray just a couple months later, in May 1772.
I have a note from three different sources that in 1774 Daniel Bray acquired from his father-in-law Dennis Wolverton, 100 acres that were located north of Kingwood Methodist Church, on the east side of the Kingwood Road (519), opposite Milltown Rd; that he built a log cabin there, which burned and was replaced with a more permanent residence that was later also destroyed.
There is a manuscript deed on file at the Hunterdon County Historical Society dated June 6, 1791, for the sale by Job & Hannah Emans of Kingwood to John Woolverton of Amwell of a tract of 100 acres.12 Emans had acquired the property from Daniel and Mary Woolverton Bray on June 1, 1787, according to the remarkable recital in this deed, which also explains that Bray got it from Dennis Woolverton on April 15, 1774; that Woolverton got it from Francis Tomlin[son] on May 1, 1760; that Tomlinson got it from Daniel Howell on March 6, 1754; that Howell got it from Christian Cornelius on June 13, 1750; that Cornelius got it from Peter Emley of Burlington County, who acquired it from William Biddle, who had a tract of land surveyed in the Western Division of New Jersey on November 6, 1732.
This leaves me wondering if the early tavern was near the boundary between the Pettit and Biddle proprietary tracts. The Emans deed is a beauty—as you can see: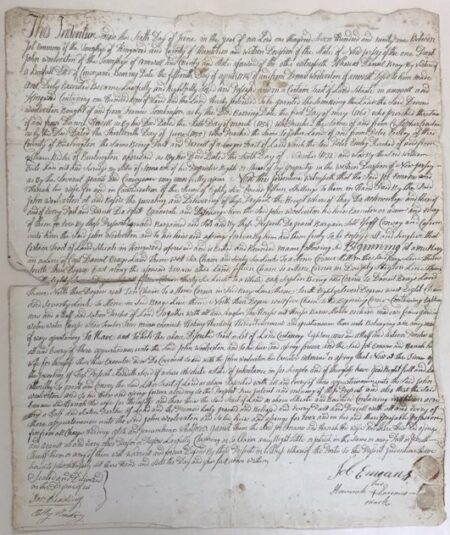 Tomlinson's Death & Estate
In the fall of 1772, Francis Tomlinson witnessed the will of his neighbor Joshua Waterhouse, who died in October, and whose inventory was compiled by Tomlinson and another neighbor, Uriah Bonham. Despite this experience, Tomlinson himself failed to write a will. He died intestate on May 20, 1784, at the age of 54. Administration of the estate was granted to widow Dinah Tomlinson and to son William Tomlinson. The children Dinah, Francis and Sarah Tomlinson were wards. When Dinah Tomlinson the widow died at age 48 in 1787, the wards petitioned for Luther Opdycke to be their guardian.13
That turned into to something of an issue in May 1788, when two other Tomlinson children, Charles and Francis Jr., petitioned to have Henry Waterhouse as Guardian (Joseph Hart and William Tomlinson joined the petition), stating that their mother spoke before her death of Waterhouse as a proper person for guardian. They also requested that Luther Opdycke no longer be their Guardian as he became guardian in an improper manner. One is left to wonder what the story was behind that story.
Because of the involvement of guardians in the estate, it took several years to settle it. As the Woolverton Genealogy relates (pp. 17-18), the real estate was divided into 13 shares, with daughter Eleanor Tomlinson Hart getting one of the 13 shares. (Son William got 2/13ths by virtue of being the eldest son.)
The Hart Family
Mr. Bush surmised that William Hart ran the Kingwood Tavern in the years after the Revolution. We know very little about him. All I found was Hart's signature on a petition to the Legislative Council of New Jersey in 1782 opposing a petition from the Hunterdon Freeholders for "Redemption of our paper Currancy."
It seems likely that William Hart had two children, one being Joseph Hart (c.1760-1826) who married Eleanor Tomlinson, and the other being Elizabeth Hart (1758-1847) who married John Johnson about 1775 and had nine children with him. A hint that John Johnson married Elizabeth Hart is that Hart is the given name of Johnson's first child (born 1776).
Joseph Hart was an active tavernkeeper as early as 1781. He was granted a tavern license in Kingwood Township that year; it was signed by Edward Rice, Gabriel Hoff, and Peter Dewit, other Kingwood residents. This was while Francis Tomlinson was still the owner.
Getting more information on Joseph and Eleanor Hart is very difficult. There was no deed recorded for conveyance of the property to Joseph Hart because it was inherited by his wife Eleanor Tomlinson Hart. That did not happen until sometime in the 1790s, which was probably not long before Joseph and Eleanor Hart sold the tavern property to John Johnson (see below).
As for the original tavern building, Bush wrote that it was built of logs but that is probably just surmise. Bush described its later replacement as "the attractive old house, which plainly declares itself to have been a tavern of the 'old school,' and a most imposing and commodious one of its kind." Here is how the old tavern looked in 1902: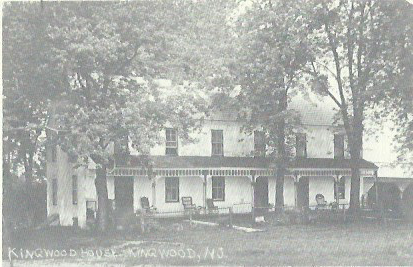 Here is how it was described in the Historic Structures report in the County Master Plan of 1979:
The stuccoed stone structure consists of a four bay "I" with a two-bay extension to its west gable and a frame lean-to on its north side. There are three brick stacked chimneys, one in each gable of the "I" and a third in the outer gable of the extension. There are several early outbuildings. Block 24 lot 11. No estimate of its date."
Finding any kind of record of Joseph Hart's life is nearly impossible, partly because there was more than one at the same time. One of the Joseph Harts died on June 3, 1826, in Philadelphia at the age of 72. This comes from an obituary published in the Hunterdon Gazette on June 14, 1826, which makes me think it more than likely that this was the tavernkeeper of Kingwood. The obit identified him as a former resident of Kingwood but did not name any of his surviving relatives.
John Johnson
As mentioned above, on September 30, 1793, Joseph and Eleanor Hart sold the tavern property to Eleanor's brother-in-law John Johnson. The deed was not recorded; we know this from the recital in a later deed of 1831.
A John Johnson (1749-1816) was born to John Johnson, Sr. (c.1710-1775) of Bucks County, PA and Mary Rodman (c.1717) born in Flushing Queen, NY, who were married on July 17, 1737 in New Jersey. Mary was the daughter of Dr. John Rodman and Margaret Grosse of Flushing, who died the year after Mary was born. In 1726, the widower Dr. Rodman removed with a new wife and children to Burlington County, NJ. where he remained.
When Dr. Rodman wrote his will on June 3, 1756, he mentioned that a tract of 300 acres in Warwick Twp., Bucks County was occupied by his grandsons' father, John Johnson. This John Johnson died in February 1775, at about 65 years of age, in Northern Liberties, PA. I do not have a death date for his wife Mary Rodman Johnson, but presumably she also was living in Northern Liberties.
Because he died in Philadelphia, I do not have a record of John Johnson, Sr.'s will or estate. But there is an interesting connection between the Johnson family and the Barber family of Amwell Township.
The Johnson & Barber Families
John Johnson, the Kingwood tavernkeeper, died in Kingwood Twp. on Oct. 13, 1816. But he was buried in the Barber Cemetery in what was Amwell Township and later became Delaware Township (see Barber Burying Ground). John's wife Elizabeth Hart died on July 20, 1847 and was also buried there. Why? When John Johnson wrote his will on May 28, 1814, he made no mention of the Barber family.
The answer probably lies with Eliada Johnson (c.1695-after 1782), wife of Samuel Barber (c.1690-c.1751), and with Magdalen Johnson (n.d.) who married Samuel & Eliada's son, John Barber (c.1720-1795). Eliada and Magdalen may have been cousins of some kind, descendants of Johannes Johnson (c.1675-1762) and Maria Okerson (n.d.).
Could the John Johnson, Sr. (c.1710-1775) of Bucks County, PA, whose parents are unknown, father of the tavernkeeper, be related to Johannes Johnson (c.1675-1762) of Amwell? In other words, could he have been a brother of Eliada or Magdalen Johnson Barber? That seems like the closest possible connection.14
Barbertown
This connection with the Barber family got me wondering about the village of Barbertown, located not far north of Johnson's Tavern. I checked Snell's History of Hunterdon to see if he explained how Barbertown got its name—perhaps from a member of the Barber family that lived over near Bowne Station and the Barber cemetery. But Snell says only that "Barbertown was named after one of its early settlers."15
That was not much help. It looks like there was a reason for Snell's reticence. The village was named for Isaac Barber (born c.1785), who applied for tavern licenses from 1812 through 1817.16 that he got a license in 1823, but I found no application included with the records on Family Search.] In his application of 1812, he wrote that he had a house in Kingwood "lately built, where the road from the River intersects the road from Baptist town to Johnson's tavern in Kingwood." The license was not allowed that year but was from 1813 through 1817. In his application of 1813, Barber wrote that his tavern was "on the road from Howels ferry or from the new bridge across the Delaware to Baptistown [Rte 519]; having built a very extensive house with a great deal of room in it." And in 1814 he wrote: "your petitioner prays for a second licence [sic] to keep a tavern in the same house now known by the name of Barber's tavern in a village on the road from Mitchels Bridge to Baptist town."
Isaac Barber married Rachel Temple in 1810. She was the daughter of Timothy Temple and Rachel McLean. Temple died intestate in 1813, and administration of his estate was handled by his sons-in-law, Isaac Barber and Gooden G. Hall. Hall was actually Gordon Goodwin Hall (1780-1848) of Doylestown, Bucks County, who married Timothy Temple's daughter Elizabeth Temple (1779-1856) in 1808. The two sons-in-law acted on their wives' behalf, as sole heirs of their father, dividing the property they inherited in 1814. Gordon & Elizabeth Hall quit-claimed to Isaac Barber a tract of 44.19 acres in Kingwood, bordering John Housel, Jesse Everit, Mary Smith, Joseph Shaw, John Johnson, other land of Hall's, Thomas Lequear, Daniel Brink, Wm Bayley, and Richard Opdycke, Jr.17 The Halls got a tract of 51.7 acres adjacent bordering also John Johnson, Thomas Lequear, Johnson Runyan, Aaron Vansyckel, and Jeremiah Opdycke. The fact that tavernkeeper John Johnson's land bordered property of Timothy Temple and later Isaac Barber and the Halls indicates the nearness of Barbertown with Johnson's Tavern.
This raises all sorts of questions. Why would Barber set up a tavern in a location so near an already existing and prosperous tavern? And what was his relationship with John Johnson? He was the right age to be Johnson's nephew, but if so, then he was probably an illegitimate child, possibly a son of Samuel Barber (1756-1847) of Barber Station.
Isaac Barber sold his property in 1817 to David Gray for $2800.18 But in 1827, when he and Rachel were living in Trenton, he was taken to court as an absconding debtor in matters relating to that land sale.19 Not good behavior for a founding father, which explains Mr. Snell's reluctance to name him. Snell wrote that Barber ran a tavern in 1823, one formerly kept by Samuel Gano and sporting the sign of a new moon. But I did not find a recorded tavern license for him that year and suspect that Mr. Snell got his year wrong, perhaps for 1813. The Barbers fall off the radar after the lawsuit. But Isaac must have had a lot personality to get a village named after him.
Johnson's Tavern Licenses
The first tavern license application on record in John Johnson's name was dated 1796, for John Johnson of Kingwood, with Nathaniel Bakehorn, Jacob Holcomb and John Slought vouching for him.
Johnson's license for 1801 cost him $10. That year, to submit a proper tavern license application, one needed to get signatures from the local officeholders. A bunch of neighbors and regular customers was not good enough, although it was fine not much later. Gentlemen vouching for Johnson' character as suitable for a tavernkeeper in 1796 were Joseph King and Richard Opdycke freeholders; Samuel Slater, commissioner; Arthur Stevenson and Absalom Runyan, overseers; and Richard Opdycke and David Evert sureties.
Johnson got licensed for his tavern every year thereafter until his death in 1816. Here is a copy of the 1802 petition: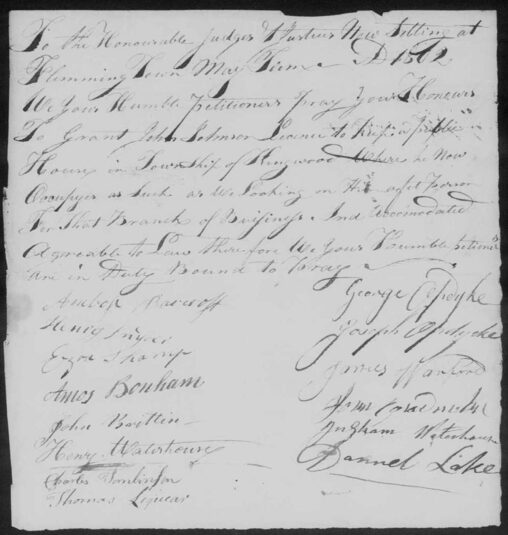 For his license of 1813, these fourteen men signed as guaranteeing Johnson's suitability for a tavernkeeper: George Arnwine, John Cowdrick Jr, John Cowdrick Sr, Moses Everitt, George Fox, John Housel, Thomas Lequear, Andrew Mason, George Opdycke, Richard Opdycke Jr., Ezekiel Rose, David Warford, Adam Williamson, and Derick Williamson. This was typical of Johnson's applications.
I wish I knew something about Johnson's character—what it was that made the name of his tavern so memorable as a landmark. But that is a common problem with late 18th century Hunterdon residents.
John Johnson's Last Will & Testament
Johnson wrote his will on May 28, 1814. He named his wife Elizabeth and gave her the "use and benefit of all real estate until son John, now about 15 years old, is 21, for maintenance of herself and the children that may remain with her." Once son John reached 21, all the real estate was to be sold by the executors, who were wife Elizabeth and sons Hart and William, and proceeds to be divided between the children, who were: Hart, William, and John Johnson, Lucinda Britton, Amy Johnson, Jane Forst, and Rachel and Mary Johnson. Unmarried daughters (Amy, Rachel & Mary) were to have "an outset if and when they marry."
On August 19, 1816, Johnson wrote a codicil to his will, in which he provided "to wife the privilege and use of whole estate as long as she chooses to keep my family together, therefore the Tavern lot in village of Kingwood and improvements thereon and small woodlot to be for her use." He also provided that his sawmill lot and other lands near Thomas Lequear should be sold by his executors.
A few months later, John Johnson died on October 13, 1816, at the age of 67. The inventory of his estate came to $4,924 and was compiled by Charles Tomlinson and John Waterhouse.
Who got licensed from 1816 to 1831?
Although John Johnson wrote his will on May 28, 1814, he still got a tavern license that year.20 He paid the usual $10, and neighbors swearing to his suitability as a tavernkeeper: Ambrose Barcroft, Amos Bonham, Gen. Daniel Bray, Samuel Britton, [blotch] Coryell, George Fox, Isaac Gray, Jesse Opdyke, David Pinkerton, Asa Reed, Johnson Runyan, Henry Snider, Charles Tomlinson, and Jonas Waterhouse.
He also got a license in 1815, but I did not find one for him in 1816, the year he died. However, the next year, a license was granted to Johnson's widow Elizabeth, for the usual $10 plus a fee of $3.07. The license [frames 783-84] read:
To the Honourable Judges and Justices Now Sitting, at Flemington May Terms we your Humble petitioners pray your Honors to grant Elizabeth Johnson widow of John Johnson deceased, A Licence To Keep A Publick House in the Township of Kingwood Where She Now lives and Occupies as Such we believing her A Suitable person and provided as the Law directs. Therefore we Consider our Selves in duty Bound to pray AD 1817.
Signers were [first signature illegible]: Aaron Barcroft, Ambrose Barcroft Junr, Samuel Barcroft, Stacy B. Barcroft, John Bird, William Bird, Amos Bonham, Cornelius Hoff Junr, William Hoff, Jacob Kline, David Lake, Francis Robinson Jr., Charles Tomlinson, and James Warford.
Mrs. Elizabeth Johnson of Kingwood was also licensed in 1818, although I did not find anything for her for the years 1819 through 1822. Then in 1823, a license was allowed [245-46] for Jane Forst of Kingwood at Johnson's Tavern, on the main road from Centre Bridge to Frenchtown, Baptist Town, etc. Jane Forst (1789-1862) was Elizabeth Johnson's daughter, who had married Dr. David Forst in 1811.
I did not see a tavern license for Johnson's tavern again until 1830 and 1831 when George Opdycke was licensed to run "Johnson's Tavern in Kingwood." It was in 1831 that Elizabeth Hart Johnson (who was then 73 years old) decided that the time had come to sell the property.
On May 4, 1831, Executors of John Johnson dec'd of Kingwood (wife Elizabeth and sons Hart and William) conveyed to Francis Tomlinson, merchant of Kingwood, for $2,500, a lot of 45 acres in Kingwood Township known by the name of Johnson's Tavern Lot, bordering Samuel Davis, John Bonham, an old mill pond, a mill dam, the Lockalong [sic] creek, John Snyder, and Ambrose Fox. It was identified as the same lot sold to Johnson by Joseph & Eleanor Hart on Sept. 30, 1793.21
Elizabeth died on July 20, 1847, age 89, and was buried next to her husband in the Barber Cemetery. Because the census records of 1830 and 1840 are so uninformative, I cannot say who she was living with during those years.
To end the story of Johnson's Tavern with the death of John Johnson is to tell just a fraction of the history of this interesting location. The rest will have to wait for part two. As Mr. Bush noted, "if justice is to be half done, a later article will be necessary."
Footnotes: