part 13 of The Route Not Taken
This article is part of my series on the Delaware Flemington Railroad Company and the rail line it had planned to build in 1873 to run from Prallsville to the Flemington Depot.
My focus has been on the landowners along the proposed route beginning at the river in Delaware Township and running northeast through Sergeantsville and Sand Brook to the neighborhood of Copper Hill. Today's article resumes the trip with properties located between Johanna Farms Road and Dayton Road in Raritan Township.1
The Landowners in 1873
Let us return to the home of Aaron C. Hoagland, whose house is shown on the railroad survey map, below. (For articles about Hoagland's property, see "Carman, Hoagland & Higgins," "Hoagland's Road, part one" and "The Carman Farm." See also The Hoagland Family Tree.)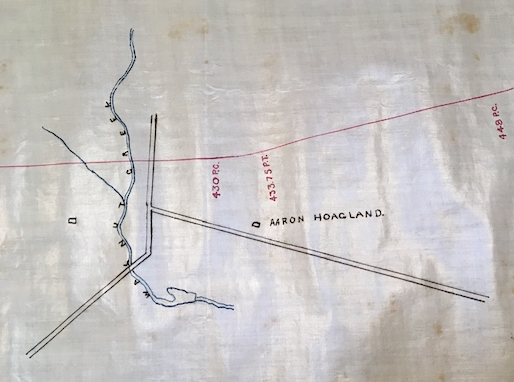 The survey map shows the proposed line taking a turn more to the northeast just north of Hoagland's property. After passing Hoagland's farm, the map shows no other landowner until it gets to Dayton Road, where "John Sergeant" and "Geo. Hastings appear."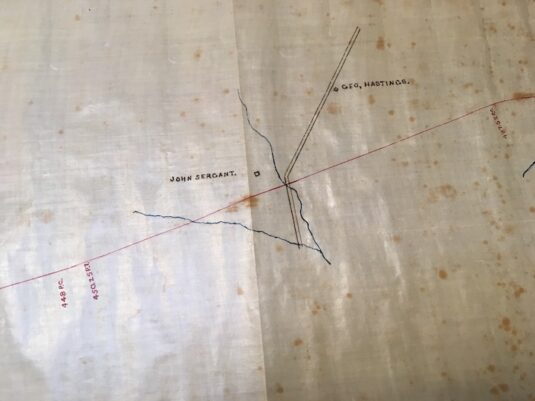 I was surprised that no houses were shown between Hoagland and Sergeant. But the Beers Atlas, published the same year as the railroad survey was made, agreed, showing "Sergeant" at the same location as the survey map. So, who owned all that land between Aaron Hoagland and John Sergeant?
Judging by the tax lots, Aaron Hoagland owned the first stretch (Block 63, lot 33), and John P. Sergeant was the owner of lots 17, 18 and 20. (Regrettably, whatever houses were located on those lots did not get reviewed by the County Cultural & Heritage Commission.)
The history of Aaron C. Hoagland's property has been pretty well covered in previous articles. But what about the properties further east?
John P. Sergeant & Jane Quick
John Philips Sergeant (1813-1903) was the youngest child of Joseph Sergeant and Jane Quick. On Sept. 14, 1842 he married Mary Young (1818-1903), daughter of Adam Young and Maria Brokaw, who owned a farm on the east side of Route 31, bordering Paul Kuhl and John Merrill.
John and Mary had five children, only two of whom seem to have married. Their sons George W. Sergeant (1844-1908) and William Henry Sergeant (1847-1922) did not marry. Daughter Gertrude died at the age of two in 1854. Daughter Cornelia (1843-1925) married John Wellwood Scott Carrell (1841-1911) on June 4, 1884. She was 41 years old when she married, Carrell was 43; the couple did not have children. The youngest child, Katherine (1854-1938) married Wesley E. Sherwood (c.1859 NY – ), but soon afterwards divorced.
Before he married, John P. Sergeant acquired his farm from his father, Joseph Sergeant, on April 1, 1838. It was a tract of 68.66 acres for which John paid $2,000.2 It bordered land of Carman & Hoagland, John Hill, a branch of the Neshanic, Jacob Rockafellow and property owned by his brother, Gershom C. Sergeant.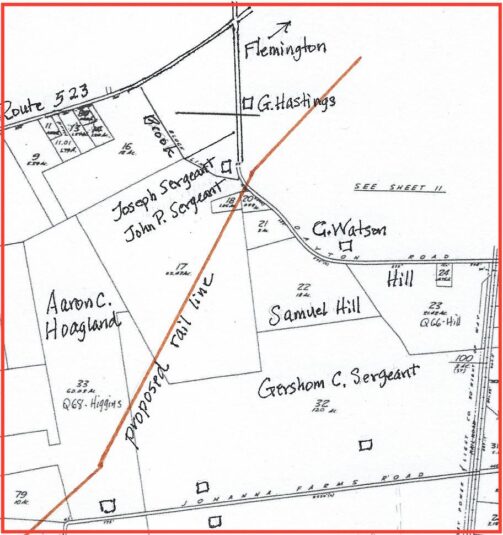 Note:  This map is adapted from an older version of the Raritan Township Tax Map. Based on the bordering owners named in the deed of 1838, the boundaries of the Joseph Sergeant farm did not match the boundaries of today's lot 17. But that was the general location, and John P. Sergeant's house was located on the west side of Dayton Road, as is indicated on the 1873 Beers Atlas.
John P. Sergeant was a farmer, like most of his neighbors. On Nov. 8, 1865, he joined with them to post a "Trespassing Notice," warning hunters and other uninvited persons to stay off their property. (The neighbors who signed the advertisement in the Hunterdon Gazette were Alfred Everitt, Asher Hill, Adam M. Bellis, William Dailey, Mary Hoagland, Aaron C. Hoagland, John S. Higgins, Thatcher Prall, Paul K. Huffman, Jacob Thatcher, Jacob Wagoner, James Hoagland.)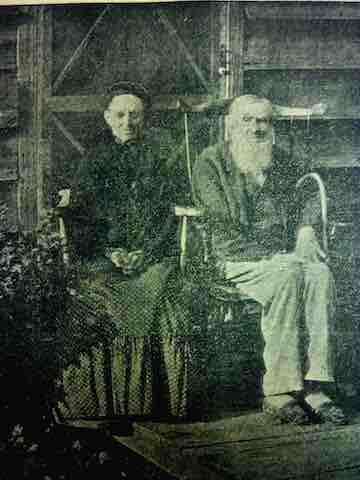 Both John P. and Mary Young Sergeant were long-lived. In 1902, they celebrated their 60th wedding anniversary. It was an occasion that got proper notice in the Democrat-Advertiser, a newspaper published in Flemington.3 A portrait photograph accompanied the article.
At the time, John & Mary Sergeant were in their 80s. (In fact, they both died six months later.) The article began:
Mr. and Mrs. John P. Sergeant had the novel experience on Monday last of celebrating their sixtieth wedding anniversary at their almost life-time home half a mile west of Flemington.

Mr. John P. Sergeant was born on August 13, 1813, on the Joshua Primmer place in Sergeantsville, and was named for his father who died many years ago. His grandfather was born in England and came to this country when quite a young man with two brothers.
The article noted that Miss Mary Young, John's wife, was born on June 7, 1818, the daughter of Adam Young. At the time of her marriage she was living "on what is now known as the William F. Higgins farm, near Reaville." The couple moved to their farm of 63 acres just a few months after their marriage. It "has been diligently tilled by Mr. Sergeant (assisted in recent years by his sons) for sixty years past."
That being the case, I wonder what Mr. Sergeant thought about a railroad barrelling through his fields. He was already close enough to the Flemington station to have no need of a new rail line.
The article named the Sergeant's children and pointed out that sons George W. and William H. and daughter Mrs. Katharine Sherwood were living "on the homestead farm." The writer observed that "Mrs. Sergeant is unusually well preserved, and all her faculties are very active, her memory being especially good." In preparation for the event, Mary Sergeant had draped her living room fireplace mantel with her bridal veil and baked a large cake for the guests. There were about 60 people at the anniversary party, including the couple's nephew, Lambertville mayor Lambert H. Sergeant. The featured gift was a New Testament published in large print.
John P. Sergeant died on March 9, 1903 at age 89 years 6 months 25 days. Like his neighbors Aaron C. & Susan Hoagland, he was buried in the Flemington Presbyterian Cemetery. Only one week later, Mary Young Sergeant died, on March 16th, at age 84, and was buried next to her husband.
On Sept. 17, 1903, the heirs of John & Mary Sergeant (Cornelia Carroll and husband John Wellwood Carroll of Lambertville, George Sergeant, William H. Sergeant and Catharine Sherwood (but not her husband, whom she had divorced) sold their parents' farm of 68+ acres to William J. Wilson of Newark, NJ for $2,000. Included in the sale was a lot of 0.9 of an acre, which had been sold to John Sergeant by Alfred & Hannah Everitt in 1867 for $90.4 It bordered the public road and a bridge. (I have not been able to identify this lot from Everitt's land purchases. He bought property from James L. Hixson and from Wm & Mary Shrope in 1854, and that year sold a lot of 11.65 acres to Gershom C. Sergeant, brother and neighbor of John P. Sergeant.)
Let us now turn our attention to the parents of John P. Sergeant, Joseph Sergeant and Jane Quick, who conveyed the farm to their son in 1838.
The Sergeant Family
Writing about the Sergeant family of Raritan Township is a treat for me. Heretofore my focus was on the Sergeants of Sergeantsville in Delaware Township—in particular, Charles Sergeant & wife Sarah Green.5 Today, my focus is on Charles' brother—Joseph Sergeant.
Joseph Sergeant (1769-1843) was the youngest child of Joseph Sergeant, Sr. and Marie Loman, residents of what became Delaware Township. The earliest record I have for this first Joseph Sergeant is a land purchase in 1765 when he bought a half-acre lot in what became known as Sergeantsville from Elizabeth, widow of James Kitchen. It was there that Sergeant opened a blacksmith shop, which is still standing today, being the little stone building near the main intersection now occupied by WDVR.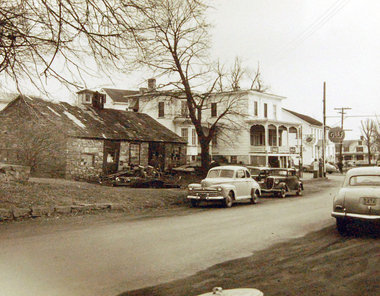 Note: The photograph clearly dates to the 1940s, and shows the blacksmith shop (foreground) before the second floor was added.
Joseph Sergeant's wife Marie Loman is a mystery. I have still not succeeded in identifying her family. Hiram Deats has claimed that she was a niece of John Opdycke of Headquarters, but if so, I cannot say whose daughter she was.
Joseph and Marie had five children, Charles Sergeant (1760-1833) being the eldest. The second child was named Loman (1763-1852), a confirmation of his mother's maiden name. The next child, Mary (1765-1813), became the wife of Sergeantsville landowner Cornelius Lake. She was followed by John (c.1766-c.1835) and Joseph Sergeant (1769-1843), that Joseph being the one who ended up in Raritan Township. He was a private in the Hunterdon Militia during the Revolution. In 1797, he was listed as missing from military training for the Amwell militia.6 During the late 18th and early 19th centuries, John and Joseph Sergeant worked at the blacksmith trade with their father. They also went into partnership to run a tavern.
On January 13, 1805, Joseph Sergeant married Jane Quick (1770-1851) of Raritan Township, daughter of Tunis Quick and Catharine Phillips. How did Joseph and Jane become acquainted? There is no obvious explanation. Like Joseph, Tunis Quick was a Revolutionary War veteran, so that is a possibility. When Tunis Quick wrote his will in 1807, he named his daughter Jane and her husband Joseph Sergeant. He left Jane $300, but no real estate.
On April 29, 1806, Joseph Sergeant purchased a farm of 130.25 acres near Sergeantsville from John R. & Rebecca Opdycke for $4600.7 He did this on his own, unlike most of the land he purchased during this period which was done in partnership with his brother John. This is where Joseph and Jane Sergeant made their home while they raised a family. They had five children from 1805 to 1813. The first child died age 3 but the others lived to old age. (See "Sergeant Family Tree" and "Joseph Sergeant and Jane Quick.")
John Sergeant, brother of Joseph
Joseph's brother John Sergeant (c.1766-c.1835) was also a blacksmith. In 1794, the brothers Joseph and John made their first land purchase. It was a lot of 30 acres, sold to them by their older brother Charles.8 In 1803 John Sergeant and Joseph Sergeant were taxed as Merchants in Amwell Township, owning 31 acres. Apparently, they had opened a store in Skunktown. They got their tavern license the next year.
Exactly where that tavern was located is hard to say. It could have been on the Sergeants' 30 acres, but it could also have been across the road (Route 523) where the tavern was located for over a century. That lot was owned by Agesilaus Gordon, who sold it in 1804 to Godfrey Rockafellar. (See "Tavernkeeper of Skunktown.")
John Sergeant married not long after his brother Joseph did. On April 4, 1805, John Sergeant married Sarah (Sally) Kugler. The Kuglers were another long-established family in early in Hunterdon County, primarily in Kingwood Township. But I have failed to figure out how Sally connected with them. She was born about 1788, based on the date of her marriage, which made her a contemporary with the children of John Kugler and Susan Worthington of Kingwood, the original Kugler settlers there. However, she may have been the daughter of John & Susannah's eldest son Joseph, who was born about 1760 and married Elizabeth Snyder. Sally Kugler Sergeant had no children.
The Sergeants Move to Raritan Twp.
In 1818, Joseph and Jane Sergeant sold the farm they had purchased in 1806 to brother Charles for $5,000.9 As mentioned in my article on "Joseph Sergeant and Jane Quick," the Sergeants were heavily mortgaged, and probably had to sell the farm.
Five years later, on February 3, 1823, Joseph Sergeant bought a tract of land in Raritan Township from Peter and Eupheme Taylor. It amounted to 65.73 acres and cost $1825.10 And once again, they mortgaged their property, to the same Peter Taylor for $1216.66 on 65.73 acres in Amwell.11 This farm had belonged to Ezekiel Anderson and bordered, among others, Elijah Carman, Jacob Rockafellow, Jedidiah Higgins and William Maxwell, Esq. In other words, it was the property on the north side of Johanna Farms Road just east of Aaron C. Hoagland's farm.
But Joseph and his brother still owned that 30 acres in Skunktown, and that was also heavily mortgaged. It was not until April 1828 that Joseph and Jane Sergeant sold their share in that property to John Sergeant.12 It was probably to help John Sergeant deal with his creditors, as he had gone so deeply into debt that in August 1828, John Sergeant had to assign all his property to Neal Hart for the benefit of his creditors, including the original blacksmith lot.
Thereafter John and Sarah Sergeant left Amwell township and moved to Mt. Morris in Otsego Co., NY, where John died about 1835. I have no further information on his wife Sally Kugler.
John Sergeant was not the only one in debt. On April 11, 1826, Joseph and Jane mortgaged their Raritan Township farm to David Johnes for a mere $200.13
In the February term of 1828, one of Joseph Sergeant's creditors, Gershom Lambert, sued him in the Court of Common Pleas for a debt of $283.75. In the May term, the court levied on 4 horses, 7 head of cattle, 10 hogs, 5 sheep, 1 farm waggon & harness, 6 beds & bedding, 2 tables &c. and also on "the farm whereon the defendant lives said to contain 67 acres in Amwell, subject to the value of one dollar." For some reason this did not result in a sheriff's sale, because a year later, on May 7, 1829, Joseph and Jane Sergeant mortgaged their farm to John Barber, as executor of the estate of David Johnes, dec'd.14
The property was described as all that lot whereon Joseph Sergeant now lives bordering Samuel Hill, James Anderson (now Mathias Bellis), Elijah Carman, Jacob Rockafellar, Jedidiah Higgins, and Wm. Maxwell Esq., of 65.73 acres, which Sergeant bought from Peter Taylor on 3 Feb 1823, and from Commissioners to divide the real estate of Ezekiel Anderson dec'd on May 23, 1818.
The Sergeants managed to hang on, with the help of sons Gershom, Tunis and John, until 1838 when they conveyed it to youngest son John Phillips Sergeant.
Peter & Euphemia Haines Taylor
Joseph and Jane Sergeant's mortgage to Peter Taylor in 1823 noted that the Sergeant farm of 65.73 acres was purchased from Peter Taylor on February 3, 1823, who acquired it from the Commissioners to divide the real estate of Ezekiel Anderson dec'd on May 23, 1818.
Peter Taylor (c.1780-before 1830) was the son of John William Taylor and Sarah Abbott of Amwell Twp. About 1798, Taylor married Euphemia Haines (c.1783-1865), daughter of Joseph Haines and Anna Moore of Amwell (near Sand Brook. See the "Taylor Family Tree" and the "Haines Family Tree.")
In 1821 Peter and Euphemia had mortgaged their farm of 64.73 [sic] acres to the same David Johnes who had accepted a mortgage from Joseph & Jane Sergeant.15 Peter Taylor was one of those unfortunate people who had trouble managing their money. Perhaps it was the effect of the Panic of 1819 which came along right after the Taylors had purchased and mortgaged their farm.
Two years after selling his farm to Joseph Sergeant, Peter Taylor was sued in the May 1825 Term of the Court of Common Pleas by Peter Fulper, a merchant. On June 13, 1825, the Hunterdon Gazette published a notice of an Auditor's Sale of Peter Taylor's "sundry articles of Household and Kitchen Furniture, &c Attached as the property of the said Peter Taylor," the Auditors being Neal Hart, Samuel D. Stryker & Charles Bonnell. Then in September 1825, Sheriff Gabriel Hoff sold the Taylors' only remaining property, a small lot of 12 acres on Route 523 near Sand Brook. Thereafter, the Taylors disappear from the records with the exception of widow Euphemia Haines Taylor's death on March 21, 1865 at Croton, age 82.
As mentioned above, Peter Taylor bought the farm from the Commissioners to divide the real estate of Ezekiel Anderson dec'd on May 23, 1818. He died on Sept. 22, 1817, only 46 years old, having owned the Sergeant farm for only six years. He had purchased it from a relative and fellow descendant of Ezekiel's grandparents, William and Janet Anderson.
It is about the Andersons and their neighbors Samuel Hill and wife Martha Carman that the next article in the series should be written. But first I will turn my attention to John P. Sergeant's brother, Gershom C. Sergeant. John P. Sergeant was steady and reliable and minded his own business. His brother was a far more interesting and civic-minded fellow, and therefore deserves an article of his own.
Footnotes: